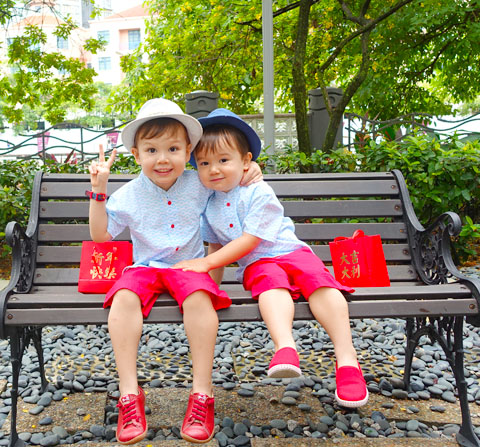 Hey guys!
I've been kinda AWOL for the past few days, mostly because the kids are on a 4-day long weekend break and we've been spending heaps of time together as a family. Which is good! But I've also really missed just sitting at my computer, sorting through all my emails, writing here, etc etc.
Oh, and it's Chinese New Year! Though you probably already know that. Because Chinese people are all over the planet now and are very loud during their CNY celebrations, so pretty much everyone has realised it's CNY time 😉
The boys have had an extra good time this time round, because both of them understand the concept of partying, and hanging out with family and friends. The season is WAY more fun when you're living it through childrens' eyes!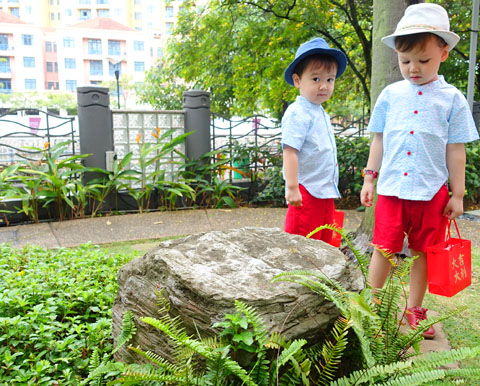 My kids on the first day of CNY, dressed by Elly. I love the outfits because the shirt is subtle enough to wear year-round, and the solid red shorts give an awesome pop of colour (and I can pair them with various tees).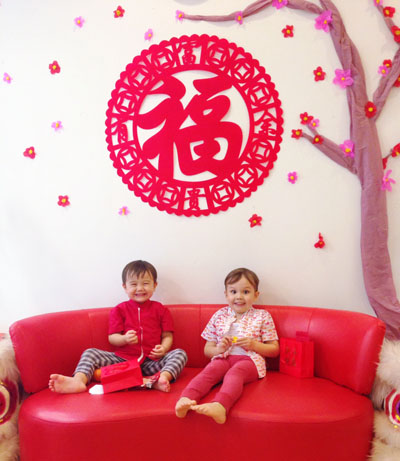 A photo memory of their first CNY celebration at their preschool. They are super excited because they were gifted little goody bags from the teachers – so thoughtful!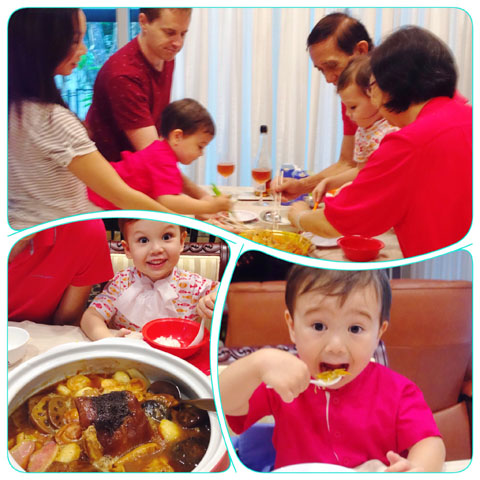 Our family is really small (well, I'm an only child..) so we had a reunion dinner with just our family and my parents. The kids had their first taste of Yu Sheng and they loved it. Especially Carter! Now he eagerly calls out "salad! salad!" when he spots it 😉
And it was MY first time having Pen Cai, some traditional Chinese dish which is basically reaaaaally freaky and strange things made into a stew. Think little abalone, lotus roots, smoked duck, sea cucumber, pig trotter, etc etc…..!!!!!!! I personally only found the scallops and mushrooms normal enough to eat, which is a bit of a waste of money as the dish is actually considered a delicacy and ridiculously expensive. That said, the gravy of the stew is actually really delicious!! It's rich and creamy and has a good flavour…. mmmm.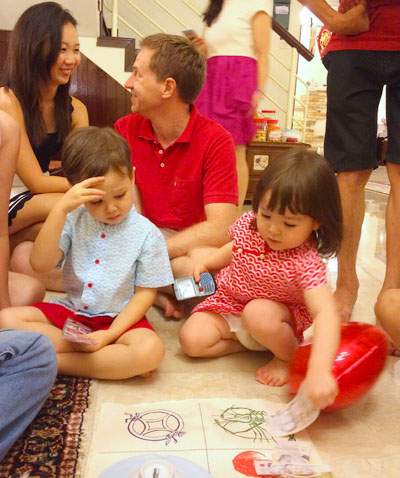 I also had another first – gambling! Haha! Believe it or not, I've never gambled in my life. I don't like to lose, so gambling is basically the LAST thing I'd wanna do 😉
But we were at a friend's place for a CNY party and they got out this awesome gambling thing, which I thought was a kids game because it's basically a sheet of paper with just some large pictures on it. However, it's a very old school style of gambling (forgotten the name).
I didn't actually gamble (I don't like to lose, remember?) … but the kids did!! And they actually WON!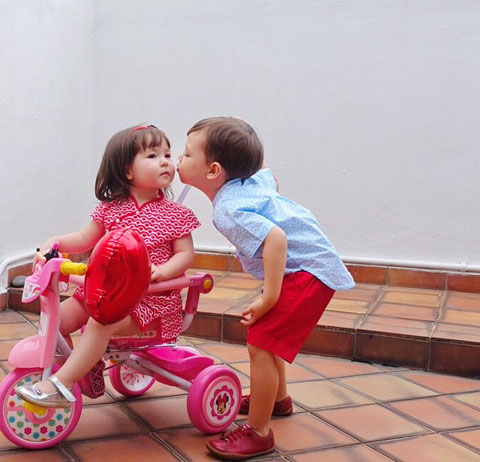 Kisses for his favourite girl. These two…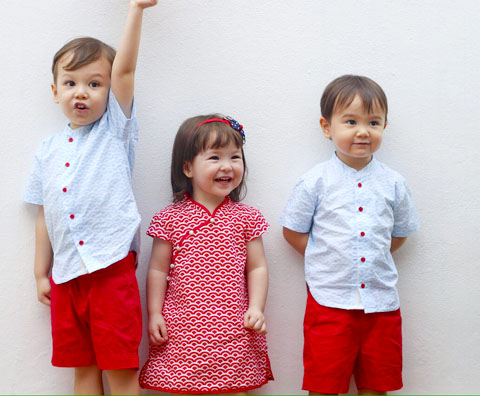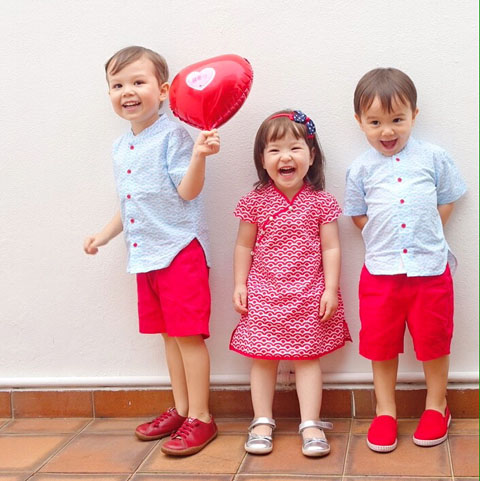 Three's a crowd? Not when they're wearing adorable matchy-match-but-not-quite outfits!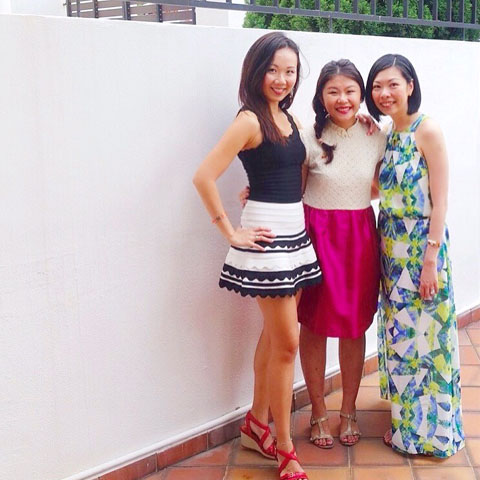 My lovely girl friends and I! Obviously two of the three are rebels and didn't wear the standard red for CNY (though I had red shoes – that counts, right?).
It's made me realise that I so rarely have photos of my friends and I. We always tend to take photos of our kids, and of each others' kids. And to a lesser extent, photos of us with our kids. But almost never of JUST US!
We had kids running amok whilst we took this photo, but we look rather calm and graceful, I think 😉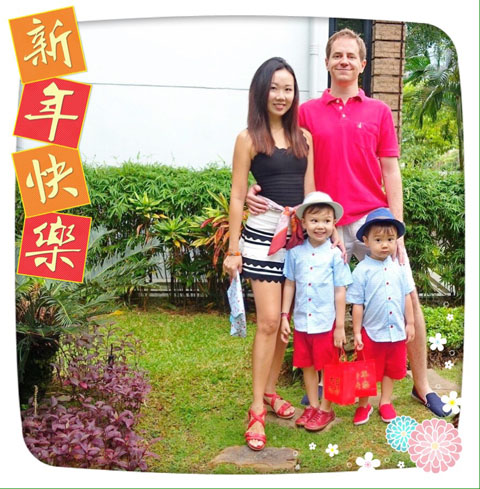 Another rare kind of photo – a family photo! Our first in 2015. I love how this captures how lanky Hunter is becoming, in all of his 4 years. And it also makes me giggle when I look at Carter and his tubby belly poking out through his shirt 😉
A wonderful and blessed Chinese New Year to you guys… and hope you are enjoying your holiday (if you're in an Asian country that celebrates this full-on!)
Let's Chat!