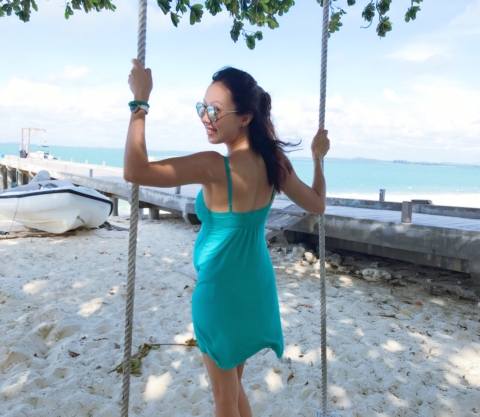 Beverly Burgess is a social media addict, passionate about all things digital marketing and e-commerce. She has lived and breathed in the online space for over 20 years – working at Microsoft, eBay, and HP Inc.
She is also a blogger for over two decades, since she was a pre-teen.
She considers herself a global citizen; having resided and worked in Australia, China, and Singapore.
Beverly entered an alternate universe at warp speed when she went from career-driven shopaholic and social butterfly … to juggling being a wife and a mother of three young kids.
Her days are now spent as a professional nanny, chauffeur, baker, and household CEO… eating, shopping, and socialising her way around Singapore.
Some little and well-known facts about me:
? I was born in Singapore, lived in Australia for ~15 years, was expatriated by my company to Shanghai for 2 years, and am currently living in Singapore.
? I'm an only child and extremely close to my parents.
? I studied Computer Science & Psychology at university.
? I love astronomy, chess and most of all, computers.
? But I also love all things girly – bring on cosmetics, skincare, and anything pretty!
? Chanel, Hermes, and Balenciaga are my all-time favourite fashion brands.
? I danced ballet for 10 years and have completed my Grade 8 piano.
? I'm a certified scuba diver and life saver.
? I like to eat. And I like to eat lots.
? Chris and I were married on 8 August 2009. We honeymooned in the Shangri-La resort in the Maldives.
? Our first child Hunter was born on 25 January 2011.
? Our second child Carter was born on 5 August 2012.
? Our third child Chloe was born on 29 June 2017.
TRUE LOVE

I want a love that will always have trust.
Not a relationship based purely on lust.
A love where friendship always comes first.
A love that will stay true for better and for worse.
A love that would never lie or cheat.
And when things went wrong it could take the heat.
A love that money cannot buy.
I want a love that would never die.
SUCCESS DEFINED: To laugh often and much; to win the respect of intelligent people and the affection of children; to earn the appreciation of honest critics and endure the betrayal of false friends; to appreciate beauty; to find the best in others; to leave the world a bit better, whether by a healthy child, a garden patch or a redeemed social condition; to know even one life has breathed easier because you have lived. This is to have succeeded. (Ralph Waldo Emerson)