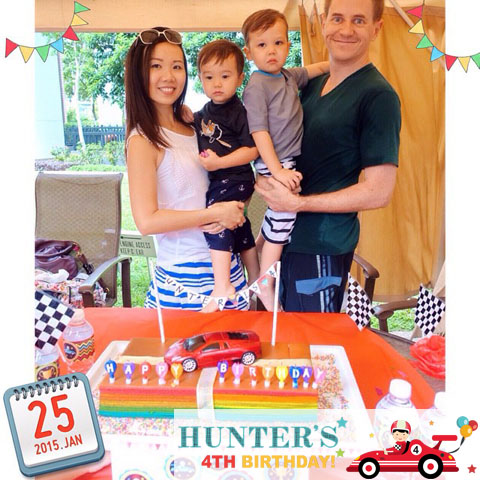 I still clearly remember the day Hunter was born, and his 1st (spaceships) birthday, then his 2nd (Thomas the train) birthday, then his 3rd (construction) birthday.
And now, he's already FOUR years old?
Man, kids grow up so quickly – blink and you'll miss it!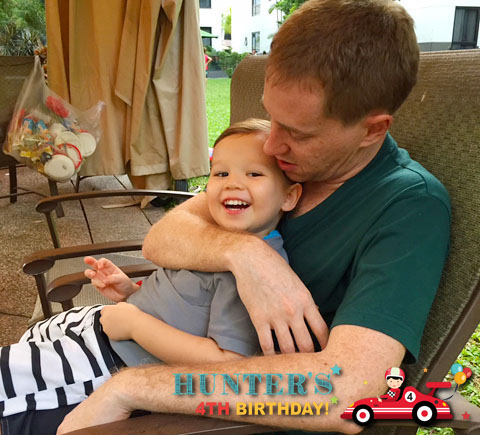 My 4 year old. He's lost all his squishyness and babyness. In its place is a boy, who soaks in information, loves to have a chat, and has the most manic laugh ever. He's hot-headed and stubborn as all hell, but also meltingly sweet (well, towards me, anyway!) and still smiles with pleasure when I tell him "You are all grown up now. You're a big boy. But you'll ALWAYS be my baby bear, right?"
Hunter's birthday bash was a B-I-G one. Well, for our standards. We ended up with 23 kids and their parents! Not by my choice – haha. Hunter took ownership of almost the entire party. He specified that he wanted it at home by the pool, that he wanted "satay and cookies", and made me note down the names of his friends that he wanted there. So pretty much every kid/family there was invited because Hunter said so 😉 It also included a lot of older kids (ie. Hunter's age and above), because he just gravitates towards older kids.
He also picked the theme – racing cars! No surprises there…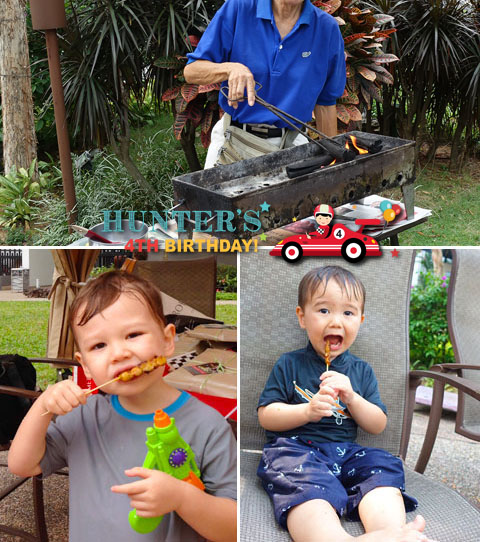 So we had satay, cooked a la minute! This was an AWESOME idea and I'm so pleased with it. I'll likely do this again for future parties. It is (obviously) much easier than catering all the food myself, and a lot more fun than standard buffet-style catering. Kids adore satay and so do adults, so it was quite a hit.
Plus, it was so reasonably priced! They bring everything, and set up, and cook for you. Minimum order is 500 sticks (our party only consumed half of it, so we froze the rest to eat later) and it's about SG$280 for the satay, ketupat rice, cucumber, and red onions. Pretty much the cheapest catering you can get, and the yummist IMHO.
My kids chowed down on satay like nobody's business. Carter consumed 10 sticks and was asking for more after the party as we were cleaning up. Satay monster!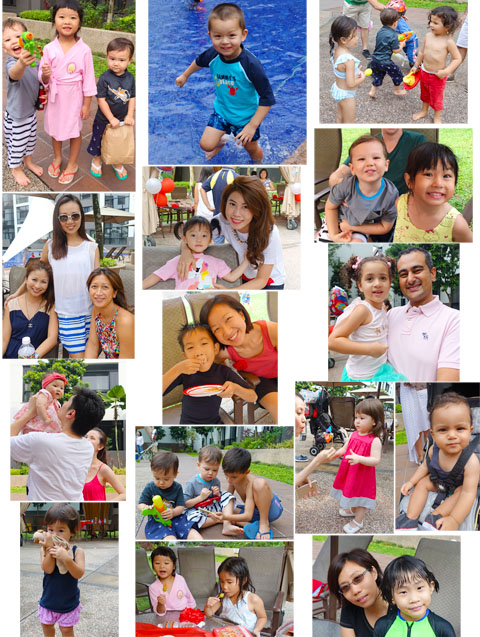 The beautiful kids that delighted Hunter with their presence! Not all of them are captured, it was a bit chaotic during the party so we didn't get photos of everyone 🙁 Unfortunately Hunter didn't have time to play or talk to every single one, but he did notice them all, because during bedtime he was listing all the kids that came to his party! He was so happy talking about them and said he really loved his party – it made the effort all worth it 🙂 We felt really blessed that friends took the time out of their busy weekends to come and celebrate with us!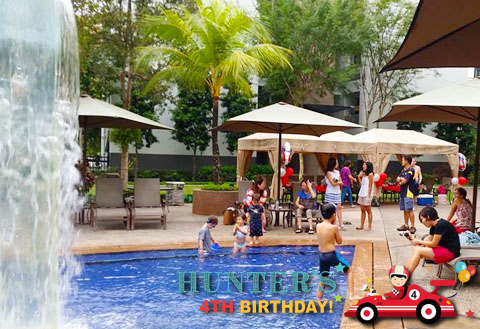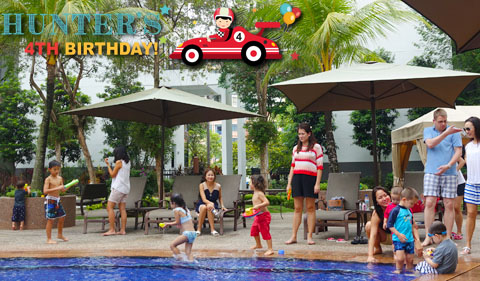 A Burgess birthday party is not complete without a pool. I think every single one of our parties are pool-side. Even the adult only ones! It's just easy, fuss-free, and gives lots of wide open space for people to enjoy.
And fortunately, the kids pool is gigantic and very shallow, so it's pretty safe for young kids, In fact, all the kids got in the pool, but none of the adults needed to change into swimmers! We could simply wade in there in shorts 😛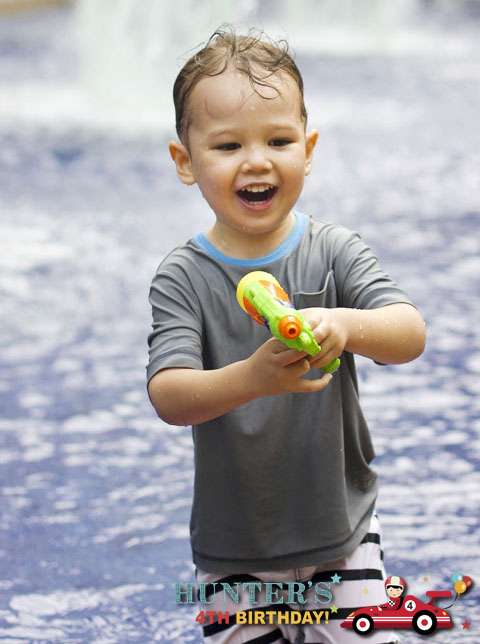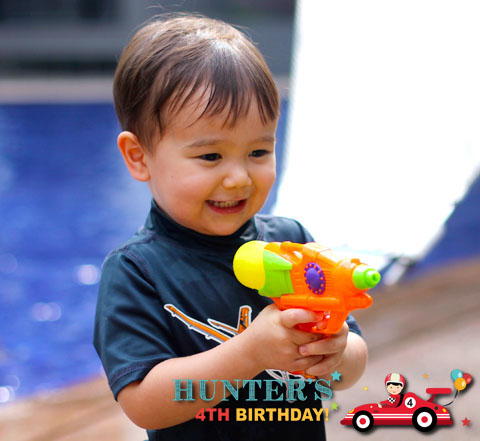 Love these photos (above), off my friend's super DSLR camera. We caved and got water guns for the party, despite being an anti-gun household. I guess it was a good idea after all, because the kids really loved them!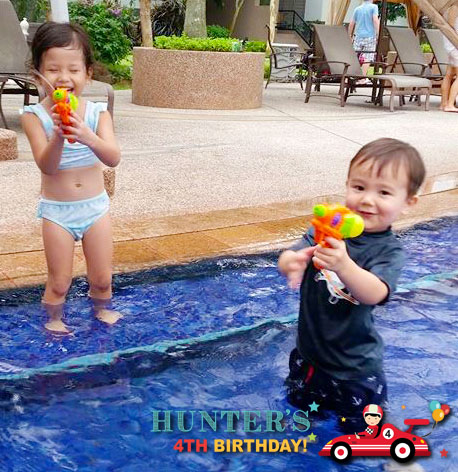 Look at these two cheeky lil ones! The kids had heaps of fun using us adults as moving targets for their water guns…. 😉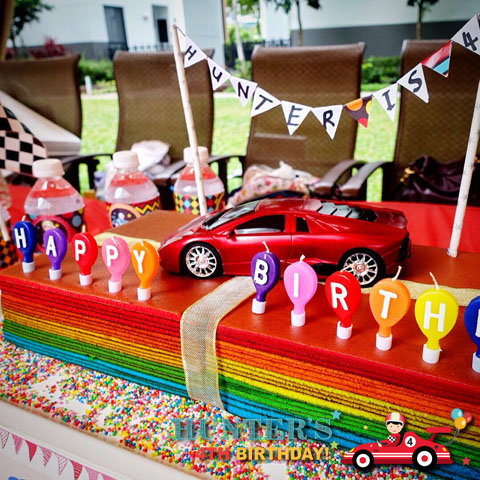 Here's a closeup of Hunter's cake! I was going to make a red velvet cake, but then decided not to when, two days before the party, I spotted this INCREDIBLE rainbow kueh lapis.

Kueh lapis is basically a very very rich cake (think of it as a dense, ultra moist and flavourful butter cake) that's made in ultra thin layers. It's fun to eat because you slice it thinly, and can peel each layer off one by one to eat. Lots of fun for kids too!
This one was particularly gorgeous because it was RAINBOW! And, I could let the cake sit outside without any cream or frosting melting. I simply plonked on a racing car, wrapped it with some gold ribbon, and popped in a homemade bunting I made the night before! Easy peasy and it got a lot of attention, because everyone loves kueh lapis and no one has seen a rainbow one before 😛
And, at $45/kg, you won't find another rainbow cake that is cheaper!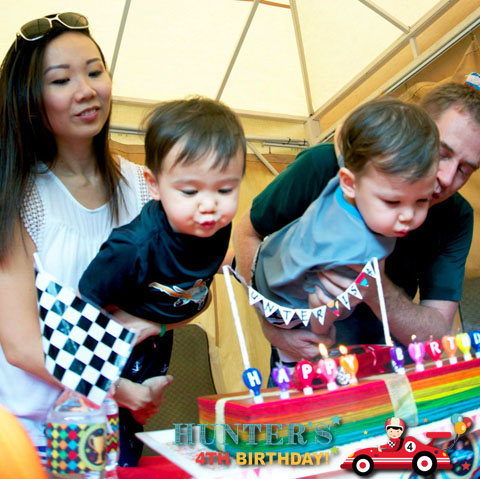 Both kids blowing the candles out 🙂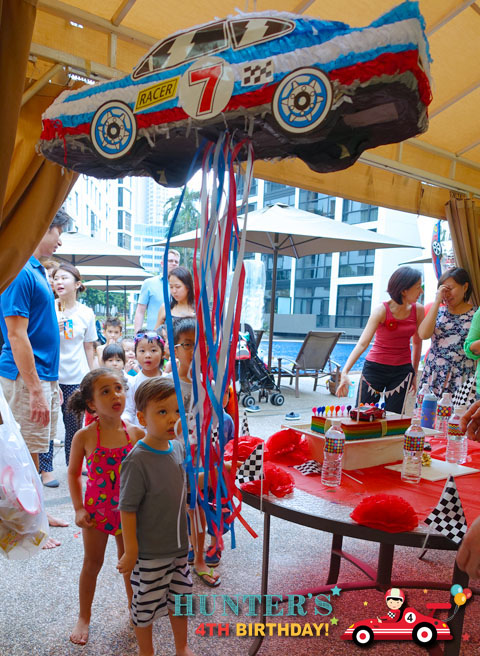 Piñata time! This is the second time we've had a piñata and it's failed both times. First time, the piñata was a whack-it one, which was way too hard for kids to whack open (not to mention it was in the shape of a construction worker, so a bit freaky to encourage the kids to whack the guy)!
This time, I thought I was super clever to get a ribbon-pull version, where each kid gets one ribbon and yanks, and the winning ribbon piñata.
Except……. we forgot to watch out for the fact that a kid might just grab ALL the ribbons and pull!
Which was exactly what happened.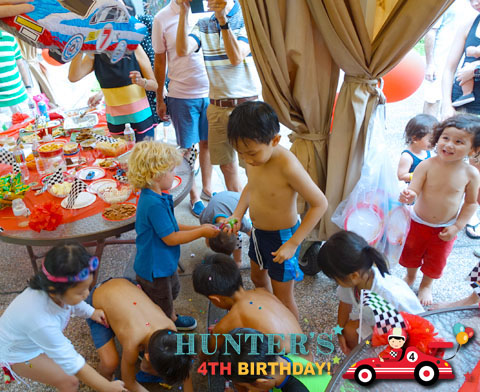 Well, at least the kids could still scramble to get the lollies and toy cars that came out!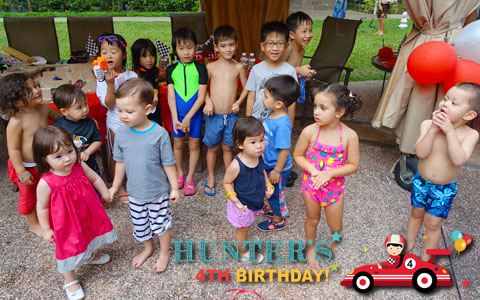 We attempted to get a group photo with ALL the kids. It was pretty much an epic fail. Only the 5 years old and up children actually managed to stay still. The rest were just random path generators, wandering all over the place!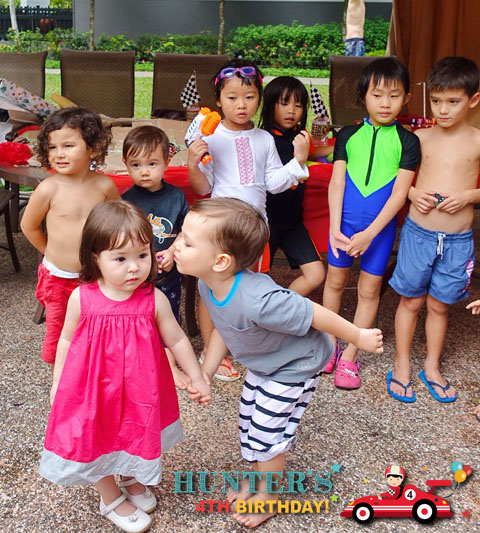 Birthday boy sneaking in a quick kiss!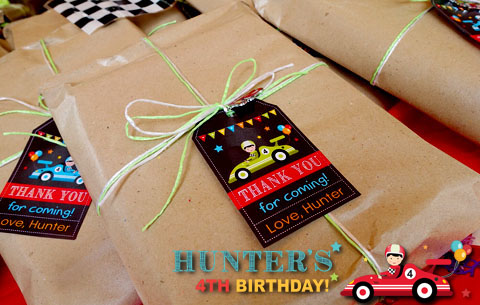 I was rather pleased with my idea for the party favours! They were pretty big, which left me wondering how to wrap up 25 of these without paying a fortune for wrapping paper or bags.
But then I stumbled upon a 'mom and pop' store that sold a giant pack of wrapping paper for food (y'know, what hawker centres package your chicken rice or whatever into!) for just $3.50! And I have tons extra to use for… errrr… I have no idea what 😛
Then I tied up the packages with raffia string and whacked on a printed out Thank You tag, with a little Disney Cars pendant! It was all pretty simple and scale-able for 25 party favours, so I was happy.
HAPPY 4TH BIRTHDAY, my darling Hunter! You're so proud that you're four years old now, and so eager to be one year older, to be bigger, taller, stronger, wiser. But you're still my baby bear. Always and forever.
Let's Chat!