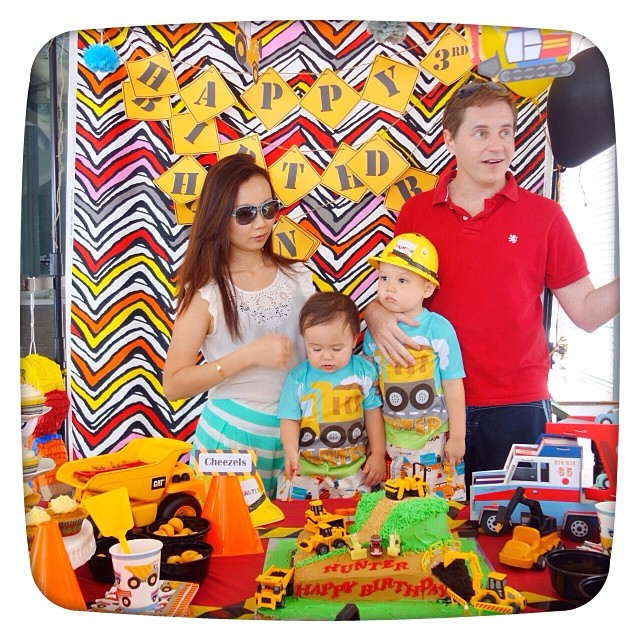 Oh what a fun party we had.. and what an AMAZING day Hunter had celebrating his 3rd birthday!
We stepped into the party area and were greeted by this sight (and, yes, Hunter totally froze and his jaw dropped):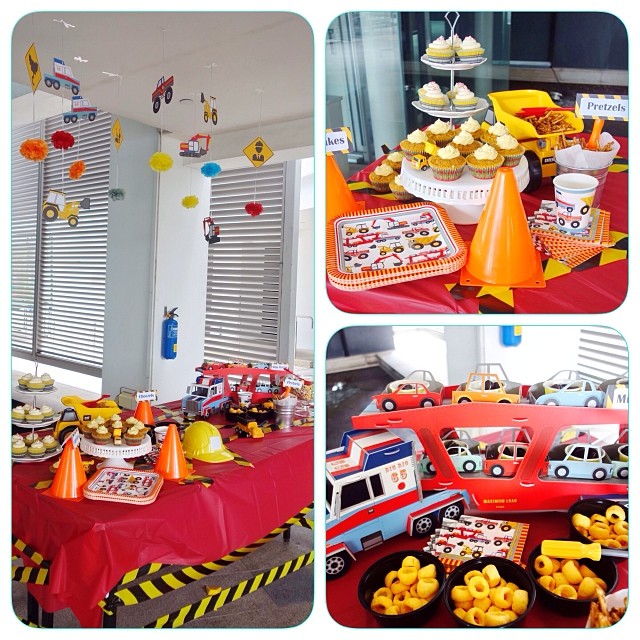 SUPER FREAK OUT BY THE BIRTHDAY BOY!!!!!
The magical folk at Party Perfect had arrived 2 hours prior, and had already set everything up, transforming the area into a red/yellow/black Construction wonderland. We simply just had to rock up and tadah! Instant party 😀
We popped Hunter's gifts (from very generous and thoughtful family and friends) on a table, alongside the Party favor bags: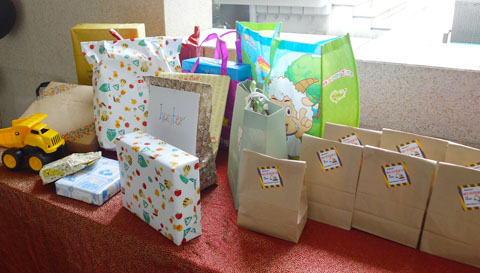 There was also a spot of Construction hat decorating for the kids, which was a bit of an attraction, and also makes for a nice little take-me-home present!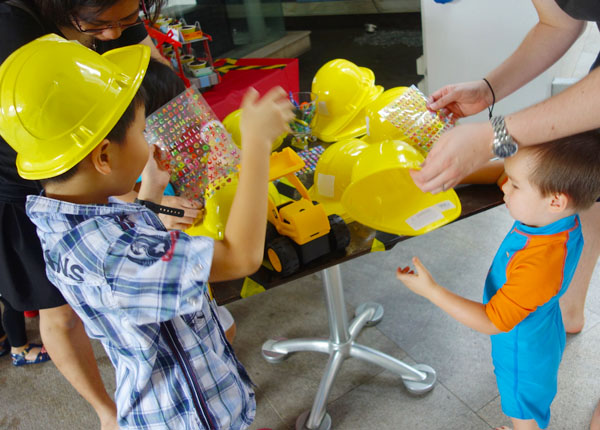 Aaaannnddd… a Candy floss machine! Though quite a few kids have never had it before, so had no idea what it was. Both Hunter and Carter didn't like it, I guess they're not used to having something so sugary! At least the kids all had a great time watching it being whirled up 😉
OK….. ready for the PARTY SHENANIGANS??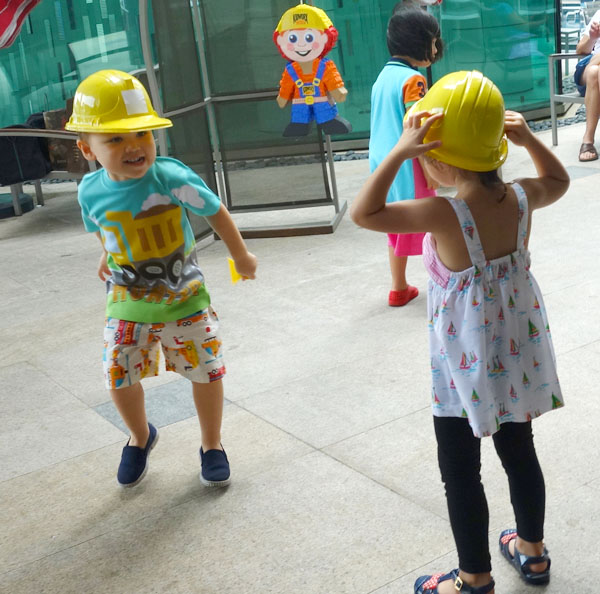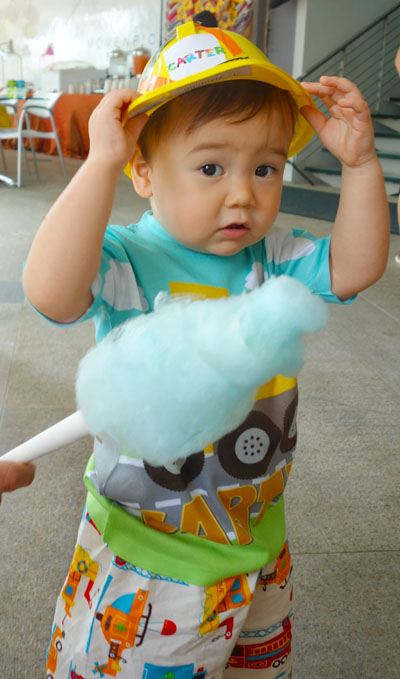 The Trampoline was a big attraction for both big kids and little kids. The bigger kids had fun jumping around, whilst the little kids basically were thrown into the air during the bouncing 😉 I wish I'd taken a video – they were all so cute!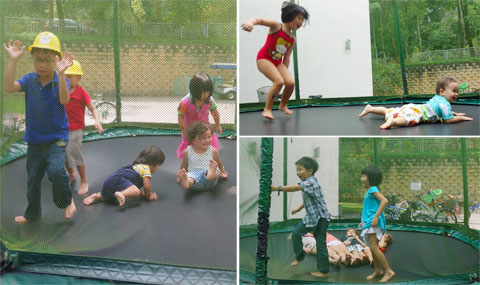 Me with my two yummy-mummy girl friends. One is pregnant, one gave birth just 2 weeks ago. And here they are, looking amazing!! PHWOAR!!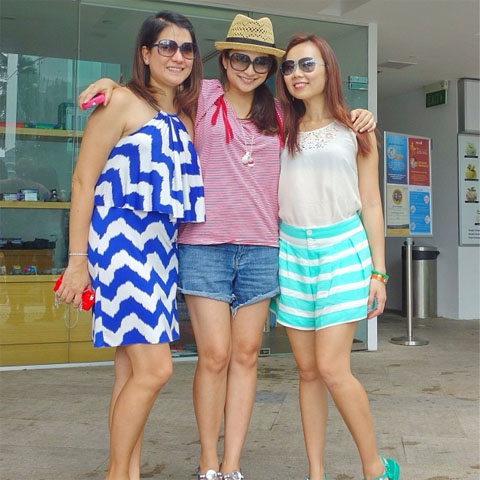 And a snapshot of some of the party guests. I didn't manage to get photos of everyone – grrrr!! I would have liked to, because it makes for a nice memento to remember everyone that attended.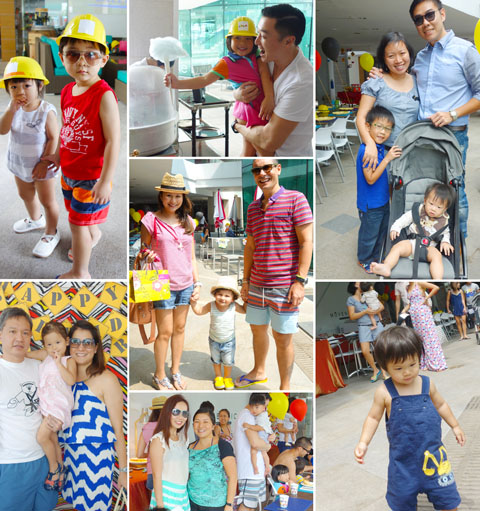 Oh, and we did a spot of swimming! There are three pools there, one of which is waist-deep – perfect for kids. It's a great way for kids to let loose some energy and almost every kid loves a splash and giggle 🙂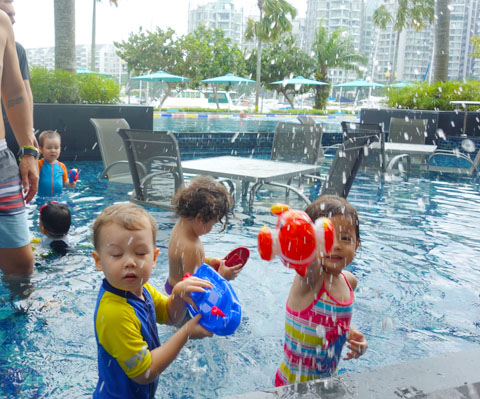 We had nibblies for the kids, who were all pretty pooped after the running around and swimming, so everyone sat down really well at the table!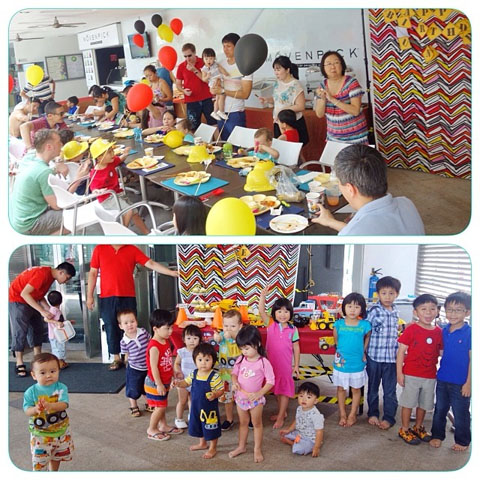 This is Hunter's kickass birthday cake, baked at home by a friend of mine. Isn't it adorable?? Hunter LOVED it and immediately started playing with the vehicles and the cake. Actually most of the kids did. So it was hard work for us adults to keep grabby hands and fingers away!!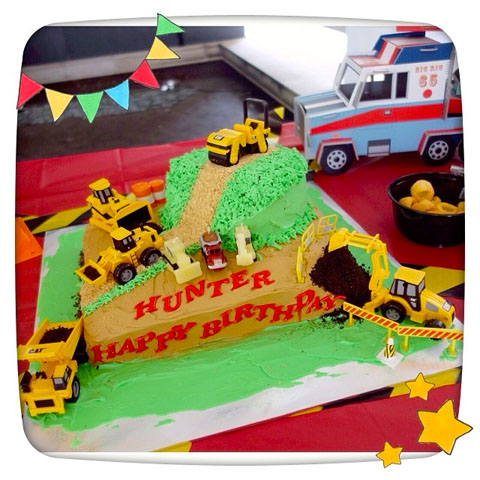 We also had a Piñata! This one was purchased by myself. I was also extremely silly and didn't realise that:
It is beyond weird to have a human-shaped pinata. I mean, what are we teaching the children here?? They were going "Hit the eyes!! Hit his bum!" etc. Whoops.
It's better to get the kiddy pinata that has a bunch of strings hanging from it (once of which opens the trapdoor to let the goodies out). Ours was a bash-it pinata, and it took a LOT of hard bashing – all the dads had to get involved!
And… ummm… our birthday boy Hunter wasn't pleased with the idea of bashing up a person/pinata, so he stayed CLEAR from it.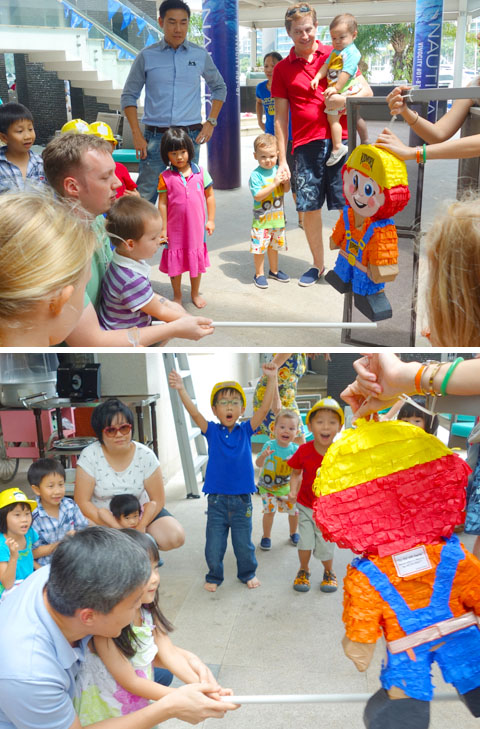 The piñata finally broke!! We filled it up with lots of lollies and jellies, and also little construction vehicles. There was a mad scramble to collect everything 😛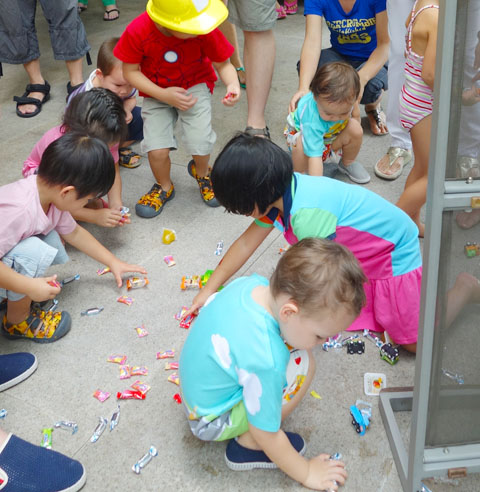 So that was our party! We were blessed with terrific weather, and none of the kids had any nervous breakdowns, so I'd say it went really well. Hunter and Carter both had a BRILLIANT time, and Hunter declared later that he loved his birthday. And that, is the best praise ever 🙂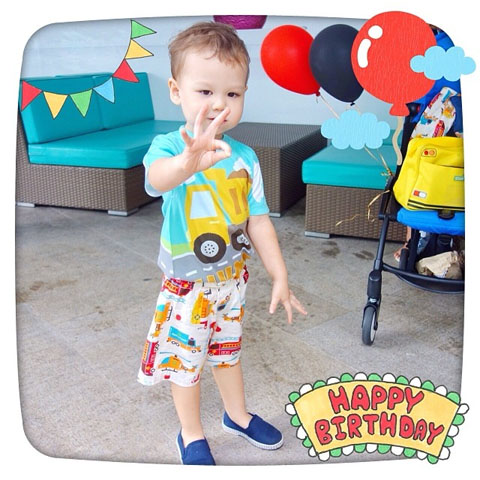 "I'm THREE years old!"
Mega thanks to the lovely ladies over at  Party Perfect that whipped up such an incredible event!
Let's Chat!