Serendipity 3 was HIGH on my list for NYC eateries, especially after numerous people told me to go check it out. Guess I should've done a bit of research on it beforehand, because…. it was the most baby UN-friendly restaurant I have ever eaten at. Bar none.
I would've walked straight back out, but we were a pretty big group and were already there, and it was just all too difficult to go back out and find another place to eat at, so I just figured we could just suck it up and dine there.
It was REALLY hard. There's a sign right up front saying "absolutely no strollers allowed inside" and the restaurant is small, cramped and loud. It's so cramped that, even without babies, you'd have trouble seating yourselves. On top of that, there are NO baby chairs, only booster seats that are not attached to the chair in any way, and that the waiter deemed "not safe". Errrr!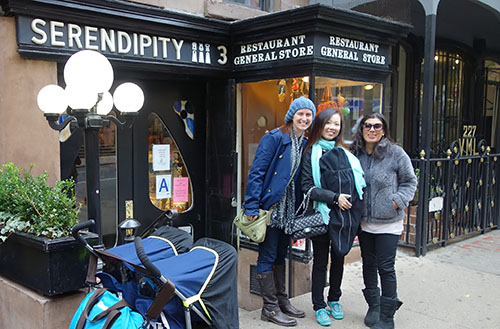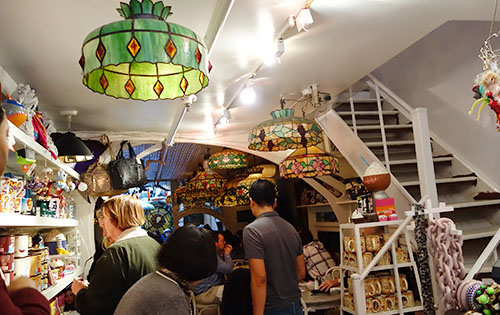 But we survived it. With babies awkwardly sitting on our laps as we ate, and with Hunter first being happy-as-a-clam and then going bonkers after he got sick of it all.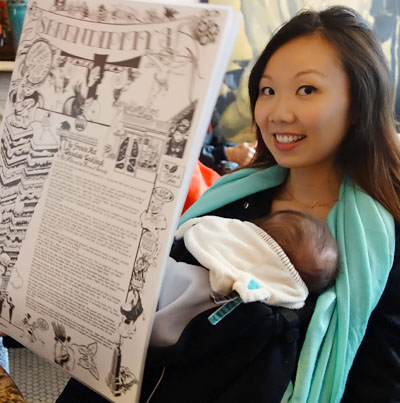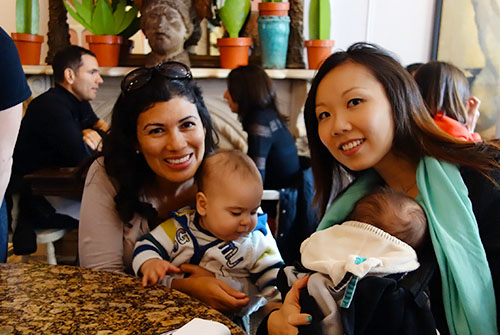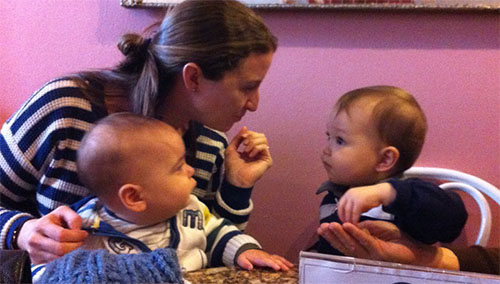 The service staff looked pretty frazzled (from the crowds of people there I suppose) but were still polite. I found the food a bit hit-and-miss though, so you basically gotta hope you picked the right dish 😛
The Nachos with chili con carne surprised me because the nachos were black! I think they're called "blue corn nachos" on the menu or something? They were lovely and crisp, and were actually a pretty big portion considering it was under the Appetizers menu.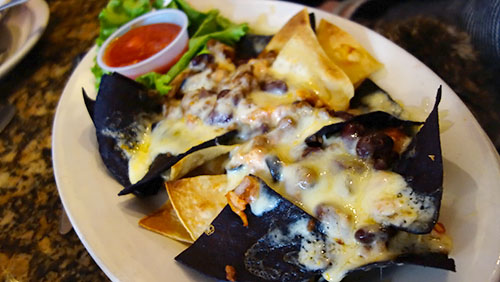 I flat out adored their Seafood Fettucine in a basil cream sauce. It was perfection! Strands of pasta drenched in a super creamy and rich sauce that tasted simply heavenly. I'd get this dish again for sure if I were to go back!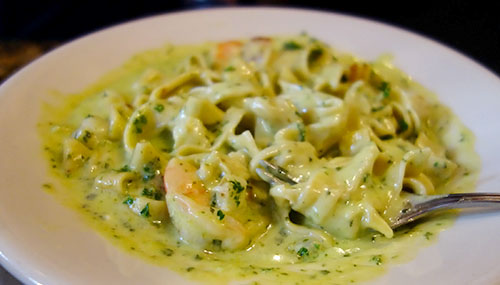 The Cheddarburger looked rather small against the fries 😉 I didn't try any of this so I can't comment much, but my girl friend scoffed it all!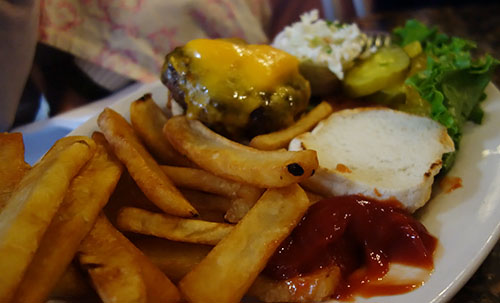 I thought the Chili with Cheese Crepe was very un-glam looking 😉 The dish was pretty much smack on 'average'. It was decent and pretty tasty, but nothing special. Definitely wouldn't order this again.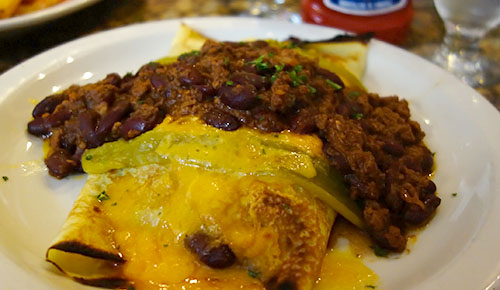 My vegetarian girl friend opted for the Asparagus and Jarlsberg Omelette which came with a pretty impressive serving of omelette. I didn't have any of this either but it looked pretty good – or at least like something that you'd cook up at home!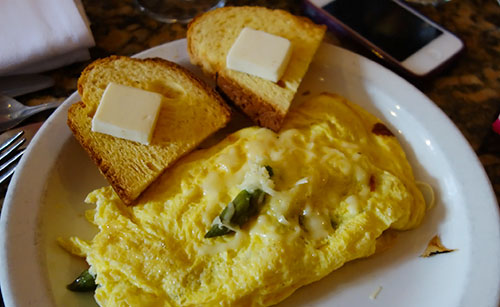 Hunter was a bit manic-cheery through half of the meal.. then got over-tired and started struggling and screaming. Sigh. The only person that he'd let carry was Dad, whom he promptly fell asleep on, so poor Dad had to be spoon-fed by Mum for his meal!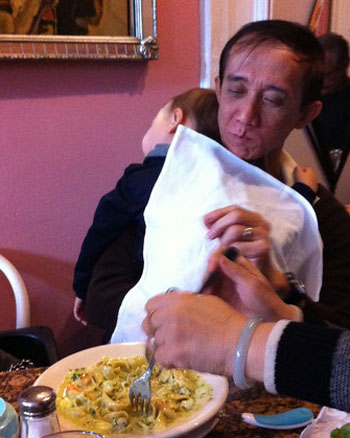 Of course, EVERYONE that recommended Serendipity told me "GET THE FROZEN HOT CHOCOLATE!!". And so I did. I'm glad everyone else wasn't greedy and insisted on dessert like I did, because the thing was massive!! It came in a large bowl, and being frozen chocolate, you can really only have a small portion. No way a single person can have this for dessert, alone?!
I thought it was pretty good.. rich and chocolately. But I think I prefer a regular hot chocolate as I reckon the iced version dilutes it a bit. It really isn't thaaaat different to other iced chocolates I've had around either. But I'm glad I tried it, because it was such an iconic NYC dessert!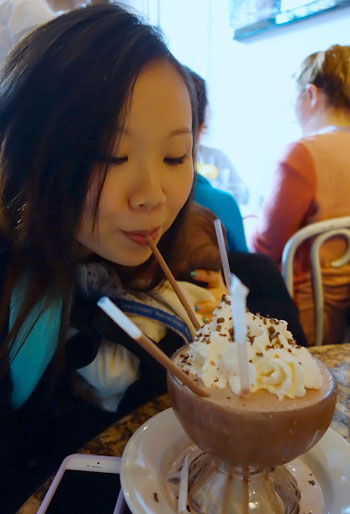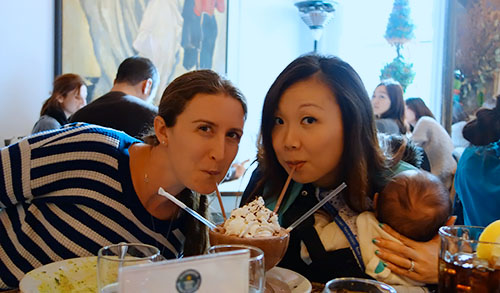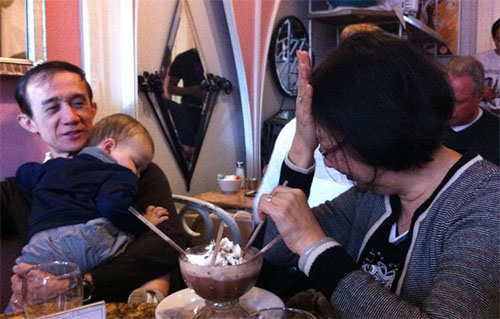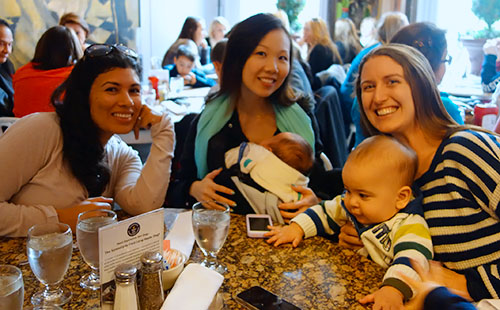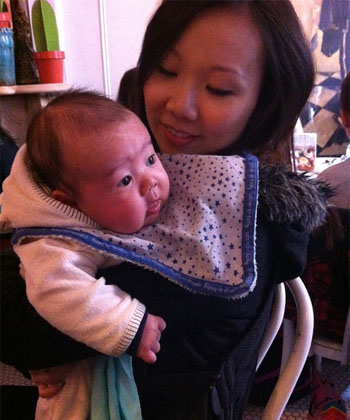 Now if you're after a place that's super-girly AND baby-friendly, you can't go wrong with Sugar & Plumm. If you have a daughter, you simply must check this place out! She will love it 🙂 Their tagline is "a spoonful of whimsy on the Upper West Side" and it is spot on.
The place is pretty spacious, and divided into a cafe on one side and a little shop and bakery on the other. The staff are dressed in these pretty purple dresses, and are really sweet and friendly. The place is unbelievably baby-friendly, with loads of high chairs, areas to park your stroller,  and even super-cute plastic cups with lids that they serve (complimentary) water in for the kids!! LOVE it.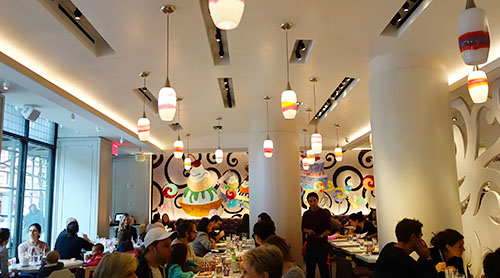 Their Ham and gruyere buckwheat crepe was very well done and beautifully presented. Absolutely no complaints!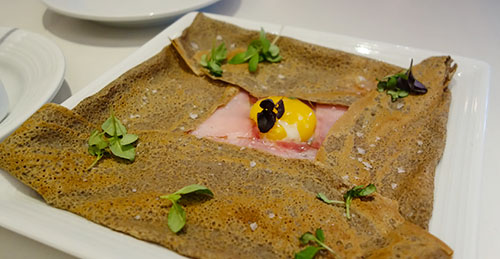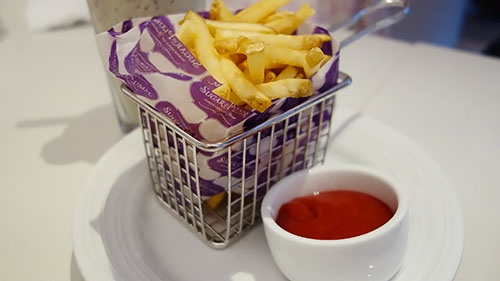 Their desserts are the stars of their menu, and the GRASSHOPPER (mint chocolate chip ice cream, chocolate sauce, peppermint patty) was a winner. It came in a tall frosted glass and was pretty luscious. Very filling, so two can probably share a milkshake!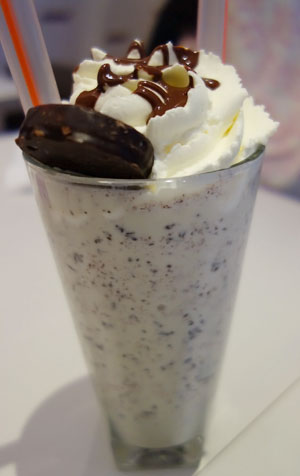 I opted for the SMORE'S SUNDAE (chocolate ice cream, marshmallow, graham cracker, chocolate sauce) and really gave myself an ice cream overdose! It was 3 or 4 scoops of ice cream in there, and basically one gigantic sugar overload 😉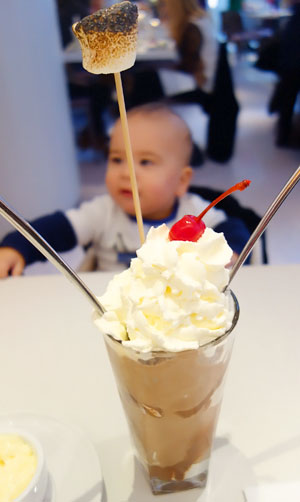 Let's Chat!