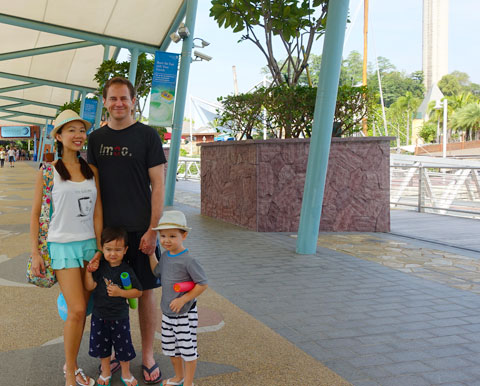 One of my kids' all-time hands-down favourite places to beat the heat is…….. Adventure Cove at Resort World Sentosa!
I honestly reckon that it's one of (if not the most) fun things to do outdoors in Singapore's permanent heat wave. It does cost to enter, though, so I'd recommend making sure you have the whole day free to hang out there, or buy the Invites Card that allows you access for a year – a very good idea if you intend to go more than 2x/year, as it works out cheaper to just get the card!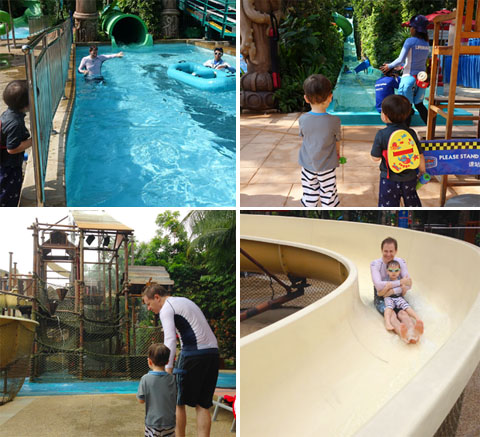 Admittedly, I am a bit of a priss and generally don't like getting my hair wet, my face messy, my barefeet on 'weird' ground, etc, etc, etc. I generally prefer to stay dry and nicely seated in a comfy air-conditioned area, than to be running around like a crazy animal! But, I LOVE Adventure Cove and it is just so much fun for kids and adults alike.
Check out their water slides! There are a bunch to choose from, and Chris and I went on pretty much all of them. I may have screamed the whole place down, but I did have fun 😉
The kids had a go on the kids slides (beige one in the photo above), and loved it too. And watching other people go down the adult slides provided endless entertainment for them.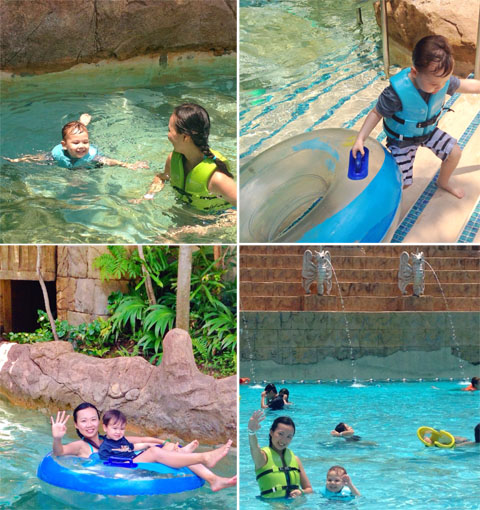 But the best part? The river that winds all round Adventure Cove. You can float in it whilst wearing a vest (you don't have to, but it's way more fun to as it keeps you afloat), or on a round inflatable float. The river is about waist/chest deep, and has a small current, so you get pushed along with minimal effort.
The kids ADORED the river and went round it perhaps 5 times or so. Each round takes approx 20 mins to complete, so you can imagine how long we all spent in that river!
The other attraction the kids loved was the wave pool. Every few minutes, we had a couple of minutes of rolling waves. They don't break and crash, but are big up-and-down waves – pretty gentle and fun even for little kids.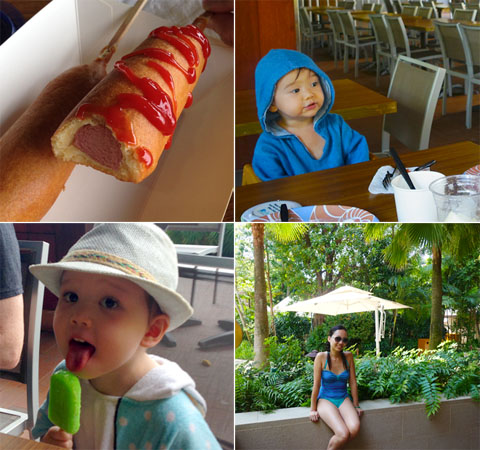 There is a HUGE cafe right in the middle of the park. The food – a mix of Asian and Western choices – is not amazing, but decent. At least they have corn dogs there, my favourite!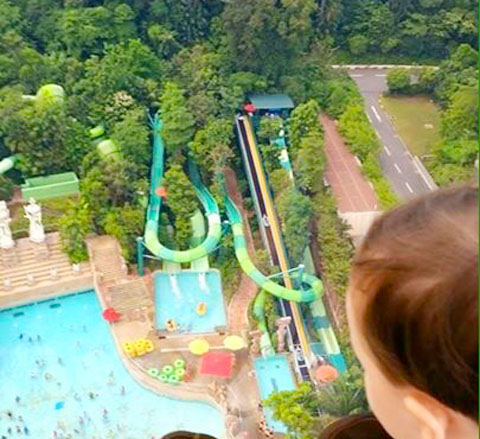 If you take the Sentosa cable car, you'll get a fantastic birds eye view of Adventure Cove. Very exciting for the kids to see from up high!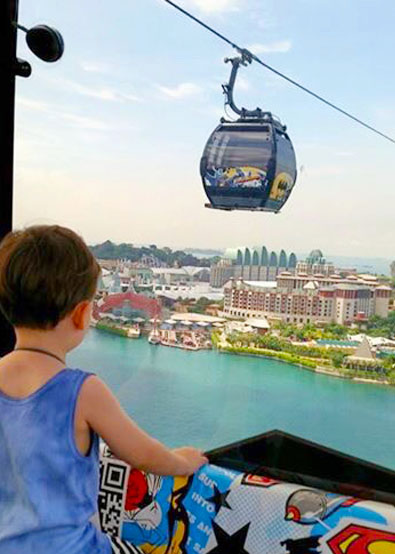 We LOVE Adventure Cove and the kids are always asking to go back. I'm thinking of making a trip there again soon!
Let's Chat!