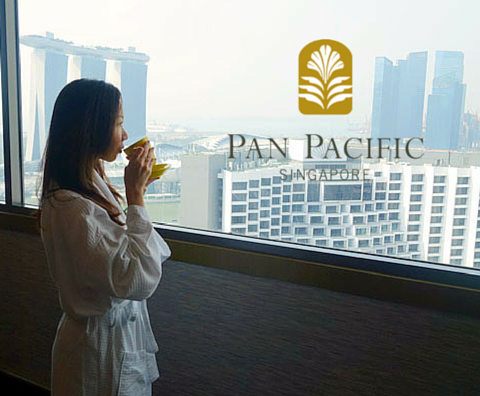 Pan Pacific recently launched one KICKASS deal – the Pan Pacific SG50 staycation – an exclusive package designed for Singapore residents to relax and unwind.
And, oh boy, did we relax and unwind!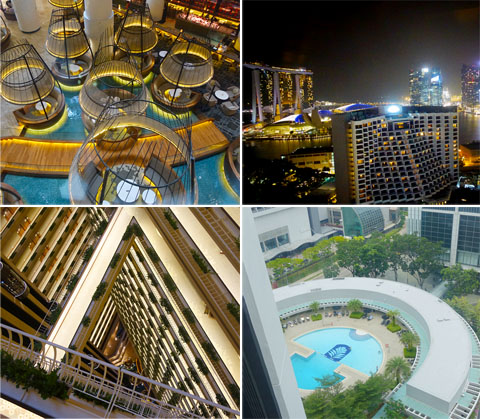 Pan Pacific is a 25 year old hotel situated in the Marina Bay area, linked up to malls like Marina Square, Esplanade, and Suntec City. It underwent a whopping $80 million transformation in 2012, and now boasts a gorgeous new lobby, guest rooms, and dining areas.
Architecture types will enjoy taking in the geometric shapes and patterns of Pan Pacific. The hotel is very clean, quiet, and luxurious.
Their pool is absolutely welcome in Singapore's heat and humidity, and it's divine sinking into the cool water. Just remember to apply your sunblock – there is no shade at mid day! I also love how pool towels, private lockers, bottles of chilled mineral water are all complimentary. All you do is rock up in your swimmers.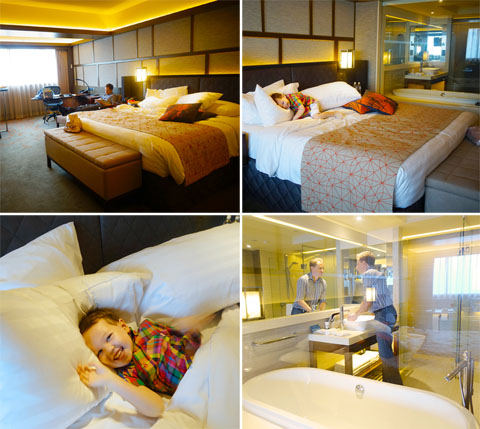 This is the luxurious Harbour Studio King Room. It boasts a king bed, decked out in sublime silky linen. The kids wasted no time zero-ing on the bed and messing it up for us!
The bathroom is see-through, though you can close the roller blinds for privacy. All toiletries are provided, so we didn't even need to bring our toothbrushes.
My heart always skips a beat when I hear the words FREE INTERNET. Yep, Pan Pacific provides complimentary wireless internet in the room as well as some public areas. The nerd in me sighs with pleasure.
There is a large TV that offers local and cable channels, as well as a Nespresso coffee machine (love that) and premium tea sachets. Complimentary bottled mineral water is also provided. What can I say? You are completely well taken care of here.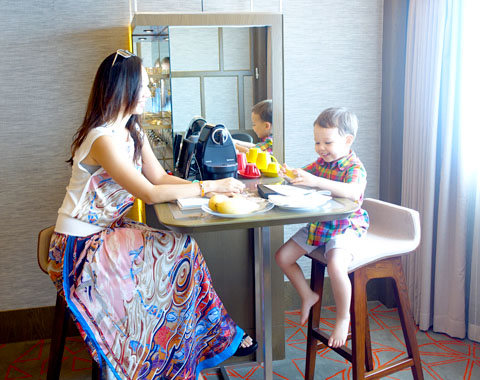 The kids enjoyed sitting up on the bar stools and eating snacks, whilst I chilled out with a Nespresso coffee. Love the sun streaming in through the wide glass windows too!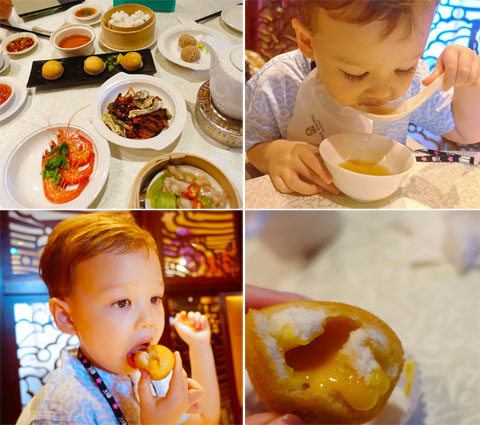 If Chinese food is your thing, Hai Tien Lo will delight you. The Cantonese restaurant is refined and luxurious, serving up an amazing Dim Sum Buffet ($48pp). Kids under 5 years old eat free, so both my kids did, and oh man – they both ate as much as the adults! Excellent value there 😉 Oh, and your SG50 package also gives you $50 credit for the dining areas – we used ours right here, so actually, the Dim Sum Buffet worked out to be 1-for-1!
The service there was impressive. Our waitress was a lovely lady that was very helpful with describing some of the more traditional dishes, and her recommendations were spot on. She was wonderful and even urged us to order more, letting us know which were the best value dishes, etc!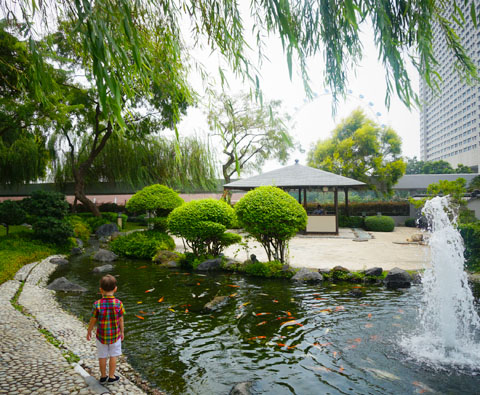 Surprised that this lovely garden and pond scene exists within a hotel smackbang in the city?
It's actually the garden outside Keyaki, a fine-dining Japanese restaurant. We enjoyed their Spring kaiseki menu there – more on that in another post later 🙂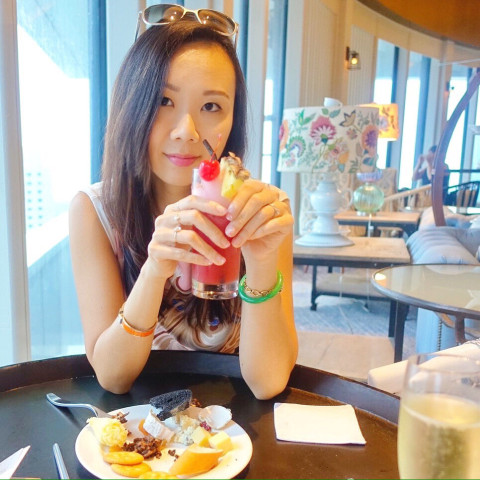 I've been telling all of my friends to make sure the either book the Pacific rooms (all located on the top-most floors), or pay to top-up their regular room to allow Pacific Club access (that's where the photo, above, was taken).
I'll say this point blank: a staycation at Pan Pacific is not complete without Pacific Club access. YOU MUST GET IT.
The exclusive benefits include:
Champagne breakfast at Pacific Club or buffet breakfast at Edge, from 6:00am to 10:30am or in-room dining breakfast
Afternoon tea from 3:00pm to 5:00pm
Sunset cocktails and canapés from 6:00pm to 8:00pm
24-hour club service
Late check-out until 2:00pm
Use of Pacific Club private dining rooms for up to two hours with prior reservation
50% savings on secretarial services at the Pacific Centre
A choice of pillows from our Pillow Menu
Pressing and laundry of up to two pieces of clothing per night of stay (non-cumulative)
Complimentary non-alcoholic beverages from the in-room mini bar
Guests above the age of 12 years old are welcome at Pacific Club
Smart-casual dress code applies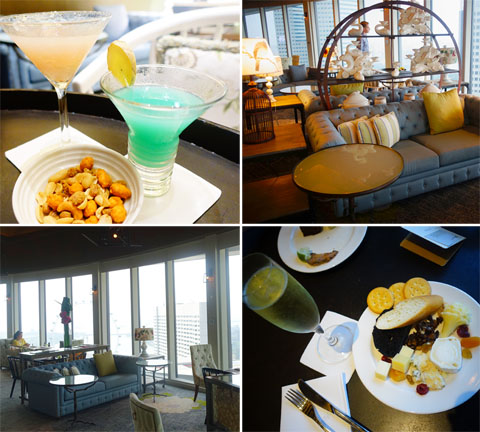 Enjoy afternoon tea whilst taking in a 360 degree view of Singapore. The club is very quiet (no kids allowed!) and the staff there are very personal – they know many guests there by name and are very attentive.
We were also indulged with a wonderful body massage at St Gregory Spa, located at the pool area. It was a really sublime way to ensure we were totally relaxed and blissed out before our Sunset Cocktails…….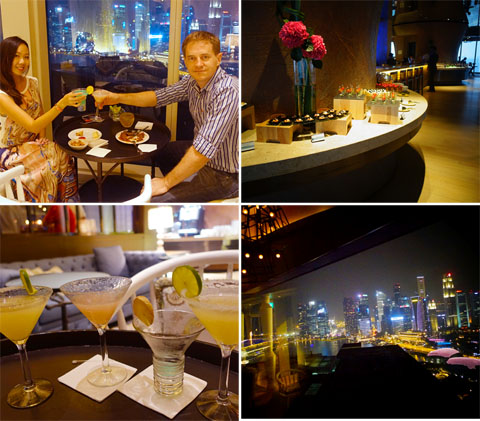 So we headed back to the Pacific Club, for their Sunset Cocktails. Again, there is a buffet spread of canapes and goodies. The food is actually enough to fill you for dinner – that particular night featured dishes like a lamb curry and samosas!
And, I have two words to share with you: FREE COCKTAILS.
Yes, it's free cocktails, free-flow, during Sunset Cocktail time. You can choose from their menu of cocktails, or opt for champagne, or red/white/rose wine.
We drank…………………. a lot.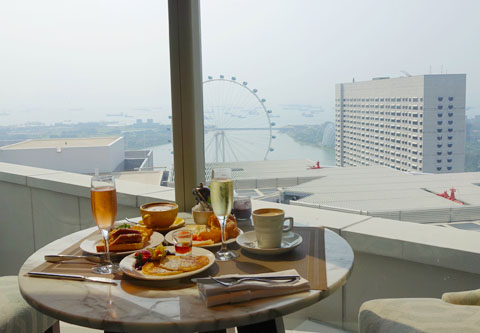 The next morning, we decided not to opt for the complimentary buffet breakfast at Edge Restaurant. It boasts a phenomenal selection of dishes, but is also packed.
So if, like us, you want quiet dining whilst enjoying the morning light, pop back into the Pacific Club (can you see why I can't get enough of this Pacific Club membership thing?? It's the best deal ever!) for…………
COMPLIMENTARY FREE-FLOW CHAMPAGNE BREAKFAST.  
Sure, your family and friends might think you're a little nuts to be downing champagne at 9AM in the morning, but what do they know. Bring on the champagne!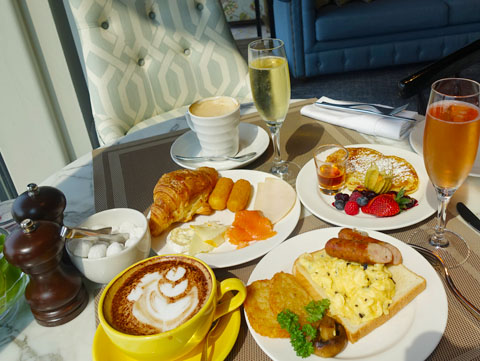 This photo captures it all so well. Gorgeous looking food, a lot of it (you order as much as you want, as it's all included in your room package), with lovely coffee and chilled glasses of champagne.
All enjoyed under the morning sun, streaming in. And taking in the incredible view of Singapore.
Ohhhhh we were very happy indeed.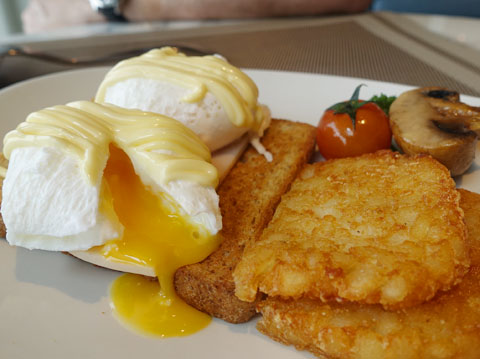 Sneaking in a stand-alone shot of one of the dishes, the eggs benedict, because just look at how luscious that egg is!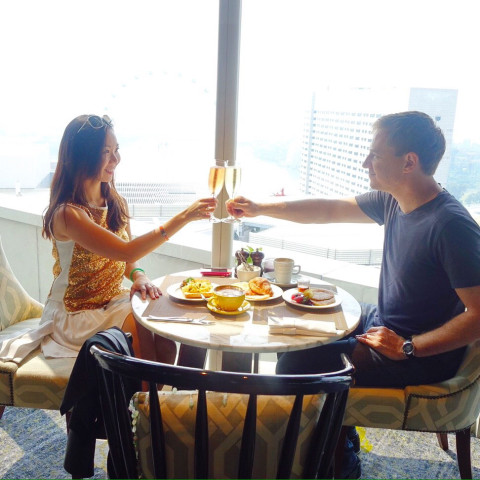 We had an absolutely wonderful and memorable stay at Pan Pacific Singapore, where we wanted for nothing and felt so well looked after. That champagne and cocktail buzz we were on kept us happy for days afterwards 🙂 Thank you Pan Pacific!
—
This Pan Pacific SG50 staycation is available on weekends until 30 December 2015.
Priced from $258, it includes:
Complimentary breakfast for two
SGD50 daily in-house credit
Internet access
20% off for dinner at Atrium, Edge, Hai Tien Lo, Keyaki and Pacific Marketplace
If you consider what we enjoyed during our stay (free food! free alcohol! $50 dining credit!), it is MAJOR value for money. Highly recommended.
Let's Chat!