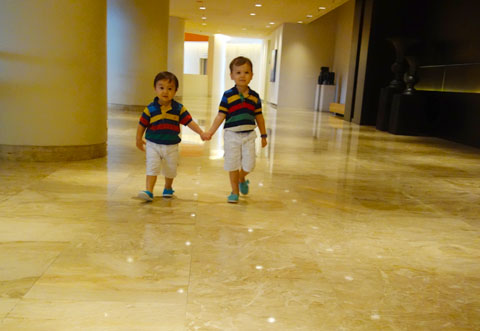 Seating over 300 diners, Edge at the Pan Pacific Hotel is quite the epic culinary journey during their Saturday buffet lunch, dubbed A Long Long Lunch. Boasting well-known and delicious food from Singapore's heritage, the buffet stretches for four hours (12-4PM) and is excellent for children.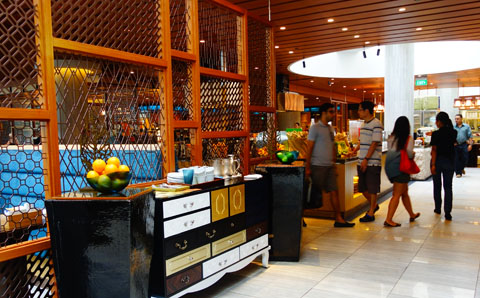 The restaurant is spacious, huge, actually. The service is incredibly polite and they are willing to go that extra mile – with us being served our food several times (instead of having to wait for the food to be cooked at the station) when they saw I was carrying a toddler.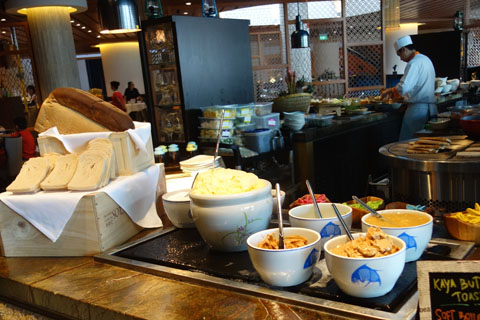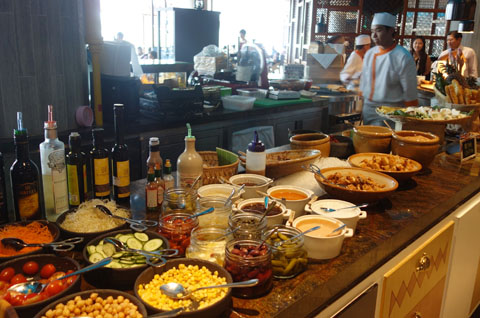 There is a dizzying amount of food here. Everything from the humble DIY kaya bread, to delicious Italian thin crust pizzas, to perfectly charcoal-grilled satays, to a killer laksa. The selection is HUGE and the kids ate so much that we were unsure whether to be delighted or horrified.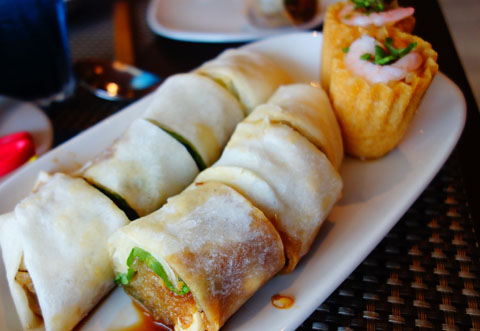 Just a special shout out here because I really liked their popiah and kueh pie tee. I've been craving these babies for the past few weeks – and they don't seem to be as easy to come across now (at least not in food courts I've popped into). So I was delighted to be able to eat my fill here!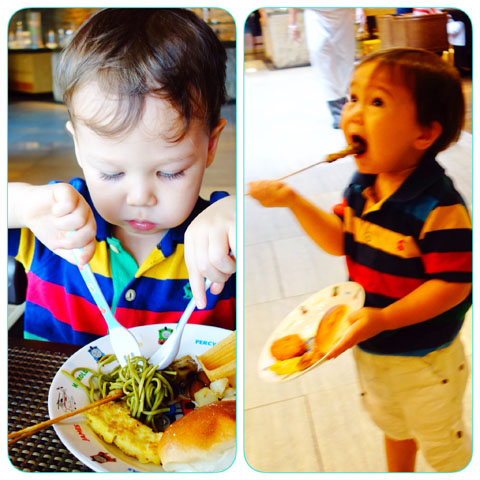 The kids walked around with us, picking their own food to put into their (super cute) Thomas the Train plates. They ate perhaps 3 plates of food each. Maybe more?
Fact: we finally found the maximum of Carter's stomach. It was here at the Edge that he had eaten himself full, unable to eat any more food, and just looking around glassy-eyed. We have never found the maximum of Carter's stomach (in one sitting) prior to this. Impressive.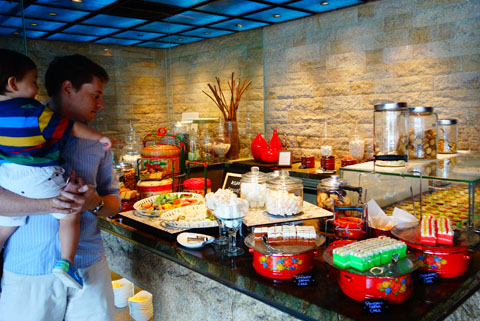 The phenomenal dessert bar. My favourite part! This was filled with local delights like kueh tutu, nyonya kuehs, old school biscuits, lots of durian desserts, etc. There was also a station for freshly-made pancakes and waffles, as well as an ice kachang machine that had the kids wide-eyed!
If you're a bit of a local food fanatic, and want to dine in style and leave completely full, Edge at the Pan Pacific is going to knock your socks off. We were delighted with our family friendly (both the food, and the staff) was. Grab a table by the window for maximum natural light and where the kids can look out at passer bys and cars going past on the road below.
The Long Long Lunch is available on Saturdays 12-4PM and is SGD 50 nett per adult, and SGD 25 nett per child (5-11 yrs old).
Let's Chat!