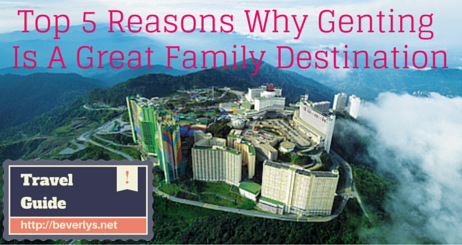 We've just come back from a 3D2N trip to Genting in Malaysia – the city above the clouds! It's our first time there as a family, so we were really excited when we heard it was really family friendly.
Just how family friendly?
So much so that the kids are still yabbering about the various activities that they did, and keep asking to go back! We rank it as one of the top, if not the top, family destinations for couples with really young children. Everything is super accessible – from proximity of your hotel to the attractions, to how easy it is to buy amenities. We could travel really lightly, and didn't need to frantically pack the diaper bag each morning to make sure we were well stocked for the day. It was one of the most stress-free and easiest family trips we've had the pleasure of experiencing.
So I thought I'd cherry pick all my top reasons and write it up for you:
Top 5 Reasons Why Genting Is A Great Family Destination
1. Travel in style and luxury to a self-contained holiday destination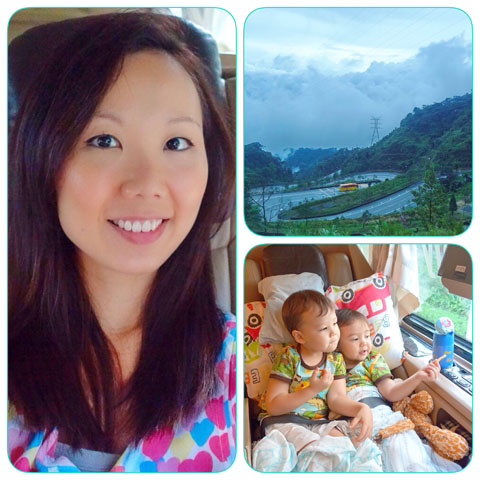 We sat on the TransStar from Singapore->Genting. I highly recommend their Solitaire coach because it makes the 6.5 hour journey infinitely better than being cooped up in a standard bus. The Solitaire boasts massive reclining seats, an attendant on board that brings you hot meals and drinks, and comes with a bottle of water and blanket for each person. There are only a few seats on each level of the double-decker bus, so it feels very private. Chris and I were like "What the…. WHERE ARE THE REST OF THE SEATS ON THIS BUS?" As Hunter succinctly put it – "this is an aeroplane bus!" – because it's like sitting in Business or First class in a plane.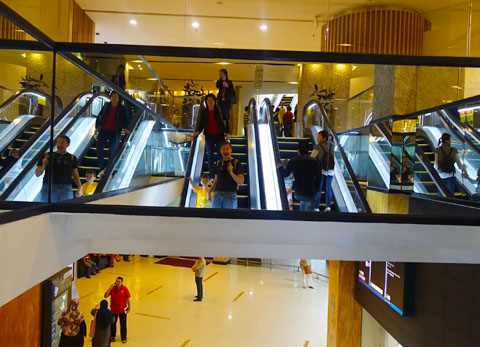 What really surprised me about Resorts World Genting is how self-contained it was. We never needed to go outside during our entire holiday, which meant we were immune to rain and too-hot or too-cold weather. Additionally, everything is within a few minutes walking distance, and always under cover. There are loads and loads of escalators and lifts around, so no need for young kids to climb stairs.

Amazingly, we didn't need our stroller (!!). We simply popped back into the hotel room to nap the kids, then walked to the next attraction once they woke up. It was the most young kid-friendly place we'd ever visited, thanks to the accessibility to restaurants, amenities, and everything else. Did I also mention that, being a city 6,000 feet above sea level, it constantly feels like air conditioning when you're outside? Sooo lovely and what a fantastic change from Singapore's heat!
2) Engaging performances for children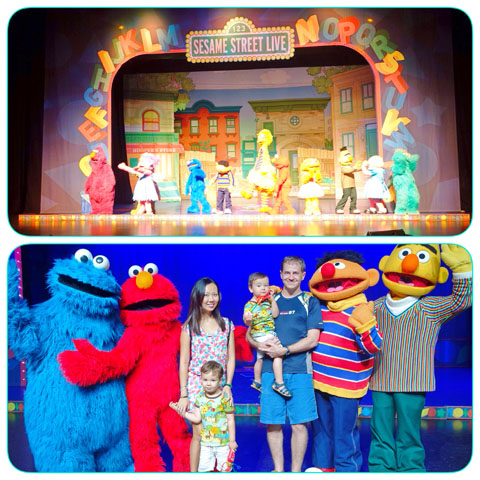 Because Resorts World Genting is so massive, big international productions often come and hold performances. We were there with perfect timing to catch Sesame Street Live – 'Elmo makes music', a multi-million dollar Broadway-style musical production from the USA. There is even a slot during intermission to get up and take photos with the characters – the kids loved stroking them!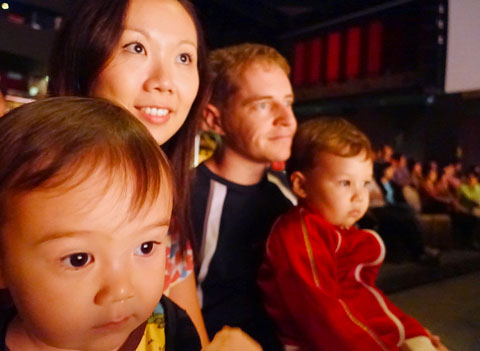 The Sesame Street Live show lasted around 90 mins and both kids were mesmerized throughout – no fidgeting or saying they wanted to leave. It's perfect for their age group IMHO. If your kids are into Sesame Street, YOU MUST WATCH THIS. The kids were thrilled and sang along, counted along, and jiggled around to the catchy tunes! Carter declared he liked Cookie Monster best. "Why?", I asked, "Is it because he likes cookies?". "Ya", he said, "Carter too".

 The Sesame Street Live production is on now until 03 Jan 2015.
Find out more information about The Sesame Street Live Show here.

3) An indoor theme park suited for young children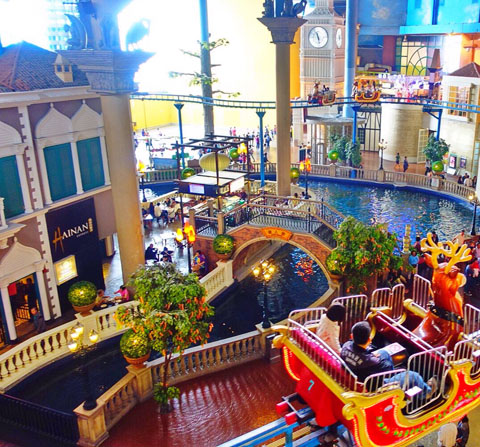 This was quite a unique experience for us! We've been to Universal Studios and theme parks like that, but the kids were pretty unimpressed with those, largely because the rides were all too daunting (or not even allowed) for young kids. The Indoor Theme Park is perfectly suited for young children – 2 to 7 years old IMHO – because of the 'slow and steady' type of rides and bright colours.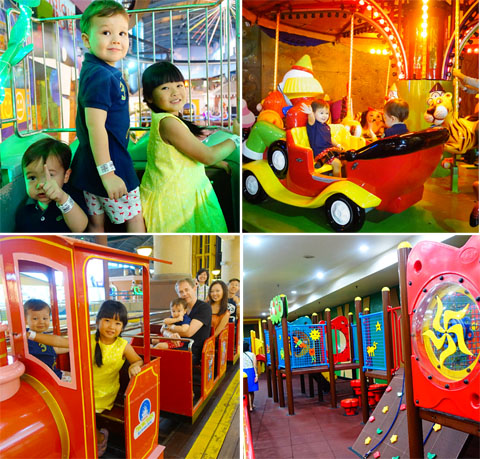 The theme park itself surprised me, it is laid out within a large mall, and spans across multiple floors. It makes it very unique because it means the rides are all built up in the air! This is a particular hit with the kids, because they were thrilled to be 'flying' in the air whilst sitting on the rides. I can't even tell you the number of times the kids begged to go on the rides over and over and over again…..

Incidentally, Fox's first theme park is being built right now (my kids were particularly excited about the Rio and Ice Age sections!). It's outdoors and is massive! It'll be hugely popular when it opens in 2016, I'm sure, and will make Resort World Genting a big hit among the older kids and adults too.
4) Activities for the whole family
I'd peg Resort World Genting as a really good destination for young families. However, we managed to sneak in some activities that are older kid-friendly or even adult-friendly as well.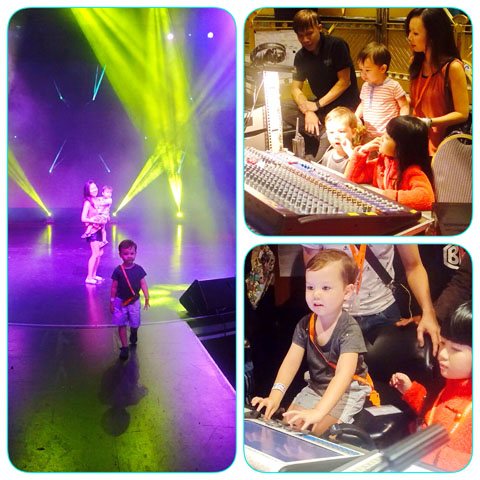 Behind The Scenes Tour: The kids were thrilled with the opportunity to get hands-on experience changing the stage's lighting and playing with the sound console! I'm pretty sure Hunter would've been content sitting there for a few hours just fiddling with all those dials.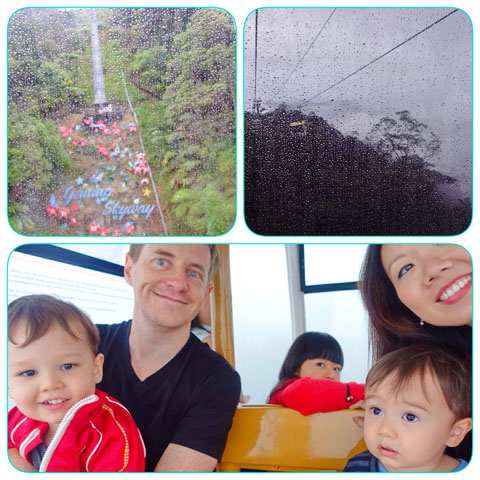 Genting Skyway: this scenic cable car ride takes around 20 mins each way and offers a scenic and panoramic view of Genting. It was actually really cold and raining when we went on it (bummer!) but was also quite serene in a way, because we got to watch the clouds roll around the mountains (Genting is 6,000 feet up from sea level!). I wish we'd had another chance to go on it when the weather was sunny and clear!
Snow World: channel your inner snow bunny, or bring along your own like I did. Everything is provided, so you simply just rock up and they'll dress you. At a chilly -6 celcius, the kids were pretty stunned to be surrounded with snow! There is a giant slide to go down on, and two levels of snowy fun. Hunter particularly loved being pulled on the bright red sled 🙂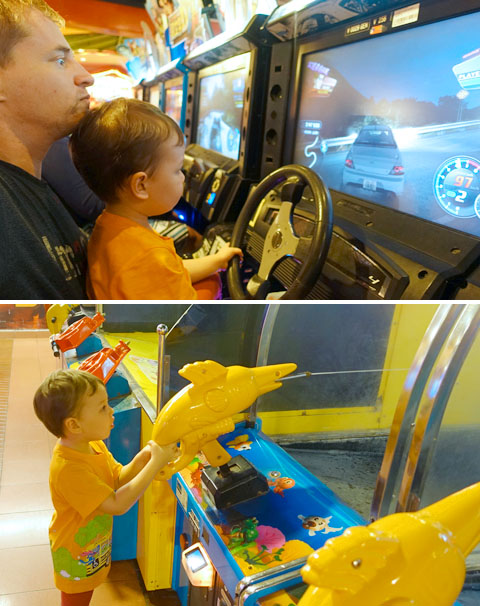 Funtasy World and Vision City: a 30,000 square feet gamer's paradise – young and old! Hunter, for the first time in his life, discovered the world of computer games. Since then, he keeps asking to go back. He loved the water squirter game, as well as the racing car games. He even came in first place (with a little help from Daddy)! There are more than 400 simulation arcade machines at Vision City and Funtasy World Video Games Park, so be prepared to sink in a few hours here – it's all quite addictive (!)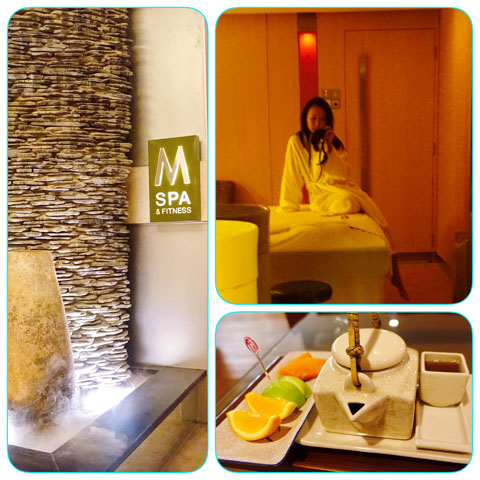 M spa: I feel a tad guilty to admit that my favourite part of the whole holiday was a deliciously luxurious 90-min massage at the hotel spa. OK OK I don't feel guilty at all, I totally enjoyed it!! I went at 9PM and was kneaded and stroked into a blissful state. A perfect night cap for parents once the kids are asleep, and a lovely way to relax after a busy day.
5) Delicious and reasonably priced food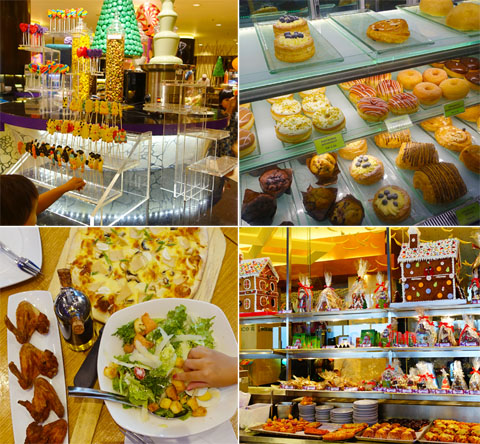 We were astonished by how reasonably priced the food was, especially for the quality and quantity. Since the resort is totally self-contained, you'd expect hotel restaurants to be pricey with only mediocre food. But we were delighted with what we found – 79RM (under SG$30!) for a full international seafood buffet in the Coffee Terrace! The selection was huge, with a lot of the dishes cooked-to-order. Hunter gobbled up tons of the salmon sashimi and the kids destroyed the epic dessert section – with so much dessert it made me dizzy just looking at it all!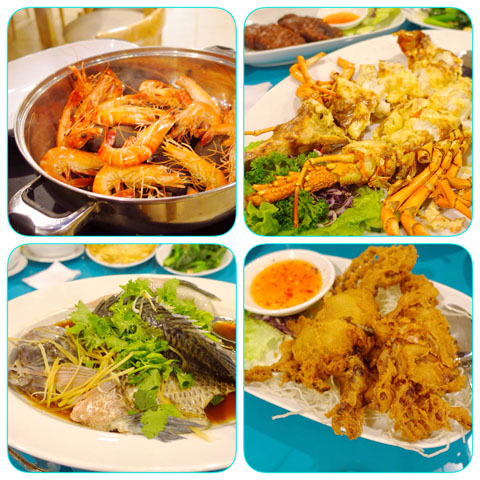 My personal favourite meal was at Resort Seafood, another one of the hotel restaurants. They specialise in live seafood, and so that was what we ordered. The spacious restaurant was so kid-friendly, and with excellent service. And ohhhhh! The food! The freshness and quality of the seafood was superb, and I just couldn't. stop. eating.

Some of my favourite dishes (clockwise from top-left): Sauna Live Prawns with Genting Pu-erh Tea, Baked Australian Lobster, Steamed live fish in soy sauce, Soft shell crab. Not pictured but also fantastic was the insanely fragrant and moist Crispy Smoked Duck, and delicate Almond Pudding. 
I reckon families with young children will particularly benefit from the way Resort World Genting is laid out – from the fuss-free travel there, to the everything-is-accessible concept of the resort, to the extremely family-friendly activities. There is a LOT to see and do here, and to be honest, I think you need around 5 days to take it all in at a leisurely pace, and appreciate it all to its fullest.
We spent 3 days and 2 nights, though, which is good for families that just want to pop in over the weekend and take minimal leave. I think our itinerary was really good as we managed to pack in most of the attractions, but still have room for nap time. None of the kids suffered any meltdowns – despite the serious sensory overload they experienced all 3 days – so I think our itinerary was planned well. Can't wait to go back!
Let's Chat!