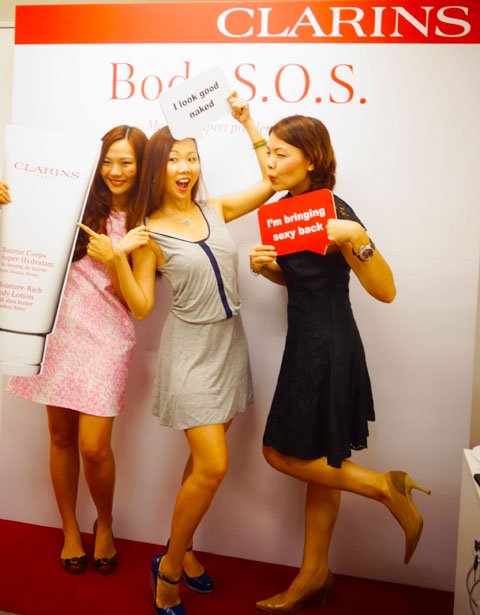 Such professionals, we are 😉
This is at the Clarins Singapore office! Cos all work and no play doesn't make life any fun, right?
We were there to check out the unveiling of Clarins Body S.O.S products, of which you can get a FREE Body S.O. S trial pack. You can also share this with a friend (instructions at that link) to win some Clarins prizes.
Usually freebies come with all sorts of crazy things you have to do, but nope, this one is a straight-up honest-to-goodness freebie… AND by a legit and highly regarded luxury beauty company. So I'm actually really freakin' pleased to be able to share it here!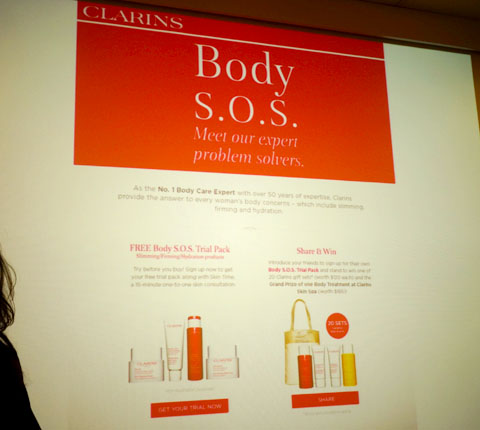 These are the goodies we got to play with. Shame that there were quite a few people there watching, or I'd have just dumped the contents straight into my bag and ran out the door laughing hysterically. What yummy products!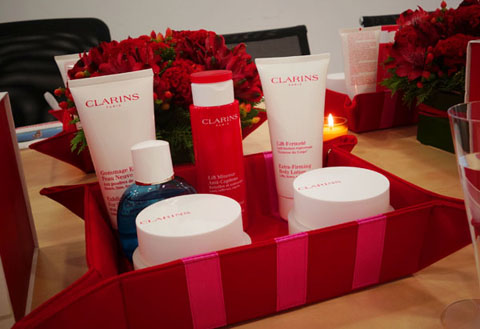 We wrote down What we love most about our body and What we dislike most about our body.
And this is mine: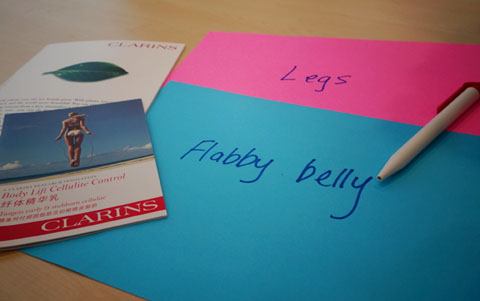 So these are the three pillars that Clarins body products are focused on: Slimming. Firming. Hydration.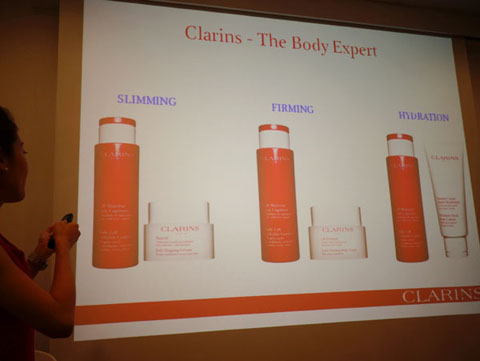 I had a fab time playing with the products! This is the Smoothing Body Scrub. I'm using it 2x/week and love the micro-fine granules in it. I pay particular attention to my shoulders/neck, upper arms, and butt/thighs. I'm delighted with how soft and smooth my skin feels afterwards, so I've been using this tube religiously!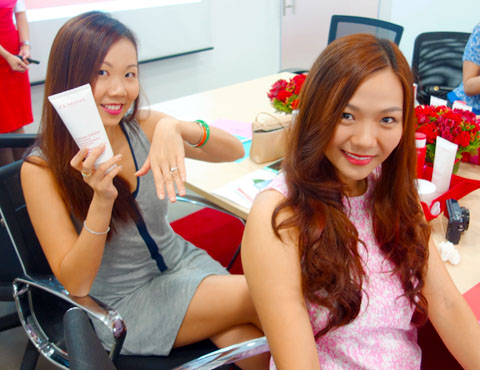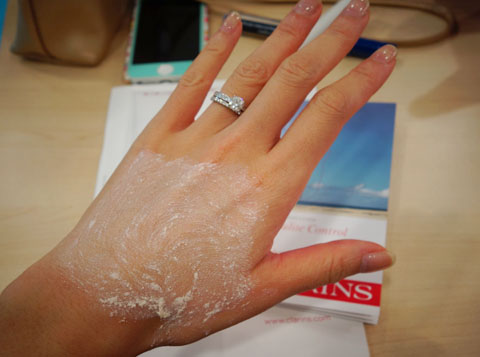 This is my #1 favourite Clarins body product – BY FAR. If you want to buy just one product, this is the one. (it's also in the FREE Body S.O. S trial pack but a mini size version).
It's called the Body Lift Cellulite Control and ARRRGHHH I wish I had discovered this a lot earlier!! My belly and thighs/butt really could've done with a dose (or ten) of this stuff years and years ago.
So it squeezes out a light-pink gel cream. It's super easy to spread and absorbs very quickly (a bonus for me, cos I'm always a rush in the morning). You're supposed to massage it in like in this video, but frankly, I don't sit around in sexy looking outfits and look all gorgeous and tanned and relaxed that early in the morning! So I prop up a leg on the side of the bathtub and just rub the lotion in.
Give it a minute and……..
*tingle*!!!!!
Oooo it feels good. It's a mild sensation that feels all refreshing and chilling. So good in Singapore's heat. It dissipates about 10 mins later, but I do see and feel firmer skin. Not like I suddenly loose a whole dress size or suddenly look super skinny or anything, but you do see noticeable firmness.
Gah! This is just so good! I'll re-buy this over and over, it's a staple for me.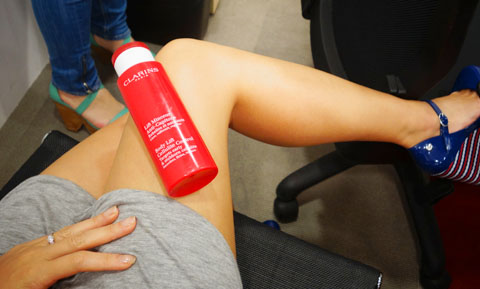 And then we gobbled strawberries, and macaroons. Cos that's just what girls do.
Oh, and pose like madwomen, of course!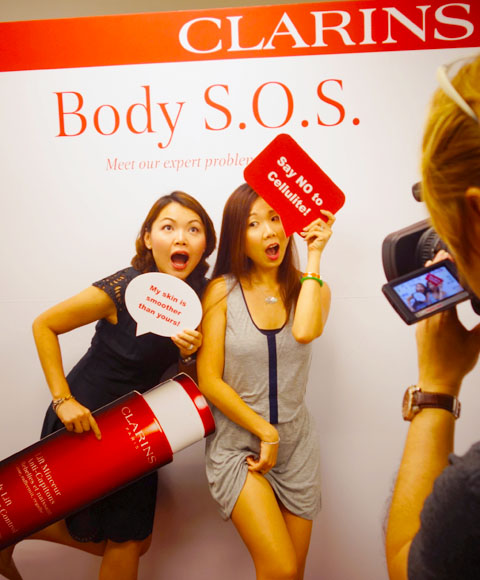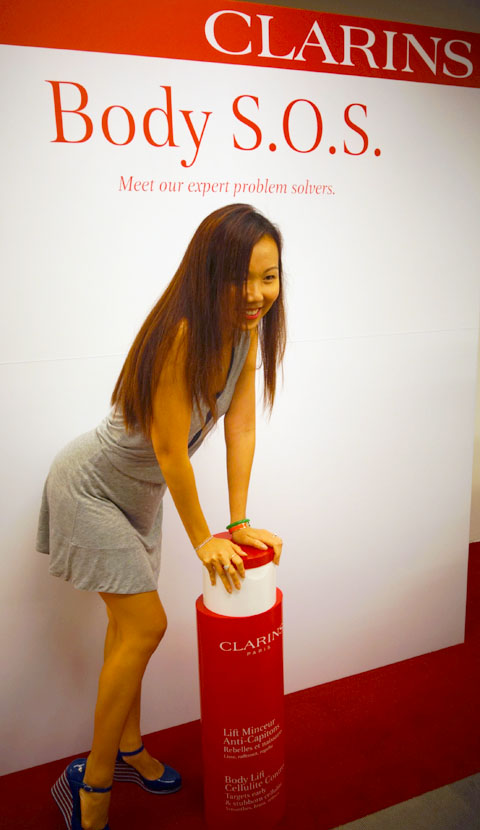 If you haven't already, go nab your free Clarins Body S.O.S Trial Pack (including Slimming/Firming/Hydration products, along with a 15 minutes Skin Time Consultation with Clarins Experts).
Then, share this goody with your mates and you can WIN 1 of the 20 Clarins gift sets (worth $120 each) and a grand prize of a Body Treatment at Clarins Skin Spa (worth $185).
I'm a bit desperate to win that spa treatment……… OMG would that not be an amazing treat??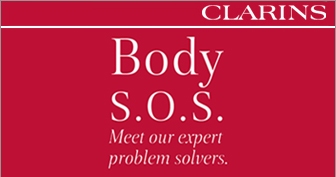 Let's Chat!