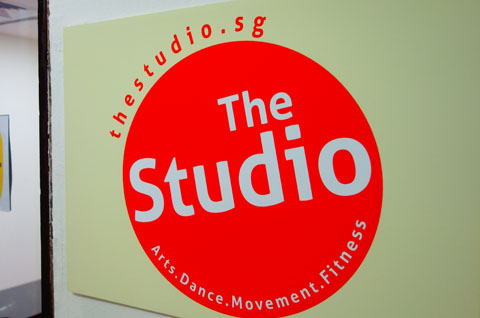 I don't consider myself a dancer. But, if I did, I would peg ballet as my dance of choice.. considering I spent my entire childhood dancing ballet, and completed my Grand 8 examinations in it.
But, last week, I stepped waaaaayyy out of my comfort zone and tried my hand at… the Spanish flamenco!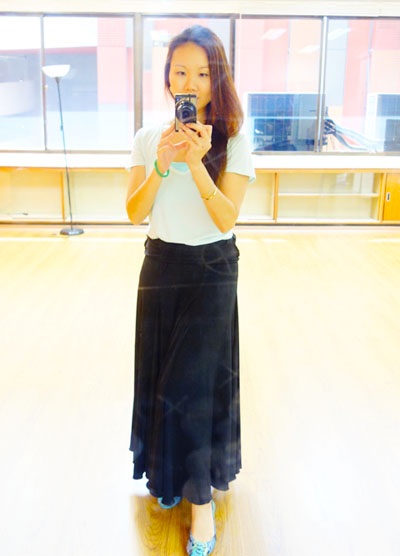 That's me, above, compared to a painting of a real Spanish flamenco dancer here (pinched from dancefilms):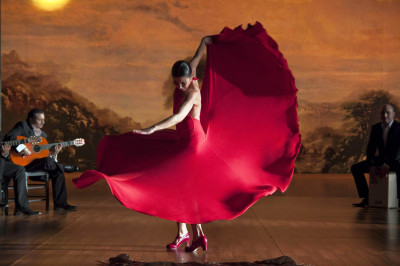 Close enough. Right? RIGHT?!?!
I was excited to try it out because I'm completely unfamiliar with Spanish dance. In fact, I never even knew it existed in Singapore! But Qotn Flamenca offers it for adults (and children too!), helmed by instructor Su Yun who is a licensed teacher and a whiz at Spanish dance.
Spanish dancing is dramatic, and heady. Flamenco originated as a gypsy dance in the 1400s, so it's actually a dance of strong women. 
This, I am not.
So it was actually quite challenging for me to change my soft-and-delicate ballet mindset into a I-own-the-world flamenco mindset. I think I lacked the oomph and charisma, something that probably needs to be practised on over a few classes!
Spanish dance relies heavily on rhythm, mostly done by the performer themselves. And so we used these castanets, which let off the MOST satisfying *clack* when struck together! If you're good with rhythm and have quick reflexes, you'll find Spanish dance breeze.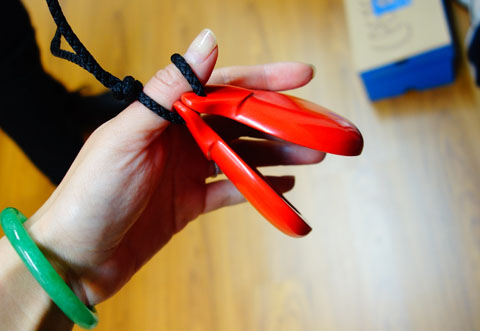 This is our instructor Su Yun, giving us a killer classical Spanish dance performance. I got a bit dizzy just looking at her whizz and spin around! She made it look really easy. Yet, after a 2 min performance, a professional like her was all sweaty – so you can imagine the amount of calories burned. It's like a gym aerobics workout session 😉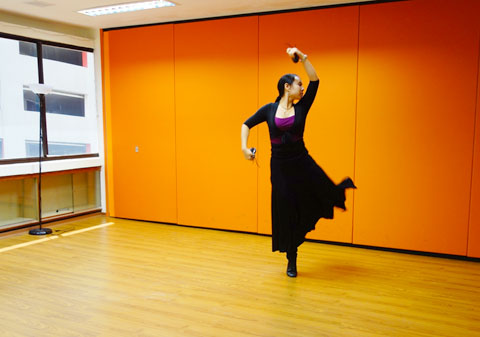 This is us, posing (as you do), like Spanish dancers.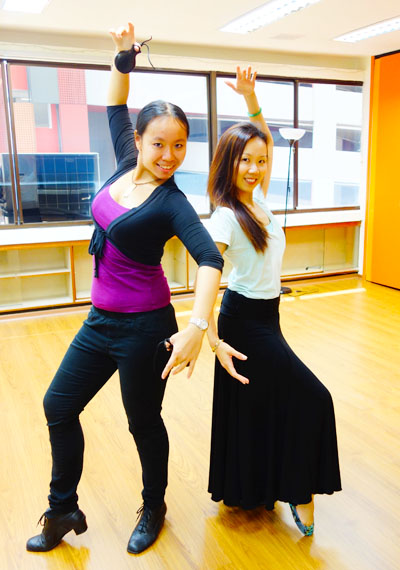 It was a really interesting class and will interest dancers out there that are keen to learn a new type of dance. Or anyone looking for a good workout session that combines oodles of fun in with exercise.
Qotn Flamenca offers morning and evening classes for children, men and women. It's held in a very central location (next to Bugis junction and Central library), so I was very pleased to be able to hop over for a spot of lunch and shopping after the morning class 😉
Let's Chat!