Happy 5 month Birthday, Carter!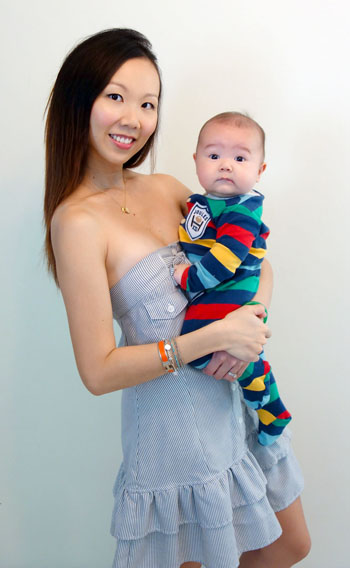 My darling boy is a bonafide baby now, and no longer a helpless newborn that's oblivious to the world. Carter is just EAGER to be part of everything – to be in the middle of any social situation, to have everyone's attention on him, and oh boy the envious/lustful look he throws in Hunter's direction when Hunter is playing with toys! My little one just wants to grow up, fast. His yearning to scramble and run around with Hunter is obvious in his eyes and actions, and he just gets so frustrated that he's stuck in this baby body that can't yet walk 😛
Just stay little!
Then again, he's really not so little. He's almost 10KG now. To put this in perspective, Hunter is only about 1KG heavier. They basically look about the same size, side-by-side 😉 Carter is now bigger than any other baby I know, and is rather difficult for me to carry around now. I'm much less worried about his weight this time round though, as Hunter was gigantic as a baby and now he's a skinny thing. They do lengthen and slim down once they reach toddler-hood!
And, on the plus side… Carter is so fab at sucking out all my calories that I've reached my goal weight, which was to be 1KG lighter than I was pre-pregnancy! It did take me 4 months to get to it (since I haven't exactly been dieting or exercising), but better late than never, right? 😛
EATING – Still on breastfeeding exactly 6 times a day. He's actually pretty quick (under 10 minutes) and only does one boob each session, so I really can't understand how he's gotten so chubby. Makes me wonder if I'm overfeeding him.. as I can see Hunter only fed 5x a day at this age.
Carter's also getting veeeery interested in us eating. He'll stare intently at us putting food into our mouth, then 'chew' along with us. I haven't started him on any solids though – I find breastfeeding just so much easier/convenient and considering he's so big, I see no hurry to start..
SLEEPING – I was always told that Hunter was a 'good sleeper', but to be honest, I reckon Carter is better. It makes me wish I could pinpoint why he's so good (and then write a book and sell it, teehee!) but we can't figure it out. I think it's just cos my kids like their sleep, LOL! His night sleep is solid, and he's easy to put to bed. I just put him in his pjs, feed him, pop him down in his cot, and simply leave the room. Then he just quietly lies there for around a minute or two, and drifts off to sleep. It surprises me because even Hunter did fuss to be patted here and there, and Hunter was a noisy sleeper whereas Carter is totally silent.
We are, however, DREADING the time when he's sick or teething or feeling out of sorts. Because if he screams during bedtime due to some discomfort, he is l-o-u-d. It's ear piercing and awful! It hasn't really happened much, but we live in the looming fear that one day he'll change and become a sleep demon, or some discomfort will turn a night into a nightmare. Guess we'll see…
Carter's naps, on the other hand, are pretty annoying. He naps 4x a day for 30mins. It means it's hard to move around (he's a very light napper) and he has a nasty habit of SCREAMING when he gets tired and naptime draws closer. He naps everywhere and anywhere, which is good, but the screaming is rather embarrassing when I'm out..
PHYSICAL DEVELOPMENT – Quite the expert on reaching for toys and stuffing them into his mouth. He loves his teethers and gnaws at them endlessly, and he's quite the drool bucket, blowing raspberries endlessly!
He's a massive fan of tummy time and it's probably one of his favourite activities. He'll also sit upright by himself now, propping himself up on his hands.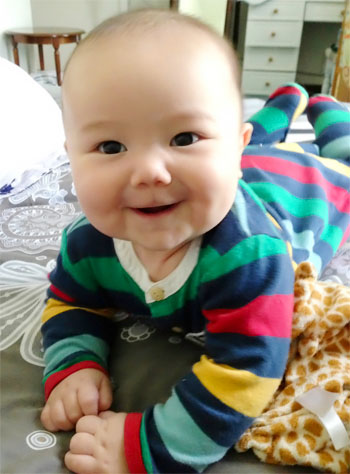 Sir Laughs-A-Lot absolutely DEMANDS our attention, and will pointedly track us with his eyes. If I step out of sight, he emits this horrific scream. It makes it almost impossible for me to step away from him, not easy when I have Hunter wanting me to play with him. So I'm now thinking we need to invest in some sort of bouncer/exersaucer/etc to keep him upright and playing with toys and being able to see me when I'm puttering around at home..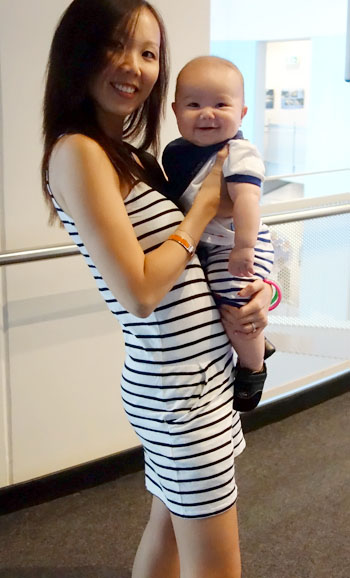 Compare with Hunter at Month 3-4 here.
PREVIOUS PROGRESS:
Let's Chat!