Happy 1 month Birthday, Carter!
Has one month flown by already?! Life as a family of four has been splendid, exhausting, and everything in between 😉 It's been particularly fascinating watching Carter grow, and seeing how he is similar to and differs from Hunter. I've actually forgotten what Hunter was like at this age, so I had to read back on my old blog entries to jolt my memory…
The best word to sum up Carter? Feisty! 
Our little firecracker sure keeps us on our toes! He is definitely more vocal in his opinions than Hunter was, and certainly louder. If he decides he wants a cuddle or a feed, he gets a cuddle or a feed – PRONTO. If not, all hell breaks loose and he can shout the roof off! We cut him some slack though, because being a second child, you really gotta have your say or you'll be so easily ignored…!
Carter weighs in at 5.3+KG which means he's stacked on a lot of weight considering he was only 3.7KG at birth a month ago. I suppose my breastmilk must be really fatty 😉

EATING – Carter is 100% breastfed. Unbelievably, I was only sore for the first 1.5 weeks, so I really enjoy breastfeeding early-on this time around. I do have horrific oversupply and overactive let-down, so I struggle with that on a daily basis. It's worse for Carter, who splutters and chokes at every single feed. This makes him pretty pissed off, so he's often kicking and punching and shouting at me at the start of every feed (mainly at night, because he's half-asleep and doesn't appreciate it).
He breastfeeds about 9-10 times a day… zzzz…! Fortunately, he goes about 3.5-4.5 hour stretches at night.. but then he feeds more frequently when I'm awake during the day.
SLEEPING – the really odd thing is that Carter was born with some sort of innate distinction between day and night. From the day he was born, he would sleep really really soundly through the night.. and just shuffle around when he starts getting hungry. Yet, during the day, he's awake quite a bit and drifts in and out of little naps. He is put to bed at 7PM and sleeps really soundly til 7 or 8AM the next morning, though I do feed him every 3.5-4.5 hours when he shuffles around (can't wait until he's crying or he'll wake Chris up as well as Hunter in the next room, as he's so loud!).
PHYSICAL DEVELOPMENT – When Carter was born, he basically did nothing, had his eyes closed almost all the time, and slept constantly. What I had to keep reminding myself was that he was born a full 4 weeks before Hunter was.. which was why he seemed really 'underdeveloped' in comparison. But, after week 3, Carter really 'woke up' and now he is a lot more interactive – he'll focus on our faces, smile when I talk or sing to him, and is aware of his surroundings.
He's been doing Tummy Time and actually quite enjoys it. He'll go for about 10-15 mins (eons for a baby!) before he'll get tired. He's actually flipped himself over (tummy-to-back) twice whilst doing tummy time.. because he's so feisty!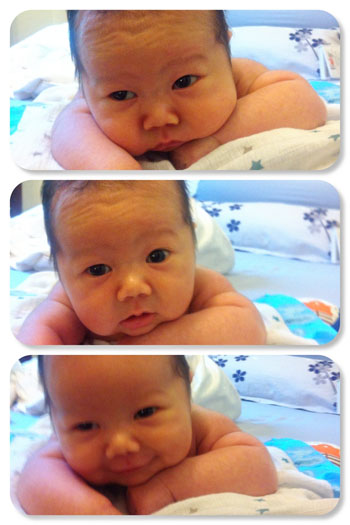 Hunter is absolutely in love with Carter. Far far far more than we ever imagined or hoped for. His whole face lights up when he sees his little brother, and he always wants to kiss, cuddle or carry Carter. It's pretty cool to see the brotherly bond already there, and Hunter is SO proud of him, going "baby! baby!" when friends come to visit, and wanting them to come over to check Carter out.
Hunter is also a great babysitter. He'll sit on the couch next to Carter and just quietly watch him. If Carter cries out, he'll jump off the couch and look for me, with a very concerned and anxious expression and go "Mama! Baby… WAHHHHHH!" and insist I go over to Carter. It's unbelievably sweet to witness 🙂
On the flip side, if Hunter is upset or in a bad mood, nothing immediately cheers him up by us saying "Want to cuddle Carter?" He'll immediately say YES, have a cuddle, and forget whatever issue he was crying over.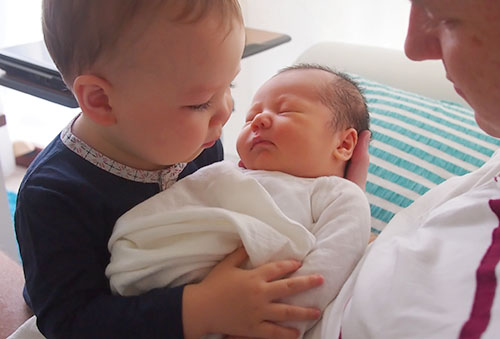 I love looking at Carter's sweet lil face, especially when he's awake and his big brown eyes look straight into mine. His hair is so infinitely soft, and his skin smells intoxicating. He's simply delicious!
I really like this quote about motherhood: "24/7. Once you sign on to be a mother, that's the only shift they offer." How true! It is mentally and physically draining to be a mum of "2 under 2", but now I wouldn't have it any other way 🙂
Let's Chat!