You didn't think I'd go to New York and not drop by Magnolia Bakery, did you? 😉
I actually did go there after the Hurricane, and was so dismayed that the shop was closed (damn you Hurricane Sandy for giving me cupcake-deprivation!!!!). But we went back a couple of days later and they were back open – wheeee!
Magnolia Bakery was in Sex and the City, and many believe they were the the creators of cupcakes. Whatever the case, they are an iconic NYC landmark for foodies and so I was definitely going to make a trip there.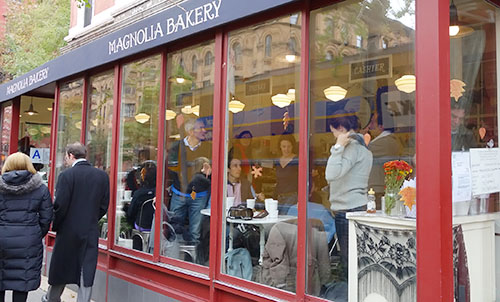 I liked the Vanilla cupcake with chocolate buttercream, though it didn't seem that much better than other cupcakes I've had? The cream was lovely though, but the whole thing was nice but pretty forgettable.
I was more impressed with the Red velvet cupcake with cream cheese icing. The slight tartness of the cream cheese went beautifully with the moist cupcake. It definitely hit the spot 🙂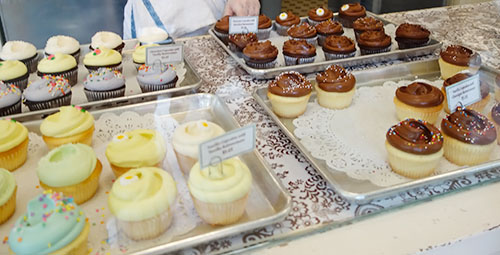 I also had a Blondie, because I was intrigued never having eaten one in my life. It's basically a chewy cookie, cut into a bar/square shape, isn't it?? Also kind of like a chocolate brownie, but with cake batter instead of chocolate… something like that any way.
I'm glad I bought it, because now I know what a Blondie tastes like. It's just very sweet 😉 Not bad though!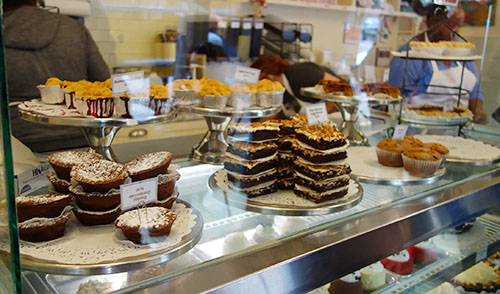 But…. but……. Magnolia Bakery's Banana pudding OMG!!!!!!!!!!!!!!!!!!!! One tub of absolutely luscious goodness.  It consists of creamy chilled pudding, with fresh bananas and cakey bits whipped in.
Oh joy.
Oh bliss.
I don't know how else to describe it, but if you're in NYC, go get a Banana Pudding for yourself, pronto!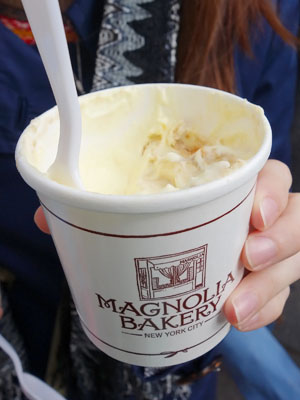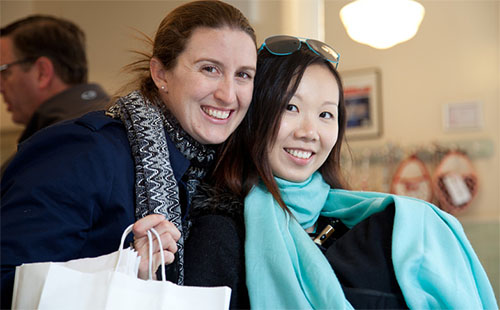 I was also really wanting to check out Georgetown Cupcakes in SoHo, another cupcake joint that quite a few people recommended as well. Sadly, SoHo was flooded after Hurricane Sandy and we had no way to get there.. plus, I don't even think they were open 🙁
But Mum did walk past Baked by Melissa and got a bunch of cupcakes. They are so teeny tiny cute! I thought the red velvet cupcake was pretty good but I've also had cupcakes just as good in Singapore.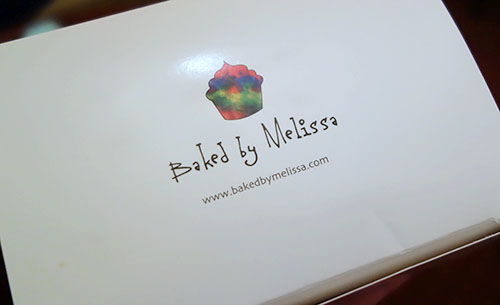 Now, I'm SO GRATEFUL for the Levain Bakery recommendations I received from blog readers… because they rank right up there as one of my favourite cookies ever. Again, the bakery was closed shortly after Hurricane Sandy, but fortunately was back in business when we went back 2 days later – WHEW.
Blink and you'll miss it, this bakery is a tiny shopfront with narrow steps that lead down into this squishy shop front. There's a small counter there, and behind that is the bakery. And erm…. not much else! No products on display to look at, and I actually wasn't sure what I was supposed to order, LOL.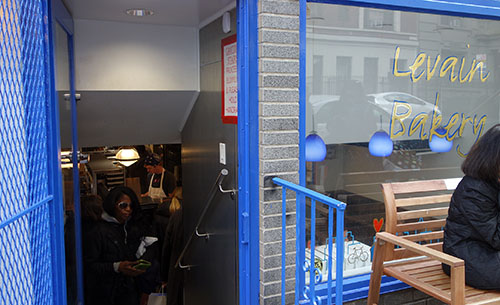 "Errr.. you sell cookies?" I asked, a bit sheepishly.
I was told they do, in just 4 flavours – Chocolate Chip Walnut, Oatmeal Raisin Cookie, Dark Chocolate Chocolate Chip, Dark Chocolate Peanut Butter Chip.
The cookies don't actually look like cookies!
They look more like big rocks, and heavy to boot. What I ADORE about them is their crusty exterior, and gooey interior. Oh myyyyyyy they are so good!!!!!!
My favourite was the Chocolate Chip Walnut – this surprised me as I normally don't like nuts in my cookies. But it was terrific.
They were so good. An absolute must-visit in NYC!!! And I just want them to open a branch in Singapore. Pleaseeee??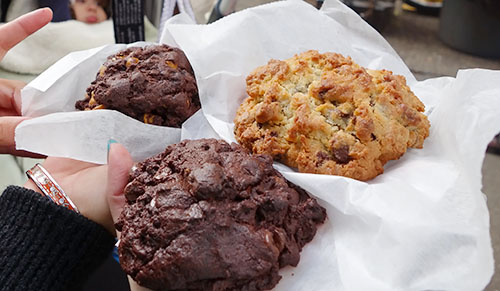 My parent's hotel was opposite Grom Gelato and my girl friend thought it was really comical how I'd keep walking past it once or twice a day (at least) and kept wanting to go in but was either too full to have one, or the weather was just too cold. Yet I kept wanting to check it out since quite a few people wrote to me raving on about Grom.
Well, when there's a will, there's a way! I finally bit the bullet and in we went.
I had the Dark chocolate gelato and it was really rich and creamy. A fantastic chocolate ice cream. I'd get that flavour again any day 🙂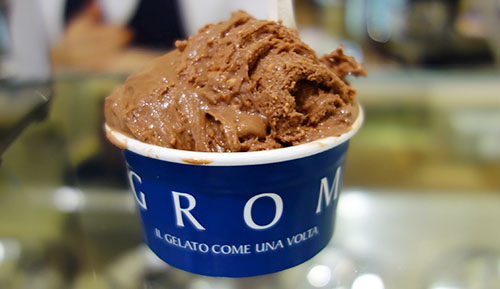 So that's all the NYC food posts I'm making. We did eat at other places, but I either forgot to take pics, or was too busy to! The stuff I've posted are pretty much all my faves anyway, so hope they helped at least someone 🙂
Next up?
MY SHOPPING IN NYC. 
That's gonna be a doozy. Heh heh heh 😉
Let's Chat!