OK this isn't the full, complete shopping list that I did in NYC.. I like to blog about my fashion purchases individually for my own records so I'll take photos later and do that, which means this is just a mish mash of shopping-related stuff around NYC 😛
Needless to say, I had a wonderful time shopping around NYC. It's my mecca of fashion shopping, and don't even get me started on the baby-related stuff…. *faint*
I suppose it was fortunate (or is it UNfortunate?) that it's all winter baby clothing.. so I actually wasn't able to buy much for the kids. I was expecting to come back with a whole new suitcase of baby clothing, but in the end it was just a very very modest pile. Just as well I guess, since I'm pretty sure my 2 boys have a larger wardrobe than most girls (thanks largely to very generous family and friends!) 😛
We did, however, hit FAO Schwarz, billed as "the oldest toy store in the USA" and recommended by 987284619 of you guys to bring Hunter there 😛 I thought it was pretty impressive and, yep, had a lot of toys… but…… it actually didn't hold a candle to Toys R Us on Times Square! The latter's selection of Thomas the Tank Engine merchandise was nothing short of spectacular…. and Hunter is unhealthily obsessed with Thomas stuff, so I loved Toys R Us. Except I couldn't really buy anything substantial for him because the boxes are all so big and it was too difficult for me to carry them back 🙁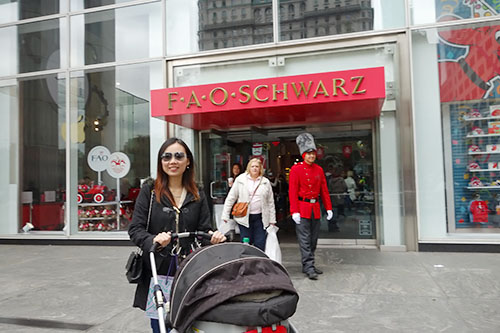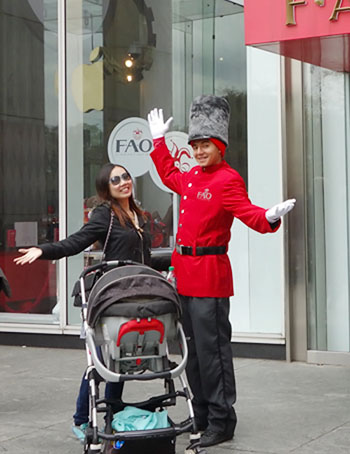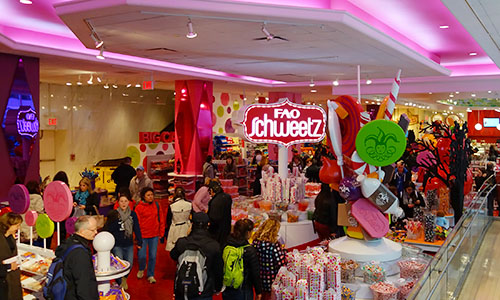 My favourite store was Giggle, with the prettiest and most interesting baby stuff! They sell a variety of gorgeous clothes from various brands, and really cute accessories and bits and bobs. Ahhhhhh I could get lost in that store for hours!!
I bought the Giggle romper for Carter, which is super ultra soft. And my lovely gf gifted me the Giggle stroller organiser and matching pacifier holder which I LOVE – I use the organiser when I'm out alone with Carter and it works a charm. If you're wondering why they look pretty familiar, it's cos both are actually from Skip Hop, they did a collaboration with Giggle. And I WAY prefer the signature Giggle rainbow print than the original Skip Hop ones!!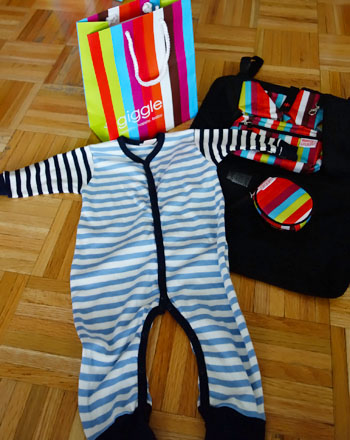 I also found Carter's security blanket whilst in the USA… he actually has a few others (some gifted by friends, others from Hunter's.. errr… discarded pile), but didn't really "take" to any of them.
But he LOVES the Angel Dear blankie! I found it in some random lil children's store and Carter's really taken to it 🙂 I think it's the spots that he's fascinated with.. but it really comforted him right from the start, and he'd spend the whole time kneading it with his little hands and squishing Giraffe into his mouth.
I also like it more than the regular cuddle toys, because it's a little larger so it feels more substantial (ie. more to hug!).. but yet it's still flat like a handkerchief so it's easy to wash and dry. I've learned my lesson NOT to get an expensive, hard-to-find, fat stuffed toy.. which was exactly what we did for Hunter and really regret it! It's irreplaceable, can't be washed/dried easily, and stinks like hell. Argh.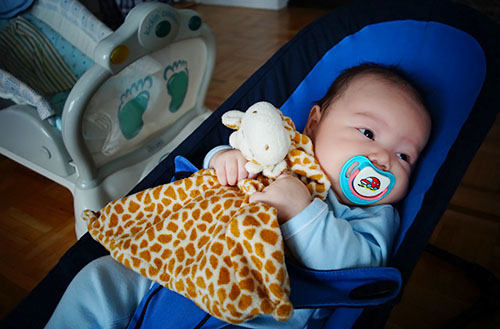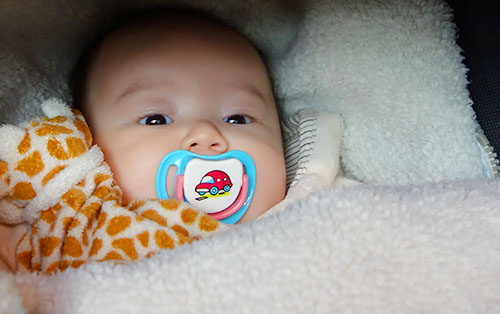 We also dropped into Dylan's Candy Bar, which I hear is a famous landmark in NYC 😉 Bummer I'm not into candy.. because the store was adorable! All I bought was chocolate bars with personalised names on them as gifts.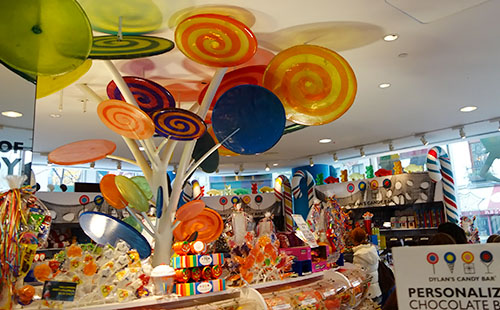 And…. Ladurée. Guess they really need no introduction 😉 I've had their macaroons in Paris as well as in Japan, and now in NYC too! Gorgeously girly store.. I think they opened this particular store earlier this year? Their macaroons aren't the cheapest, but are delish :)~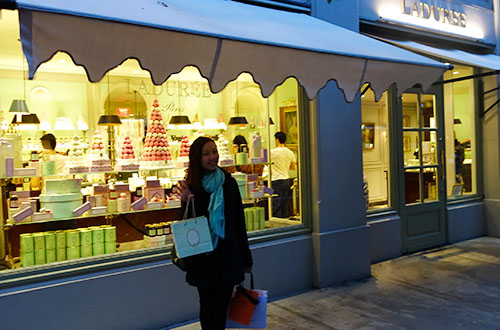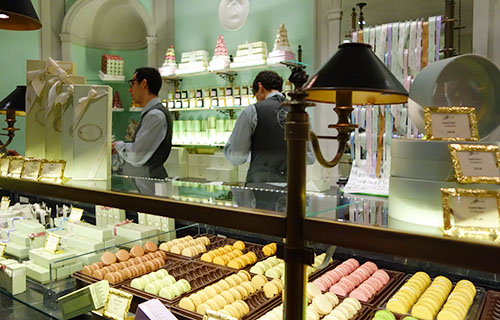 I'm too lazy to take photos of the skincare/cosmetics purchases.. or rather, I don't think I have the time to photograph and write reviews for each one! But here's 2 items that impressed me:
Beauty is Life wonderstick – an absolute stunner of a concealer. I also bought Cle de Peau's concealer and this one is similar, but has more coverage. It draws easily (comes in pencil form) under the eye and blends well, and doesn't crease. It's crazy effective and long lasting!
By Terry tinted lipgloss – I really like their original baume de rose lipbalm, but it was clear which is so uninteresting. This version is the same texture and moisture, but with a pop of colour. It's so moisturizing – I love it!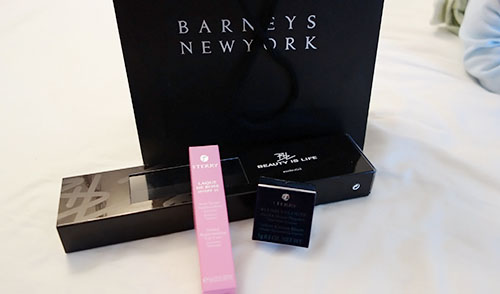 Aaaaand….. Hermes. Their huge multi-level boutique on Madison Avenue! Boy, if only I could go on a shopping spree in there 😉 I was eyeing their Collier de Chien solid rose-gold bangle but it was heart-stoppingly expensive 🙁 So obviously didn't get that, and didn't get a bag either! I was a good girl 😉
I did buy their new perfume Un Jardin Sur Le Toit! A change from their Un Jardin Sur Le Nil, which I have used DAILY ever since I was 18 years old. It feels pretty epic finally using a different fragrance 😉 I know lots of people use a different scent a day, but I'm the old school (or is it lazy?) type that just has ONE fragrance and uses it for yonks and yonks.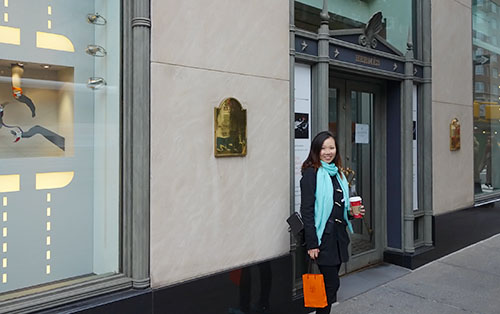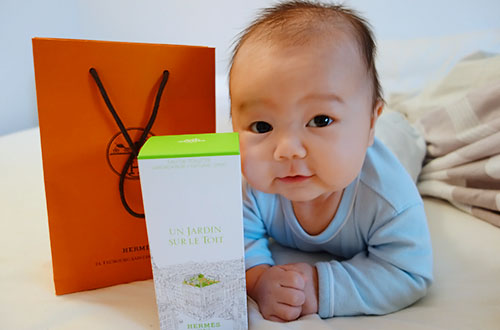 Let's Chat!