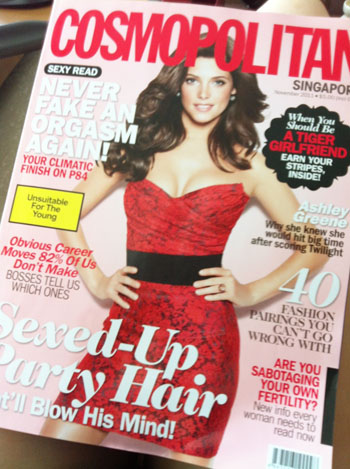 Remember that La Mer event the other week that Papewu and Babyflite and I attended? I was flipping through Cosmoplitan magazine (Nov 2011 issue) and spotted us… muahaha!
So there's us on the left, being all fascinated with La Mer's cleanser (which I am, mystifying, holding sideways).
There's us on the top-right, looking oh so serious as we're watching the facial being performed on one of the Cosmopolitan editors.
And there's me on the bottom-right cheesily holding up a pot of my fave product, the La Mer gel-cream, which I'm still lusting over but haven't purchased yet.
Can you spot all the pics? 😛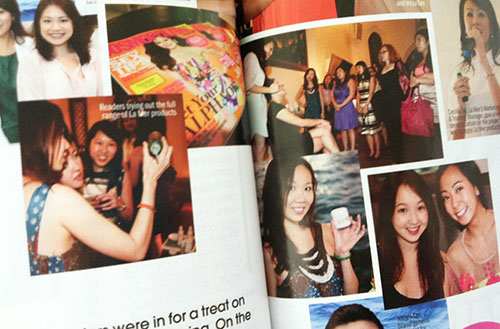 Anyway, beauty-unrelated but on a fashion note, check out this cute way to wear an Hermes scarf. I'm wearing the scarf that Chris bought for me on my birthday 2 years ago but obviously this will work with any large silk scarf.
I just fold it up so it's a long strip, then knot it right onto the shoulders of my top, with a knot in the middle. The scarf ends drape behind my shoulders and I like the look because it does colour-up my black top, not to mention this scarf in particular matches my Zhai bamboo skirt 😛  Best bit? It's fab to wear this in warm climates or during summer, because the scarf doesn't sit around your neck and heat you up.
Also, here's an old post about other ways that I've worn my Hermes scarves..