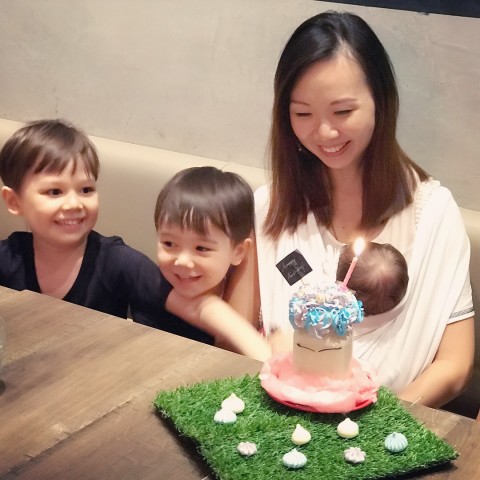 I celebrated my birthday quietly and uneventfully last week. I was actually asked if I wanted a little party with all my friends to celebrate.
"Nah. Too old. Too tired", was my response.
My 21 year old self is seriously frowning at me!
I love to party. I love to eat. I love to hang out with friends. But, somewhere along the way, life happened.
I guess with a 3rd kid – still an infant – it kind of makes it impossible for me to be separated from her for any significant amount of time (fully and directly breastfed, remember?).. so that kind of takes the fun out of partying 😉
But Mum, being super sweet, was determined to take me out! So my parents picked the kids and I up and we (ambitiously) went out for lunch together.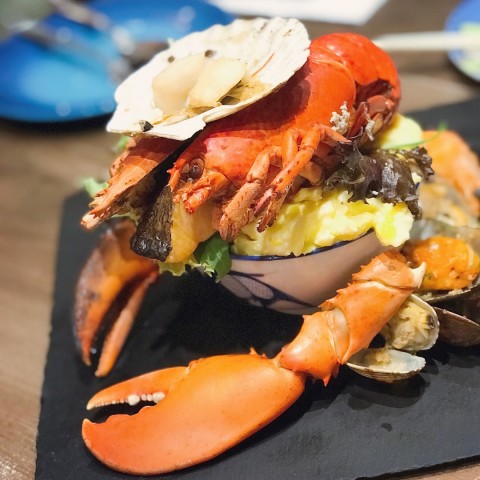 We went to The Benjamins, famous for their MONSTROSITIES.
Monstrosities such as this Seadon ($35)! How e.p.i.c.
It's really good value for money, considering it's got a whole lobster, salmon fillet, prawns, clams, mussels, scallops, egg omelette and seafood fried rice. Whewwww. Enough to share between two people, and it's incredibly social-media photo friendly to boot.
It was delicious. I love picking at little bits and bobs of food, so I was delighted with this. That fried rice was divine too!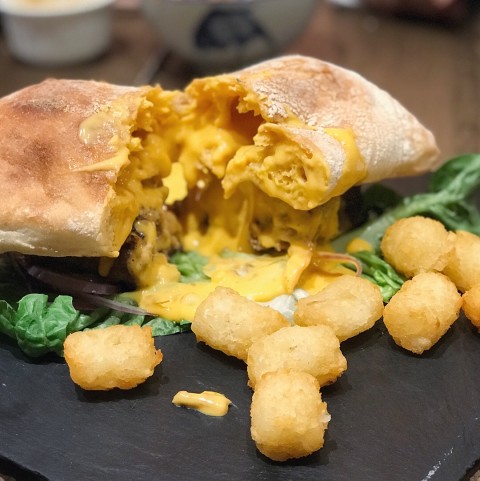 The Molten Lava Cheese Burger ($25) totally called my name. I'm rarely known to miss a burger on the menu, so of course I had to order this. The options are Beef, Soft shell crab, or Chicken. I chose the classic beef.
The ciabatta bun (freshly baked every morning!) oooooozes gooey cheese when you cut it. It's not gimmicky either, because it actually tastes really good. It's a creamy nacho cheese that isn't too salty or overpowering, and is so so good smothered all over the burger, and to dunk the potato gems into.
So the funny thing about The Benjamins is that, while it is a Western restaurant, it's owned by the same owner of Hana Japanese Restaurant next door. So because of this, you can order from their menu too!
We opted for the Flying Cha Soba ($16), because I have a Japanese boy called Hunter who wants to eat Japanese food every single day.
Our shocked faces? Yeah, they were legit. We had NO idea that the noodles would actually be…. flying! They're suspended up in the air and gave the kids a huge kick.
The portion was really impressive, and I loved the cold tsuyu sauce with some onsen tamago stirred into it.
The dish is served with a small portion of Spam Maki.. which is basically sushi rolls with spam inside. Can't go wrong with that!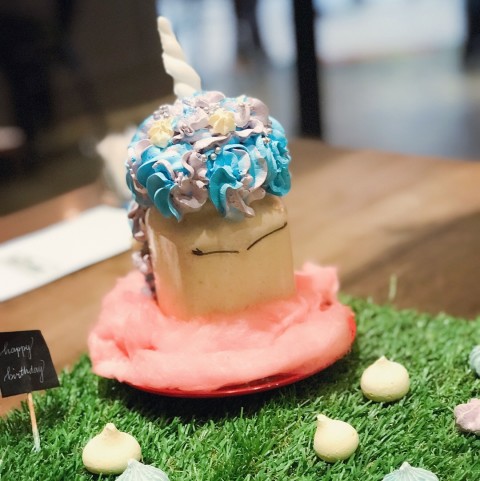 You can't eat at The Benjamins and not get one of their Over-The-Top Milkshakes. I was dead keen on their Unicorn OTT milkshake after seeing a photo of it on the cafe's wall.
Um…. pretty much?!!
It arrives on a little grass patch that's dotted with colourful meringues, and the shake is so beautiful it begs to be taken photos of. Which we did.
The cotton candy 'skirt' around the jar was actually really tasty, so I started on that first.
I scooped off most of the blue/purple cream because I don't like the stuff, but Carter happily scoffed it all.
The milkshake itself is a simple vanilla milkshake, but it's delicious. It tastes like blended vanilla ice cream and is creamy and chilled. Yum!!
Oddly, they don't detail what's in the milkshake, so I was simply told "cotton candy" when I asked what's in it. I wish they were more specific in the menu that it's a vanilla milkshake, with cream, accompanied by cotton candy and meringues. That way, it'd be a lot easier to choose between the many milkshakes.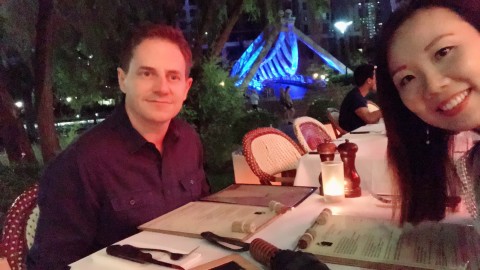 After that epic lunch, Chris took me out for dinner at Les Bouchons!
It was all arranged with military precision, because we went……………. WITHOUT KIDS.
OMG! Yes, really!
It was our first time out without all three kids.
It actually felt weird not to have anyone call out "Mummmyyy" or kick up a fuss during my meal. I could actually FOCUS on what I was eating, and more importantly, on Chris. We talked so much, without interruption, and it was amazing.
So who looked after our three kids?
My Dad!
He decided to level up and/or go for Grandfather Of The Year award by volunteering to mind all 3 kids by himself.
And we came home to…… believe it or not….. all 3 kids asleep in their respective beds.
How does he make it look so easy??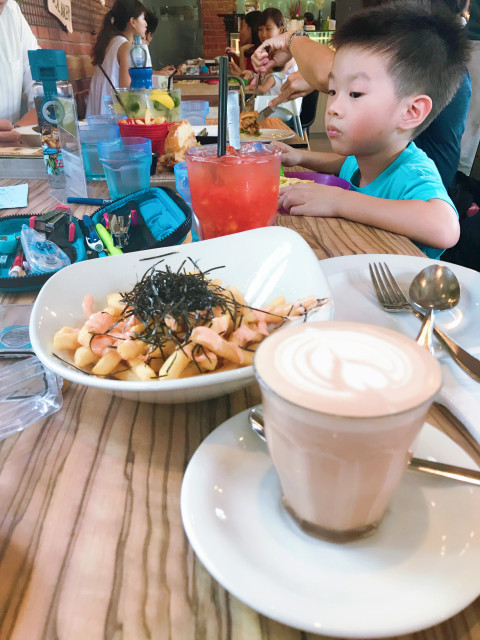 Then on Sunday, I had a mini lunch celebration with my dear cousin at GRUB in Bishan Park.
Of course, I ordered Mentaiko fries, because they are simply a must at GRUB.
I also tried their new Rose-scented bandung latte, which I didn't have much hope for as… errrr… sounded too weird to me. I'd only ordered it because I wanted to admire a pink coloured latte 😉 As it turns out, I like it more than a normal latte!! It wasn't too sweet but gave a really lovely soft floral scent to it. Wonderful pairing and I would go back to GRUB just for this again.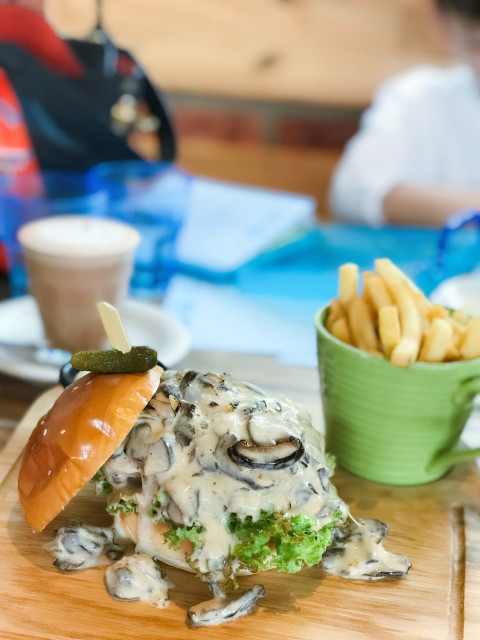 Always my favourite, their Mushroom cheese burger. Is it my imagination, or have their burgers gotten bigger and more filling??
This one came smothered in a creamy cheesy sauce, and studded with tons of soft mushrooms. So so so good, especially with that freshly baked soft bun of theirs.
Happily, their chefs purposely arrange the burger just-so, so the bottom bun doesn't get soggy from patty juice and cream sauce. Soggy burger buns gross me out, and GRUB's are always properly fresh.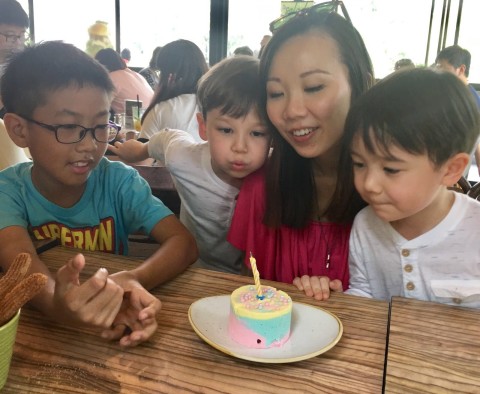 A mini rainbow ice cream cake! So cute, and great for kids.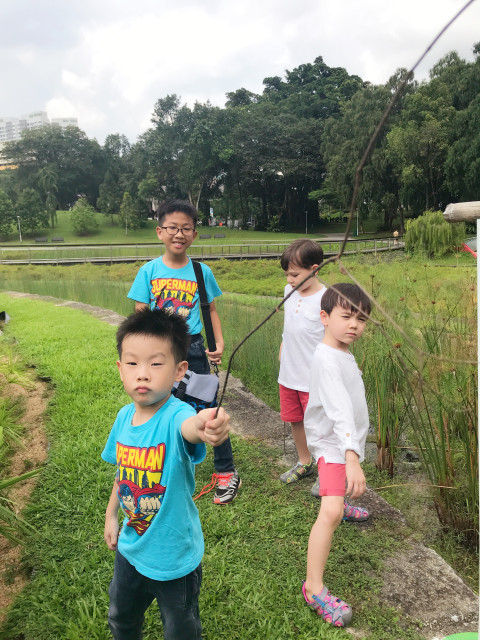 Four lil gangstas. And they were all matchy-match in their sibling sets too!
And so another year goes by. But this year, I'm celebrating my birthday as a mum of THREE kids.. which I'm still trying to wrap my head round! So while it was fairly uneventful (ie. no big bash), it was filled with food, food, and more food. And family.
Just the way I like it 🙂
Let's Chat!