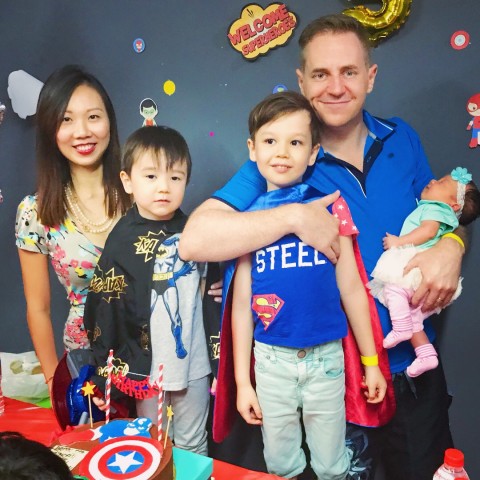 And just like that…. my baby boy turns FIVE!
It was also the first time our family celebrated one of our birthdays as a family of five. Luckily, Chloe slept the entire time!
In retrospect, it was a bit too ambitious to throw TWO parties one week apart. Chloe's one month party was the week prior, and having two parties on consecutive weekends really wiped me out.. as I was still recovering from the whole birth shebang. Still, any chance for a party, right?!
Carter's 5th birthday party was held at Amped trampoline park. I was subtly trying to get him to agree to do a poolside party at our place (much more convenient when we have a newborn to deal with), but he was having none of it. This sporty kid just HAD to have a sporty birthday!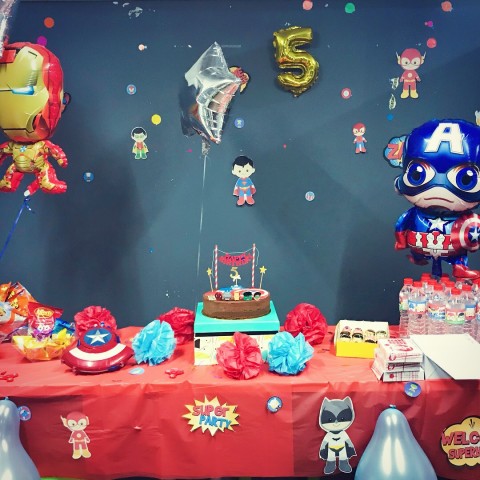 The decor was all DIY, with the balloons from Qoo10 and the clipart from Etsy. I reused some of the clipart that he had for his 1st and 4th birthday. Yes, this is his THIRD superhero themed party!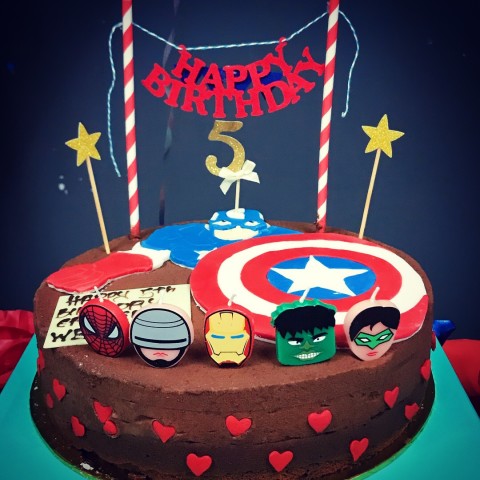 My own decor on this fabulous cake that my Aunt sponsored, from Four Seasons Hotel! This was a 2KG heavyweight, their Hazelnut Royaltine Signature Cake made up of Crunchy Jivara Chocolate Praline Base completed with rich Valrhona Dark Chocolate Mousse.
It.
Was.
Amazing.
And the entire cake was gobbled up by everyone at the party!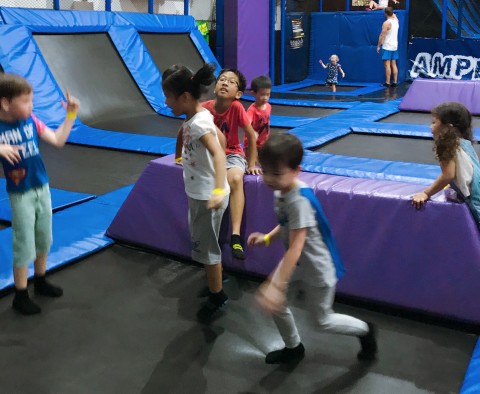 The good thing about holding our party at Amped is that the adults get one hour of chatting time, while the kids go nuts on the trampolines. It's pretty win-win.
The jumping bean in action. He was begging to go on for a second hour after the party. No idea where kids get all that energy from……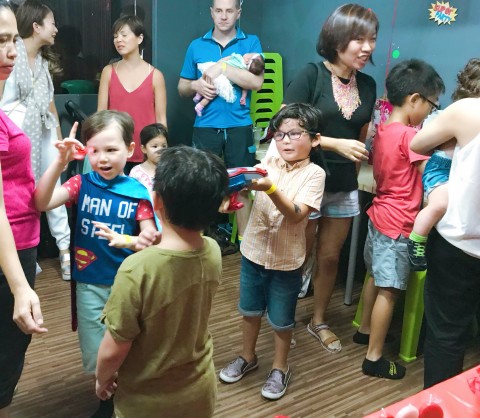 I wouldn't exactly call the Amped party room attractive or chic or spacious, but it's passable and we tried to make the best of it with our decor!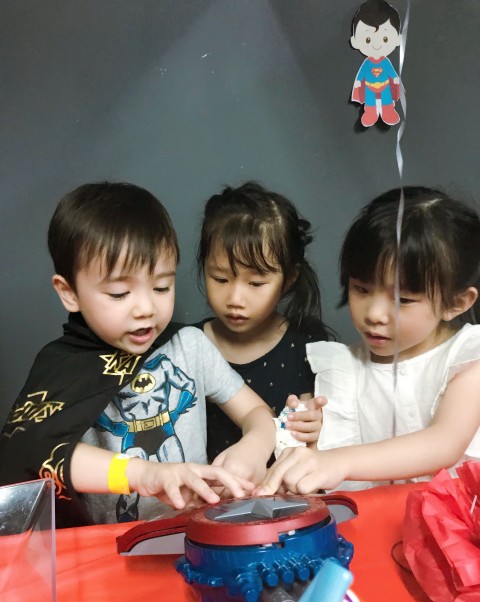 Carter with two of his beloved girl friends from school.. explaining to them how the Captain America shield gun works. Not sure if the girls were particularly interested 😉
Singing Happy Birthday to Carter! He was a tad shy to give a speech, so Hunter did on his behalf.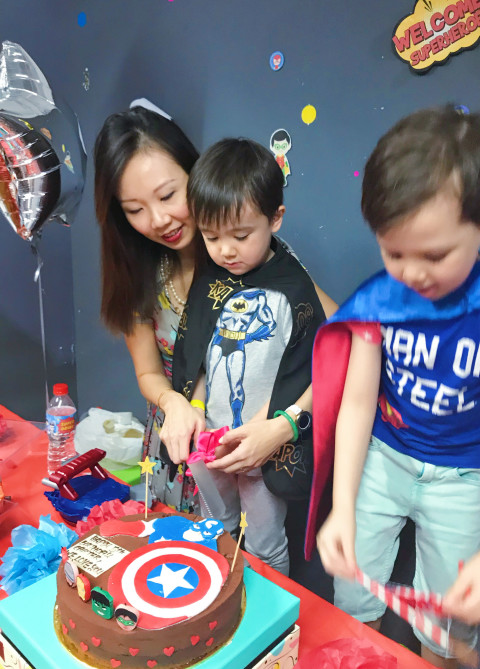 My precious lil man… all of five years old, and yet so mature and loving. I was so glad we made the effort to throw him a birthday party. Seeing his eyes shine and watching him have so much fun was the biggest reward for me!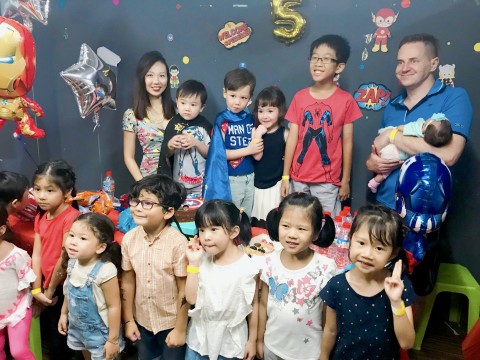 With friends and school mates. Quite a few missing from this photo though!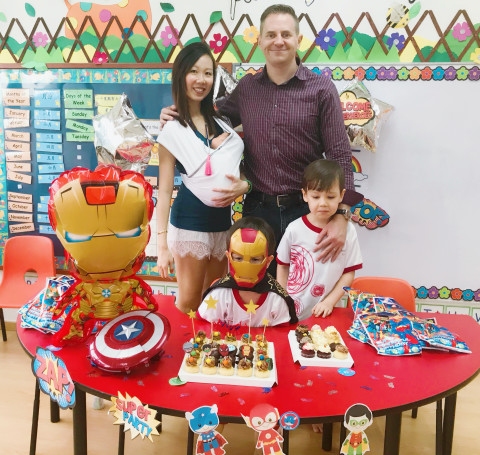 We also did a small school party for him. He particularly loved this one because all his school mates were there!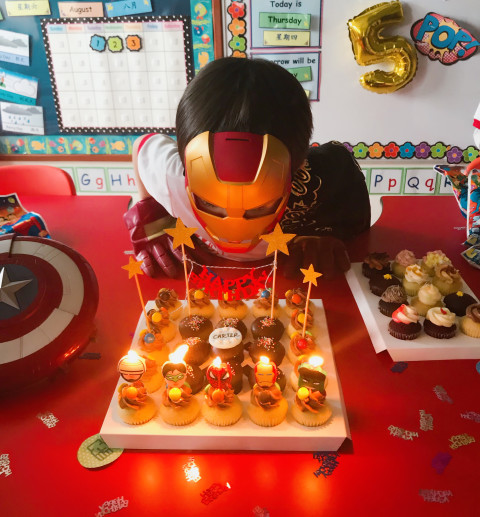 Mini cupcakes for all the kids.. which disappeared within seconds 😉
Carter was blessed with lots of fabulous presents, which has kept him really occupied since. And he's still happily talking about his party and his friends that attended, so it was worth it. We love you so tremendously, my baby wombat!!
Let's Chat!