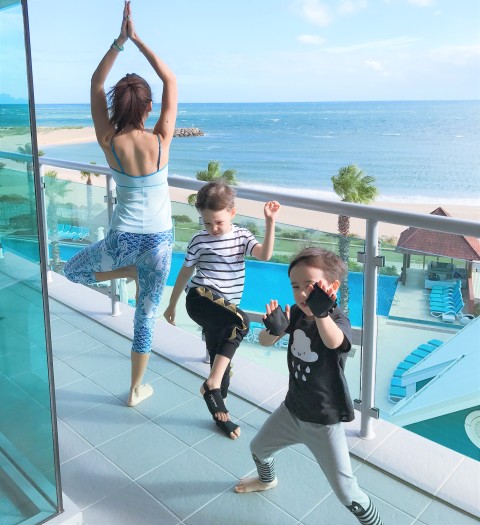 You know, just a random pic of a pregnant mama and her two crazy boys on holiday 😉
We were in Perth earlier this year, though I hadn't had a chance to write about it yet! But check out that blue sea, the clean sand, that sunshine…. aaaahhhh… Reason #4928 why I just love Australia and miss it dreadfully.
A photo-heavy post below, and this was already after I heavily dropped off a ton of pics! But, here are a few of my faves for memories' sake.. and also some inspiration if you're planning a trip to Perth with your young family.
Obviously all the stuff we did was really kid-friendly, as we had a 4 yr old, a 6 yr old, and a pregnant me waddling around the place. So that meant no malls, no shopping, and not much sight-seeing. Just a stress-free, laid back, kiddie holiday. It was really rather lovely!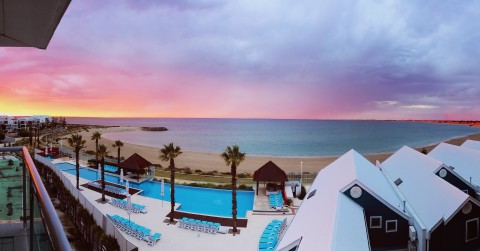 That sunset! *heart eyes*
Unedited panorama shot with my iPhone 7+, by the way. Sunsets are simply divine in Perth. Specifically, we were in Mandurah, which is just around 70 south of Perth. It's a great place to chill out for young families, whereas Perth city is more of… well, a typical city.
So in Mandurah, we were staying at the Seashells, which is about as well-positioned as you can get. It's situated right on the beach, with a large infinity pool and lots of clean sand.
The above panoramic shot was taken from our balcony!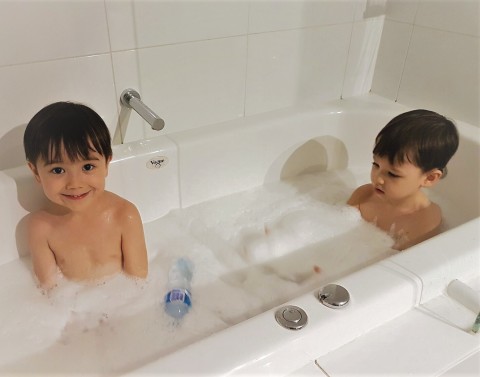 Bath novelty factor! We decided to do away with a bath tub at home, to make way for more space in the bathroom (we opted for a larger shower instead), so holidays are the time for our boys to soak in a tub.
But I forgot to bring some plastic toys for water play, so they had to make do with… erm…. one disposable water bottle. Well, beggars can't be choosers!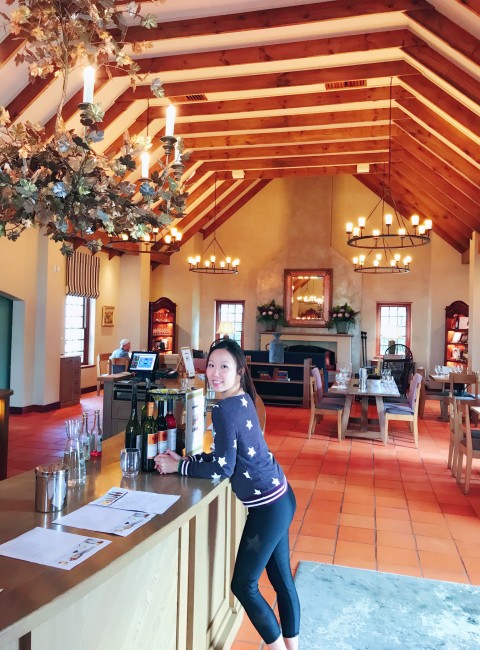 A must-do when at Perth.. VISIT WINERIES! Yes, I recognise how counter-intuitive (or is it hypocritical?) I sound when I title this post "kid friendly". But hear me out.
When you have small kids, wine is just necessary okay!
I look fairly UN-pregnant in the above photo, but my bump was more obvious in real life, so I was a tad self conscious walking around Voyager Estate winery. But I got no judgement, sampled some of their wines, bought several bottles (for after I pop!) as well as some non-alcoholic ciders (to enjoy while pregnant).
And the "kid friendly" part? Well, wineries have a HUGE amount of space to run around in. Gorgeous green rolling hills, to soak in the sunshine. The kids genuinely did enjoy themselves running around and burning energy.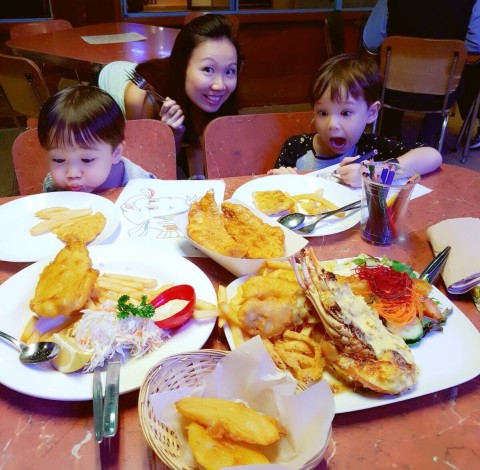 If you've been to Perth, you'd have heard the name Cicerello's. They're famous for… FISH AND CHIPS. The quintessential Aussie diet. Also mine.
Let's just say… be prepared to eat deep fried on deep fried. Dieting people, you're outta luck here.
Verdict? It's good, but only if you're already in the vicinity. Lovely fresh fish and crisp batter, but roughly the same as what you'd get in any chippie shop in Australia. They do have a MASSIVE fish tank in the restaurant, though, which is great for the kids to gawk at. Very kid friendly too, with colouring sheets and crayons.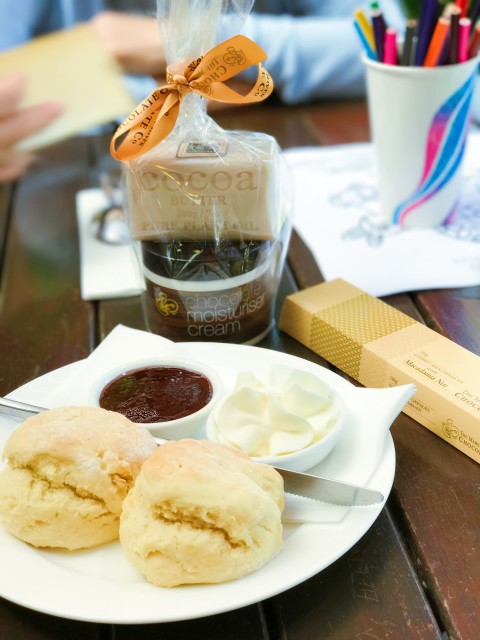 The Margaret River Chocolate Company.
I mean, REALLY, can a sane person not visit this place if you're in Perth?
The answer is: no.
My boys went WILD. They have biiiig bowls of chocolate buttons (1 white choc, 1 milk choc, 1 dark choc) that you can help yourself to. Being Singaporeans, we went craaazy. I think we ate our weight in those mini chocolate buttons. Oops!! Sorry! It was just way too good! I did buy a whole ton of stuff, though, to make up for the guilt after gobbling their freebies 😛
And, hello scones. I love scones, and I love scones in Australia. The more carbs the merrier! These were fantastic. And when you sit there to eat, your kids have a HUGE grassy area in front to play around in, so they're kept occupied. Excellent hot chocolate (of course) by the way.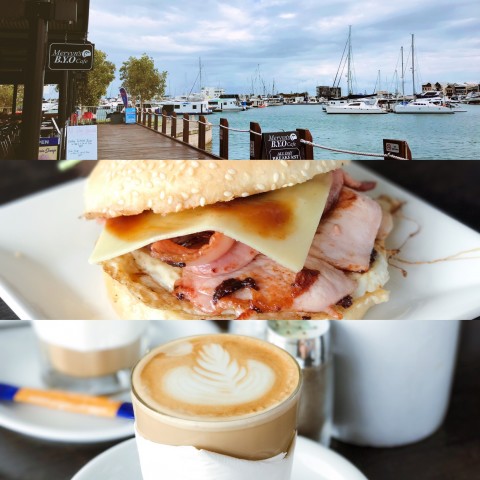 Stumbled along Mervyn's Cafe on the jetty in Mandurah. Isn't the view pretty? The water was sparkling, the sun was out, the weather was warm… Ahhh….
Of course, I had a bacon & egg roll with a latte. My absolute staple Aussie breakfast and one that I miss dreadfully when we're in Singapore. Mervyn's do it to PERFECTION!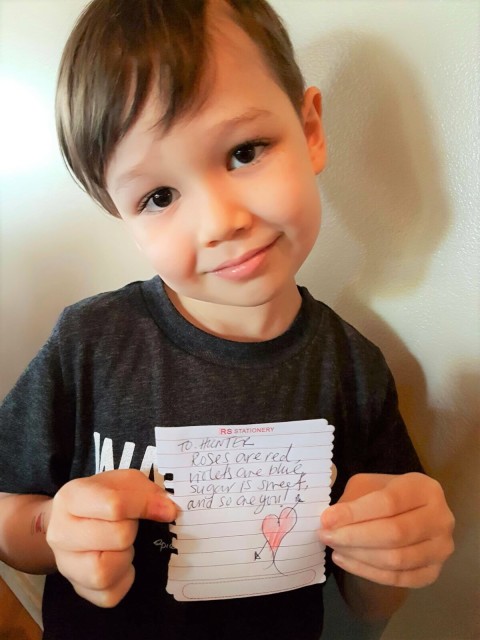 A waitress at one of the restaurants we dined at wrote this note for Hunter. His first love note, haha.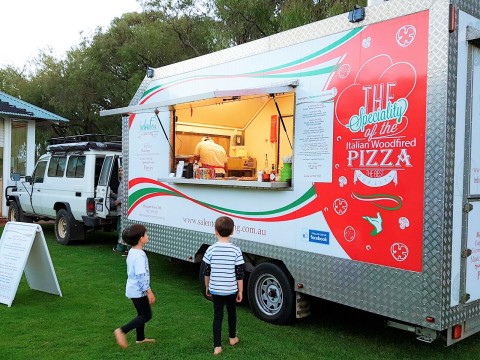 Food truck! The boys were pretty fascinated with this concept. The pizzas were good, but staggeringly overpriced.
These food trucks were parked at Mandurah Caravan and Tourist Park, which we were staying at for a couple of nights. The kids loved this place, because of this……………….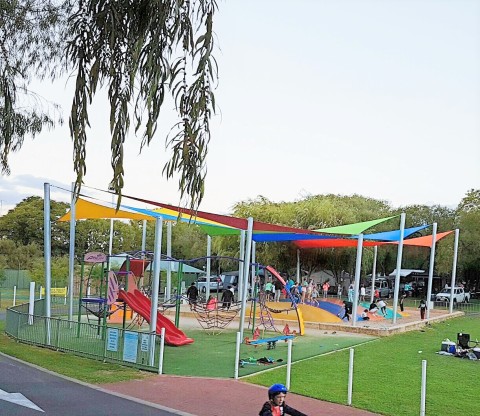 A BIG playground! Complete with a massive air-filled bouncy thing, a huge sand pit, and slides/swings. Every kid's dream. This photo was taken from our chalet, so I could sit at the patio and let the boys run off to the playground. They also have an excellent pool with a rainbow waterslide. Highly recommended place to stay for young families.
A huge play area we stumbled on. It was so big, I got a bit tired just from walking from one play area to another! The kids could've played here all day. No shade, though, and considering Australia's sun is scorching, we had to Slip! Slop! Slap! the kids with sunblock.. and they wore typical Aussie kids' wide-brim hats.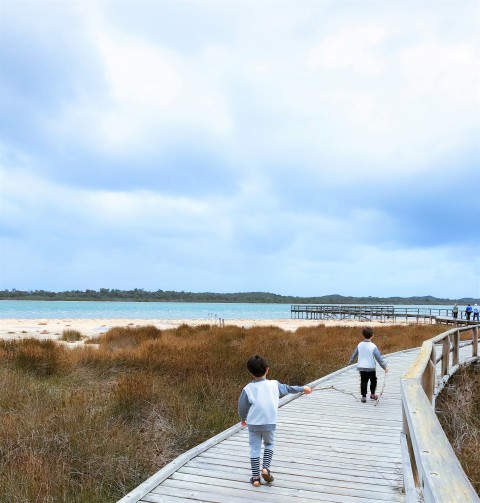 On the boardwork to see the famous Lake Clifton thrombolites. These organisms form a thin film on rock, and makes the ocean water around it foamy (like a bubble bath). It's both fascinating and weird, all at the same time. Thrombolites grew on earth 3.5 billion years ago!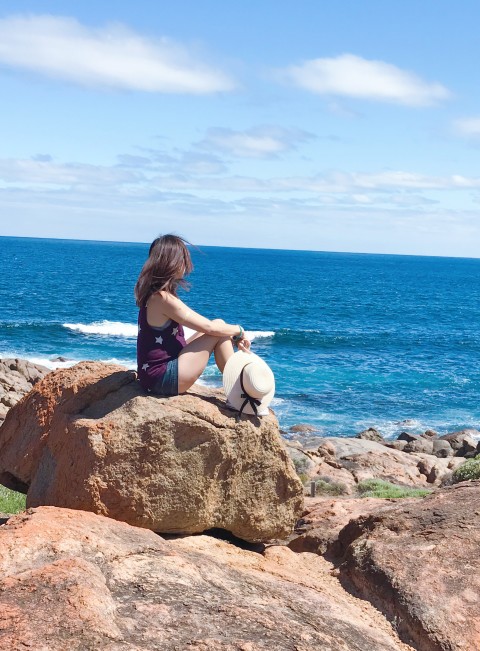 Car rides are so scenic around the Mandurah/Margaret River area. There are lots of rest points where you can climb rocks and enjoy the great outdoors.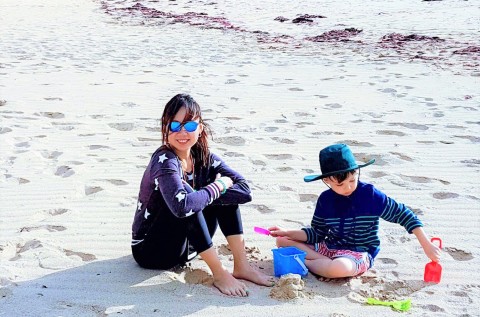 A lovely, clean sand beach that we stopped at, to let the kids indulge in some sand play.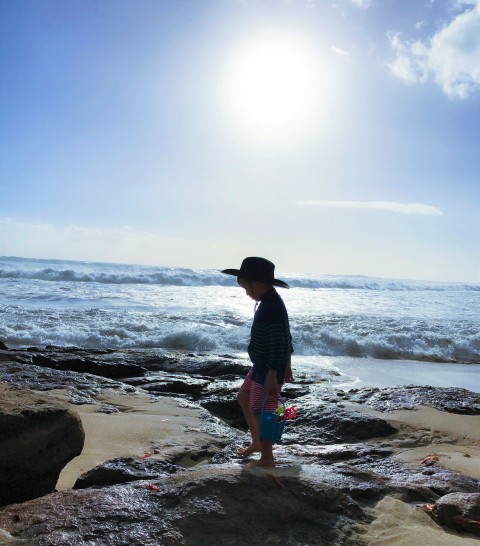 I love this photo. The sun was setting, the kids were happy playing in the sand, and life was just SIMPLE. Makes you realise that, in this day and age, kids are so overstimulated with iPads and TV and such…… when all it takes is a bit of fresh air and a beach to make them happy and enjoy life.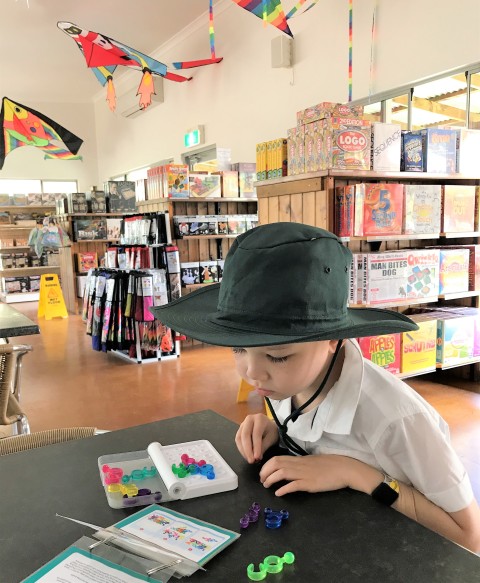 You just have to visit Yallingup Maze if you're in the Margaret River area! We were meaning to stop there to check out the maze.. but ended up spending half a day there because of their puzzles & board games cafe.
It is basically a shop that sells a HUGE variety of kids puzzles and games. But, on every table, they have around 2-3 games for you to "try before you buy", or simply to play while having your meal.
The kids had a total blast with all the puzzles.. and spent hours there. They also have an outdoor playground with a sand pit, which the kids enjoyed too.
A fantastic spot for the adults to stop at for a meal and a drink… while the kids are kept fully occupied with all these games for FREE.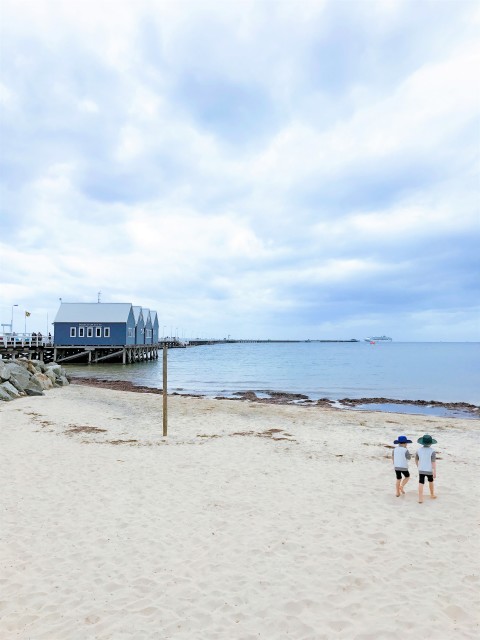 The beautiful Busselton Jetty area. Very social media friendly, with those pretty pastel blue and white huts. The boys enjoyed the beach there, and there are several eateries along the beach – with delicious food right by the ocean.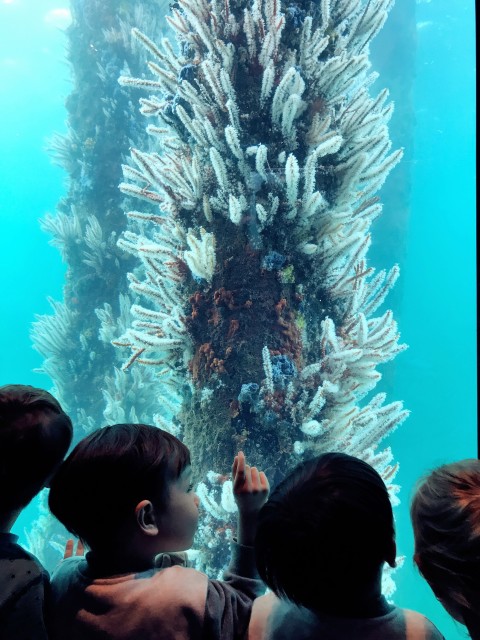 The Busselton Jetty Train is a touristy must-do. It's pricey, but kids really get a kick out of it. The jetty is a whopping 1.7KM and the little red train chuggs up and down it slowly.. so you get some really gorgeous views.
The train stops at the far end of the jetty, where the Busselton Underwater Observatory is. You go down level by level, 8m under the water. The guided tour is worth it, as you really do learn a lot about the hundreds of species of tropical and sub-tropical corals, sponges, fish and invertebrates.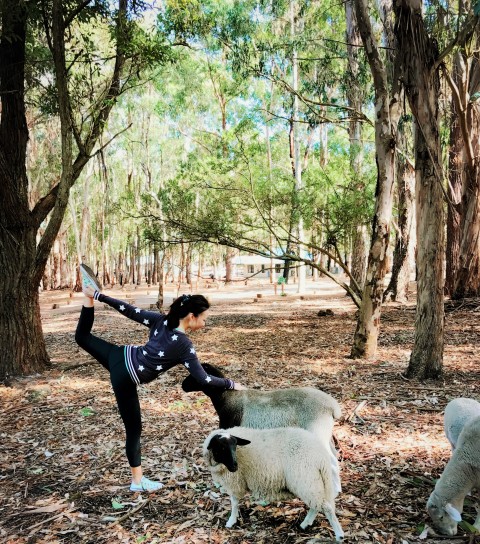 One of the more hilarious/WTF pictures I have taken…… 😉 Yoga-ing with a goat! There's always a first for everything, right?
We stayed a couple of nights at the Margaret River Hideaway and Farmstay, and I wholeheartedly recommend it for young families. The huge farm is is 57 acres and home to a whole ton of animals. They wander freely and are friendly with children, so my boys had an absolute blast. They would scurry out every morning, eager for the animal feeding and egg hunting.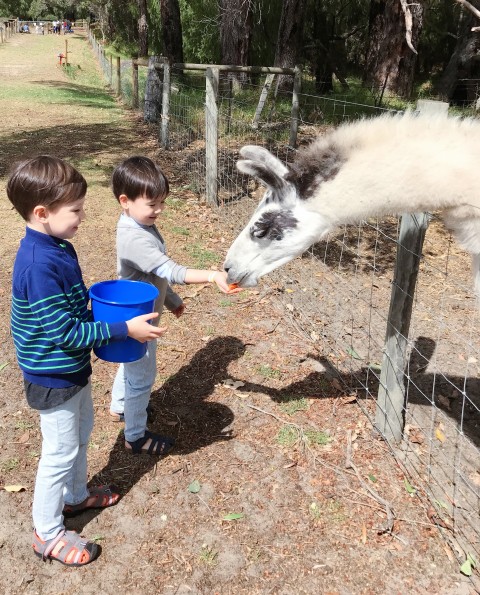 A big bucket of food to hand-feed the animals.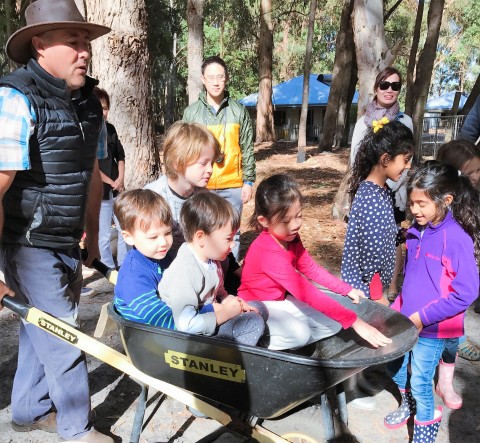 The owner, dubbed Mr Farmer by my kids, had a wheelbarrow. Of course, this was of HUGE interest to all these city kids, and they got a big kick of out being carted around in it 😉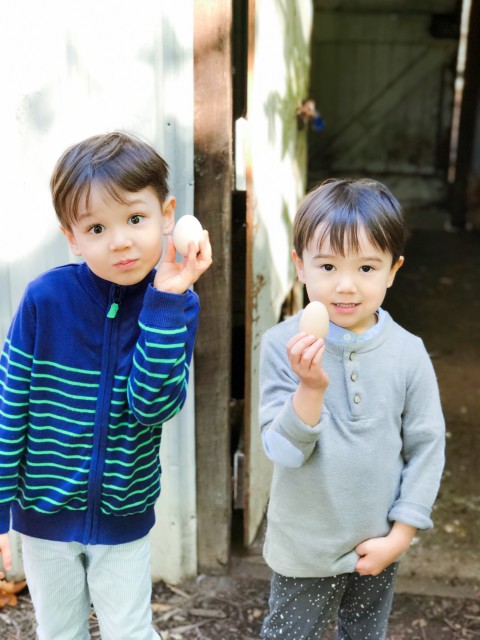 The kids even got to pick freshly-laid (they were warm!) eggs from the free range hens on the farm. And you can cook up the eggs straight away – can't get any fresher than that. Carter really wanted to hatch his, though 😉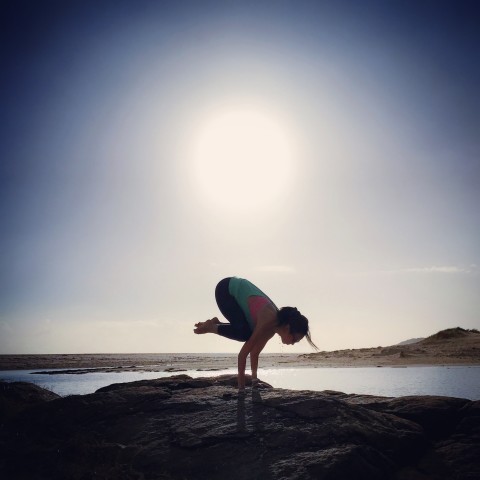 Beach. Sunset. Yoga.
Three of my favourite things.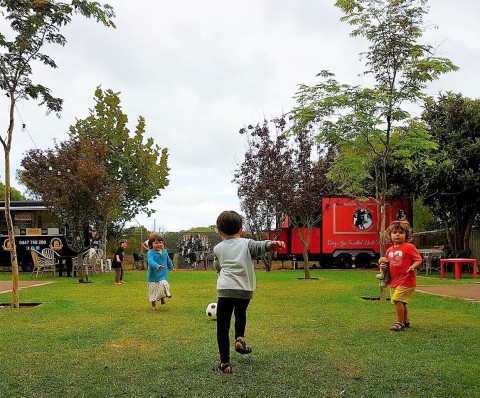 A fantastic (IMHO) shot of Carter. He eagerly made friends with these kids, because they had a soccer ball. This sporty kid was delighted and had so much fun kicking it around! Nothing like enjoying sports in Australia's fresh air.
I reckon Perth (specifically the Margaret River and Mandurah area) is incredibly kid-friendly, probably the best city in Australia if you're travelling with young children. The lifestyle is slower paced than Sydney, it's a quicker flight from Singapore, and the weather is temperate.
We love the area so much that we are going back later this year!
Let's Chat!