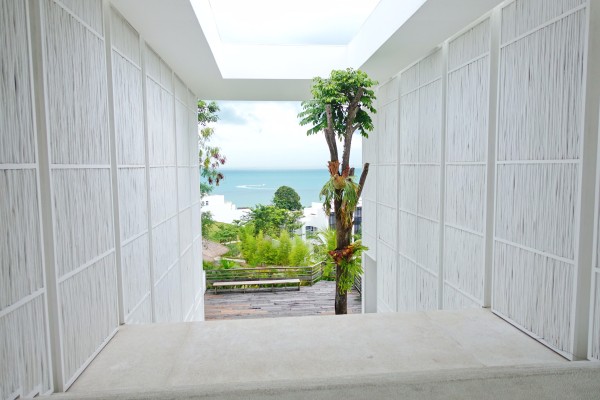 This kickass view makes me feel like I'm in some far flung island with blue waters and clear skies.
But, nope. We're in Batam – just a hop and a skip away from Singapore. About 40 mins or so, in fact. The boys had fun sitting on the ferry and watching the boats go by, or snoozing. Me? It was hell on earth as I get seasick, but I guess I survived.
We popped into Montigo Resorts for a 4-day family getaway over Christmas and New Year!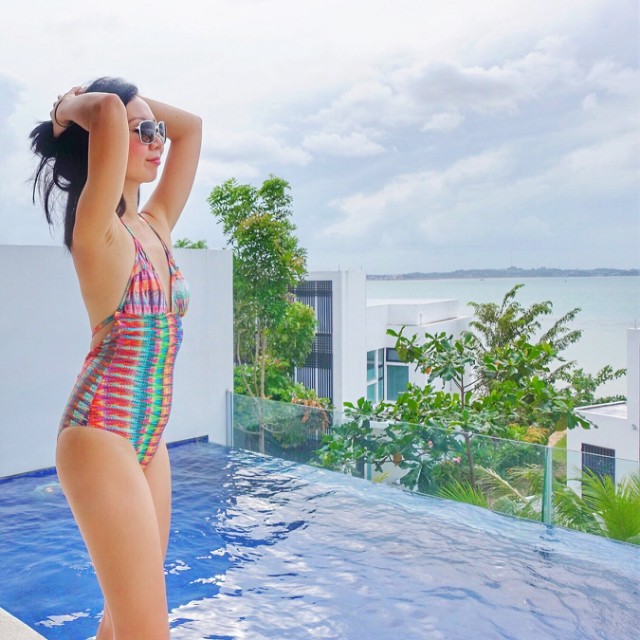 Ahhh. Bliss!
Montigo Resorts just has three-story villas. All set on the side of a hill and all facing the ocean. There's lush greenery around and buggy cars (the kids LOVED these) to shuttle you back and forth between your villa and amenities.
The villas are all mahooooossive!! So big that we actually found a lot of the space redundant, as we were all always clustered either in the living room downstairs, or the bedrooms upstairs.
Or the private pool. Oh my kids loved THAT.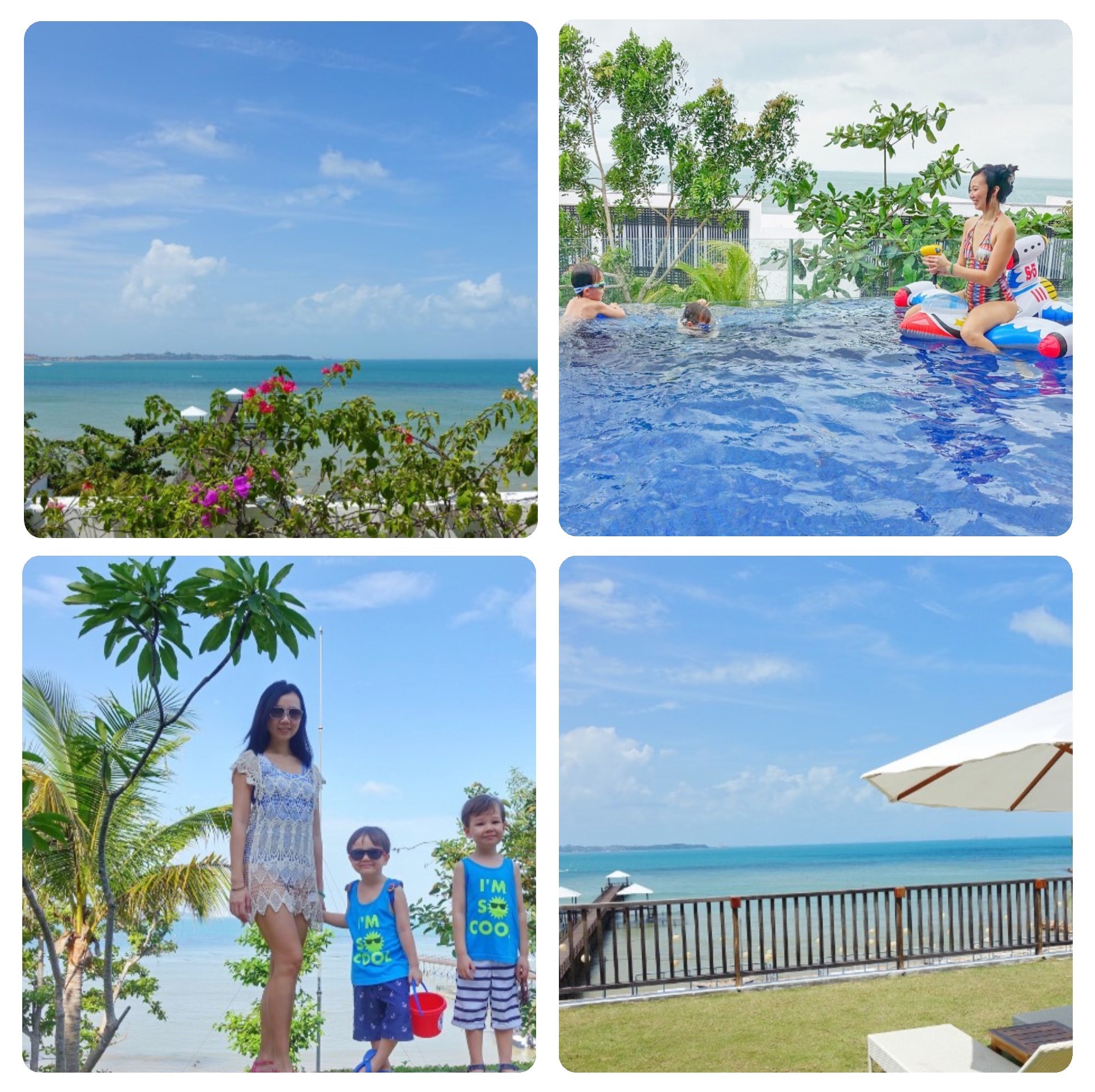 There's not much to do at Montigo Resorts, so go if you're prepared for a very relaxed family holiday. Whilst there's wifi everywhere (thank goodness for that! I might die otherwise), the purpose of the resort is just to kick back and… ermm… spend oodles of time with each other. Yay? Yay!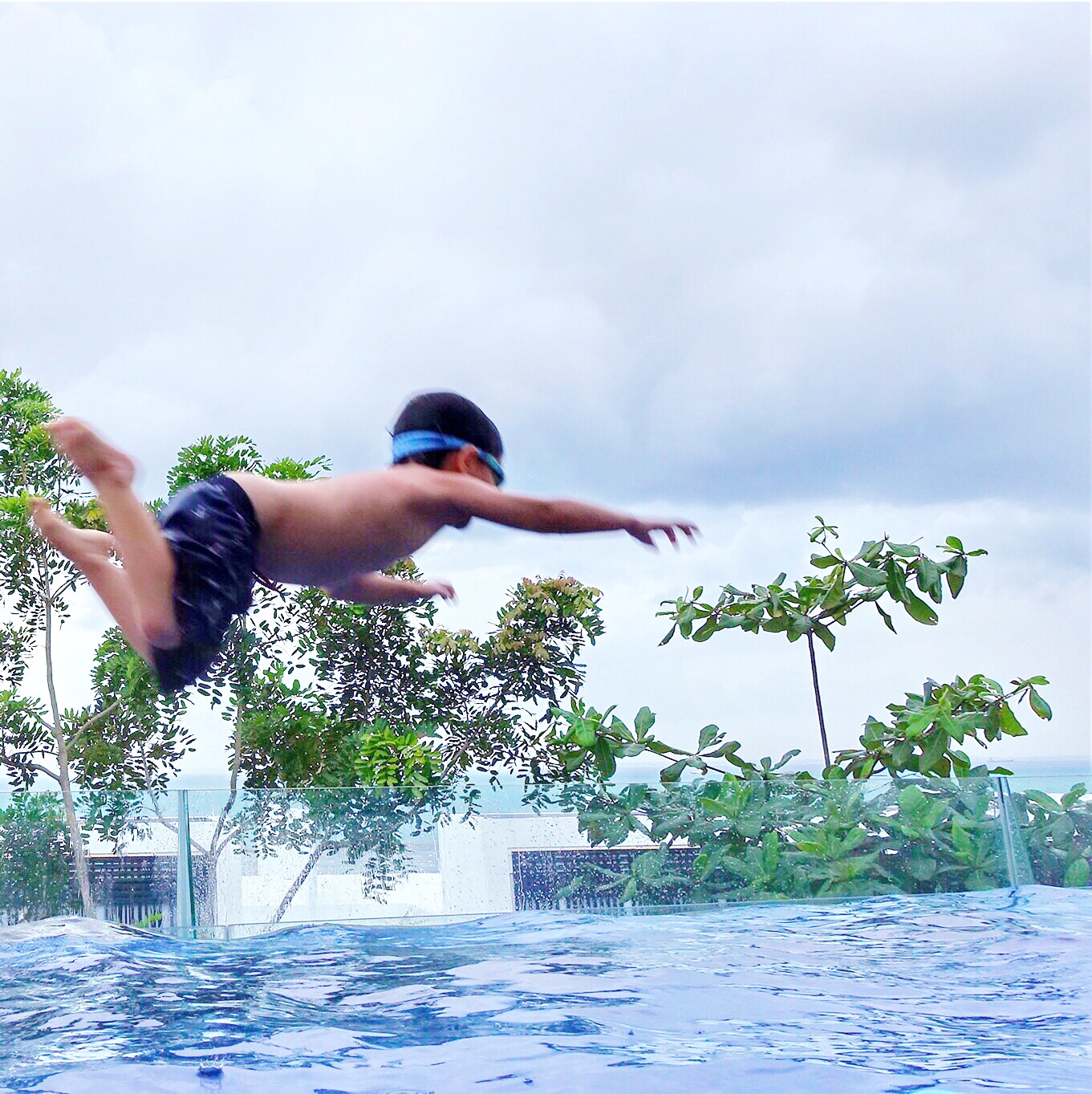 The kids found the concept of our own private villa pool awesome. It's basically a lap pool with an infinity edge, which is cool but also a bit basic. It's all one depth too, I presume about 1M as it came up to Hunter's neck.
It's a shame the pool doesn't have a more shallow end for toddlers. Fortunately both Hunter and Carter are adept swimmers, so the depth was fine with them. But it's something to note if you have kids under 4 yrs old and/or kids that can't swim unassisted.
Bring your own pool floats and toys! We did and they were a hit.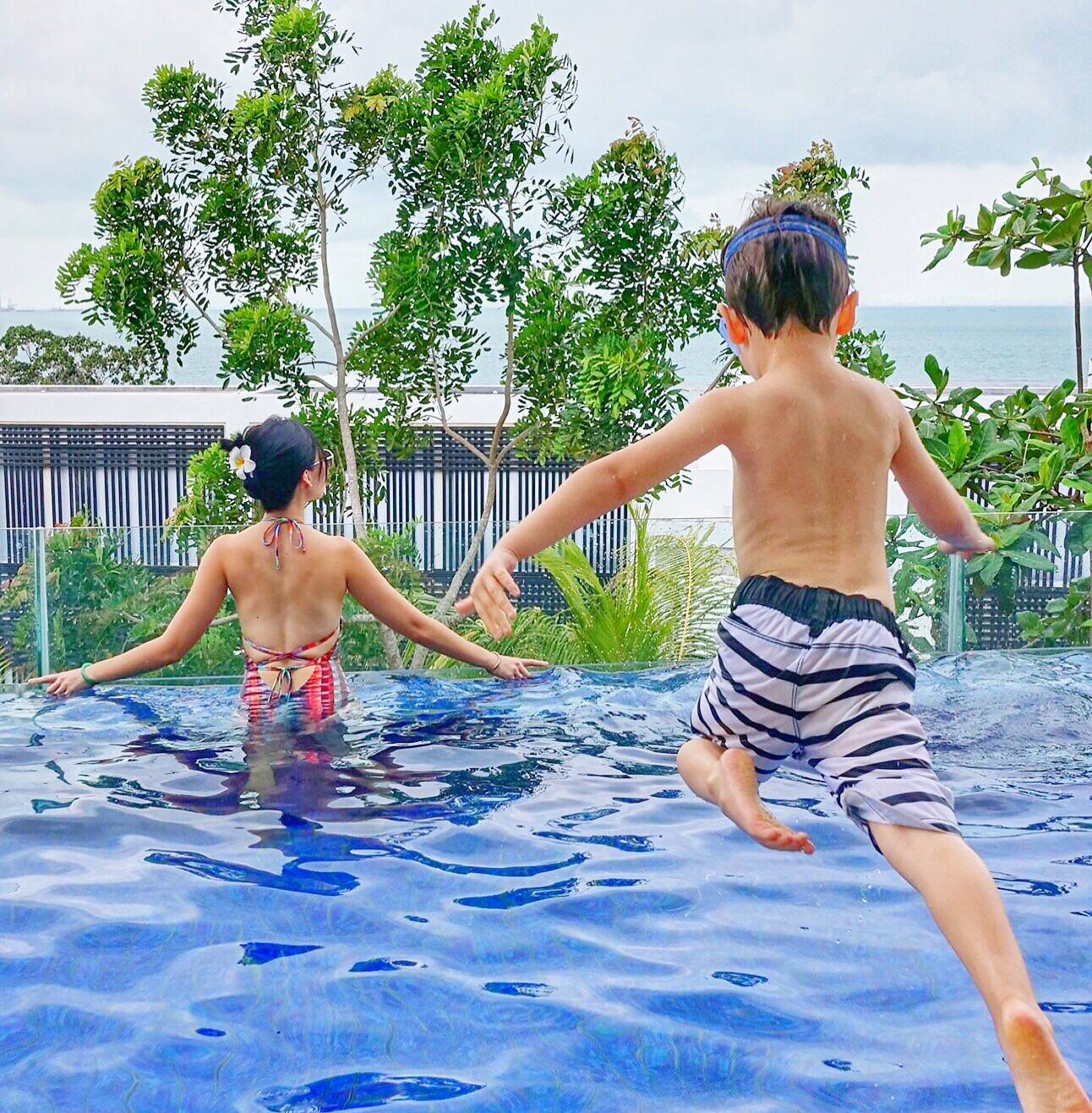 I was ordering.. I mean.. requesting Chris to take "a nice pensive photo of me". It was all a good idea, until I got photobombed by my evil child. I-am-alone-and-relaxed pretend moment – ruined. 
That said, at least it's a cool shot of Hunter!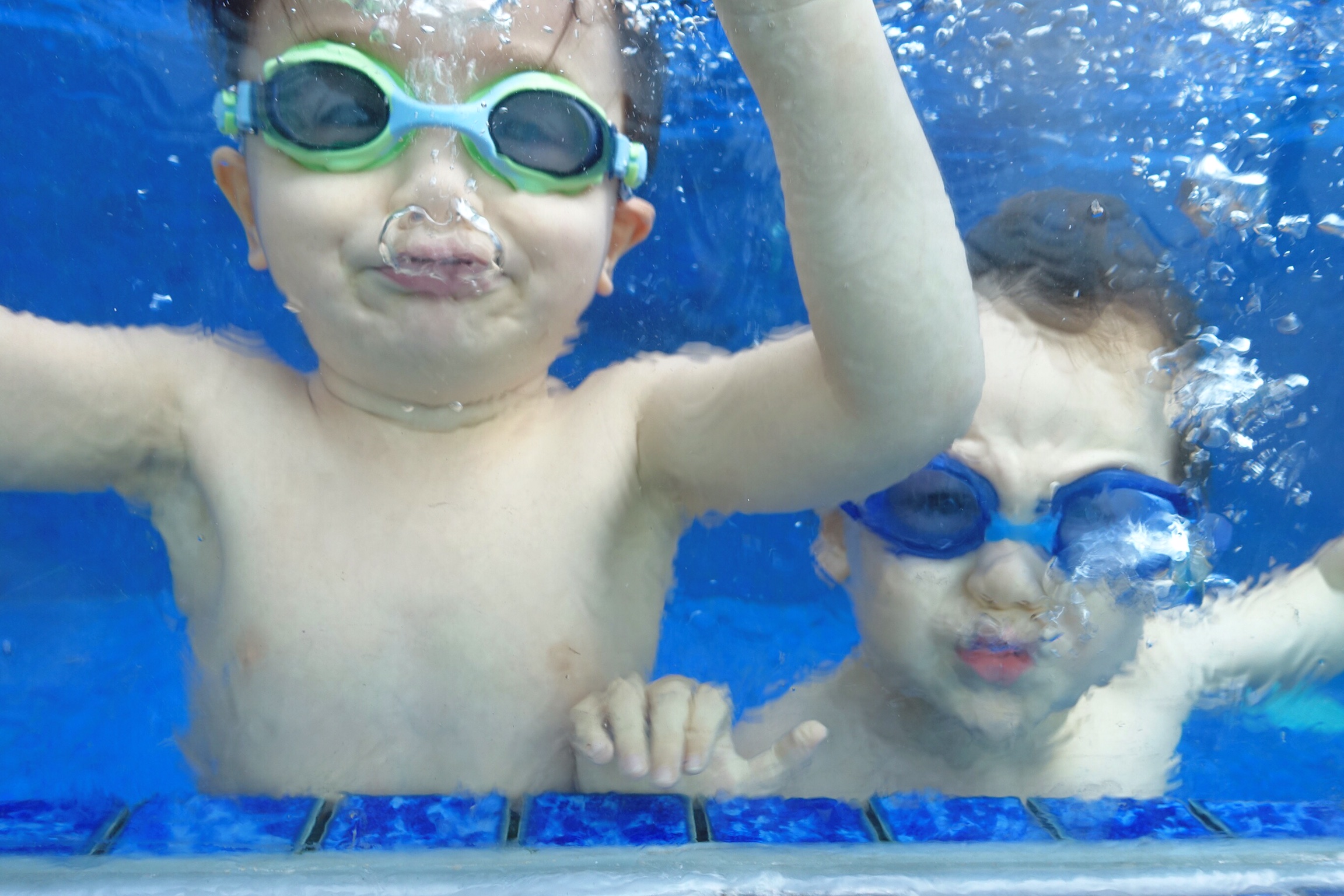 One of my fave shots of the whole trip. I simply put my regular camera on the other side of the infinity glass edge and snapped this shot, so you don't need to use an underwater camera! I regret not taking videos..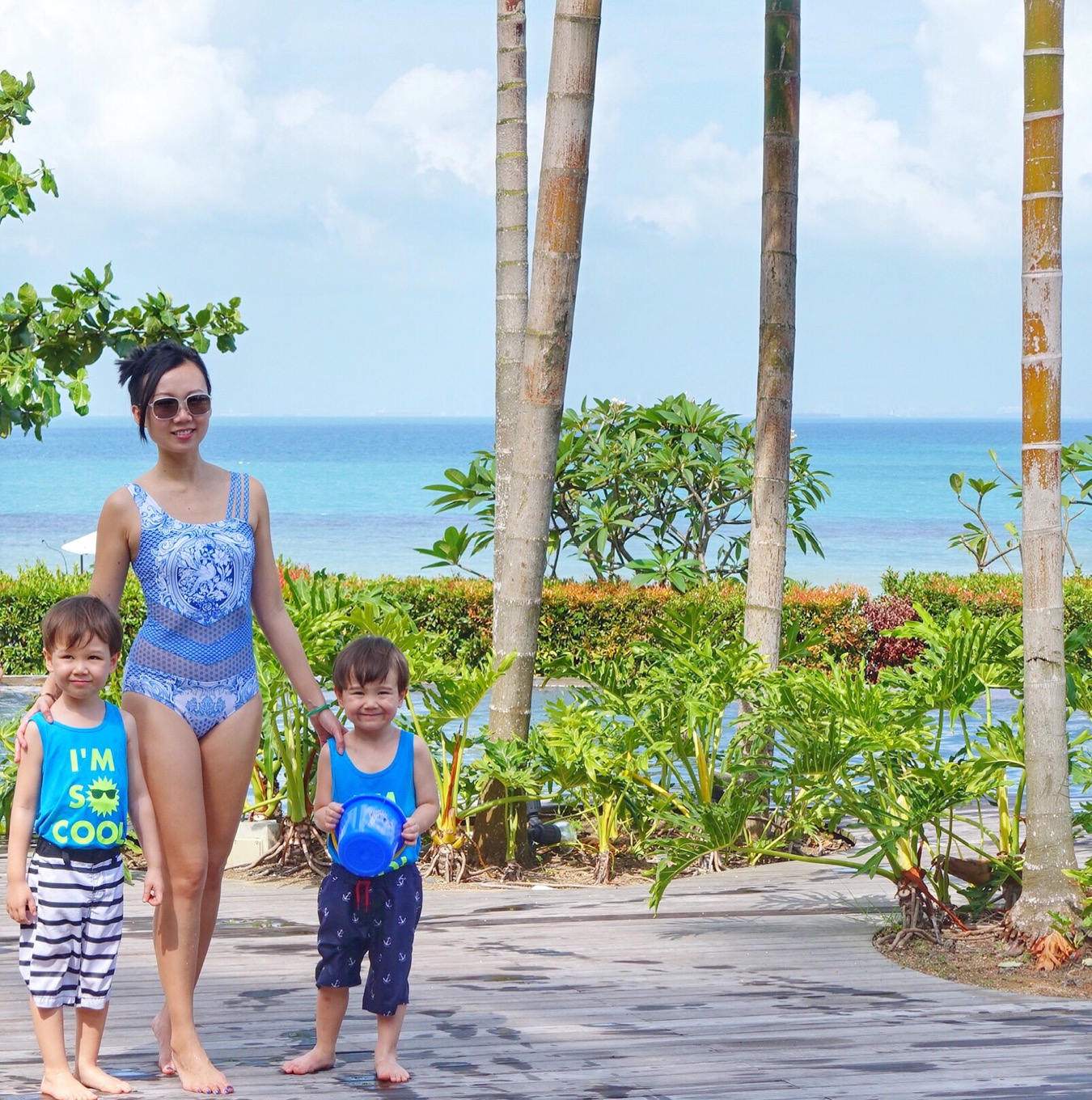 This is one of the main pools, which is right where the main restaurant is. There's a massive  shallow area, which is fantastic! We're standing on an 'island' in the middle of the pool, and you'll see there are trees around to shade from the sun.
Towels are provided so you simply rock up in your swimmers.
This is the second pool, which is pretty large and also deep. Great for the kids as they love diving, and there are a bunch of wooden platforms in the middle of the pool for that. This pool is situated at the al freso bar – which meant Chris and I could sit back and have a cold beer whilst watching the kids dive to their hearts content.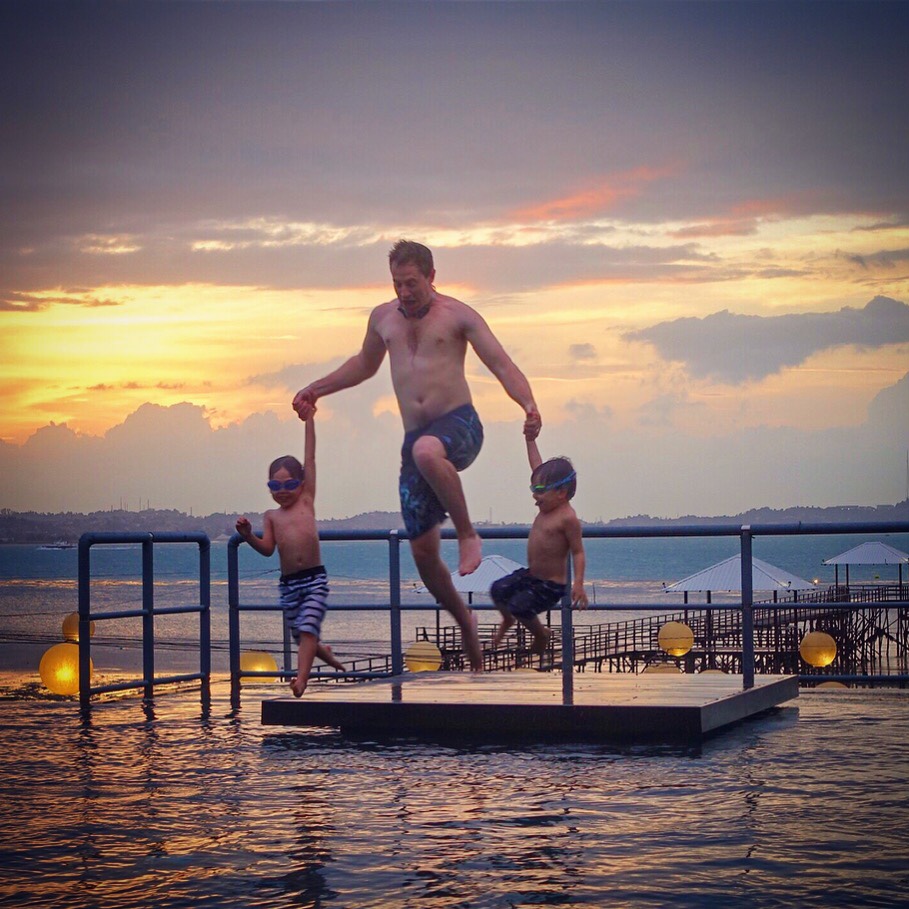 Yes, we swam til sunset. The weather was that warm!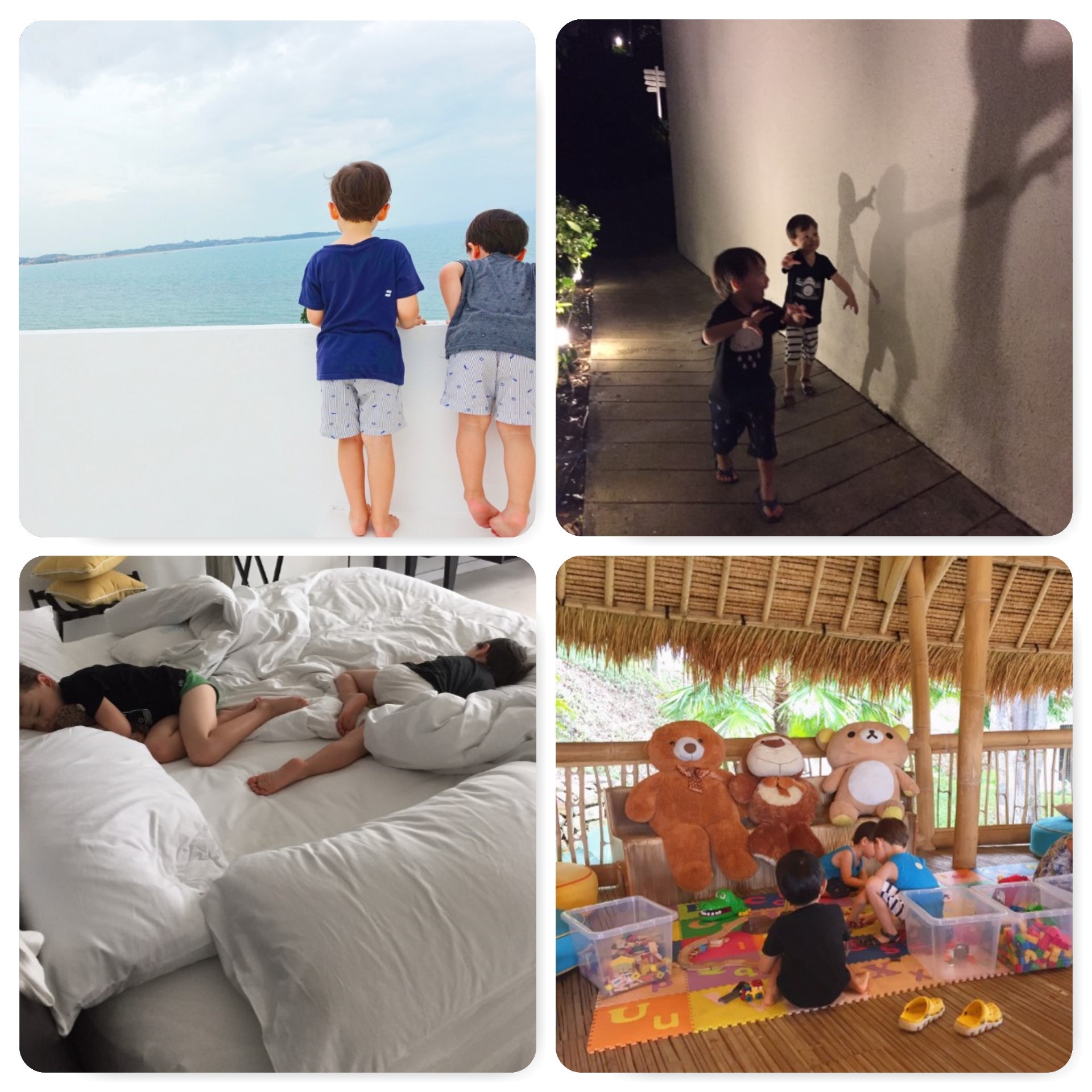 The kids napped on our bed during the afternoon (they really crashed after all that swimming), but slept in their own single beds in a separate bedroom at night. Both bedrooms have their own ensuite bathroom, and have air conditioning – which is pretty much mandatory in the tropical climate.
Both boys loved loved LOVED the Kids Club. I didn't get photos of the whole thing, but it had 3 slides, a ball pit, a library, TVs, and a whole bunch of toys – all over two floors of a 'treehouse'. It was all made with bamboo and super cool and breezy. I was remarking to Chris that it felt like air conditioning!
Best of all, there's a staff member there to look after the kids. They also have a variety of activities each day that you can drop your kids off to do (approx $10 per kid per activity), but we didn't get round to doing that since all the kids wanted to do was either swim in one of the three pools, or do freeplay at Kids Club.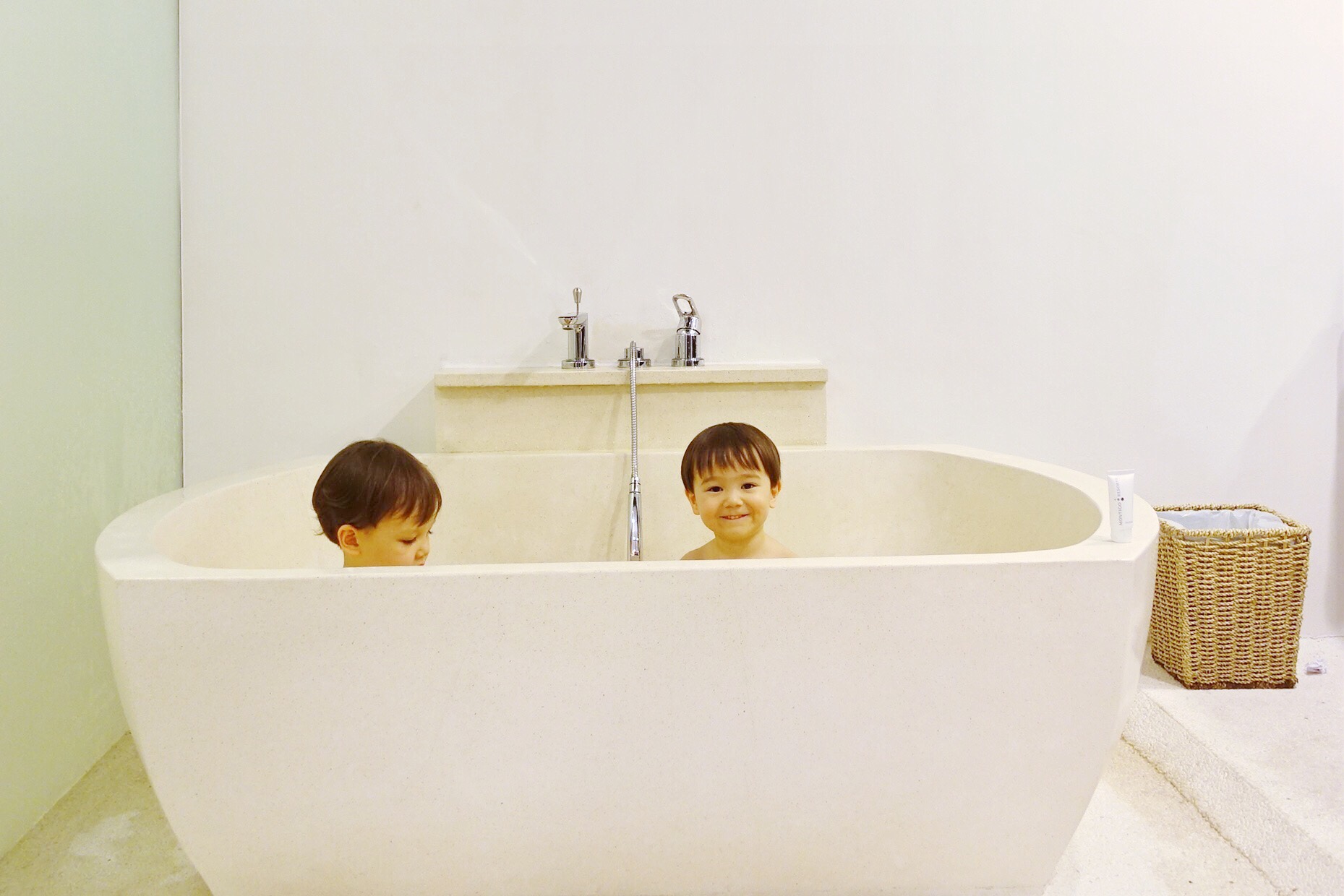 That epic bath tub. It was large enough to fit all 4 of us, and the kids loved it so much they had a bath every single night before bed.
The downside was, it took forever to fill that giant bath tub! Also due to the fact that the water pressure from all the taps is insanely low. So low that you just get a trickle of water coming out.. which meant that my showers took 30 mins because I had to stand under there for so long to feel remotely clean.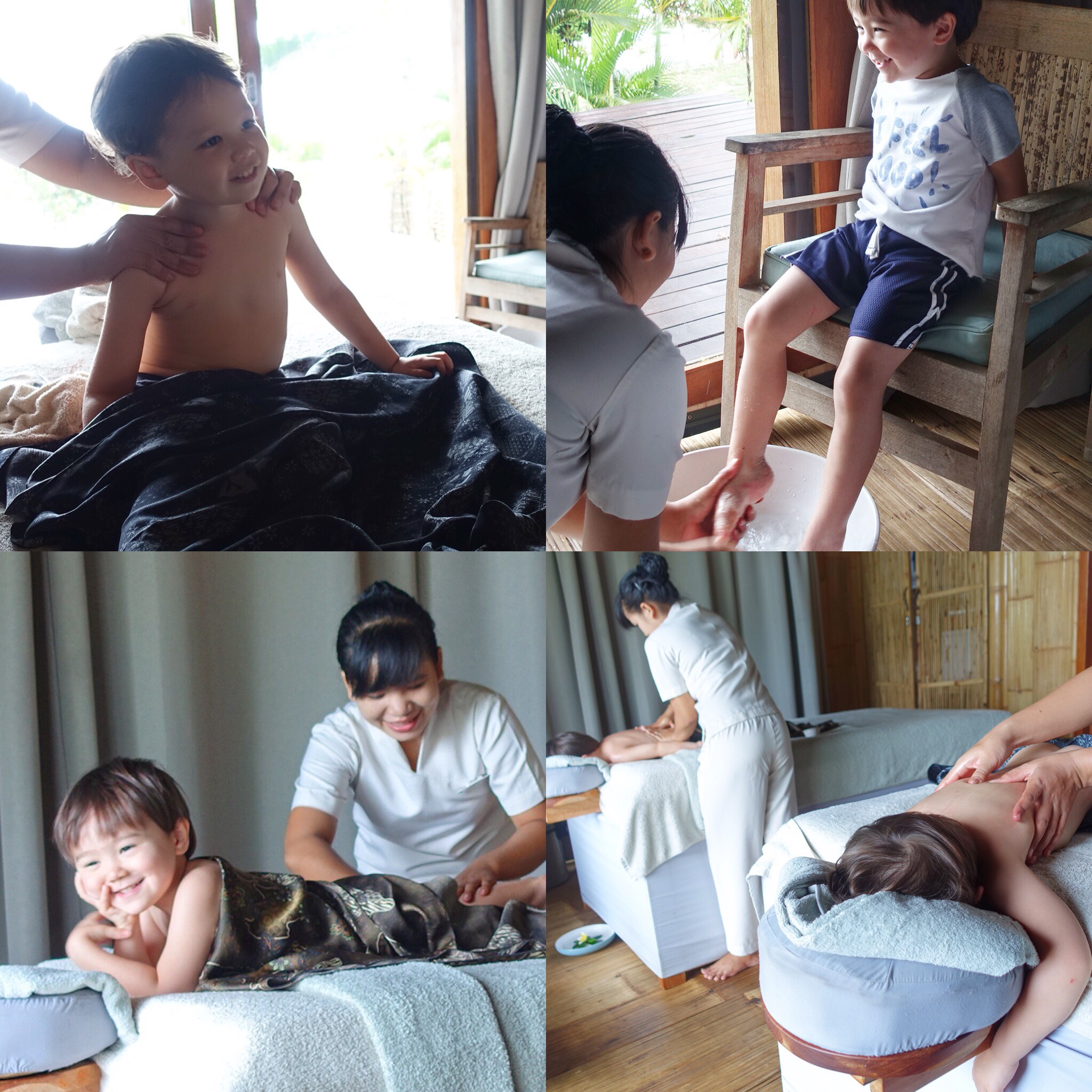 The kids got their first ever kiddy massage!
We thought it'd be kind of fun for them to experience and know what a 'massage/spa' is like, and also because it killed some time during our long and lazy days.
Verdict? Between all the giggling from the boys AND the massage ladies, I'm not sure how much relaxation was going on!
Carter had us all in STITCHES when one of the ladies pulled down his underwear a little (you know, like they always do before they start a back massage), and he piped up "OH! Why are you pulling down my underwear?"
After the spa experience, I asked Hunter "Where did you like being massaged the most? Your back? Legs? The head massage?"
"Nope", he answered, after thinking about it for a second. "The bum massage".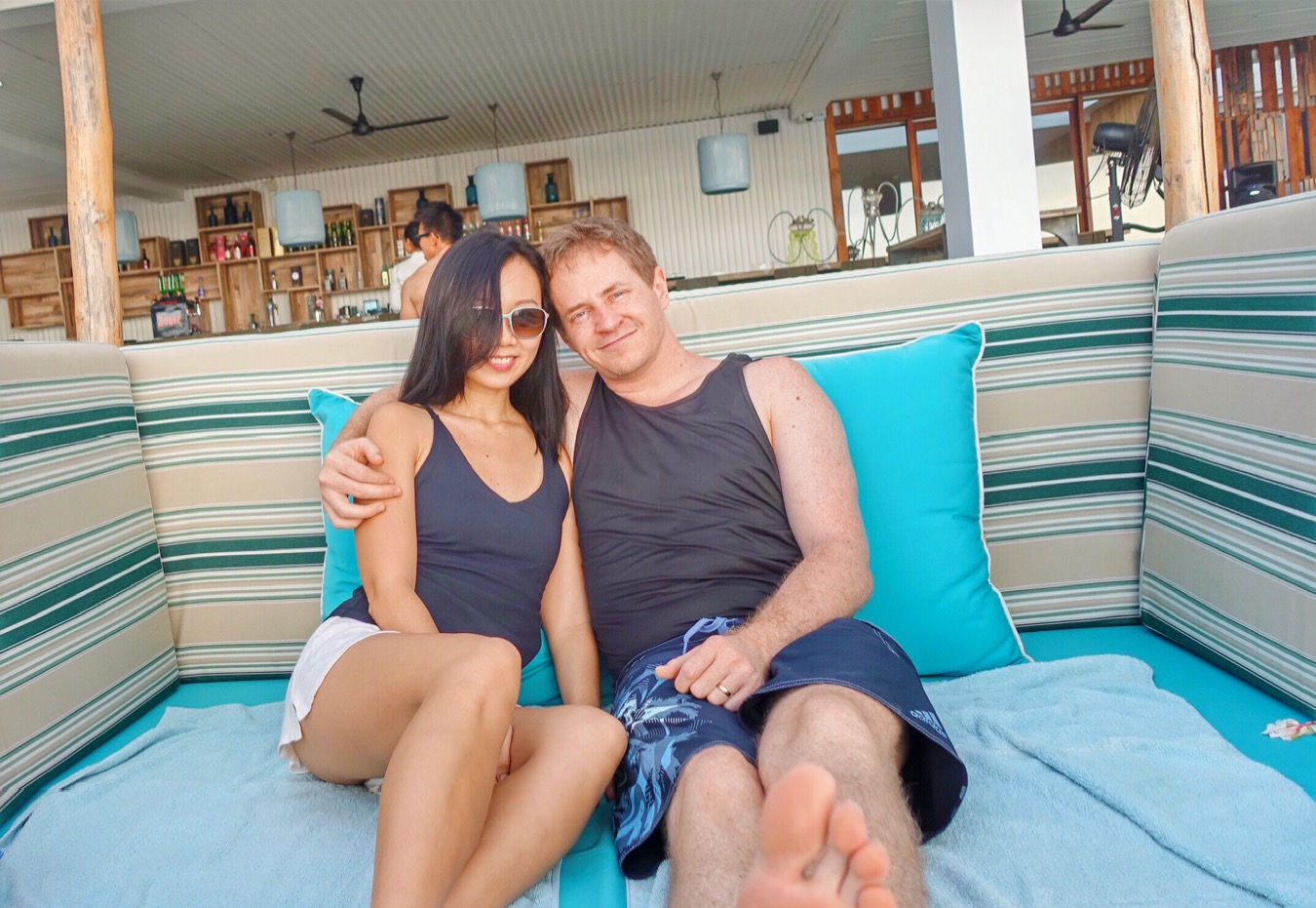 Our one and only couple shot, taken by Carter. We were having dinner and beers on the lounges, and enjoying the sunset.
I love the grin this fella is sporting. He declared "I love it here mummy. I want to live here FOREVER!"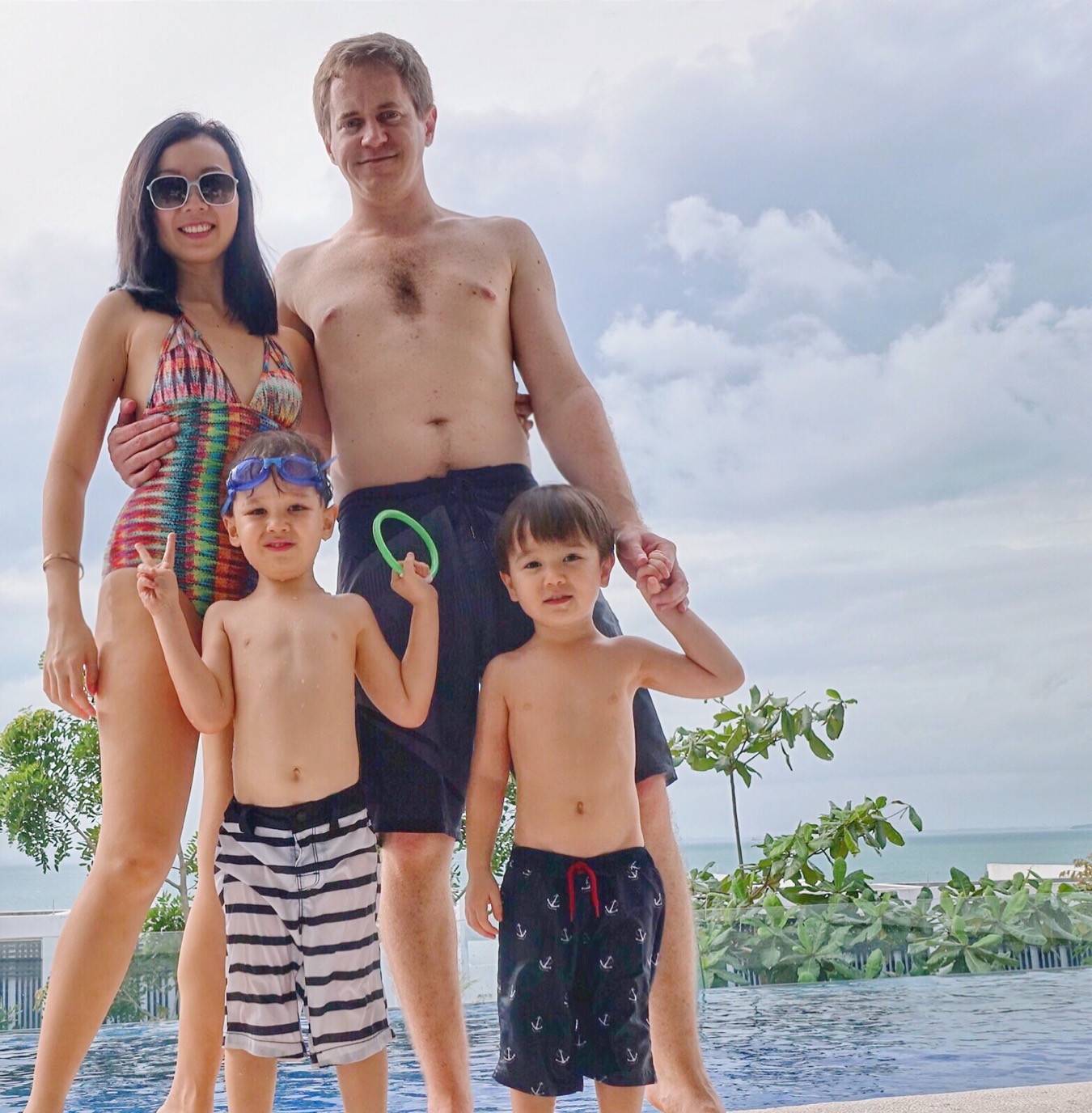 What a restful four days we had! I wouldn't recommend any more than four days, since there's not much to do within the resort. But a 3-4 day break here would be perfect for a family with kids, and the fact that the villas are all very large and a flat rate makes it very attractive. Not to mention the ease of getting there/back from Singapore!
Let's Chat!