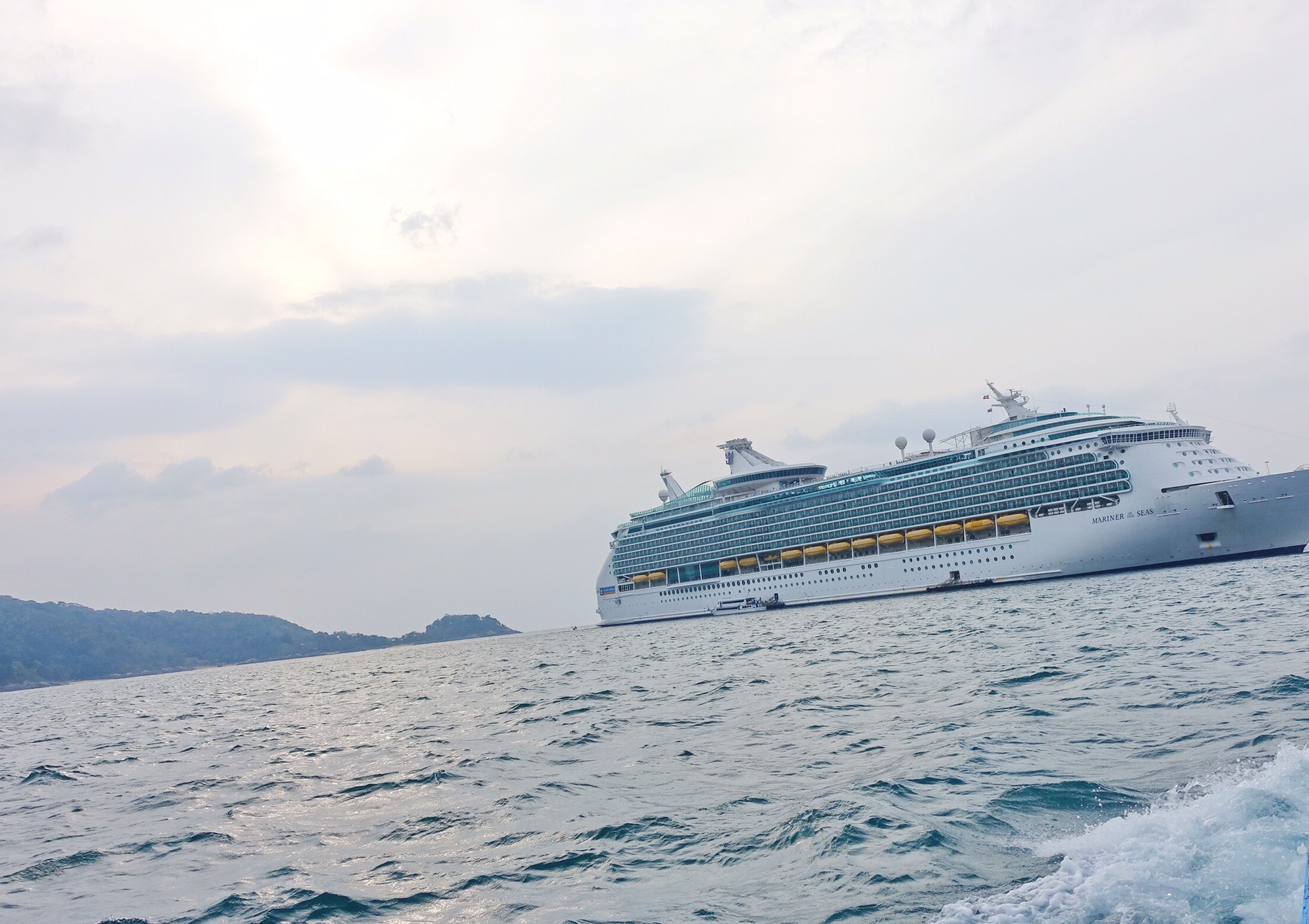 Ahoy!
We spent last week on this monster ship pictured above – called the Royal Caribbean 'Mariner of the Seas'… with over 4,5000 on board the 1,020 ft long vessel (whoa).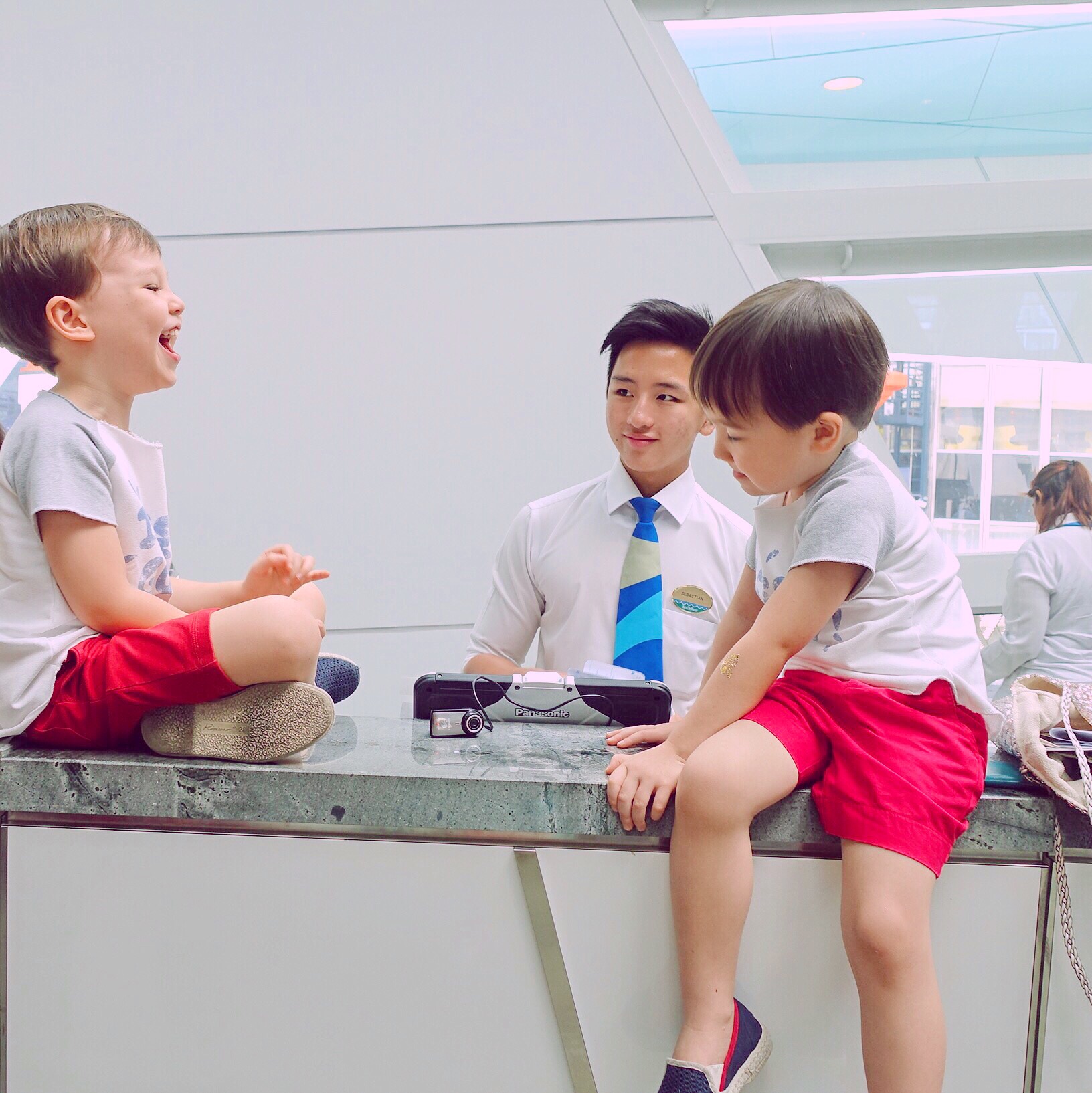 Checking in at the harbour was pretty epic, considering 3,500 are boarding.. but there were about 25 counters open so at least the line moved. Still, it took about 45mins and I was glad the boys were pretty well behaved!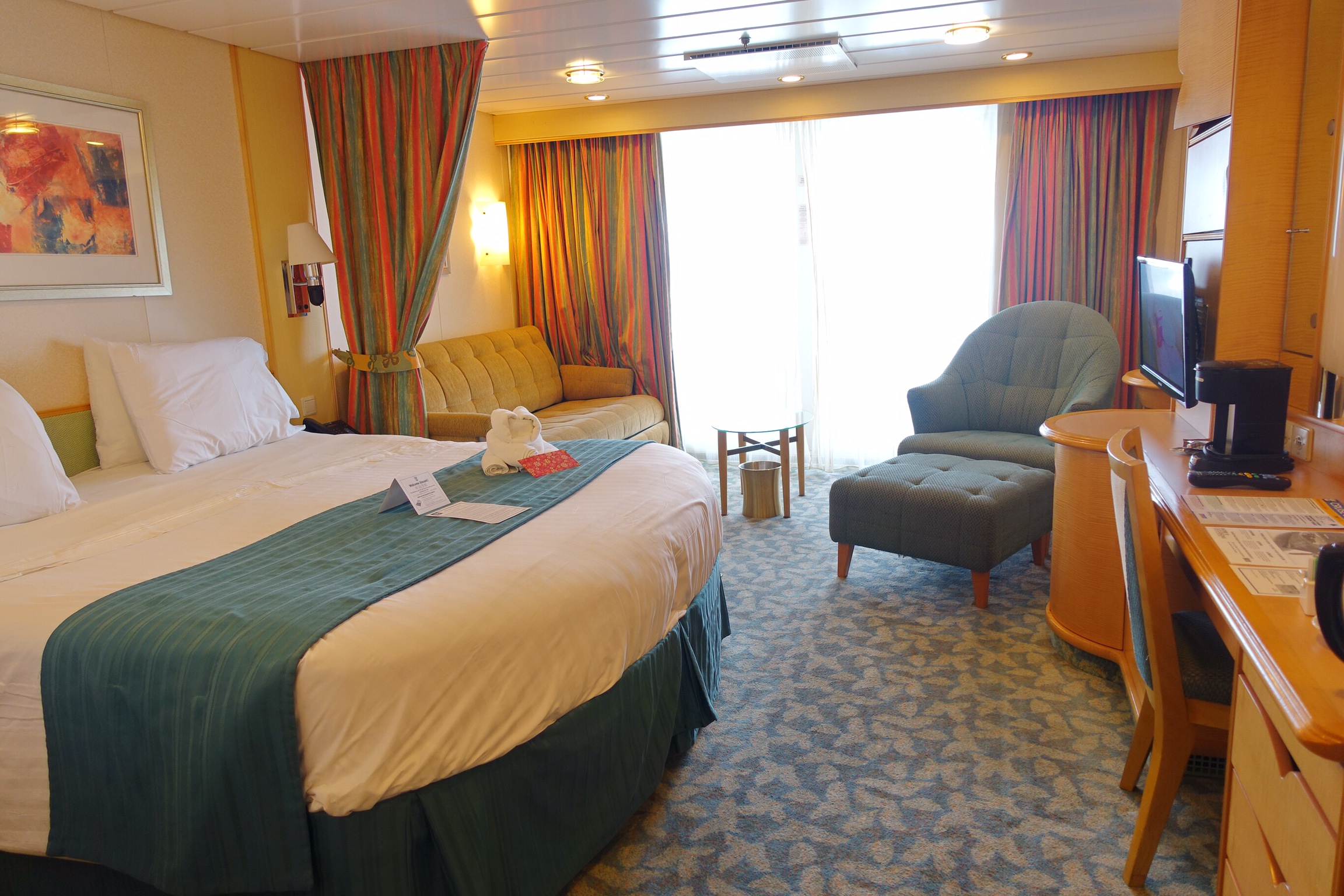 We got the Junior Suite, which comfortably fits a family of four (the large sofa pulls out into a bed), and with a big balcony outside overlooking the water. The suite comes with a concierge who was amazing, and this reflected the service of all the staff on the ship – it was truly impeccable!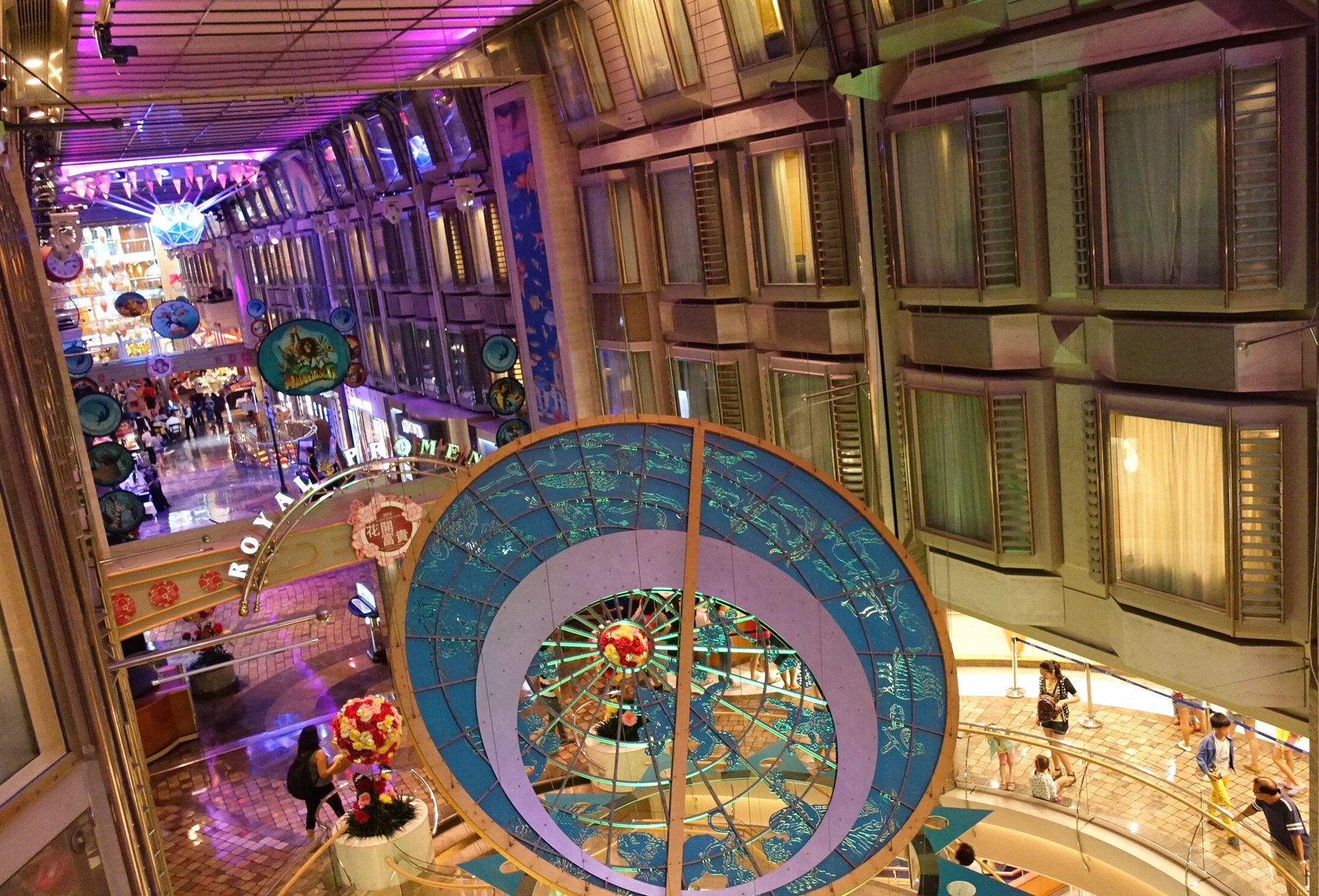 The ship is so big, we kept getting lost in it. It actually takes a fair while to walk from one end to the other, so we had to memorise where all the areas/restaurants were, as it was a pain if we were at the wrong end! This is the Royal Promenade, which is lined with boutiques and cafes/bars. It felt like we were in a large mall or hotel than in a ship..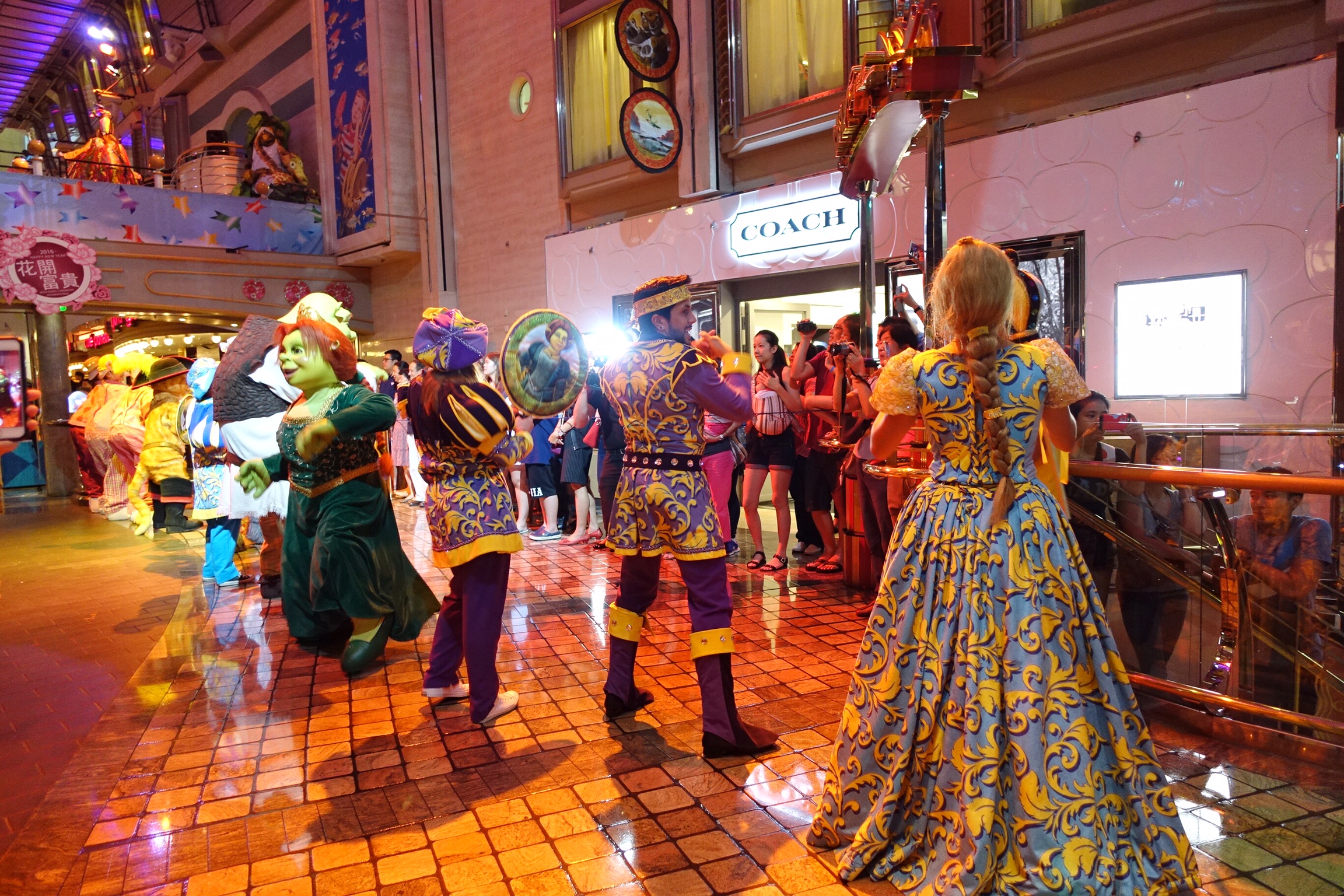 There was a parade on the first night, which the kids really enjoyed as it featured loads of Dreamworks characters performing.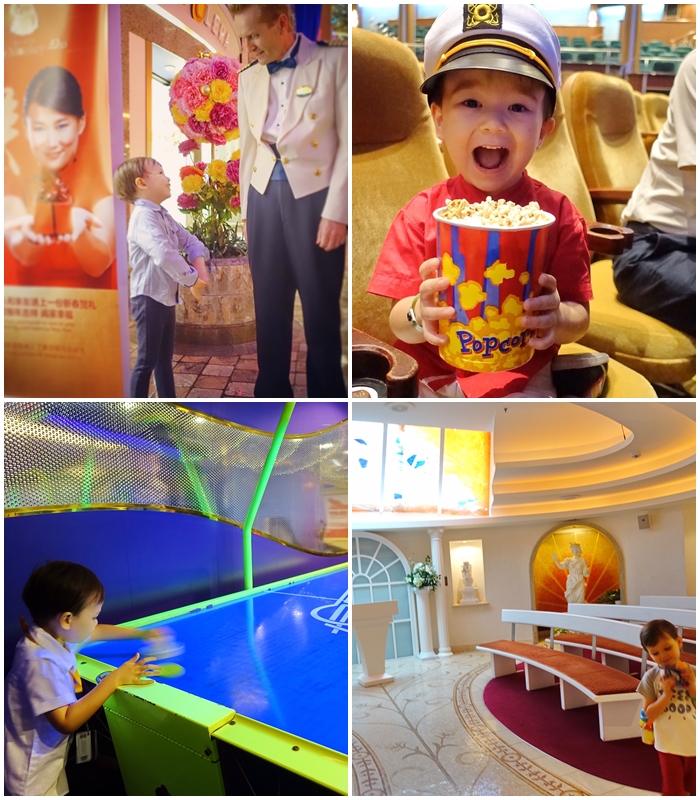 The kids were kept fully occupied during the entire trip, since there are not only tons of fun areas, but also loads of scheduled activities. We actually didn't have enough time to cover everything, so had to miss out on a few items on the daily itinerary.
Top-left: Hunter meets Captain Flemming, who he was pretty besotted with.
Top-right: There are nightly shows, which meant the kids slept at a whopping 10 or 11PM every night (!) but they held it together because they were enjoying themselves so much.
Bottom-left: Hunter was particularly entranced by the fully fledged games arcade, which he couldn't get enough of. Loads of Daytona racing type games, and of course this Air Hockey table that the boys declared "the best game ever".
Bottom-right: The very top of the sip (Level 15) houses a chapel, presumably for people that want to get married aboard. A bit redundant, as it's otherwise completely empty and could probably be re-purposed for a more popular area?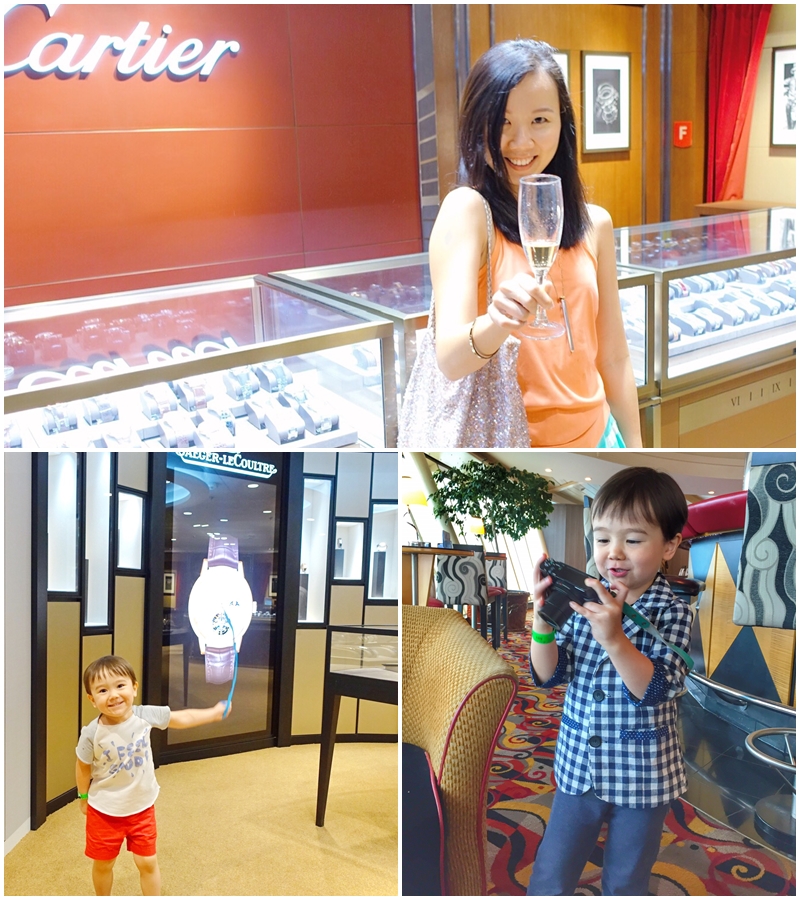 There's a spot of shopping on the ship too – duty free shopping to be exact. It mostly focuses on watches though, which was a bit of a bummer as I'd have preferred jewellery.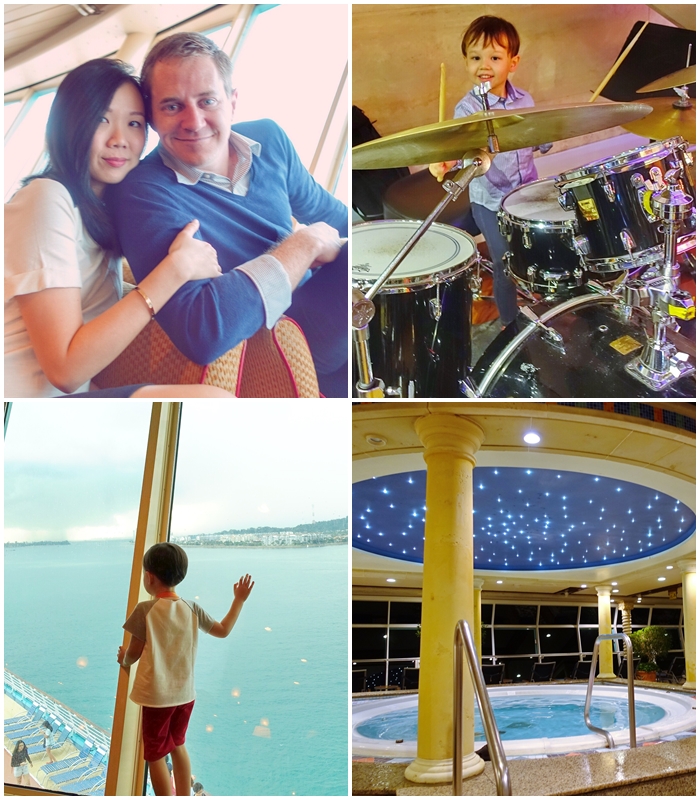 We spent most of our days chilling out, doing the activities of the day, and just enjoying life on the sea. Hunter got a chance to play a set of real life drums, after he was invited on stage by the performers – so he was pretty chuffed!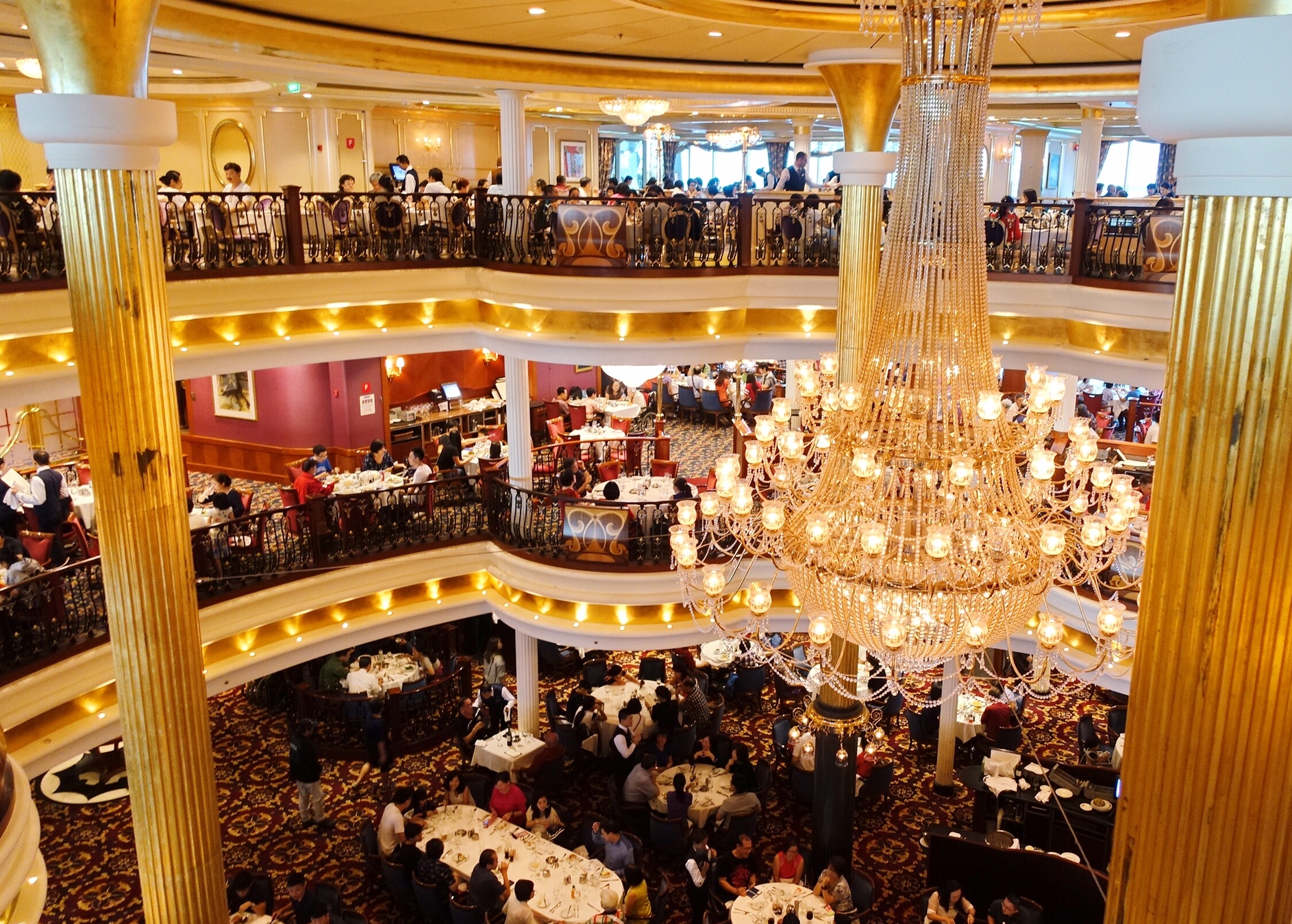 This is just ONE of the dining rooms. I can't fathom how difficult it must be, logistically, to feed 3,500 people…. breakfast, lunch and dinner. And every single meal is a buffet too. But they pulled it off – impressively.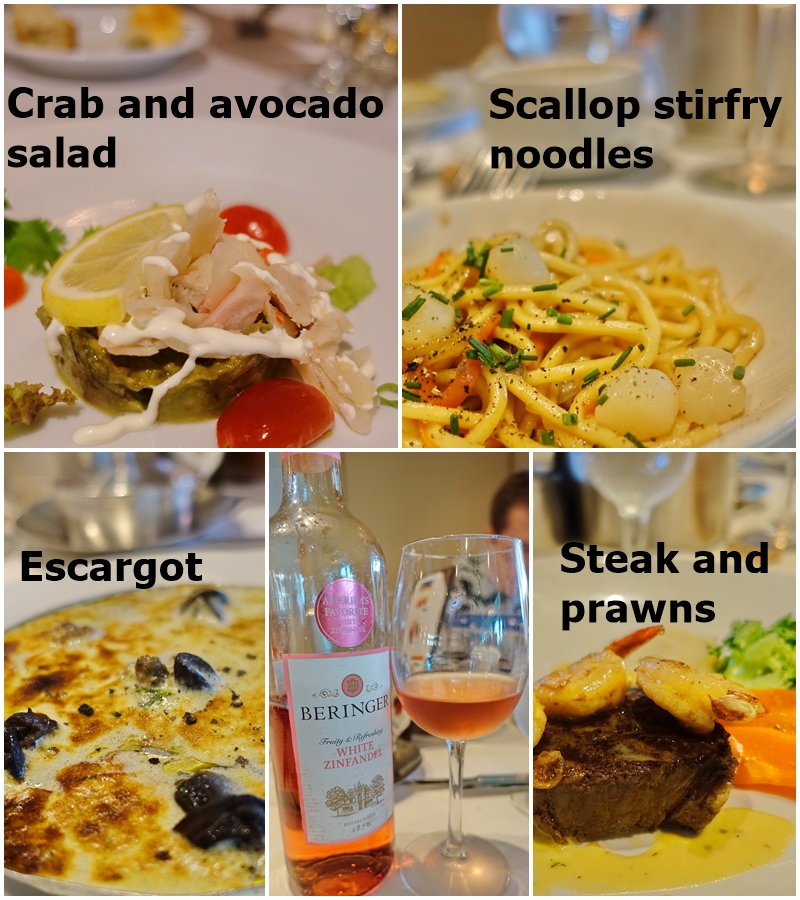 This was some of the impressive food that was served. The food was delicious, and service was outstanding. It was actually quite surreal watching the whole production of kitchen and wait staff feeding all the hungry people. And since everything is all-you-can-eat (included in the price of the cruise ticket), you can order over and over again. We often ate two mains each, or two appetizers, or two desserts….. as you can imagine, we ate A LOT over the 5 days..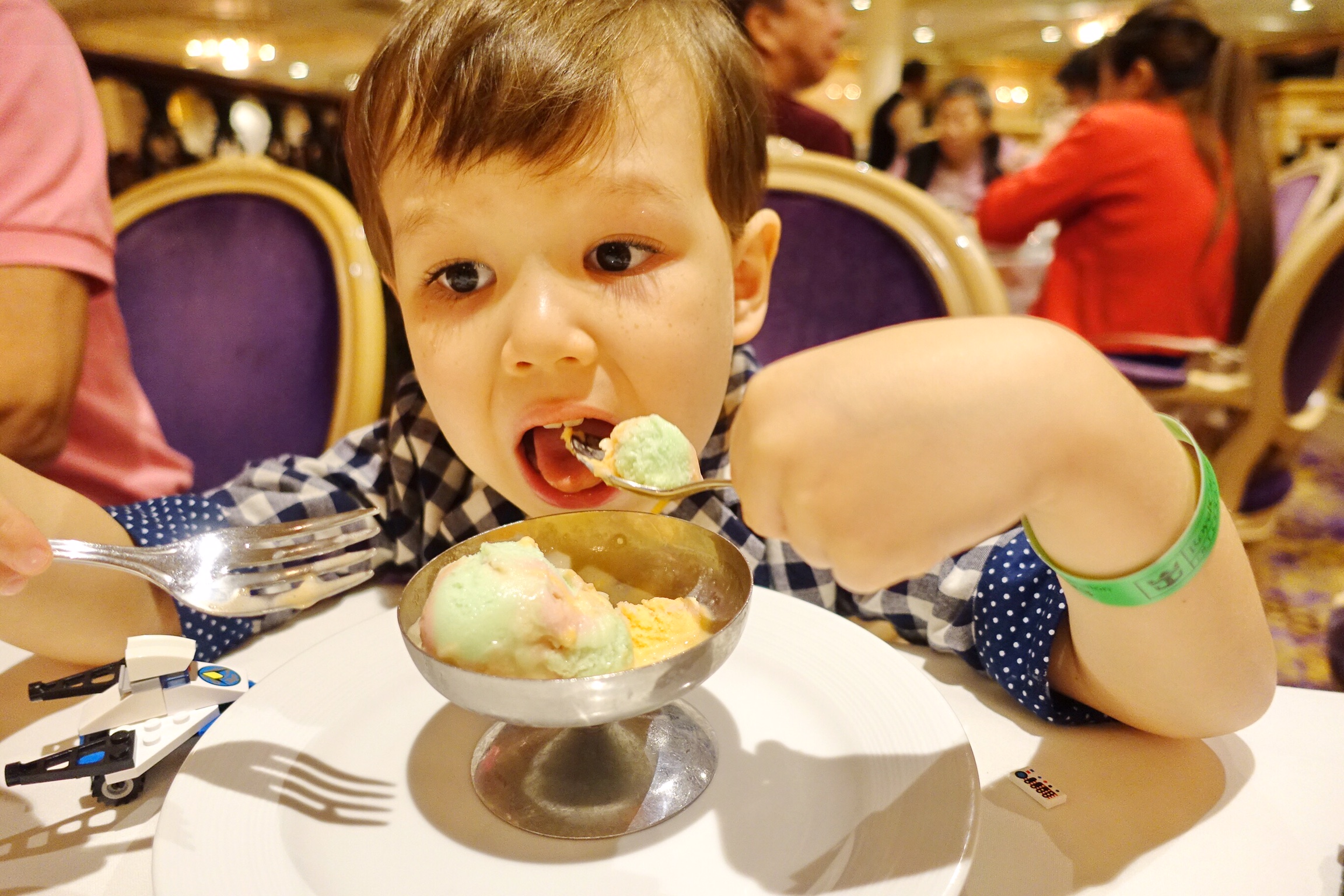 The boys were thrilled as they could have ice cream every single day. Carter always had chocolate, Hunter had rainbow, and both had ice cream cones every lunch time too. It was ice cream heaven!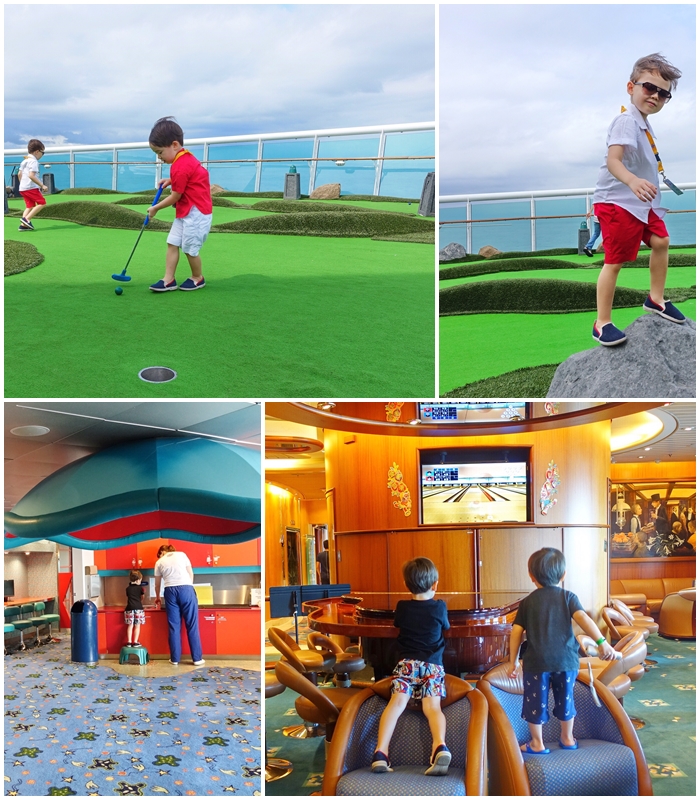 There's mini golfing, rock climbing, inline blading, ice skating, etc on the ship too. Plus, 3 large rooms for children to be dropped off in (called Adventure Ocean kids program), so us parents could scoot off for a nice meal or just to chill out for a drink. The program had free play and also organised activities, arts & craft and sports.
My kids also discovered an amazing thing called…. Nintendo Wii. As it turns out, Carter is actually very talented at Bowling on the Wii – he got a whole bunch of strikes and spares! This 3 year old bowler beat me and the older kids 😉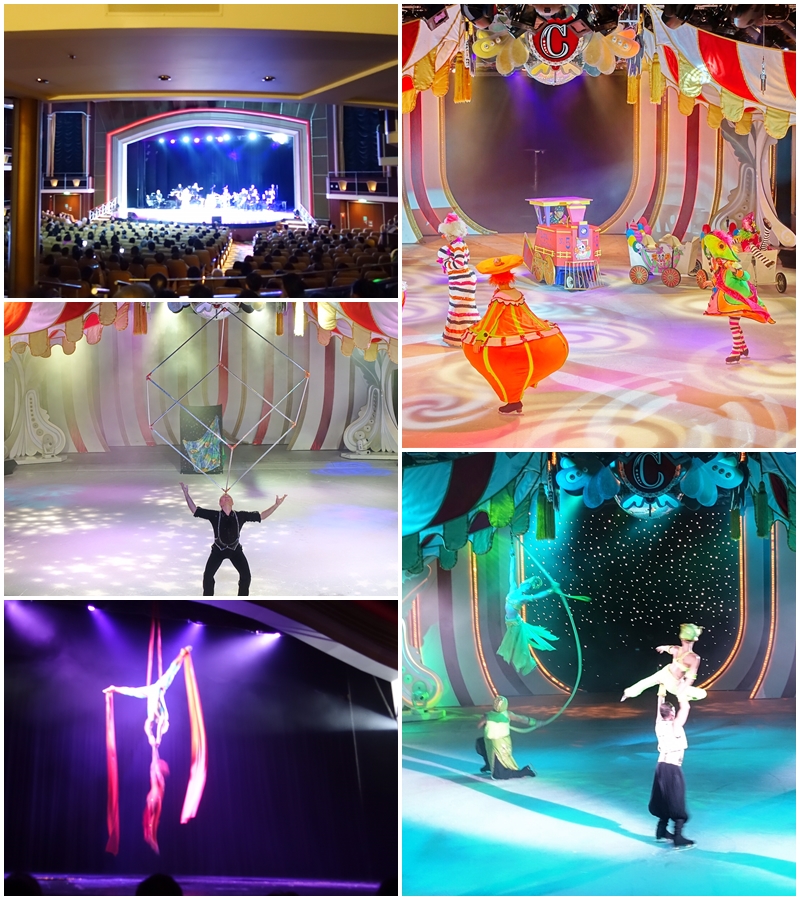 We (and the kids) loved the nightly shows – which had incredible acrobats and ice skating thrills. I thought this was the best, and most entertaining, part of the whole cruise.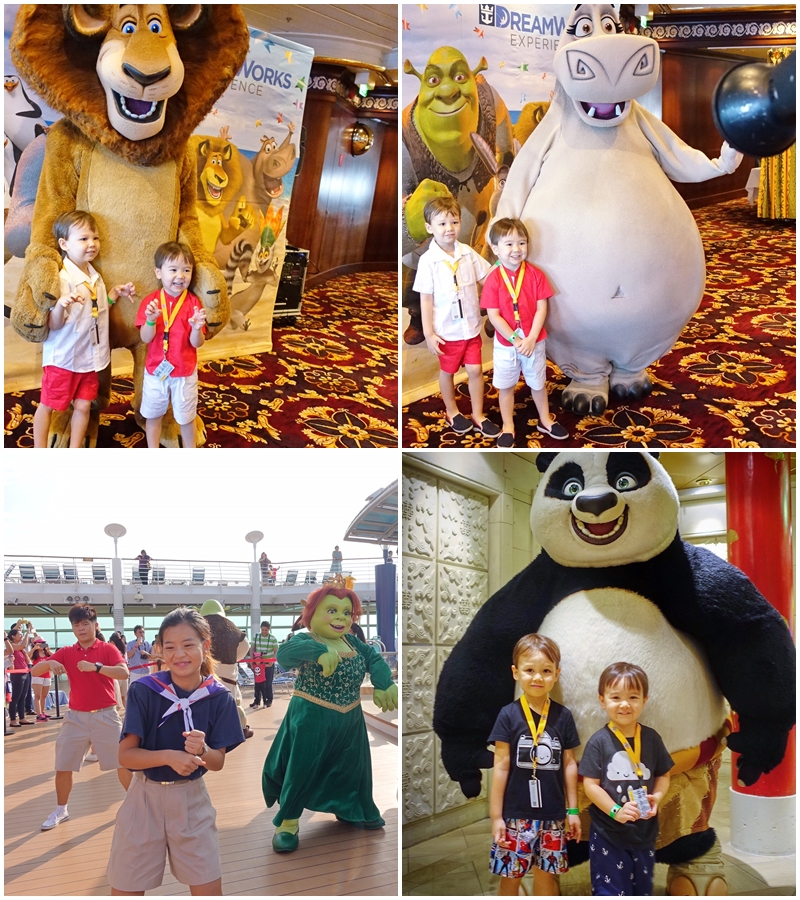 Mariner of the Seas have done a collaboration with Dreamworks, so there's lots of meet and greets with the characters. It means that this particular cruise is excellent for younger kids.
We also did the Dreamworks Breakfast but I honestly thought it wasn't worth the extra charge of US$10pp. The menu is exactly the same as the complimentary included buffet breakfast, and the only entertainment was a meet and greet with the characters (which you could do so throughout the cruise anyway, for free).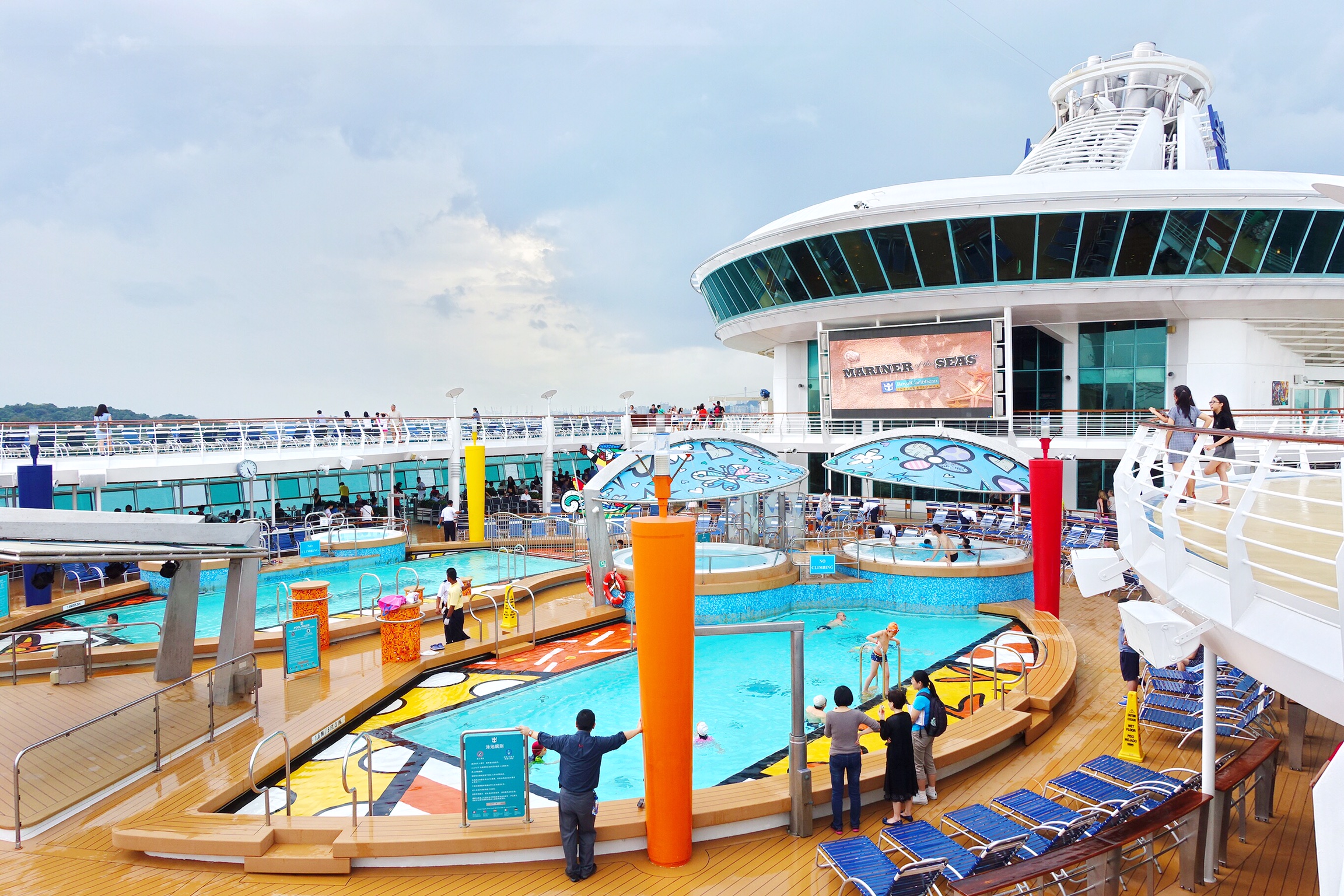 This is the pool deck.  There's a large screen that also screens movies, and the boys enjoyed chilling out on the deck chair watching a kids movie (Hotel Transylvannia) after dinner.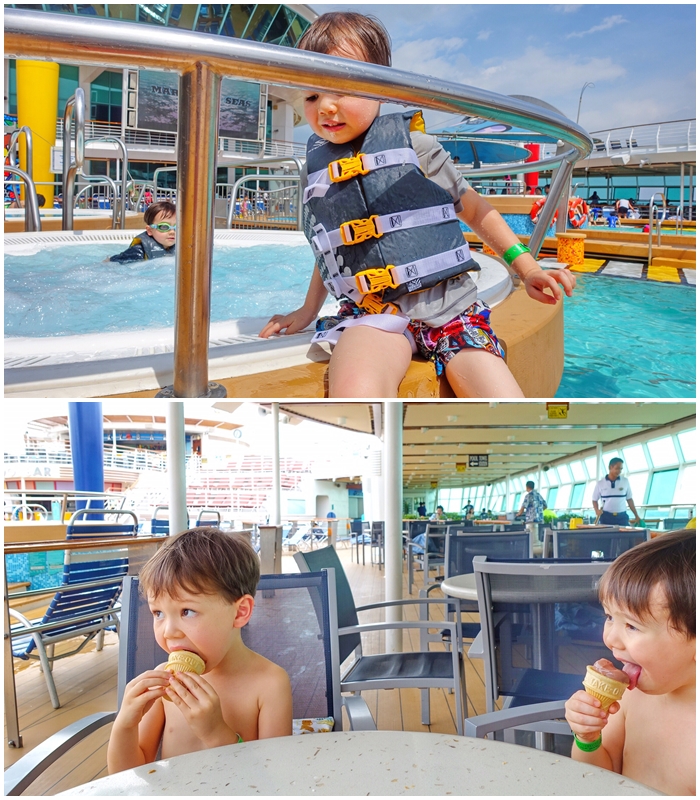 Enjoying a swim whilst cruising in the ocean, and ice cream cones in the afternoon. Life's pretty good!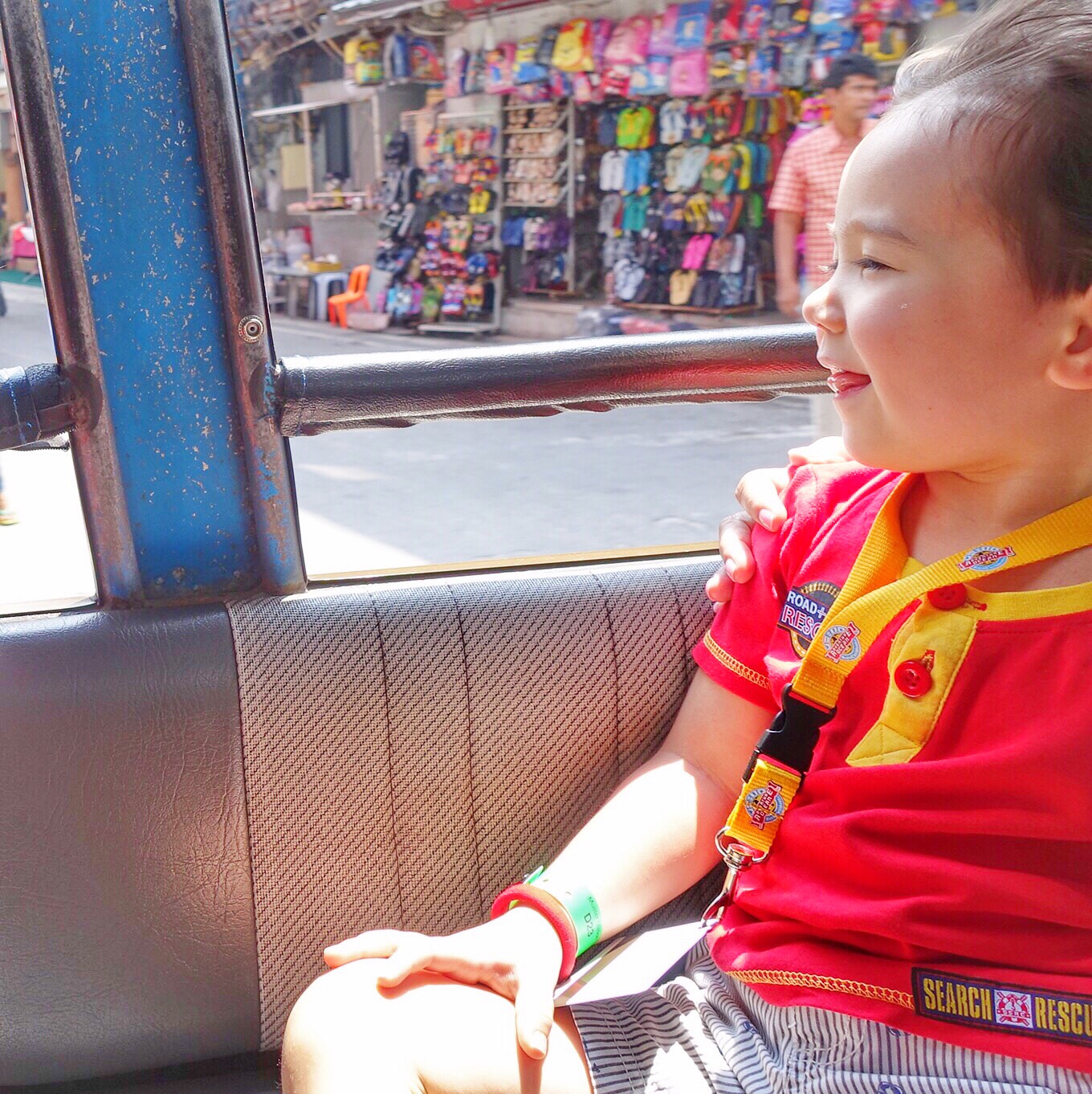 We decided to get off in Phuket, Thailand, when the boat docked. The boys remembered tuk tuks, so were delighted to ride on them again.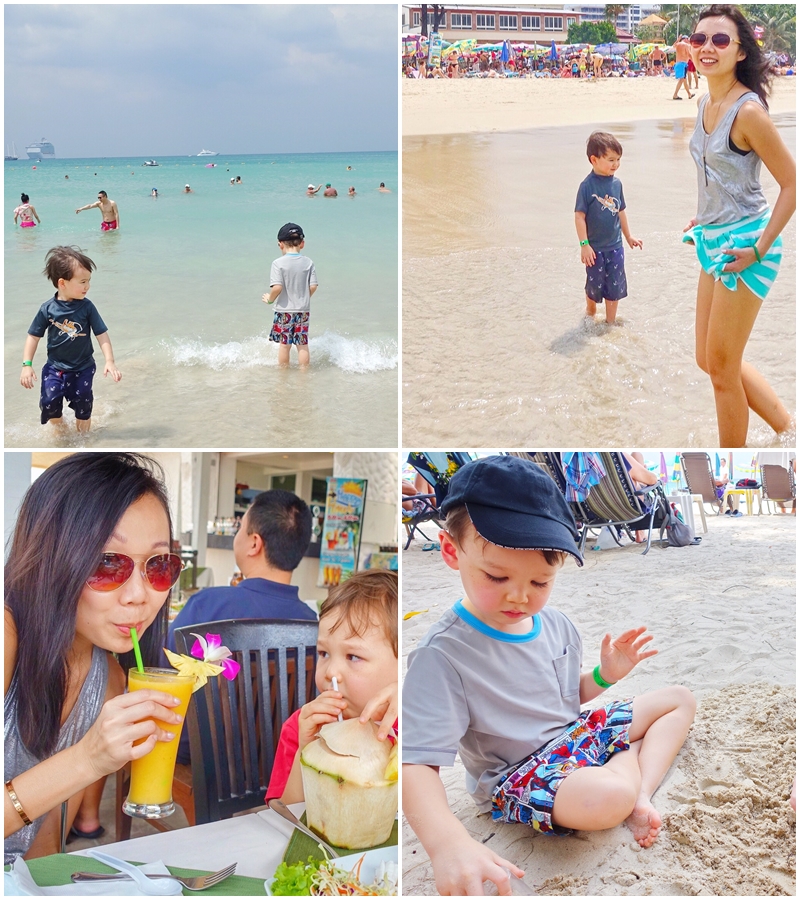 We had an amazing time on Patong Beach. The water was clear and warm, the sun was out, the sand was fine and soft, and it was really nice to be on solid ground for a bit.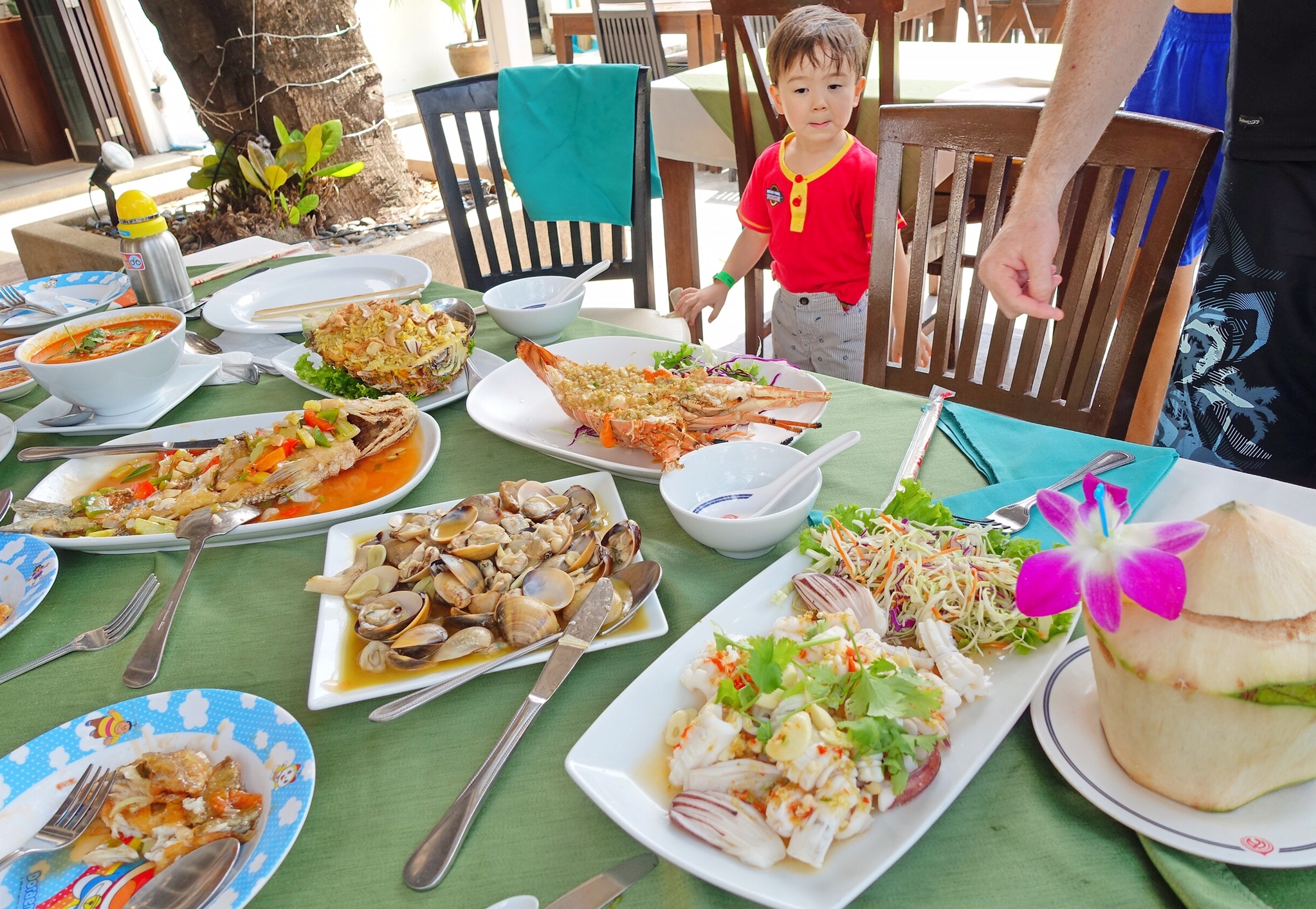 We also had a beachside lunch feast of lobster, fish, clams, squid, etc etc. With mango magheritas and coconut of course. I think we ordered more than we could eat, though, as usual.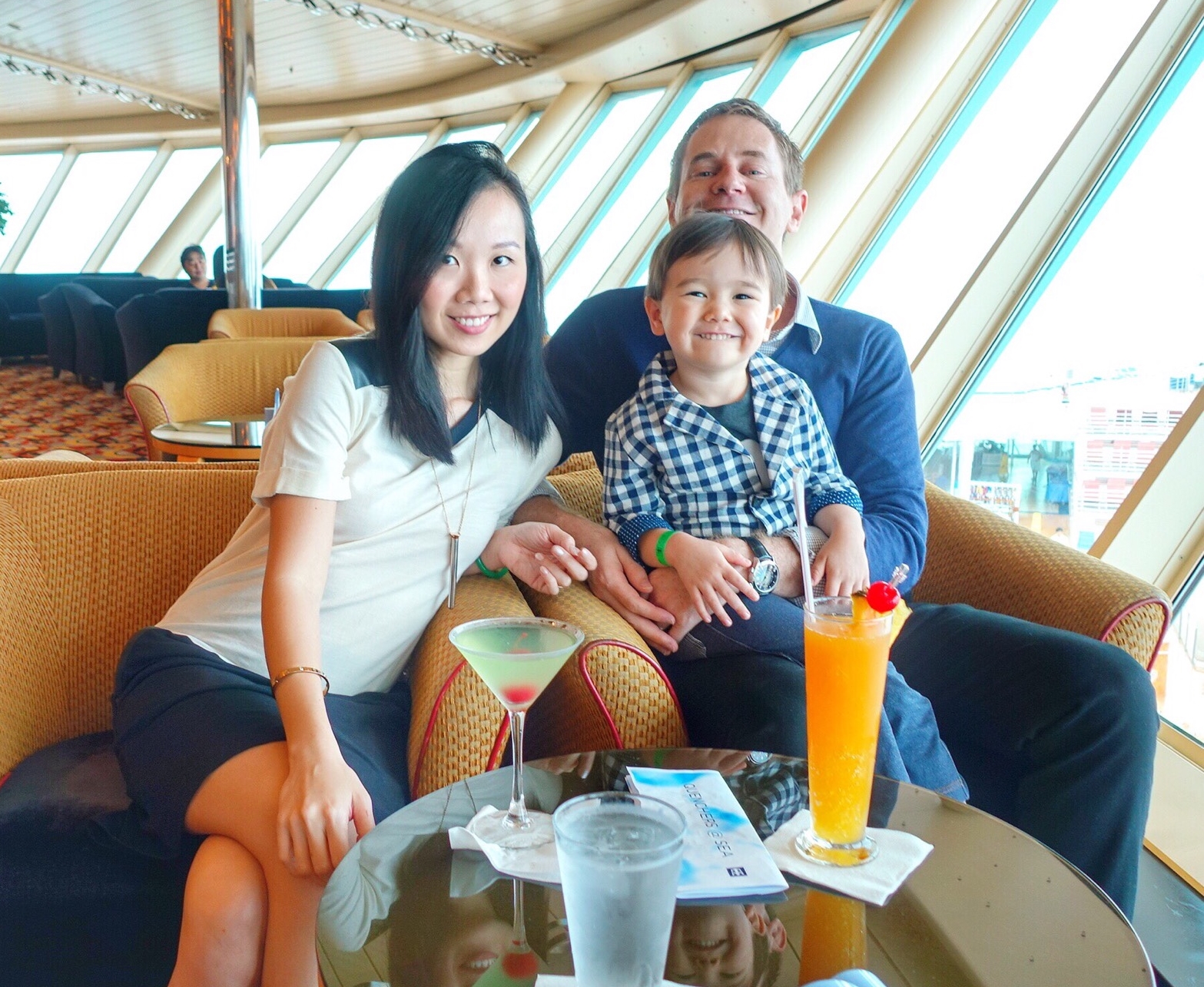 Last photo, on the top deck of the ship, enjoying some pre-dinner cocktails. Love this family photo (err… minus Hunter). In particular, because my apple martini was all sorts of amazing.
I thought a 5D4N trip on board the Royal Caribbean was perfect. Long enough to experience most of the activities, but short enough such that we didn't get sick of being on a ship. It was also a great idea to get off in Phuket and go to the beach there.
It's also a very good idea to go on the Royal Caribbean if you're travelling as a young family, and/or with grandparents. It's a nice contained environment, you can split up and do your own thing, and reconvene during meal times. Plus you can leave your kids with the grandparents for a bit (like we did, hehe) and scoot off! There's loads of activities to keep everyone occupied from morning to night, and pretty much everything is all-inclusive in the upfront fare, so you don't need your wallet with you nor worry about the cost of stuff.
Now that we've done a cruise in Asia, I'd love to try one in Europe or America!
Let's Chat!