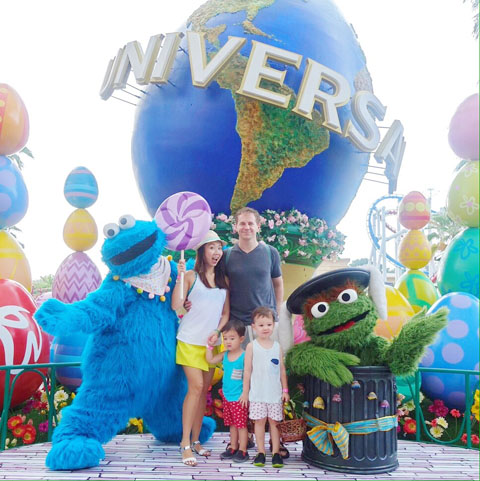 The kids couldn't quite wrap their heads around this concept of an "Easter egg hunt" I'd excitedly told them. They'd never seen or gone on an egg hunt before, so were probably wondering WHY it was so important to go look for eggs – maybe they would be used in an omelette afterwards??
So they entered Universal Studios Singapore with wide eyes, trying to figure out what was going on.
Universal Studios brought back their popular Easter egg hunt and breakfast over the Easter weekend. Our tickets entitled us to a buffet breakfast, character meet-and-greet, egg-painting, and the epic egg hunt!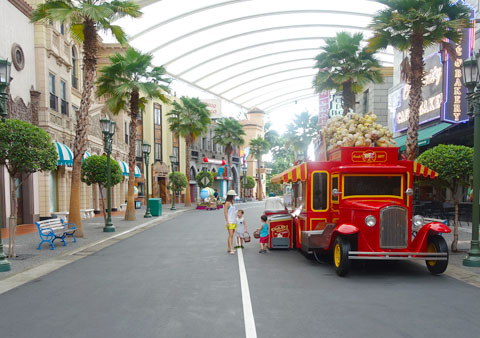 For this special Easter weekend, ticket holders can enter the park as early as 8AM (!). The photo above speaks for itself – NOBODY IS AROUND.
This is completely awesome! No crazy people running all over the place, no pushing and shoving, no queuing. Of course, this is only for a few hours – once it hits around 11AM, it's back to the usual weekend crowd.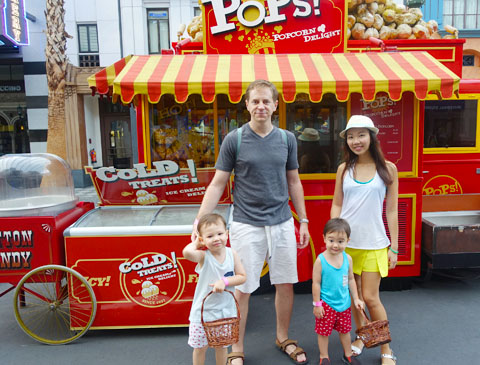 Such a cheery popcorn truck! The kids are posing with their Easter egg baskets, provided by the park to go egg hunting.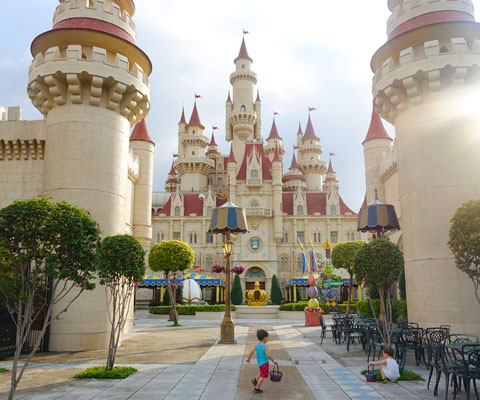 The kids wasted NO time! They immediately dashed off like their butts were on fire, eagerly looking for plastic eggs. It was their first time, so we had to help them "find" a few eggs. But then they were off and running! As fast as their lil legs could carry them!
It was so much fun to see and feel their excitement when they found an egg. They were just so delighted!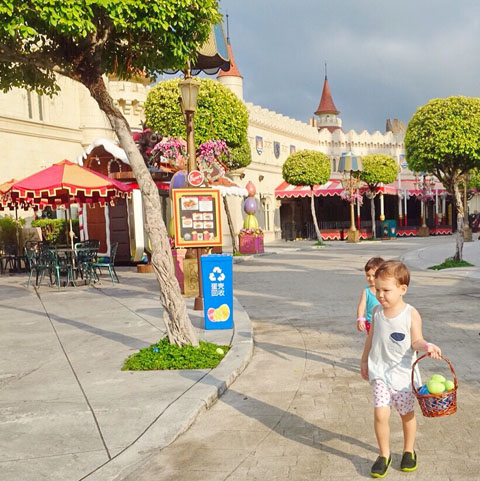 Wandering around all of Universal Studios. The eggs were hidden across the ENTIRE amusement park!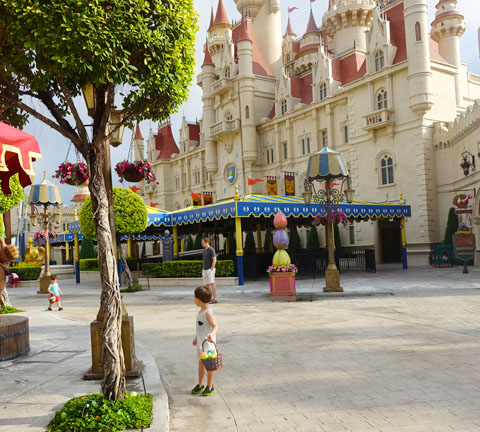 Doesn't the place look gorgeous when there are so few people around? It was incredibly peaceful, and the morning light was so pretty.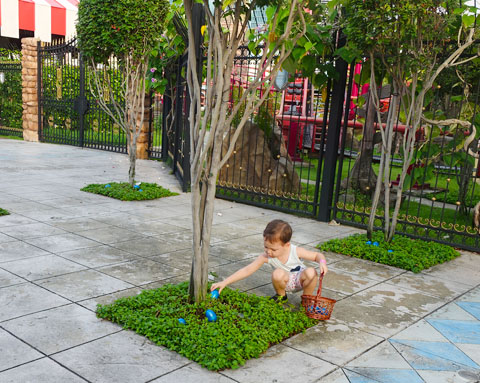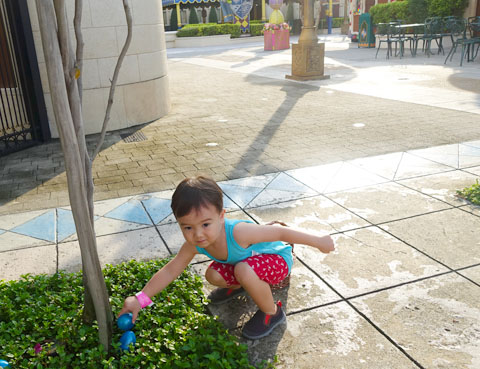 Discovering the eggs. Yes, don't eye roll, most of them were…. errmmm.. hidden in plain sight 😉
Baskets full, it was onto the… Easter Breakfast! A nice cooling off was required after all that running around egg hunting.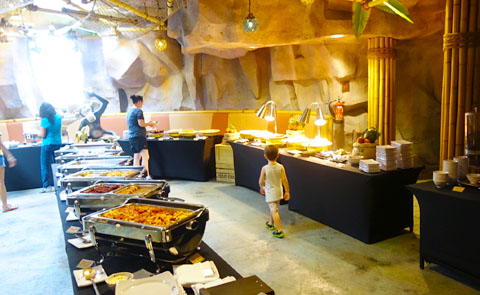 Food, food, food galore. Everything was kid friendly, and the cuisine was a range of Western and Asian food.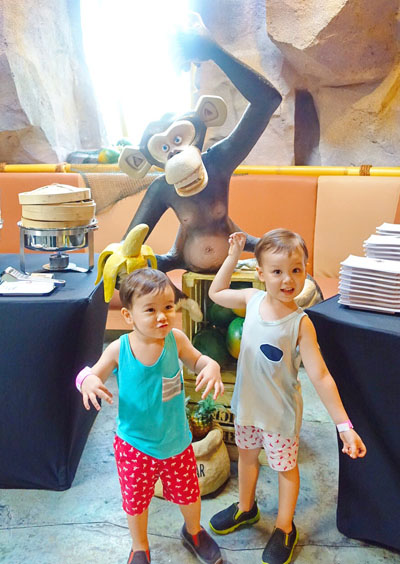 Three monkeys about to have their buffet breakfast..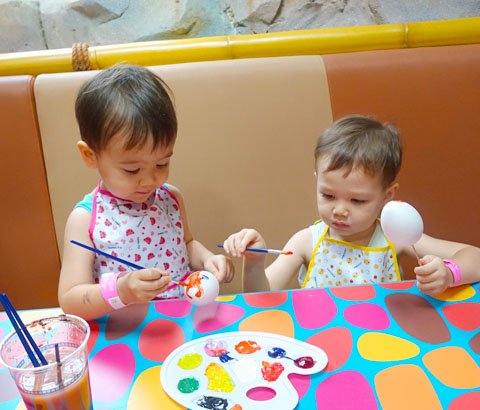 Bellies fed, it was egg painting time. Aprons were provided, as well as all the tools necessary to decorate their eggs. This kept them occupied for a good 20 mins whilst us adults could sit down and relax.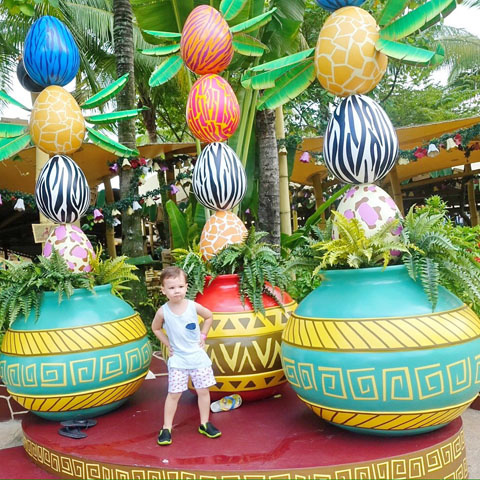 And then we hit the amusement park! There were eggs, eggs, eggs everywhere. Hunter decided to climb up on this platform and give everyone a performance of "I like to move it, move it" a la Madagascar movie style – complete with hip thrusts and bum wiggles.
Show pony, this one.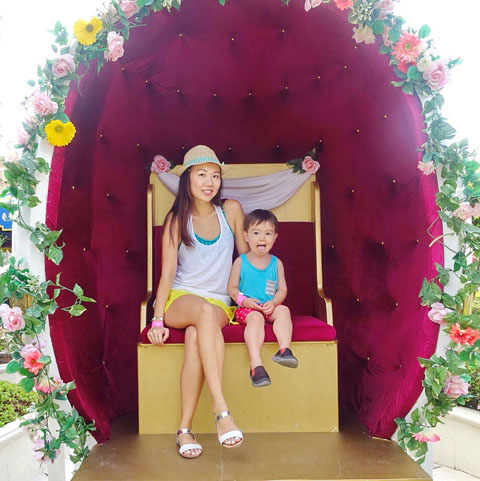 The egg throne. A great spot for taking photos, which became really crowded later in the day, so I was really happy we could get such early access into the park.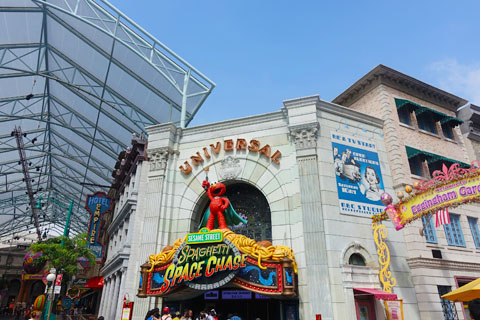 This Sesame Street spagetti space chase is great for the little ones. It's like riding in a space ship and everyone loves to see Elmo!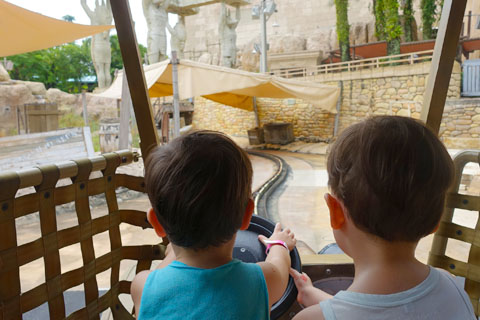 The kids favourite was the Treasure Hunters jeep ride. It's a pretty slow and easy ride, so it's good for the little ones. Just wish it was twice as long!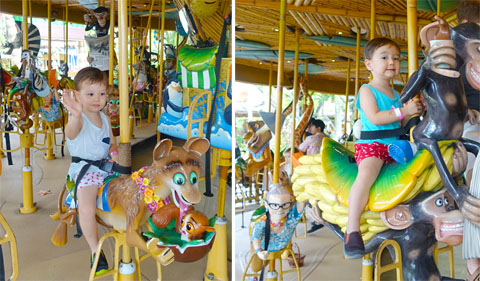 On the very colourful and intricate King Julien's Beach Party-Go-Round.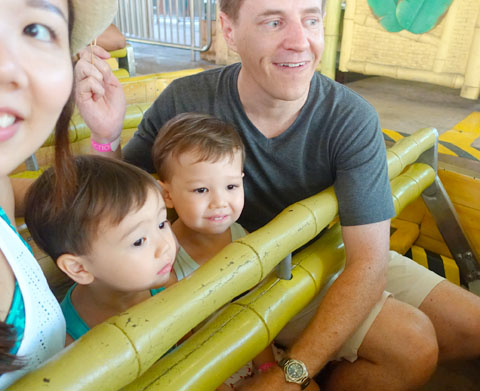 All barred up for the Madagascar: A Crate Adventure ride. The kids found this one a bit scary because it was going through a dark tunnel. Something to note if you have kids that don't like the dark!
We had such an epic day at Universal Studios. And it was a ton of fun. I hope they do the Easter buffet breakfast and egg hunt again next year!
Let's Chat!