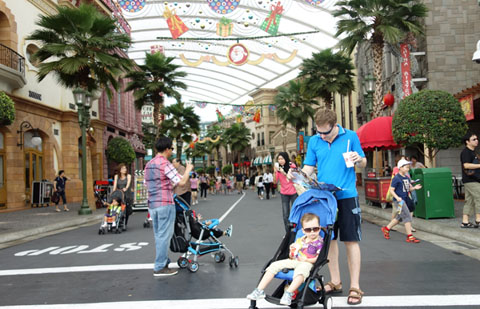 This totally looks like a little street somewhere in the world, but it's actually a fake street in Universal Studios!
We decided to take Hunter for a visit because Mum and Dad's banker gave them free tickets and they passed them to us. It was awesome because we probably wouldn't actually pay for the tickets as they are kinda pricey….
So we picked a cool and breezy day and off we went!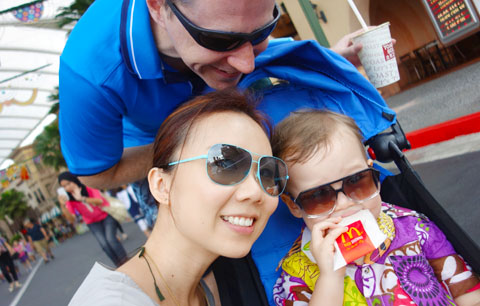 Our first ride was the Madagascar boat ride and in retrospect, we probably shouldn't have done it first…. because it horrified Hunter! Like all amusement park rides, it was super loud and kinda in-your-face (two things that Hunter can't tolerate), despite being aimed at young kids.
He wasn't terrified, per se. But it really shocked him so that he became quite negative for a while afterwards, and refused to go on any other rides. Argh!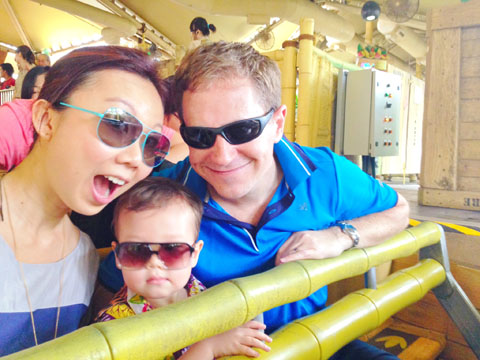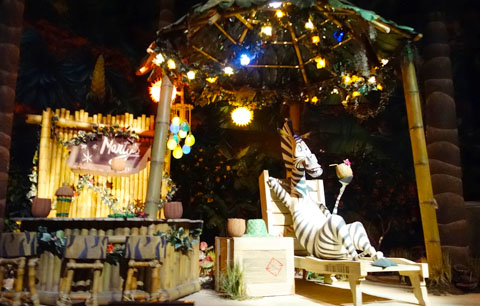 Chris ditched us for a bit and did a grown up ride at the Ancient Egypt area. It was a roller coaster and waaay not for kids. Only big kids 😉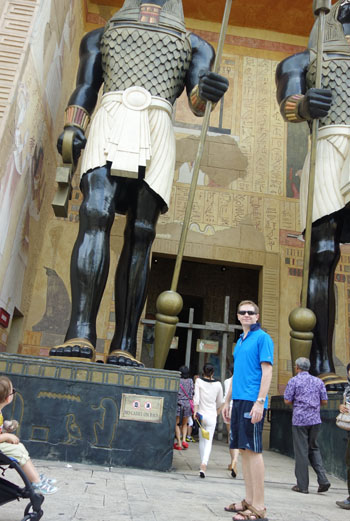 We enjoyed the Far Far Away area because it was most kid friendly. And it was pretty!!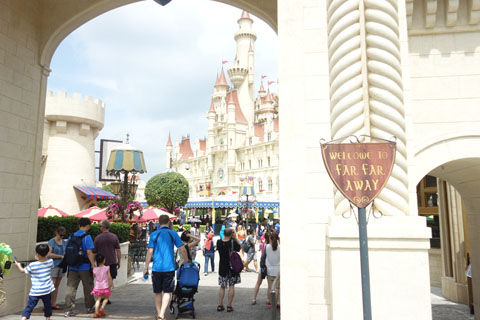 We finally convinced Hunter on to the Sesame Street ride… which is kinda silly that we had to do any convincing at all, considering he'd been on it before a few months ago with my parents – and loved it!
It's a suspended ride that's still a bit loud, but not as startling and he likes Sesame Street, so he was very happy at the end and declared "I like it. I had fun!"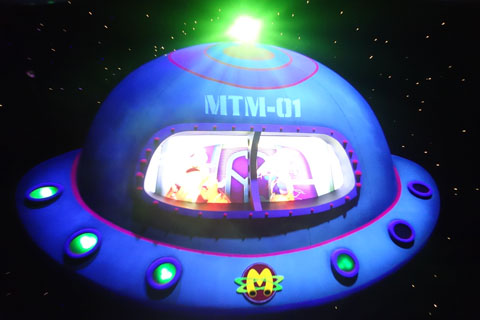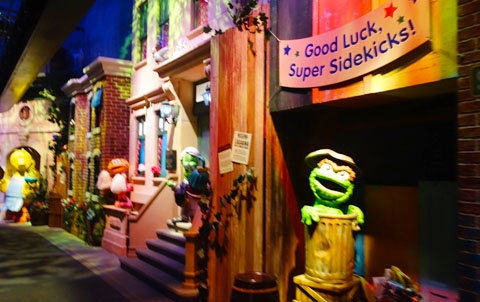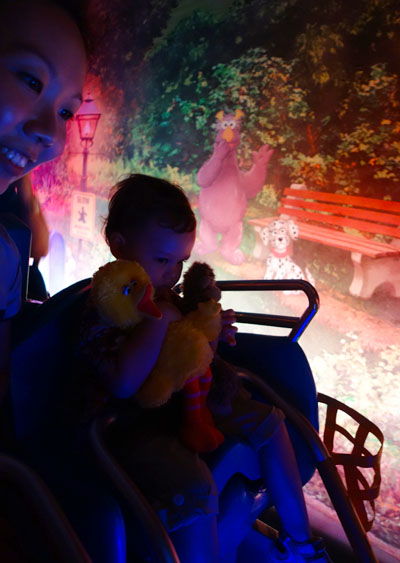 Watching some street dancers. There were these Japanese guys (in the pic below) all dressed up and wearing wigs. They were invited up to do impromptu street dancing, and were really good! We only realised later they weren't performers, they were just randoms that were invited up to perform. Very impressed.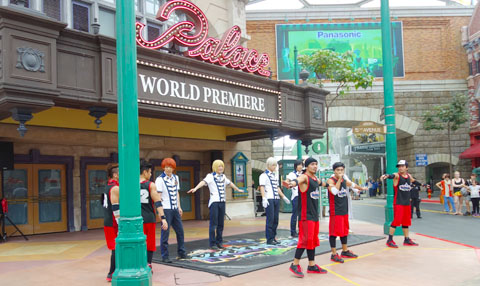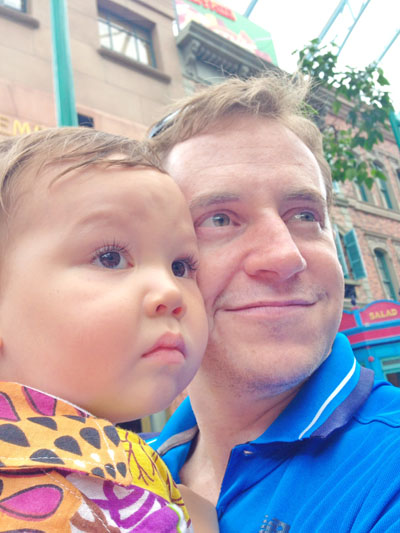 I liked these guys (below) – they sang Grease type songs and were great dancers 🙂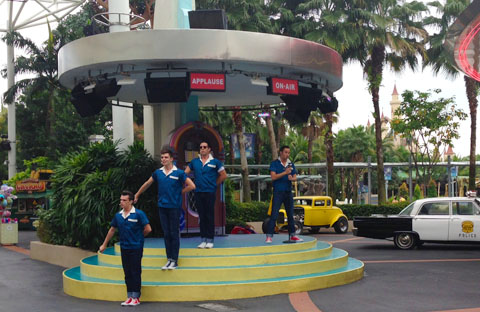 HOT DOG BREAK. Ohnomnomnom….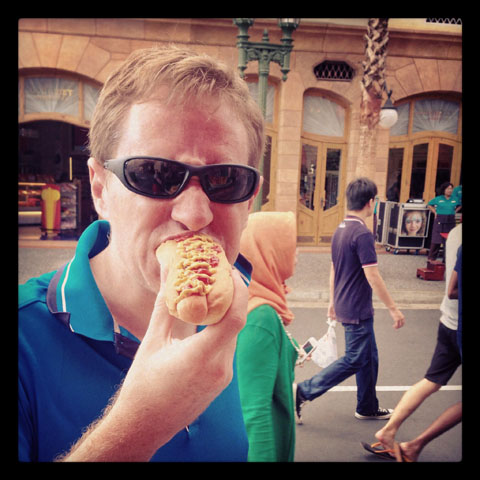 My favourite section, the SciFi stuff!! I spotted Optimus Prime and ran squealing over like a teenage fan girl. Ahem.
Hunter was not as impressed.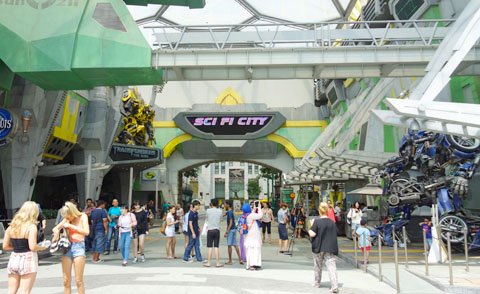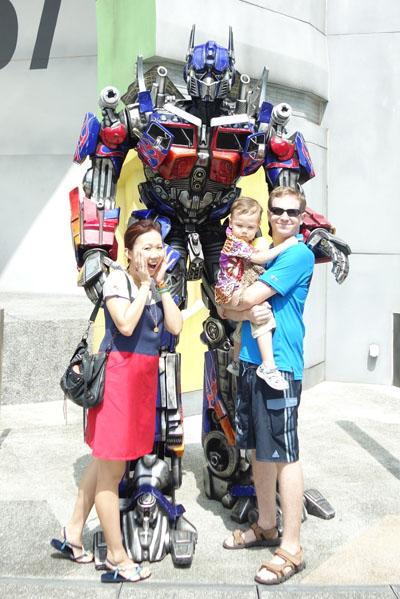 Most impressive? Waterworld. It looks like a defunct area so you can easily just walk past and think it's under construction. But it's not – the entire place (and it's huge) is one big show. No rides, but a sit-down show, stadium style.
It was huuuuuuge!!!! It can fit thousands, and was a big Hollywood-type production filled with drama, jet skis, water planes, fire, the whole shebang.
The kids there were mesmerized. As were the adults.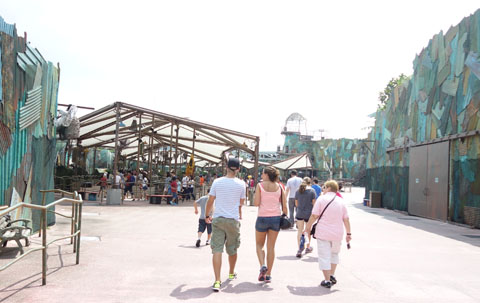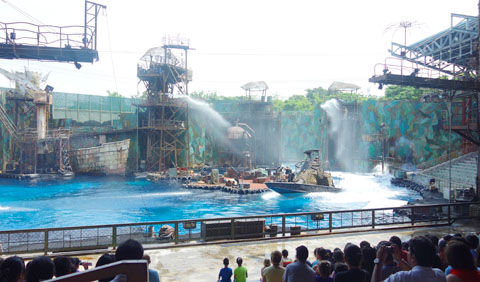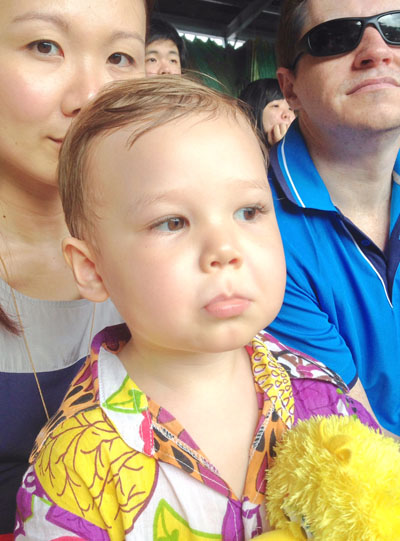 I FOUND A CORN DOG.
I repeat.
I FOUND A FREAKIN' CORN DOG!!!!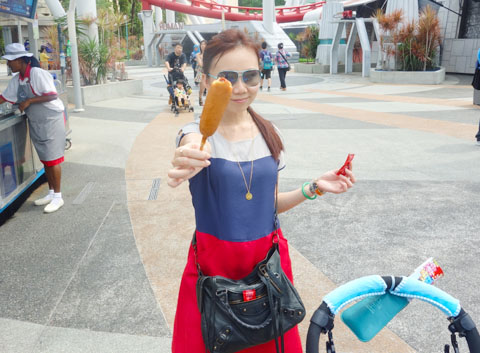 The Sesame Street show. Very short and not that exciting for us adults, but the kids seemed to like it.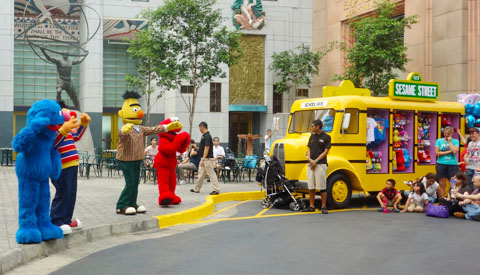 With his Big Bird souvenir toy and munching on my corn dog (he loved it).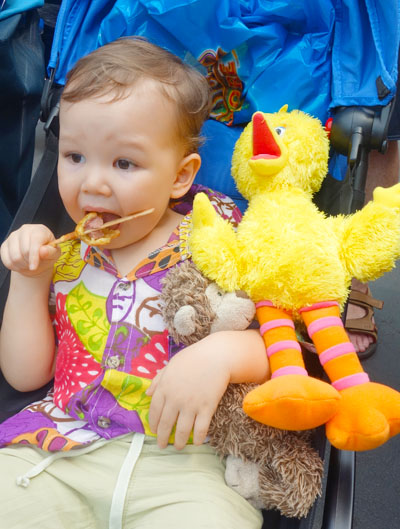 This is our loot! And incredibly cheery and cute Sesame Street school bus bag, that I'm using as a diaper bag. A glittery red Elmo cup for Carter. A school bus tee for Hunter. And Big Bird for Hunter, who says Big Bird is best friends with his Jimmy the Monkey.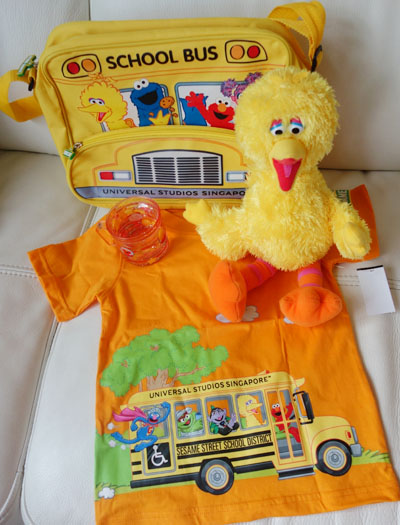 We had a fab time at Universal Studios, but I probably wouldn't have paid our full fare if only to bring kids <3 years old. Reason being you're heavily restricted on the rides and you have to leave strollers outside (we were worried someone would swipe ours).
It's actually best to go if you don't have kids – haha!!
Let's Chat!