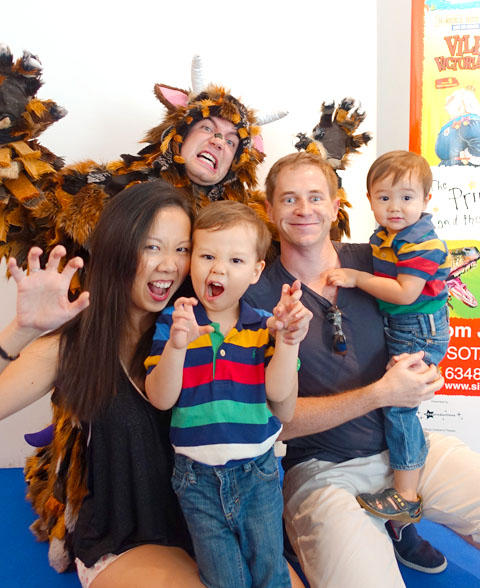 Not sure why Chris and Carter are looking so pleasant in this photo (above), but hey, at least Hunter and I are pretty scary looking. Almost as terrifying as The Gruffalo behind us, right? 😉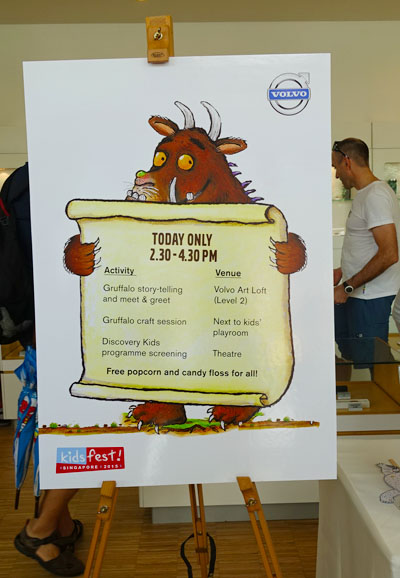 So we rocked up to Volvo's spacious and sun-lit show room to attend The Gruffalo's meet & greet session. It was a roaring (pun intended, cos I'm funny like that) success, with tons of people signing up for the event, and kids galore!
We settled down to wait for the arrival of The Gruffalo, which (thankfully) was a friendly one and pretty cute. That didn't stop Hunter from hiding like a crazy person behind Chris though! Can you spot him in the pic behind? 😉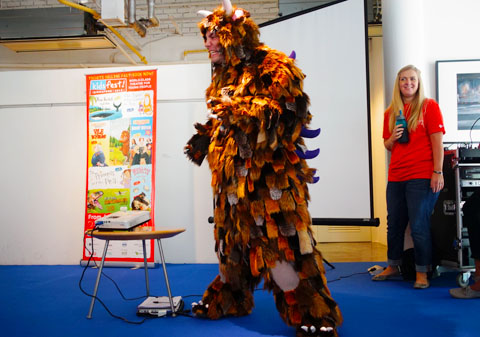 See? Quite cute and fluffeh, right?? He also made sure to growl cutely and non-threateningly, so as not to scare all the kids there 😉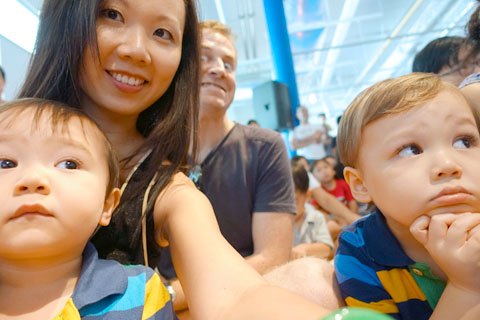 The kids both really enjoyed the story telling session, and were pretty enthralled. They both sat very still the whole time, so I was really pleased. Small victories!
Not so pleased, however, with that weirdo sitting behind me….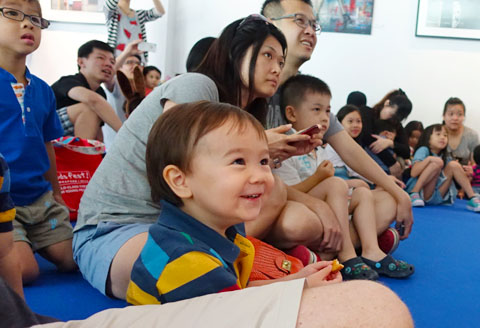 Lil Carter and his cutie-pie grin, because he really enjoyed the story!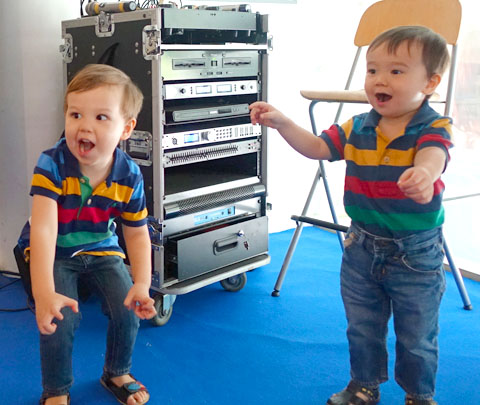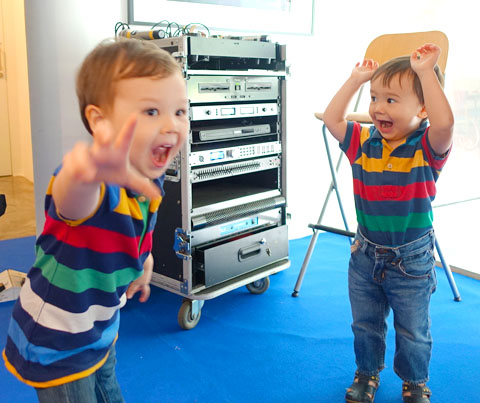 Testing out their TERRIFYING ROARRRRRS. Run for cover, everyone!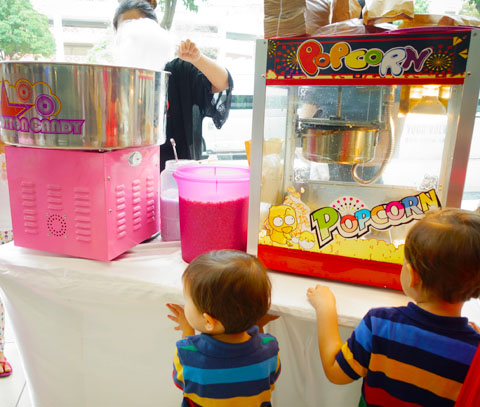 All the kids (the big kids too) were treated to candy floss and popcorn, made fresh on site. Yummy!
Except my VERY STRANGE children didn't like the candy floss at all, and were rather disgusted with it. They did like the popcorn though! Until Hunter declared, after awhile, that his belly "felt sick" after eating the popcorn. LOL, too bad they didn't serve up good 'ol steamed fish and tofu for my kids, eh?!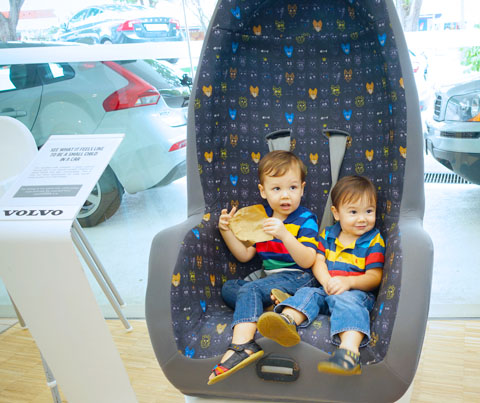 So in the Volvo showroom, you can sit on an adult-size car seat, to see just how comfy it is. And you know what? It really is pretty comfy! No wonder my kids always fall asleep whilst in theirs..

Join Mouse on an adventurous journey through the deep, dark wood in Tall Stories' magical, musical adaptation of The Gruffalo, based on the award-winning picture book by Children's Laureate Julia Donaldson MBE and Axel Scheffler.
Meet a wheeler-dealer Fox, an eccentric old Owl and a maraca-shaking, party-mad Snake! Mouse can scare these hungry animals away with tall stories of the terrifying Gruffalo, but what happens when he comes face to face with the very creature he imagined…?
Expect songs, laughs and scary fun for children aged 3+ and their grown-ups, in a show that's toured around Britain and the world. Let your imagination run wild!
Let's Chat!