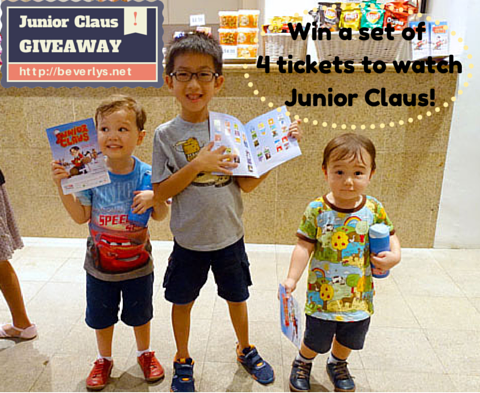 It's officially November and that means…. CHRISTMAS season has rocked round! The stores are getting geared up with all their Christmas decor for sale, and Orchard Road is going to be all decked out in Christmas lights soon.
So it was pretty fun to rock in the Christmas spirit with a feel-good musical for kids – Junior Claus by The Little Company.
If you (or your child) is into boppy jingles, a straightforward good-prevails-over-evil story line, and happy sets and merry people, then you'll love this kid-friendly performance.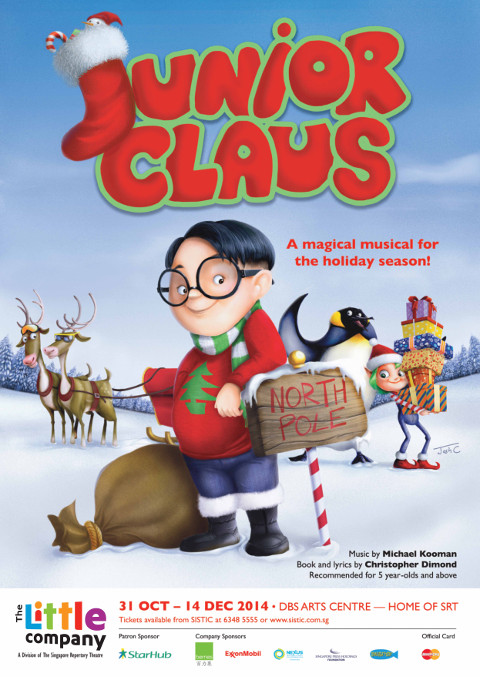 The Little Company are giving away one set of 4 tickets to "Junior Claus" (Saturday, 8th Nov, 2.30pm show)!
You can submit some of the entries more than once a day, so come back tomorrow to get more entries in the draw.
Giveaway will run from 1-4 November 2014 inclusive.
Winner's entry(s) will be verified according to the entry criteria(s).
Tickets are valid only for the show on Saturday, 8th Nov, 2.30pm, at DBS Arts Centre – Home of SRT.
Winner to collect their set of four tickets from the ticket collection booth at least 15 mins prior to show time.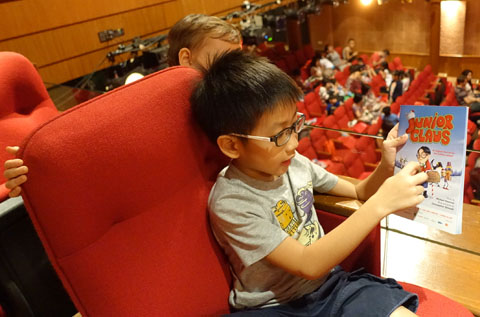 I decided to give single parenting with three boys a shot for the performance!
I was worried that I'd have (at least) a kid yell that he needed to use the loo mid-way, which would mean I'd have to cart all three kids out to the bathroom – kind of epic and it would mean we'd miss a chunk of the performance. So I hustled them into the bathroom 4 mins prior to the start and they lasted the 1hr 45 mins (with an intermission) – whew!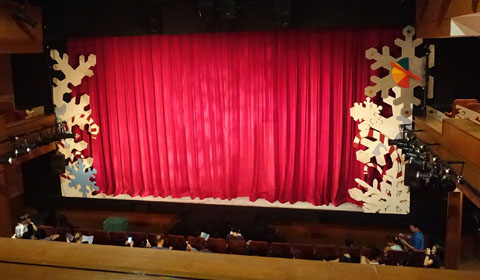 The two older boys were very excited for the performance to start, and kept asking why they had to wait. Carter (2 yrs old), on the other hand, was AGHAST with the red curtains (see them in the pic above) and clung onto me for dear life, wailing "MAMA WHAT'S HIDING BEHIND THE CURTAINS???" on repeat, ad infinitum.
But once the curtains lifted and the show started, he was DELIGHTED. He loved it! The singing and acting is engaging for young kids, and the sets are so colourful you feel happy just looking at them. It's perfect for kids 3 years and up, IMHO.
So, what's Junior Claus about?
Junior Claus is the rebellious heir to an immense empire in the North Pole, where elves busily prepare for the biggest day of the year – Christmas. When Santa falls into a deep sleep because the Belief-o-Meter falls to a dangerously low level, Grumpo the greedy elf assumes power as Chief Inventor in Santa?s workshop. After Junior runs away from home, Grumpo attempts to achieve his sinister goal: ruin the Yuletide season forever.
Will Junior return home to save Santa? Can he rekindle the Christmas spirit? Join Junior and his friends, Chipper the elf and Pengy the penguin, as they race against time to bring Christmas back.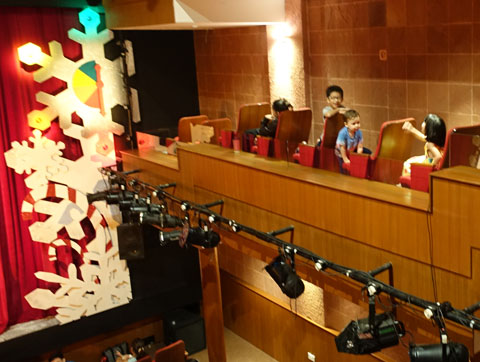 The show is an impressive 1.5 hours, plus a 15 minute intermission. I thought that NO WAY would my kids sit through it – and by that I mean Carter, Mr Ants-In-My-Pants.
Well, that's partly true. They couldn't sit still in their seat for the last 20 mins, and wandered down a row (where it was vacant – whew!) to play with some friends that were also there.
They also had a grand 'ol time in the side area (pictured above) during the intermission! There wasn't anyone sitting there, so they decided that it was the same reindeer sleigh that they saw in the performance, and sat in a row 'driving' the sleigh. It kept them occupied for the full 15 mins of intermission, so I can't complain.

We had heaps of fun and this is lovely for boys and girls alike. Get in the Christmas spirit now with Junior Claus – it's on right now!

Event Dates
Fri, 31 Oct – Sun, 14 Dec 2014
Mon – Fri : 10am
Sat & Sun: 11am, 2.30pm
Venue
DBS Arts Centre – Home of SRT
Ticket Pricing
(Excludes Booking Fee)
Weekdays (Mon – Fri)
Standard: S$35, S$32
Family Package of 4: S$119 for Cat 1 tickets
Family Package of 4 (with TLC CD Vol.2): S$131 for Cat 1 tickets
Weekends (Sat & Sun)
Standard: S$45, S$42
Family Package of 4: S$153 for Cat 1 tickets
Family Package of 4 (with TLC CD Vol.2): S$165 for Cat 1 tickets
Let's Chat!