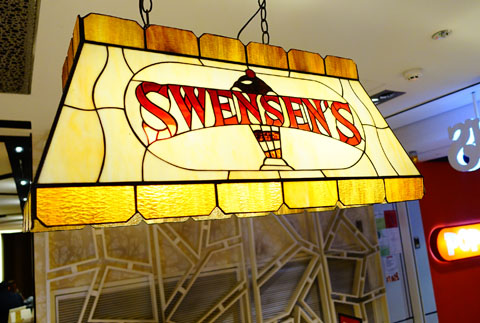 Brace yourselves… because Swensen's is rolling out LOBSTER ROLLS!!!
Lobster rolls seems to be all the rage in Singapore right now. Which I'm rather pleased about, because I love 'em. I still fondly remember eating Boston lobster in… well… Boston, dipping chunks of it in melted salted butter. Mmmmm!
Only problem with lobster rolls in Singapore? They're really expensive. So it's pretty freakin' fabulous that Swensen's is giving us an excellent lobster roll at excellent prices!
Swensen's only uses fresh and imported lobsters, and each roll uses the chunks of flesh from at least one full lobster.
Freakin' good deal, yeah? As in, the cheapest I've seen in Singapore. It's obviously a very good deal, which is why they're only doing it for a couple of weeks. So get in there 🙂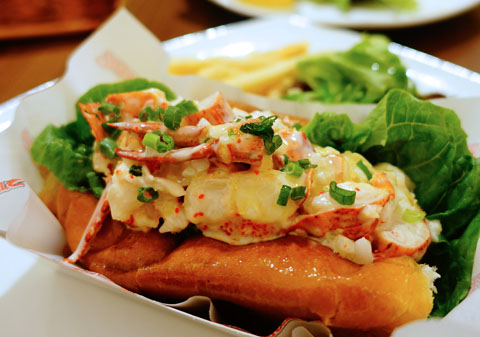 This baby is the Boston Lobster Roll ($21.80) from Swensen's. The lobster is imported from Boston, and wrapped in a refreshing honey lime dressing. But it's the RIDICULOUSLY fluffy buttery bun that was INSANELY GOOD! Far out, I could eat that bun as-is and be happy. Even better when it's stuffed with fat chunks of lobster though 😉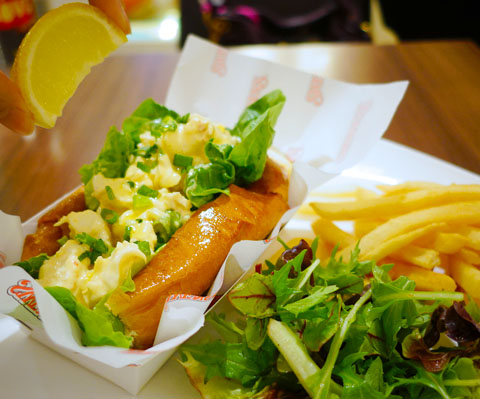 The Slipper Lobster Roll ($16.80) is the cheaper of the two, and is a crazy bargain. The fluffy buttery bun houses big chunks of slipper lobster, draped in a homemade creamy tangy mustard dressing. It's not as photogenic as the other Boston Lobster Roll, but pairs well together because they both taste pretty different with their respective dressings.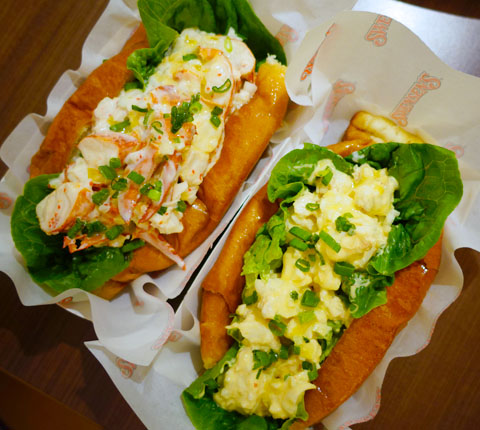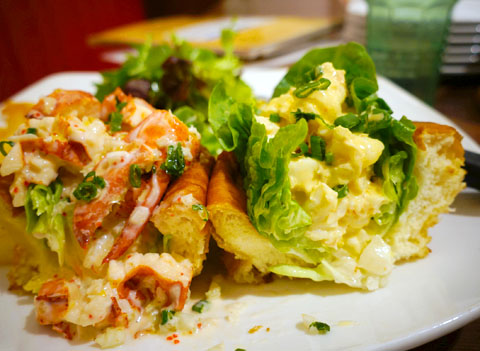 We happily tucked into our lobster rolls! I'd recommend going with someone and getting one lobster roll each, then splitting it 50/50. Best of both worlds 🙂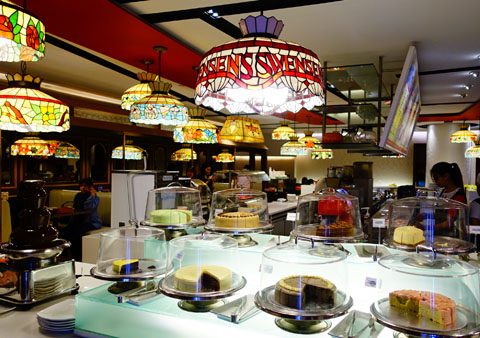 THIS, above, is a 360 degree counter boasting the famous Swensen's ice cream and dessert buffet. If you have a big appetite and a sweet tooth, you'll go nuts over this. And your kids will too.
The dizzying array of ice creams, cakes and toppings is HUGE. No one person can eat one of everything in this buffet, that's how big it is. It boasts a TON of ice cream flavours as well as such a variety of cakes that I actually got a bit confused trying to figure out what I wanted. One of the most impressive dessert bars I've seen in my life.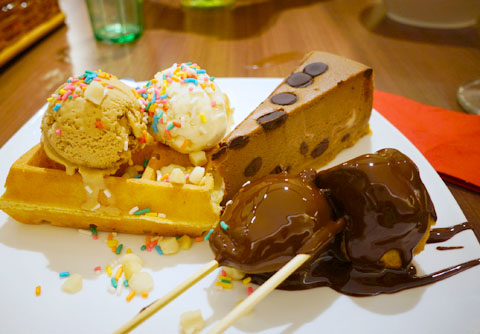 Special shout out for the Swensen's waffles. They are also included in the epic dessert buffet and are top notch. Belgium style, they are fluffy and airy, with a beautifully crisp golden-brown exterior. Soooo good with a dollop of ice cream of your choice, or two!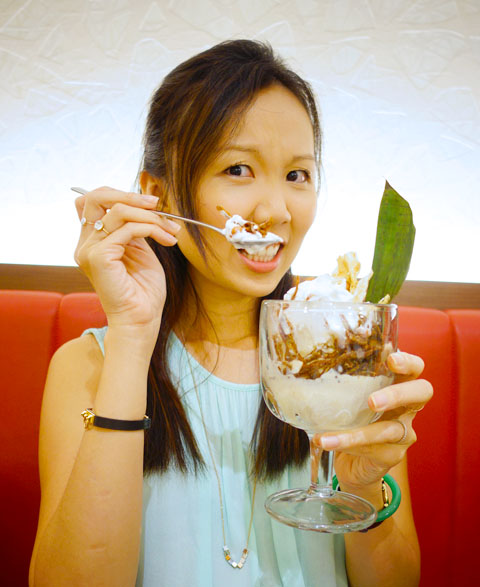 This craaaaaaazy concoction that I'm holding up is a….. Nasi Lemak ice cream sundae!! We were so fascinated when we spotted it on the menu, and just had to try it out. Doesn't it sound totally random and WEIRD?
It's actually not that crazy tasting in real life. The coconut ice cream is creamy and sweet, and rather delicious. It's dotted with fried anchovies (ikan billis) and roasted peanuts, but the saltiness combined with the sweetness of the ice cream actually works very well! I would get it again when I'm out with out-of-town visitors, just to see their reaction 😉
This limited time only Lobster Roll menu will be available at all Swensen's outlets from 15th October 2014 to 30 th November 2014.
Let's Chat!