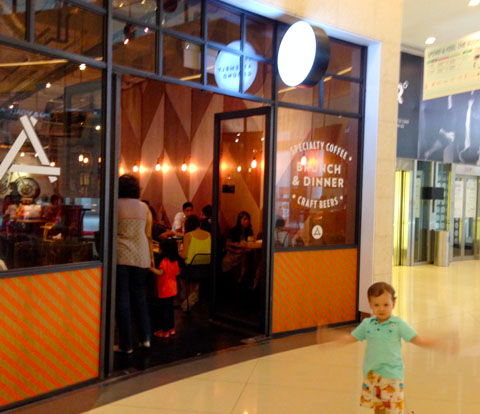 So Hunter decided "I'm a bird, mummy!", hence the frantic flapping hands in this photo.
Anyway, we popped into The Assembly Ground a couple of weeks ago and really enjoyed our visit there! The Assembly Ground café is part of The Assembly Store, a fashion store next door. It seats just over 60 people and offers a wonderfully cozy ambiance with excellent coffee.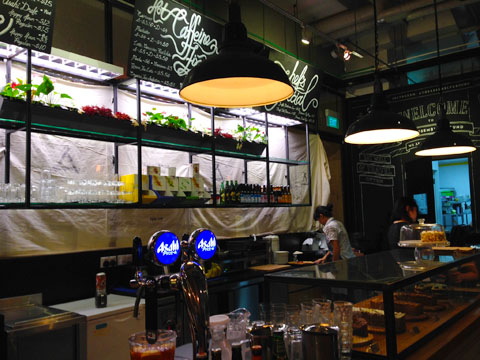 There is no service charge (hooray!!!) and you order at the counter, then the food is delivered to you afterwards. Their selection of cakes at the glass counter had me salivating whilst I was ordering our food!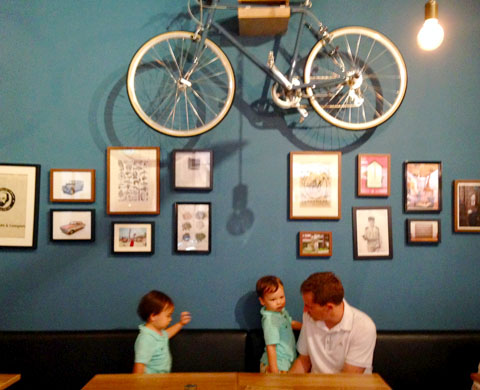 The decor is warm, yet clean. My kids made themselves right at home on the black sofas! It also gave them a view of the counter where all the prep/cooking action is, so just something to note if you have young kids and want something to keep their eyeballs occupied for a few minutes.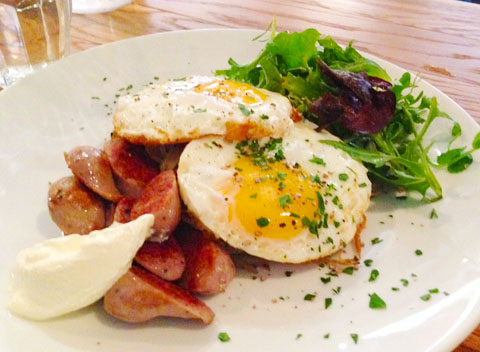 The Rosti Omelette – eggs, grated potatoes, bratwurst sausage, sour cream, herbs ($14.50) was a bit on the petite side, though props to them for giving 2 beautifully-cooked sunny side up eggs. I LOVED the bratwurst, and so did my kids, so I only got to eat ONE measly piece 🙁 Good thing I savored it!
The rosti (shaved pan-fried potatoes) was small, so small that it was hidden from view by the two eggs and sausage. I would have loved double the portion because at least it makes a good 'filler' for those with a larger appetite and need a bit more ooomph! to fill them up.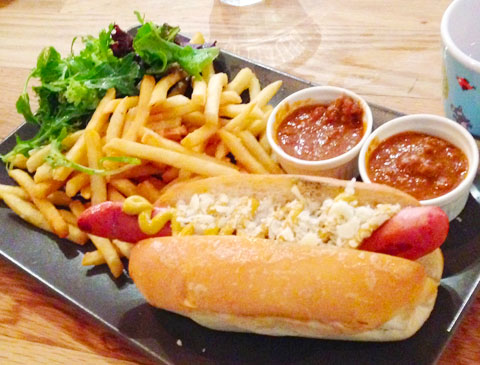 I loved their American classic, the Coney Dog ($15). The bun was perfectly soft and fluffy, and the pairing of salty sausage and slightly spicy chili mince was kickass, especially with a drizzle of mustard for a bit of a kick.
There was a generous portion of shoestring fries that we lunged at too!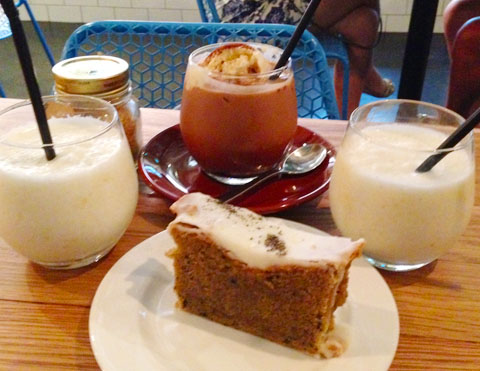 Their Early Grey cake with Lemon Icing really piqued my interest, but turned out it was better in theory than in reality. The Earl Grey flavour in the cake was excellent, and the cake was moist and delicious. However, the lemon icing was far too sweet – it was literally solid sugar and rock hard at that. I ended up chucking out all the icing and eating just the cake.
The Iced Mocha ($6.50) drink was a STUNNER. The drink was delicious and rich, and topped with a scoop of vanilla ice cream that totally made my day. It's rather on the pricey side because the glass is ultra small (and 3/4 filled with ice), which is a shame as I'd expected a drink double the size for that price.
The boys shared a Banana milkshake which was a major disappointment. There were big chunky bits of ice through the entire drink, which were small enough to go up the straw, so you were left crunching your way through a very icy (and not that flavourful) milkshake. Basically, both kids took one sip and didn't want anymore – a real indicator of how good/bad something is!!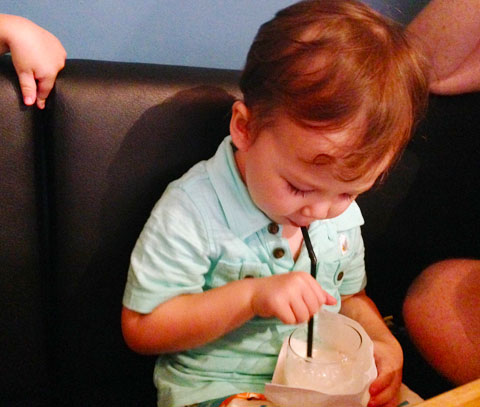 This is Hunter, struggling through is really icy milkshake. Poor kid! He was so excited about the prospect of a milkshake too. Maybe next time I'll stick to just an iced chocolate drink – at least the ice isn't blended into that…
I thought the service was very prompt and friendly at The Assembly Ground, and I liked the vibe of the cafe. The food is pretty good in general, so I'd go back 🙂
Let's Chat!