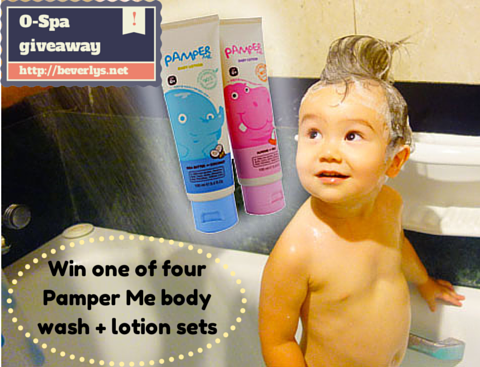 Singapore's heat means that my kids have a shower at least once a day. Needless to say, I'm pretty particular about them using natural soaps and shampoos, and I prefer eco-friendly products. I figure that kid skin is way more sensitive (and also a lot thinner and more delicate) than adult skin, so if I were to invest in products, I'd be willing to do so for body care for kids.
O-Spa specialises in all-natural spa products. They have a range called Pamper Me, and it caters from newborns to kids (though I've been sneaking their shampoo because I think it's excellent for coloured/treated adult hair!). The range boasts a strict No alcohol, No harsh synthesized surfactant and No additives rule in their products.
I've used the products (meant to be for my kids) on myself and I will tell you straight-up that it is noticeably gentler on my hair and skin than regular adult body care.
Read on below for details on what my kids used… but for now,
O-Spa are giving away four Pamper Me body wash + lotion sets (worth $58 each)
a Beverlys Net giveaway

You can submit some of the entries more than once a day, so come back tomorrow to get more entries in the draw.
Giveaway will run from 17-26 October 2014 inclusive.
Winner's entry(s) will be verified according to the entry criteria(s).
Winners may select the scent they prefer upon notification of winning.
O-Spa will mail the winners the products via Singpost regular mail.
I'll admit, one of the things that had me swooning a bit was the adorable packaging. In a spunky baby blue or sweetie pie pink colour, it had my kids' eyeballs popping out when they spotted them… because they thought the products were snacks – haha! The cartoon animals and cute print had them pretty captivated. Between you and me, the empty boxes kept them occupied for a fair while because they found the pictures so cute 😉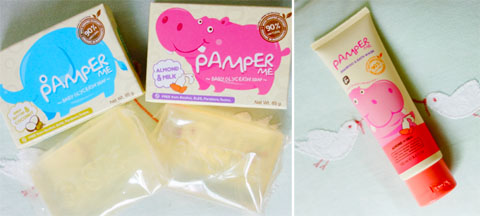 So this is the Pamper Me glycerin soaps, and the bath & shampoo tube.  Like I said, adorable packaging, right?!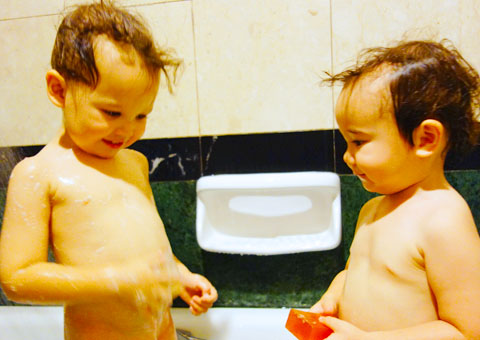 I was very pleased that the Pamper Me glycerin soap (shea butter & coconut) and Pamper Me glycerine soap (almond & milk) are for normal to sensitive skin, and babies prone to skin conditions such as rash, eczema, psoriasis etc.
The ingredients include:
Olive Oil – locks in moisture leaving babies skin hydrated.
Aloe Vera – known for it's healing properties by reducing redness and calms the skin.
Vitamin E – soothes irritated skin caused by rash, eczema and other skin conditions.
Of course, my kids don't care about any of that good stuff. What they did care about was THE BAR OF SOAP!! My kids have…. errrr…. never seen a bar of soap in their life. They've always used body wash! So they were completely and totally enthralled, amazed and flat-out DELIGHTED to hold a bar of soap. Haha.
It was like sensory play to them, and this novelty lasted through the entire bar of soap, every single time they had a shower. They loved holding the dry soap, then feeling it go all slippery-slip-slip when it got wet, and foaming it up, and rubbing it all over their bellies (they don't self-clean anywhere else on their bodies except for their belly – go figure).
Me? I was pleased that it was all they needed for entertainment in the shower, and so we had ZERO bath tub toys that had to be rinsed and packed up afterwards. That's a win in my book.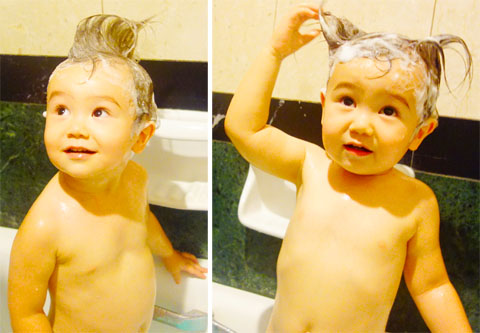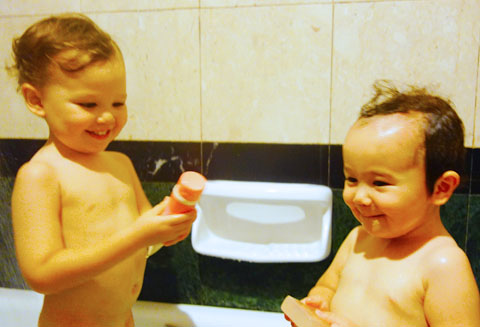 And their hair? I got the Pamper Me bath & shampoo (almond & milk). This is excellent if you're travelling, by the way, because it can be used both on the hair and body. I do wish it came in a larger pump bottle size, because you do go through it quicker if you use it from top to toe. For us, we used it as shampoo so it lasts longer.
It is gentle. Really gentle. I could actually feel my kids hair noticeably clean but softer than normal. It has a very mild scent, which beats some of the overpowering perfumes some shampoos have.
Beneficial properties include:
Olive Oil – locks in moisture and leaving babies skin hydrated all day.
Beta Glucan (extracted from oats) – known for it's moisturizing effect and reduces
redness caused by skin sensitivity.
Ceramide-3 – acts as a barrier support by replenishing moisture in the skin (especially
eczema skin) and as an enhancement for an overall healthier skin.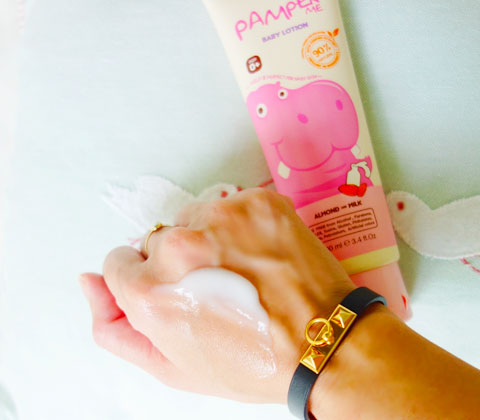 The Pamper Me body lotion (almond & milk) has that same mild, barely-there scent. It's a little runny so be careful not to squeeze the tube too hard. Because of this, it spreads very easily and absorbs quickly. I have no patience for thick, white-cast body lotions that take ages to absorb – kids are fast creatures and in those few minutes, have probably climbed on the sofa or pressed up on something and smeared their body lotion on it! So I need something that's really fast-absorbing and this works a charm.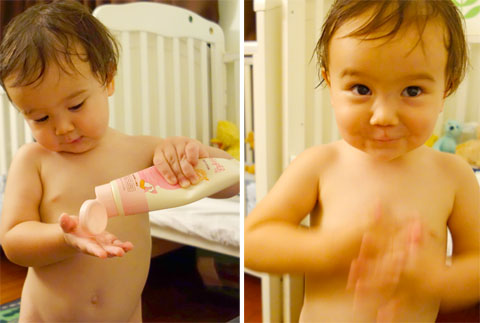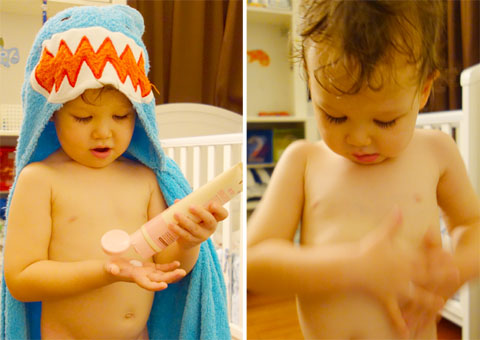 Both kids are really eager to hold the cute tube and apply the lotions onto themselves (again, only ever on their belly! Never anywhere else!)
Like the bath & shampoo gel, I do wish this came in a larger pump-bottle option because I can use it after my shower as well!
O-Spa Pamper Me products are available at Isetan Scotts, Isetan Westgate Jurong, Elly Outfitters at Cluny Court, Four Seasons Market at Great World City, Four Seasons Market at Parkway Parade.
They are also available online at www.envysg.com, www.ellyloves.com, www.lazada.com, www.isetan.com.sg
Let's Chat!