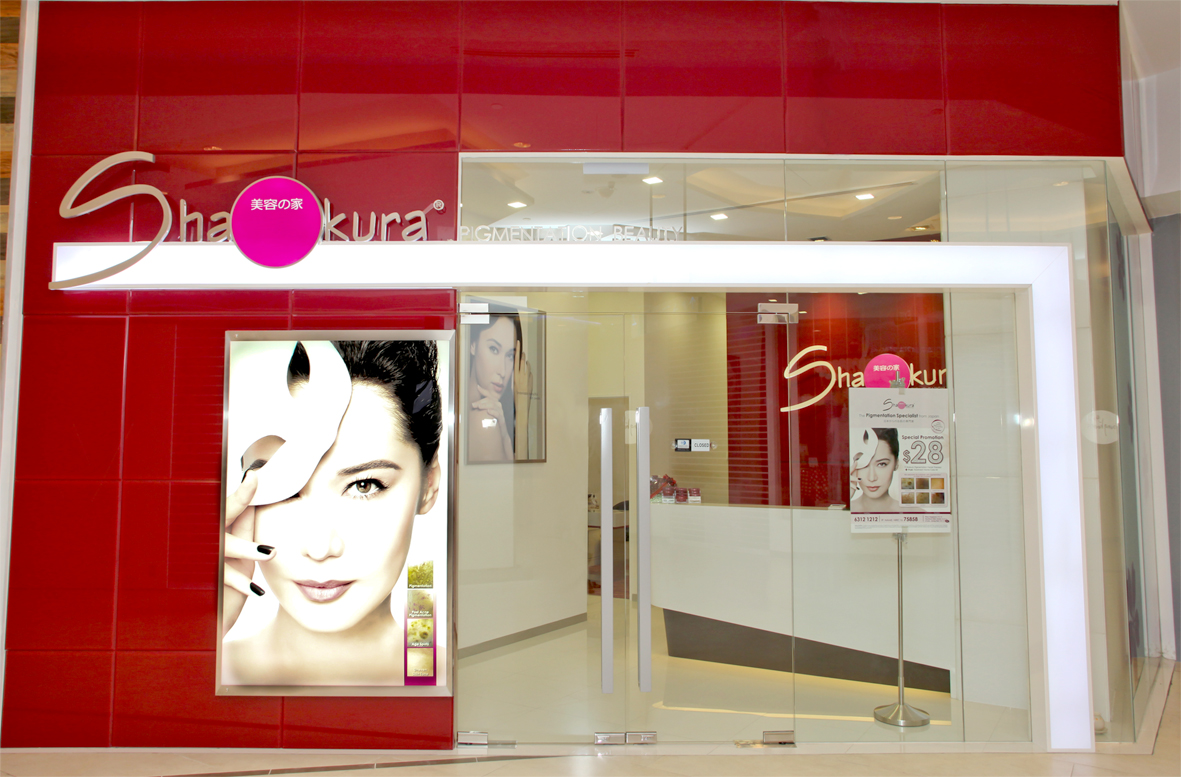 Shakura Pigmentation Beauty is a specialist beauty salon that focuses on pigmentation (ie. dark spots that won't budge) on the skin. I was particularly interested in it because, as I grow older (ughhhhh…), my skin tone has changed a bit and I've noticed this:
Freckle/UV spots on my cheekbones – they are small, but won't budge. I got them presumably because I don't use sunscreen (oops!) and it's UV damage.
Old zit spots – my skin tends to mark easily. If I get a bad zit, it leaves behind a red/brown patch even after the zit is long gone. Super annoying. 
You can see the 7 Types of Pigmentation list here, and see which one(s) you have!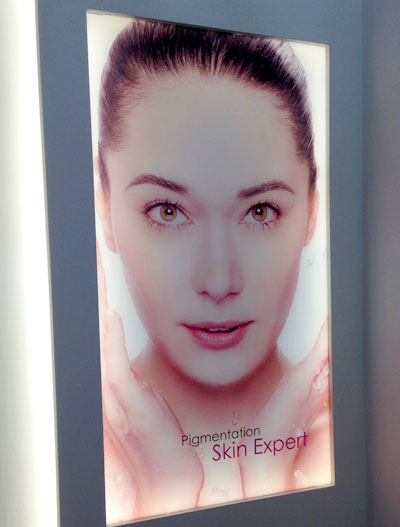 Anyway, I was interested in Shakura Pigmentation Beauty because they claim to show "results after just one visit". Then again, many places boast this anyway, so I admit I was a bit jaded during my visit!
But, they have 6 branches in all the hot spots of Singapore, so I figure they must be pretty good.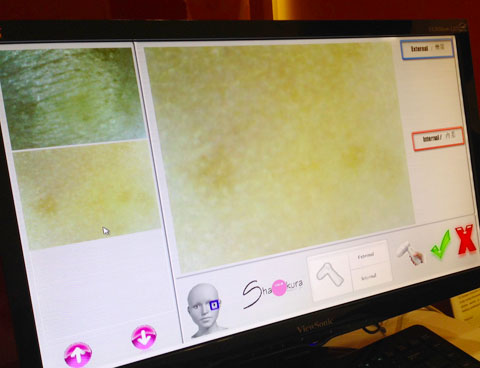 We spent a couple of minutes chatting about my skincare regime, then taking a look at my skin UPCLOSE via their scanner.
Not for the faint hearted!
Above is a closeup of the freckles on my cheekbones. The sun damage goes down to my deeper layers of my skin, which is pretty depressing. I made a promise to myself then to use sunscreen every day from now on, even though I hate the stuff.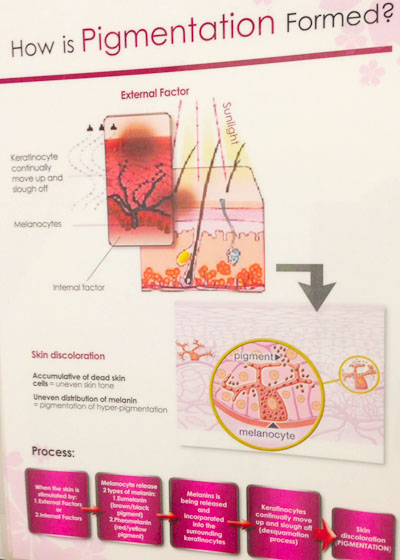 I snapped a sneaky quick pic of their book which talks about Shakura and what they are about. Quite a bit of scientific stuff behind the pigmentation process if you're the learned type and like reading up about it…
Essentially, a lot of people try to remove their pigmentation by going for chemical peels or laser. These are pretty invasive and have a long recovery time, so I've personally never tried those (and thus can't comment on their effectiveness VS this Shakura facial). I'm also a bit fearful of dramatic treatments to the skin!
Shakura offer a much milder and less invasive method of treating pigmentation. I would imagine the downside to this is that you'll need to go regularly and frequently to see results (and for upkeep), but at least it's painless and pretty pampering!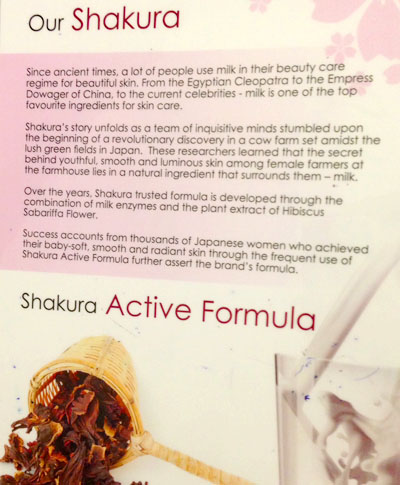 I asked about their key ingredients, and was told that they use milk in their facial. I used to be (and still am, I guess!) really into dermatology, so I already know milk contains lactic acid which is excellent for cell renewal and helps treat pigmentation – because lactic acid contains AHA, a surface exfoliant (think of it like a facial scrub). Using lactic acid on the skin is basically an ultra mild chemical peel, with no downtime. This makes it ideal for people with sensitive skin, as well as mature skin. You can do a Google search on lactic acid, or read more about it here and here.
From their website, "Milk Essence and Red Ruby Roselle, which is naturally enriched with Vitamin C and amino acid, Shakura Formula repairs and rehydrates pigmented skin from deep within."
Their facial aims to:
Shed away dead skin cells
Encourage the growth of new skin cells
Rehydrate and revive soft, smooth and radiant skin
Unclog and minimise pore size
Visibly lighten pigmentation
Stimulate the production of collagen and elastin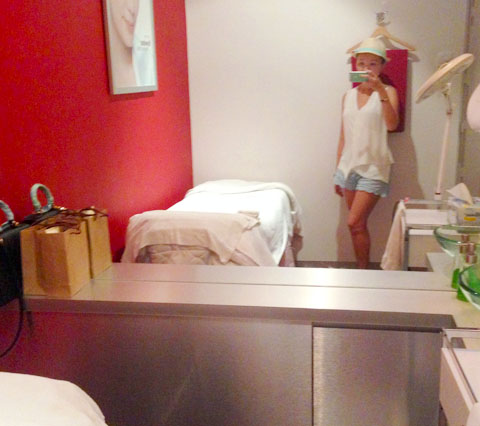 The treatment room is simple and clean. I was repeatedly asked if I was comfortable and given an extra towel to cover when I felt a bit chilly.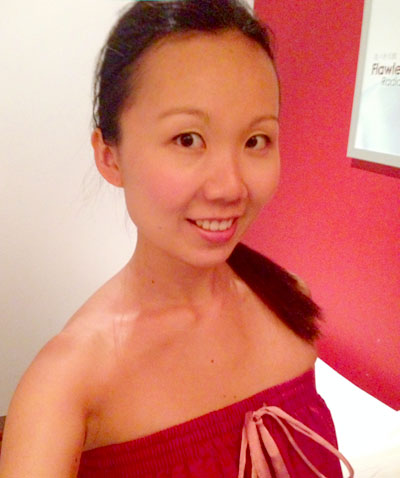 So this is me, about to start my Shakura facial! I…. errrrr….. zonked off during the facial, so I lost track of what was happening. But I got the consultant to write everything down (because I want to make sure I get all these same steps next time):
My Shakura Milk Milk Skin Treatment:
Gentle wipe cleansing – removal of any makeup with wet cotton pad
Deep cleansing – cleansing lotion massaged and removed with warm water
Hydration mask – mine had camomile and seaweed (customised for me). I could see the Pre/Post results in the mirror and EEEEEK the little freckles on my cheekbones really did fade! Was a bit dubious cos am still jaded, so just nodded silently and let her carry on).
Extractions – optional, but I wanted this. She did a mild one, as she said she didn't want to traumatise my skin too much as the facial was meant to be relaxing.
Antiseptic – a cool wipe over my skin to make sure the pores are clean
Milk enzyme – this was dabbed on with the fingers, and gently pressed into my skin
PH balancing – this cool gel was massaged on directly after the Milk enzyme, to neutralise it. The massage was kickass! Sooo relaxing to feel her fingers glide over the gel and massage it into my face. I wanted this to last forever.
1st layer cream/gel mask – this was applied after my skin was cleaned. It's a hydrating mask.
2nd layer rubber mask – this was applied directly on top, and is packed with hyaluronic acid (a proven hydrator) to enable maximum penetration and hydration. I think this was left for about 15 mins
Shoulder massage – a relaxing 5 mins of deep massage on my shoulders and back, as the masks went to work. Wish this had gone on for the full 15 mins though!
Cleanse and moisturise – she applied a sunblock as well, which left my skin totally matte (usually sunblocks are so greasy on me), so I was pretty impressed!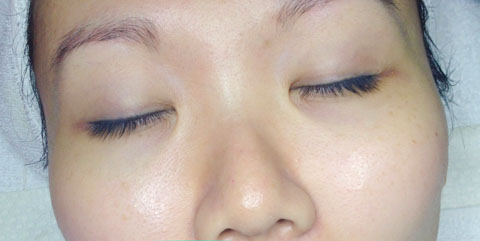 This is the After pic! I was really delighted that the darker areas of my skin were lightened, and my whole face was brighter.
You'll also notice that my skin isn't blotchy and red, despite having extractions done (even on my nose and cheeks). It was red immediately after she did extractions, but the massage and treatments applied afterwards must have toned them down completely.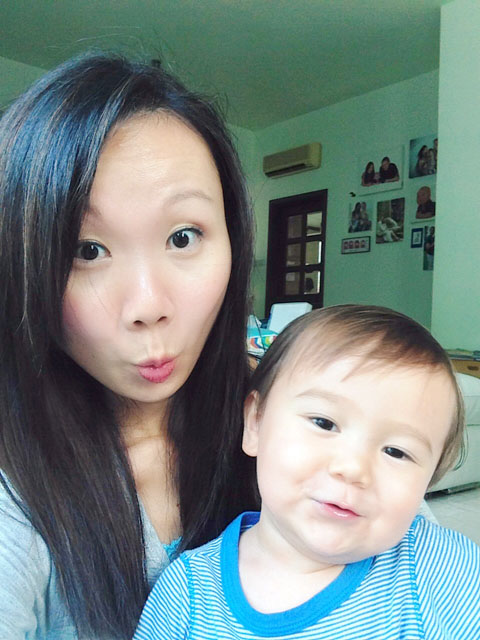 This is me, the next morning, with just concealer under my eyes, and no other makeup! I haven't used Photoshop to blur out imperfections or anything 😛 Obviously my skin is still nowhere near as clear and soft and smooth as Carter's (what is it with little kids and perfect skin??) but I still reckon it's pretty good.
Actually, Mum saw me on the day of my facial, and commented that my skin was "light and bright"! She was pretty amazed that it looked so clear too. It was why I felt brave enough to go without BB cream the next day 😉
If you're looking to achieve an even skin tone and overall brightening, I reckon Shakura Pigmentation Beauty is a really good option to check out. I'm really pleased with the difference it made to my skin tone after one session, but I would imagine it's best to go regularly since your skin cells renew every 28 days anyway, so you'll need another treatment by then.

There is promotion going on now!

For more infomation about Shakura Pigmentation Beauty, head on down to:
Website: http://www.shakura.com.sg/
Beauty Outlets in Singapore:
Harbourfront Centre (NEW!)
Heartland mall, Kovan
Jcube, Jurong East
Plaza Singapura
Tampines 1
YewTee Point
Opening Hours:
Mon – Sat (11am – 9pm)
Sun (11am – 8pm)
PH (11am – 7pm)
Let's Chat!