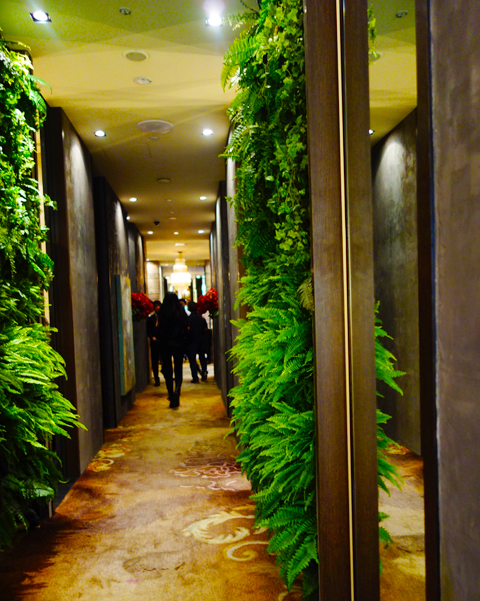 For the discerning lady that values a beautifully presented image, Kim Robinson comes to the rescue. This super-premium boutique salon has been around for over 20 years and caters for both celebrities/socialites as well as working professionals.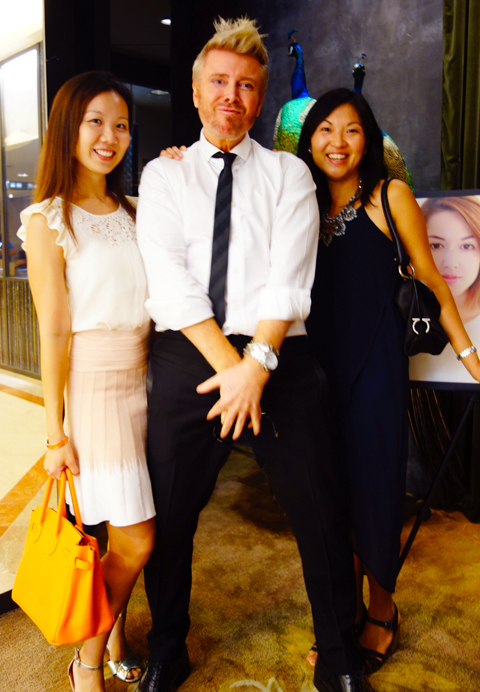 I'm not quite sure what he was up to with this pose! 😉 Kim Robinson himself had flown into town (he normally resides in Hong Kong, where the other salon is located) to celebrate the flagship salon's sixth anniversary. Born in Perth, the Aussie boy has lived in Asia for 20 years! A bonafide celebrity hair stylist, him and Daniel Ng help the Kim Robinson stores across Singapore and Hong Kong, and are a delightful (and hilarious!) duo.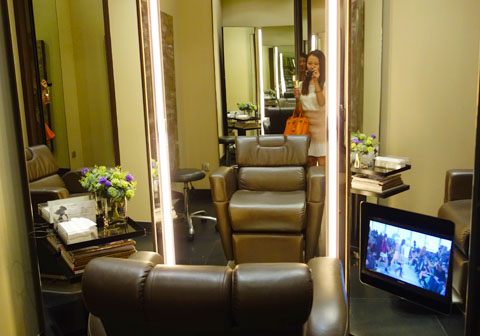 The salon in Singapore houses 80 staff at any point in time, and seats up to 40 customers. This caught me by surprise, because the entrance of the salon is so discreet. However, it opens up to a huge 5,400 sq foot area linked up by snaking corridors. There are luxurious private rooms, a dedicated hair-colouring lounge, excellent drinks and snacks, and top-notch attentive service.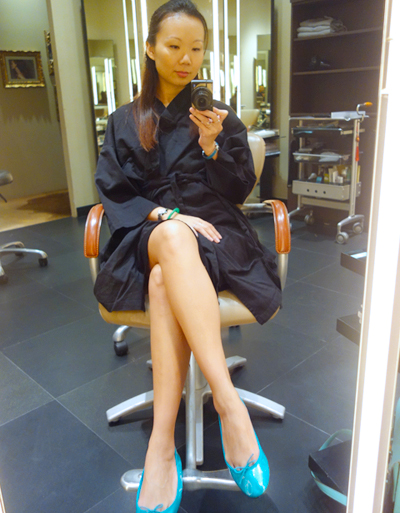 So here I am! Pre-cut, and full of eagerness and wild fancies on how my hair will turn out. The hair stylists are all trained on Kim Robinson's "face matrix" concept, based on your face shape and body height. Each patron is guaranteed personalised service using the "dry cut" signature technique, using the natural flow of the hair to create styles which last.
In short, my stylist Timen inspected me all round as I was standing up, and looked closely at my face shape. He took two inches off my hair as he declared me best looking with long hair and loose waves, but yet spent half an hour cutting my hair – just to make sure it was perfect.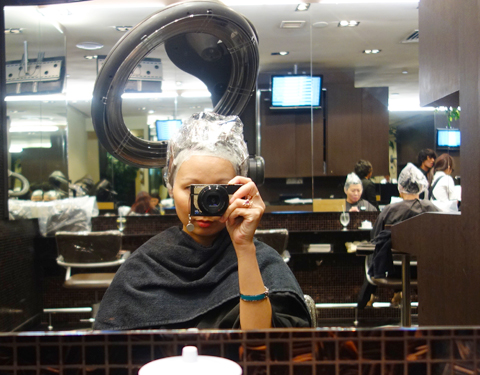 I was then ushered into their dedicated colouring lounge, where Anna (the expert in hair colour) discussed with me in depth on what she felt suited my hair and what she hoped to achieve.
Service was very attentive, from putting protective covers over my hand bag, to ensuring my drink cup was filled at all times. If you love to be pampered, this is it.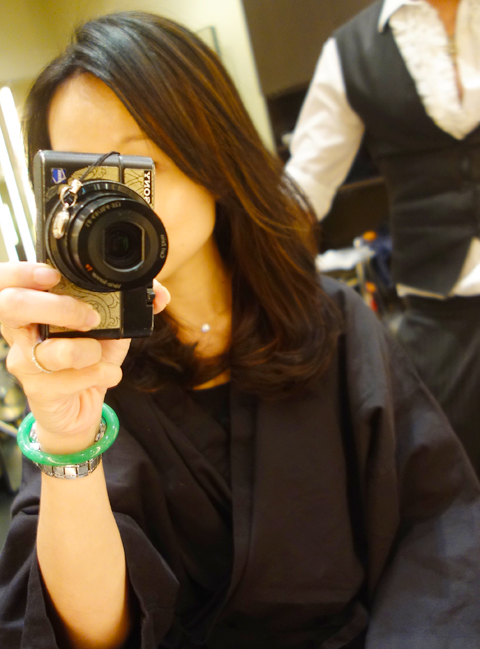 Two hours later, I'm done! Timen has worked his magic (and I mean MAGIC) with his hair dryer. My hair is silky, glossy, and falls in soft textured waves around my shoulders. My base has been brought back to my natural dark colour, and the top has warm highlights. Anna has weaved in lighter highlights inside my hair, to create an ombre effect and so they do a peekaboo as my hair swishes around.
My hair was specifically cut and coloured to suit my lifestyle – which is entirely wash and go. I don't blow dry my hair, and I don't style my hair. This was taken into consideration, and this specific cut is meant to suit me best in the long-term (ie. when I'm at home and floundering around with my hair by myself), and this specific colour combination is meant to allow me to grow it out (as I admitted that I'm not the type that will come in regularly for touchups).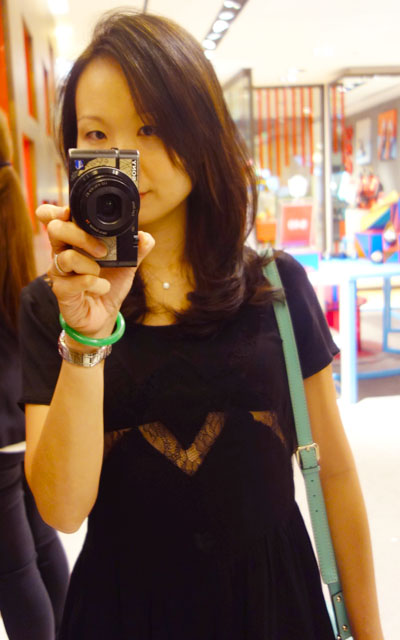 This was a selfie taken when I was walking around shopping afterwards. I drew double-takes by both men and women, who were specifically looking at my hair. I'm going to take that as a compliment! 🙂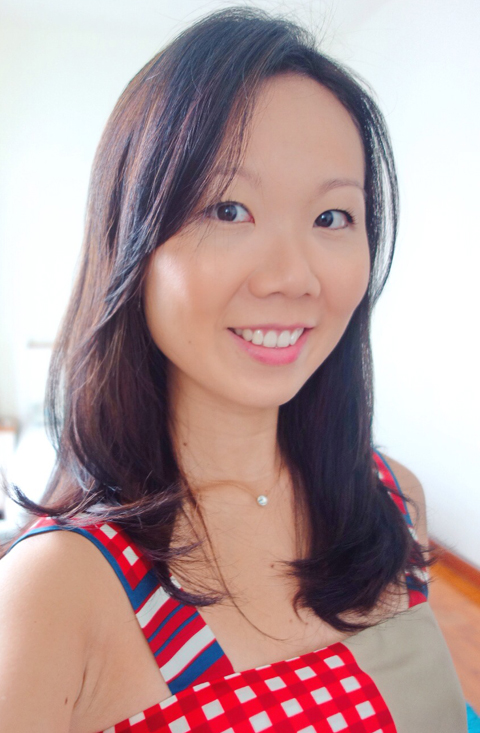 This is my hair the next morning – bedhead and messy, without having being brushed. I am in LOVE with it. Chris gave it a big thumbs up too, which is really surprising because he generally doesn't notice when I do something with my hair, or disapproves.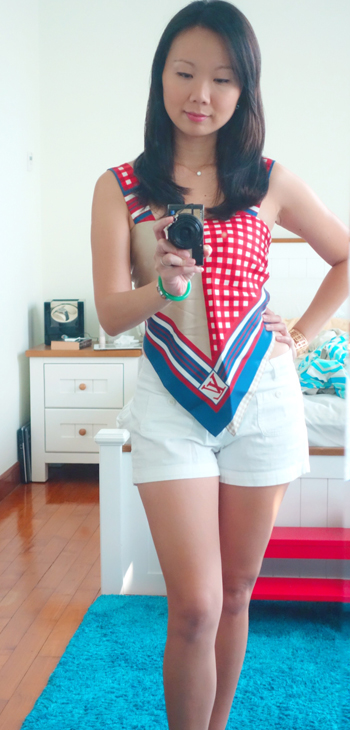 And this is my hair the morning after, still unbrushed, but I ran my fingers through my hair to tame it a little. I felt rather glam!
The only problem is that once you've been indulged in Kim Robinson cut, colour, or even a simple wash and blow dry (called their Cleanse and Finish)…. it's kind of hard to go anywhere else! I've heard nothing but raves for Kim Robinson, and now I see why. You can't quite find another hair salon like this.
Kim Robinson starts at $58 for a Cleanse and Finish.
Address: #02-12 Takashimaya Ngee Ann City, 391 Orchard Road, S(238872)
Telephone: 6738 8006 
Let's Chat!