I've made French toast many many times before, but always on a skillet (ie. cooked on a stove top). This is pretty laborious as I can do only one or two pieces each time, and if I soak the bread for too long, I end up with soggy French toast – not cool.
So I mixed and matched a few recipes together to come up with a Chocolate French Toast… baked in the oven!
Why do I love this recipe? It is easy to put together, and you can pre-make it and let everything sit, then bung it into the oven on a large tray. It minimalises hard labour (ie. frying over a stove top) so it's especially great if you're having people over – just whack it in the oven and sit around chatting over a coffee until it's ready!
Plus, HELLO, chocolate melted inbetween French toast…… how can you go wrong???
So first, I laid out my freshly-cut slices of bread (I bought mine as a loaf from Cedele), and sprinkled with chocolate chips. The more the merrier! Then top it with another slice of bread, to make a sandwich.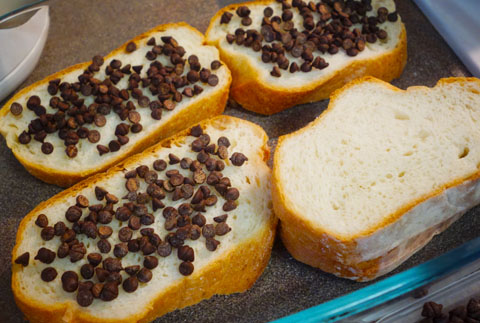 In a bowl, I mixed 4 eggs, a splash of lemon or orange juice, 1/4 cup melted butter, 1/4 cup white sugar, 1.5 cups evaporated milk (or fresh milk), and a splash of vanilla extract. I poured the mixture all over the sandwiches, and let it all soak – the time depends on the bread you're using. Mine took about 20 mins but if you're using regular sliced sandwich bread, 10 mins tops is all you'll need.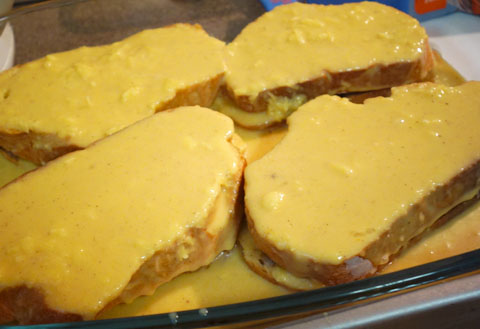 Take out the soaked sandwiches, and lay onto a baking tray. Bake for 30-40 mins at 180 celcius until golden-brown.
DONE!
I served mine with freshly sliced bananas, a sprinkling of icing sugar, and maple syrup… though I realised later the syrup made it overly-sweet and wasn't necessary.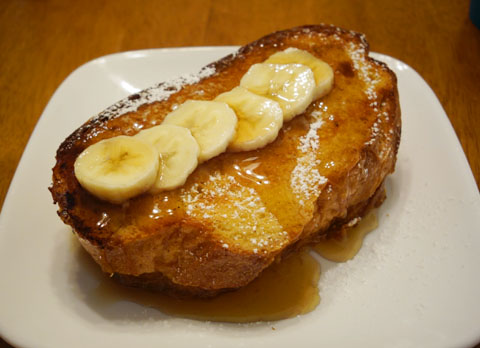 Cross-section food porn shot. This recipe results in the bread being crispy on the outside, but moist in the inside, with molten chocolate on the inside.
Is it good?
OH YEAH!!!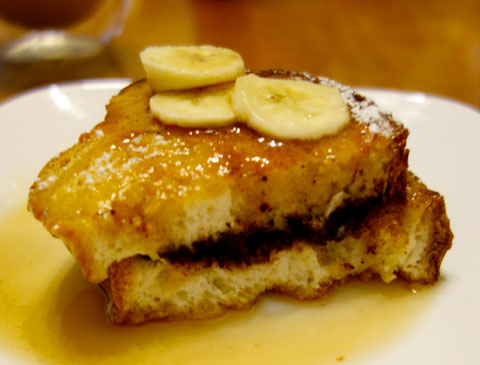 I also made a healthy yogurt smoothie to off-set that sugar overload of a brunch above. It's unsweetened Greek yogurt, a splash of milk, strawberries, bananas and baby spinach…. all blended together with some honey. Serve extra-chilled, it was a hit with the kids on a warm morning!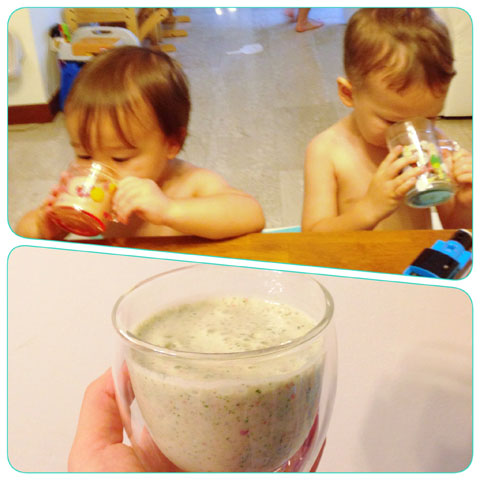 Let's Chat!