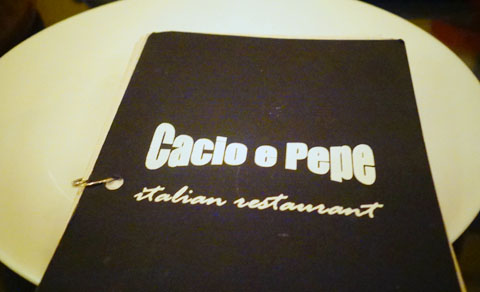 We live SO close to Cacio e Pepe, and have walked past a gazillion times. It's tucked into a little housing estate area, with a scattering of other small cafes, spas, and pubs.
Our friends, who live on the opposite side of the country, love this place and were shocked that we'd never been. And so, we arranged a double date!
The restaurant is cozy and intimate, with a small indoor area and a small el fresco outdoor area. It is jam packed on weekend evenings.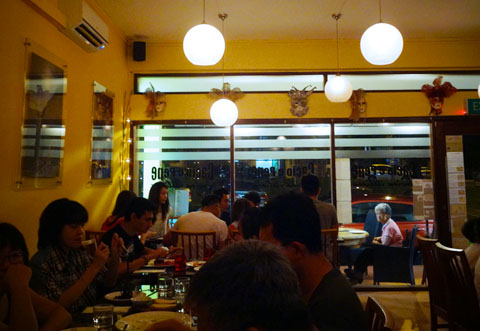 We are served complimentary thin-sliced baguette with olive oil and balsamic, and iced water. Tops!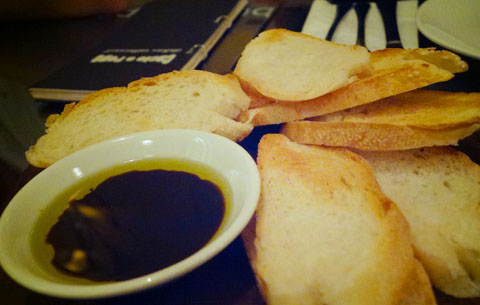 I'm pretty impressed with their Fresh portobello baked with crab meat and prawn, finished with rich gorgonzola sauce ($18). I wasn't sure what to expect when we ordered it, but it turns out to be served in canape form, and is a flat portobello mushroom turned upside down, and topped with seafood, draped with the rich sauce. It's moist and springy and creamy… all at the same time. A unique blend of flavours and textures, but it's pulled off well.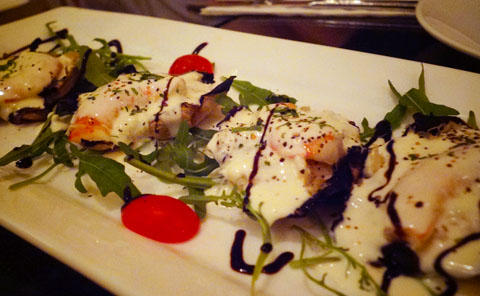 The Sea scallops wrapped in parma ham ($20) is presented in exactly the same manner as our other appetizer (rocket leaves, cherry tomatoes, balsamic glaze). It's a little unexciting and I'd loved to have seen this presented differently, so we don't feel like we are ordering the same of a sameness. That said, the salty parma ham sets off the sweetness of the scallops very well, and I find myself wishing we were served double the portion, because I loved it!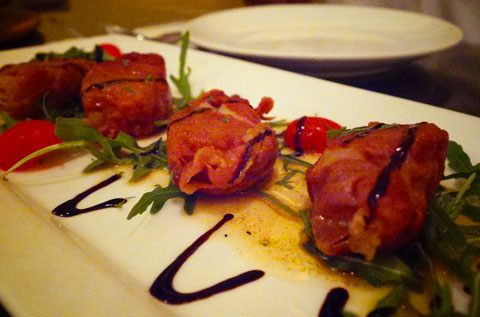 I'm a sucker for squid ink anything, so Spaghetti al nero di seppia – spaghetti with seafood cooked in squid ink sauce ($22) was high on my agenda. The sauce is done perfectly, and the pasta is scattered with seafood. A LOT of saeafood. So much so that we were left with extra seafood at the end, and not enough spaghetti to go  around! What a lovely problem to have.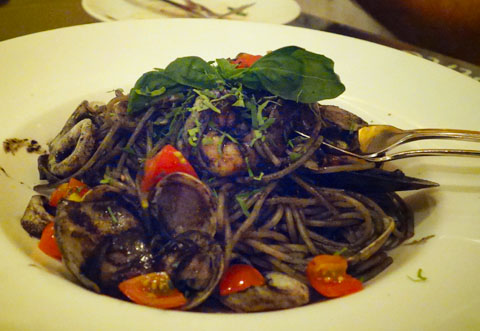 The Tagliatelle al tartufo – egg pasta tossed with scallops and prawns in truffle cream sauce ($24) was, by far, my favourite dish.
IT. WAS. PERFECTION.
If you're a scallop and prawn lover, as well as a truffle lover, you are gonna freak out. Cos I did. The pasta was cooked to perfection, and draped in the most luscious, creamy, truffle sauce. Ooooo it was gorgeous!! Fat scallops and prawns dotted the dish and this was simply a must-return and must-order dish for us.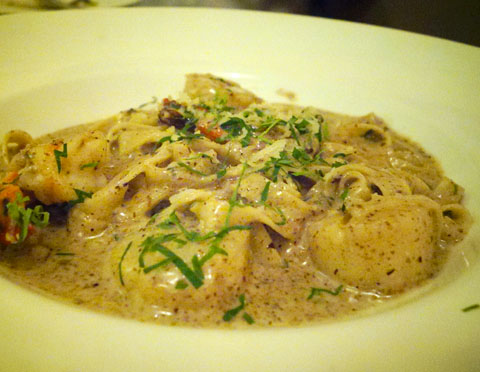 I was impressed by how well-cooked our Lamb rack with gorgonzola sauce served with mashed potatoes and salad ($30) was. The lamb chops were succulent and so juicy! This delighted the meat eaters in all of us. Only downside? There were only 3 chops. I was expecting 4 or 5 for the price, mostly because I figured that 3 chops wouldn't be enough to fill someone.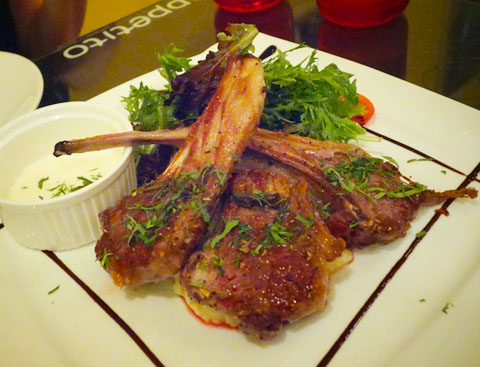 Somebody at our table insisted on this ultra boring looking pizza, the Pizza Diavola – tomato sauce, mozzarella cheese and spicy salami ($22). It even SOUNDS boring on the menu 😛 But I snuck a slice and ooooooo!!!!! I was impressed! The base was thin and crisp, and the pizza was cheesy without feeling like a heart attack. The salami was pretty potent-spicy, but it was delicious and went very well with the simple flavour of the pizza. I was actually eyeballing it for a second slice….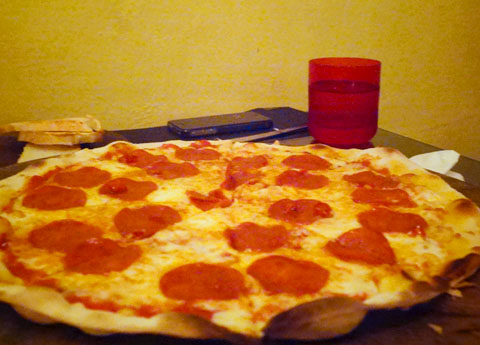 Candid shot of Chris and I, toward the end of our meal. This was our meal that I had just before the Beauty Cleanse juice detox that I did (pssst! still a 15% off code at the link!) – obviously I didn't subscribe to the whole eat-less-before-you-detox theory………….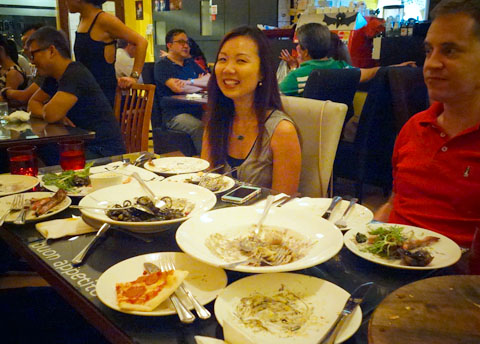 The Tiramisu came in its little tin that it was baked in, served chilled. There was a good balance of cake in there, and it was well received by all of us.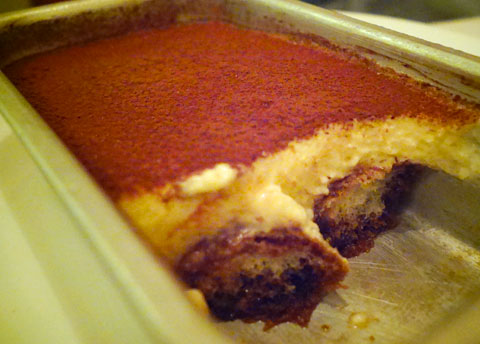 My shot of the Lava cake looks rather…. awful. Guess I'm not cut out to be a food photographer! I loved the molten chocolate that poured out of the chocolate cake shell, though it does require a bit of effort to scoop off the flat dish 😉 The vanilla ice cream is a nice touch, but I would have preferred a high quality vanilla bean ice cream that would have paired beautifully with such a lovely homemade cake.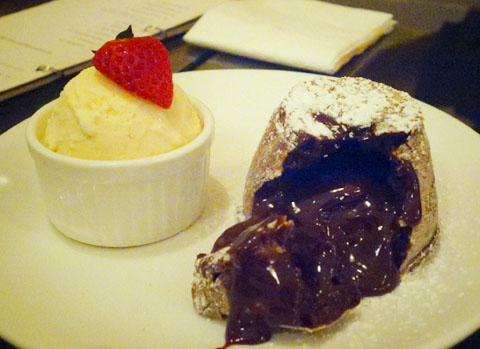 We had a lovely dinner (double) date at Cacio e Pepe! Very delighted to have found a great Italian place so close to where we live. We'll be back for sure… I'm eyeing their lunch set menu already 🙂
Let's Chat!