Imperial Treasure at ONE°15
11 Cove Drive Sentosa Cove
ONE°15 Marina Club
Singapore
PRICE: $$$$
RATING: ?????
I've been to Imperial Treasure once before, for a yumcha lunch. Normally, I try to steer clear from traditional Chinese restaurants because I find regular Chinese food kinda boring (ie. pretty sick of it). I much prefer local Singaporean food, Japanese food, Thai food etc etc.. if I had to choose an Asian restaurant to go to. But, I really loved their yumcha dishes and so was really excited when my aunt brought us there for a dinner.
The food was excellent – beautiful ingredients and artfully cooked. They aren't exactly a very cheap restaurant, but at least the fresh ingredients and delicious dishes don't make me feel like they're overpriced.  Service was also prompt and very lovely.
And……. yep, this was my first proper taste of Yu Sheng. And it was this Yu Sheng served here that made me completely fall in LOVE the dish 🙂 Something about the myriad of colours, the 34028402 ingredients mixed in there, and then fun 'tossing' of the ingredients that appeals to me. Not to mention, it tastes FREAKIN' AWESOME.
I've had Yu Sheng about 5 times now, during Chinese New Year. Will have it another 2 more times. Heh!!!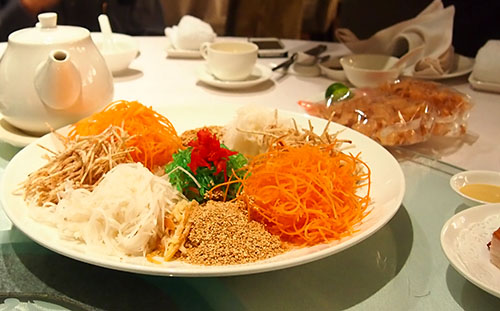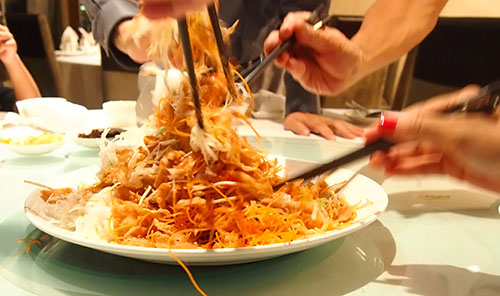 I thought the Crispy salmon skin sounded a bit weird (I much prefer the salmon meat itself!) so I was a bit hesitant with this dish.. but ended up munching away happily on a whole bunch 😛 It really was skin, deep fried in a light crispy batter. So simple, but it was tasty and so crisp!! Like chips. And no, not with a weird fishy flavour or anything.. but just very good 🙂 I reckon even fish-haters would like this dish.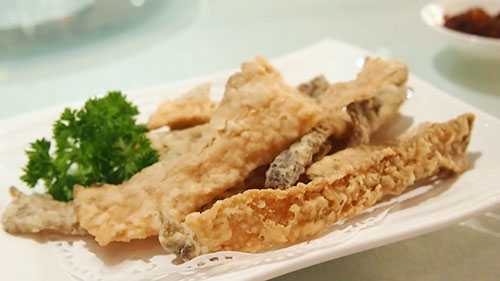 The Roast pork belly with crackling nearly had me hysterical with glee. IT WAS FANTASTIC!! This dish is so so so common in Chinese restaurants, but this one by Imperial Treasure was superbly done, better than the rest. The pork was luscious, meaty and juicy, and there wasn't too much fat layered in (I don't like the squishiness of the fat, eek). And the crackling… oooo…. the skin was utterly crisp, like a potato chip. It's a must-order dish there IMHO.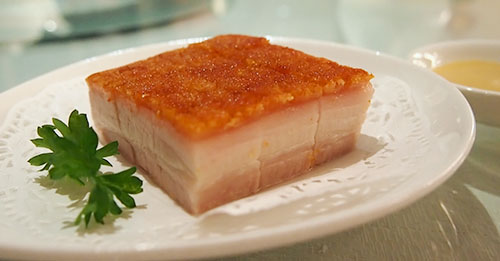 Another dish I'm generally not big on is soups. Specifically this one called Double-boiled sea whelk soup with sharks fin edge and herbs, because, let's face it, it doesn't sound very appetizing does it 😛 But it actually became my #1 dish of the evening when I had a taste. The ingredients didn't really fascinate me so I only drank the broth, but it was UNBELIEVABLY GOOD. I can't explain the taste in words.. but it was rich yet not too strong, with all these layers of flavours. Apparently it's what you get when you double-boil soup. MAN it was really good :)~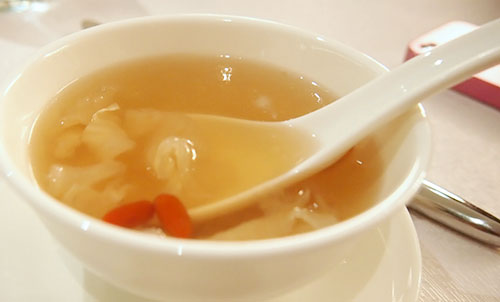 We also had the Peking Duck,  which came out looking almost fake, cos it was roasted so evenly! They expertly sliced off the crispy skin, and wrapped it in the soft crepes. Delicious 🙂 I only wish that they would slice the skin off with more meat, 'cos it's actually the duck meat that I like. Most places only do minimal meat though.. since the whole point of Peking Duck is to eat just the crispy skin.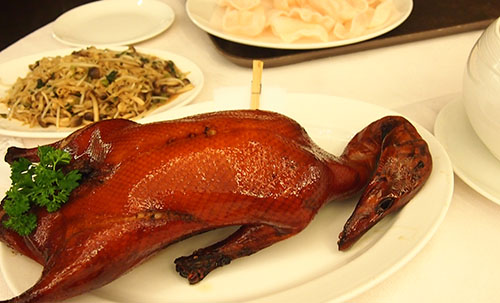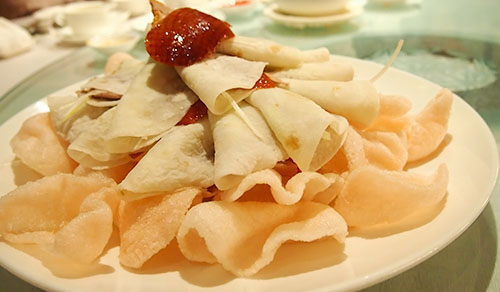 This was some special deep fried & steamed fish dish, that was pretty interesting. The meaty parts were all steamed tender and juicy, and the parts with bones were deep fried to munch on. I had the steamed fish and it was good, but I still think I prefer whole steamed fish (the one that comes in soy sauce and shallots – yum!)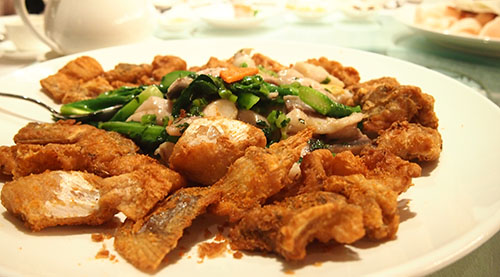 This was my first time eating Steamed live bamboo clams with minced garlic.  Actually it's been ordered and served at the table at previous dinners, but I never ate it 'cos I thought the clam was too big and scary 😛 This time, I decided to try it out because it looked rather pretty. Was really surprised the clam was soft and easy to bite/chew – I'd expected it to be a bit rubbery and chewy.. sort of like calamari. It had a nice texture though not much taste, so the copious amounts of minced garlic and tasty gravy was very well received.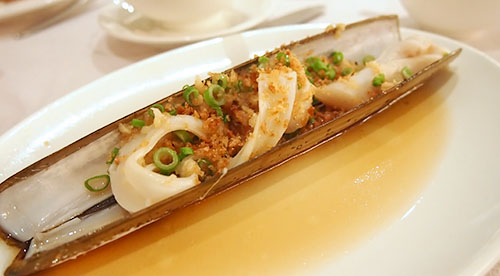 The Pan fried wagyu rib eye was a lovely sight to see. Glistening, juicy steak that was chargrilled perfectly. It was really tender, thanks to the fact that it was wagyu 🙂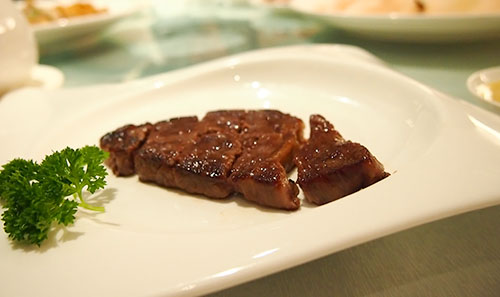 The Chrysanthemum and Apple Jelly was for dessert and was a lovely and refreshing way to end our meal. Chilled chunks of jelly that weren't too sweet 🙂 I actually found it better than the Mango Pudding, which I found to be good, but similar to many other restaurants'.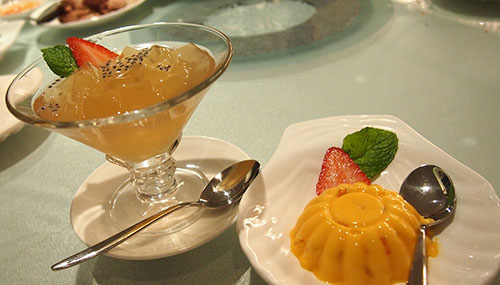 Let's Chat!