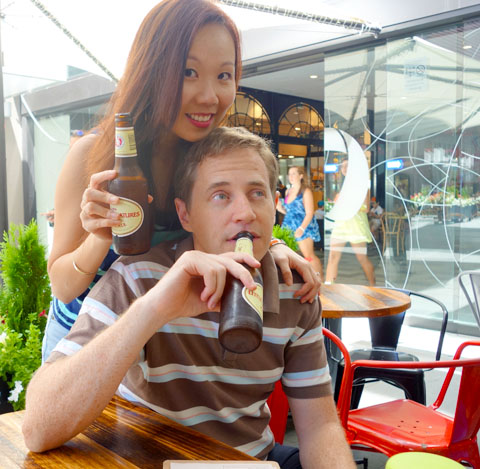 That photo above captures a very memorable moment for us in Perth. We were in a lovely cafe, sitting outdoors and enjoying the beautiful weather, having a delicious lunch with friends, our five boys weren't giving us any issues, and we were chilling out over a cold beer. Talk about ALL the stars aligning!! Wahey!
This is our kickass burger, beers and fries meal at Grill'd.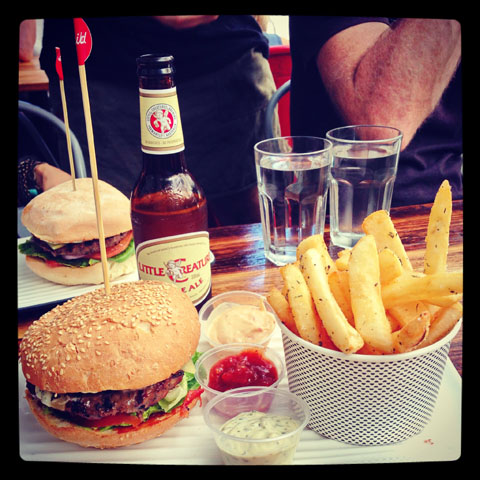 And we enjoyed quintessentially Aussie grub: meat pies, fries with gravy, and an iced coffee. It was TOO GOOD!!!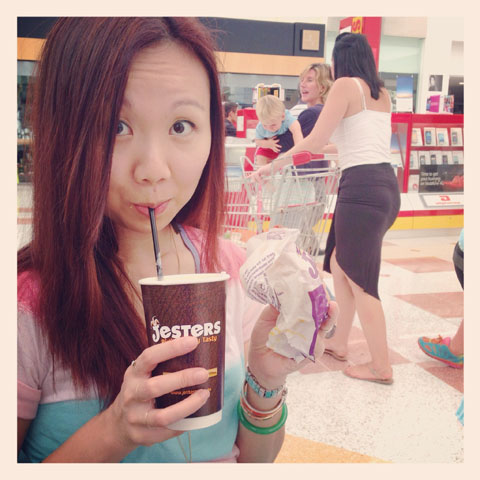 And this was a pretty spectacular meal at Cottesloe Beach Cafe, where every single dish was excellent. What are the odds of that?!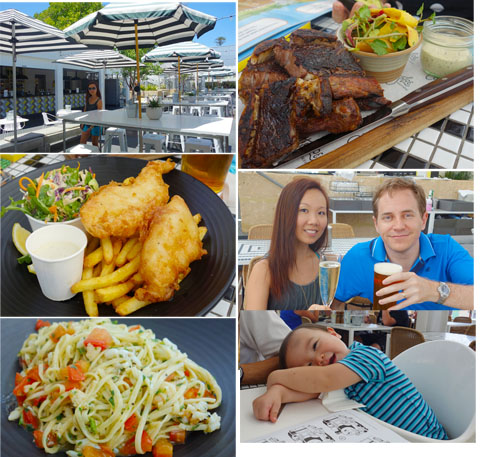 I also spotted a beautiful turquoise coffee machine. Obviously, I bought a coffee – I swear it tasted better! 😉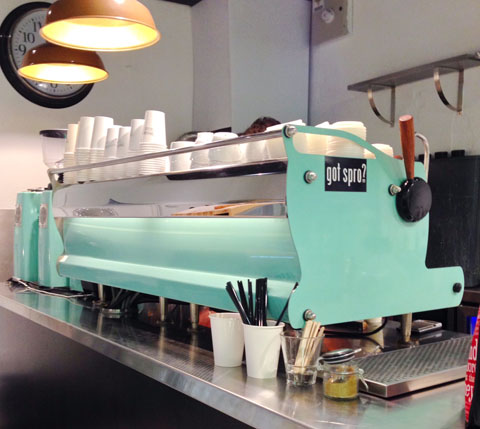 An insanely good dinner my gf whipped up at home. Lamb shanks. Slow-cooked. Meat melting off the bone. Both my kids ate heaps, and they'd never eaten lamb before!!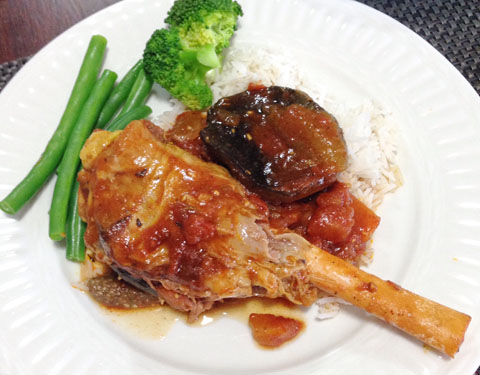 Considering the amount of eating-out we did, the kids actually handled it quite well. I thought it'd be CHAOS with five boys at mealtimes, but turns out it all was pretty easy… because they were kept well occupied with little toys and drawing activities.
Yes, it was a bit strange having the boys lying around on the ground playing, or using restaurant chairs to pop their colouring books on… but it worked!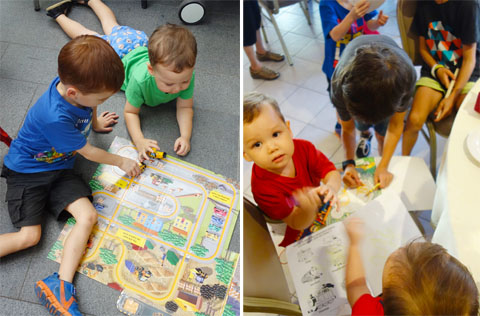 We even got the chance to go on a double date one evening, whilst my parents did the whole bedtime routine. Yay! It felt so illicit – going out at night, without kids, feeling like we were sneaking out to paint the town red or something 😉
And we kinda did!
The plan was to go for a fancy pants dinner at Frasers Restaurant, overlooking Perth city. We actually met AT the restaurant, to be exact. But then we decided oh to hell with being all civil! Lets get all dirty and go poking around the city instead. 
We ended up at a killer Vietnamese restaurant, which was all casual and messy and noisy and crowded. It was lovely. The food portions were B-I-G, so I was a happy girl!
This is me with my Vietnamese cold noodles with beef and helluva lot of stuff. It was delicious and I was in seventh heaven.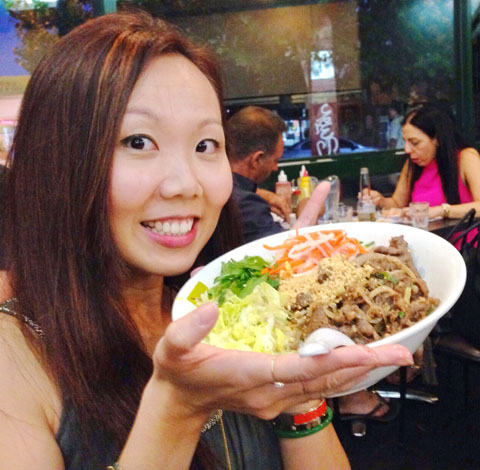 Then we took a short walk to San Churro. We were kinda the two middle-aged couples there among all these young teenage students, but oh well! We were there for the CHURROS!!!
They didn't disappoint.
Here we are, looking exceedingly pleased with our churros.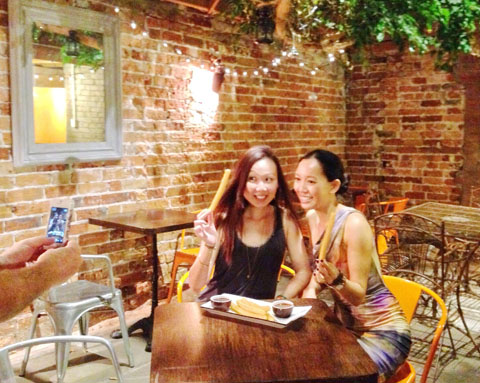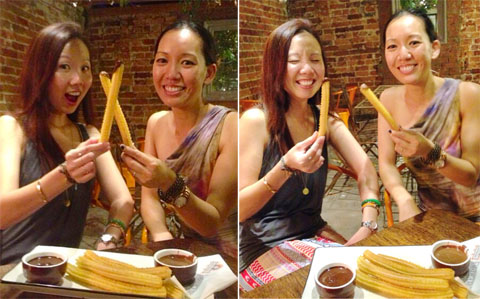 A beautiful picture, taken at sunset, of our families (though some kids are missing, they were running around). This was our last evening in Perth. We had just spent an afternoon at the beach, and popped into The Pickled Fig, a lovely little restaurant right on the beach.
We just had a nice and relaxed meal, enjoying the sunset, the outdoors, and letting the kids have a run around since there was lots of open space. It's something that you can't quite recreate in Singapore!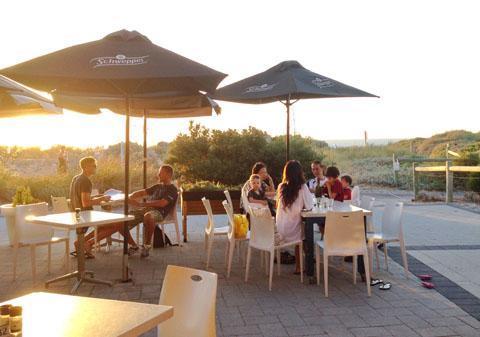 That's it for all our Perth shennanigans! I'm putting together a Guide to Perth for Families over yonder at Brunch With My Baby… errr.. as soon as I get around to writing it. We had a brilliant time there, and cannot recommend Perth enough for families.
We were also "in the know" with the fun stuff to do around Perth, since my friend Karen (I think heaps of you guys also read her blog Karen Cheng's Fashion and Life anyway!) is a local there and showed us all the good bits! I don't know many people that would drop everything and hang out with you for a whole week (with her three boys in tow, who didn't quite have a choice in the matter!), so we felt particularly special. Our entire trip was all planned by her, so you can thank her for the Guide to Perth for Families I'm about to write 😛
Let's Chat!