Mark 15 Dec (Sunday) in your calendars guys……. there's a cool clothing pop-up coming to town!
Missy Stella is all about being stylish and fabulous, and stock a range of quality ladies clothing and accessories. 
Their online store launches next month (online shopping FTW), but if you live in Singapore, you'll be treated to their pop-up event on 15 Dec where they're holding a Christmas spree at *Scape mall.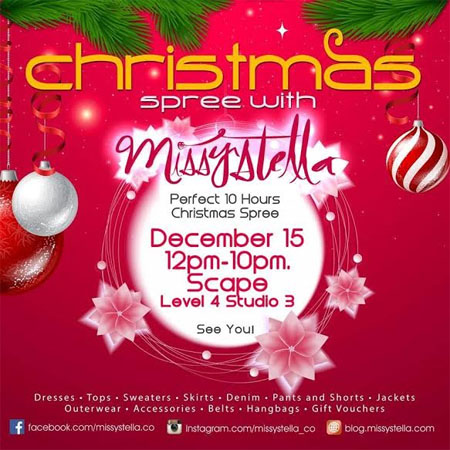 I've done some ferreting around in their Facebook photos, and found this pretty dress. I love the solid colours and the skirt looks lovely and floaty!
And this silver cardigan is totally calling my name. Shimmery silver with a cool trim.. I'm thinking it'll be fab for whacking into my bag (it looks like the material won't crease easily) to pop on whenever I'm in malls (what is it with SG malls being sub-zero degrees??):
View some of their range of dresses.
View some of their range of jackets.
So here's the fun bit:
Missy Stella are giving away one $50 voucher for their pop-up event!
Giveaway will run from 2 Dec to 9 Dec 2013 inclusive.
Winner's entry(s) will be verified according to the entry criteria(s).
Giveaway Voucher may only be redeemable at pop-up event on 15 Dec at *Scape mall.

Have fun guys! And thanks Missy Stella for the fab giveaway 🙂
Let's Chat!