I was a bit unsure when I heard that there is a carpet store in Dempsey Hill called Lotto Carpets Gallery, that "houses a garden full of parrots". Dempsey is a dining area full of nice restaurants and cafes, and this was a carpet gallery, and it had parrots???
Errrrr.
There is also not that much info online if you search for "parrots in dempsey", which I did, so I was a bit iffy when I decided to bring the family there to check it out. Anyway, I figured we'd have a nice dinner in that area anyway, even if the parrots were imaginary ones or a real let down! (they are actually macaws, I believe, not parrots).
Turns out, it was a pretty cool experience 🙂
Very good if you have young children, and/or if you have 15 minutes to kill before meal time. Also good if you are super sick of having your kids in malls (there is not thaaat much to do outdoors in Singapore) and want to at least have the bragging rights that "Yes, I DID do something outdoorsy with my kids today!" Ahem.
So here we are: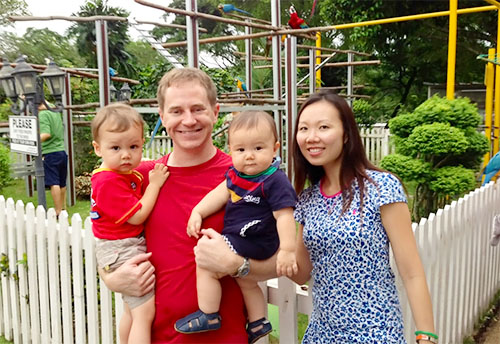 Chris is being beefy and holding both kids.. and I am like a random person that popped into the photo. It was super hard getting the kids to look at the camera, they were far more fascinated with the birds behind. Because hooboy they were NOISY!!
It's like parrot paradise in there. The birds have a pretty large garden to fluff their feathers and wander in, and lots of poles to perch on. A lot of bird lovers visit them frequently and it was so sweet to see how the parrots had their 'favourite person', and would allow that person to stroke them.
One of the parrots, a GORGEOUS multicoloured one, deemed Chris OK enough to stand on his arm: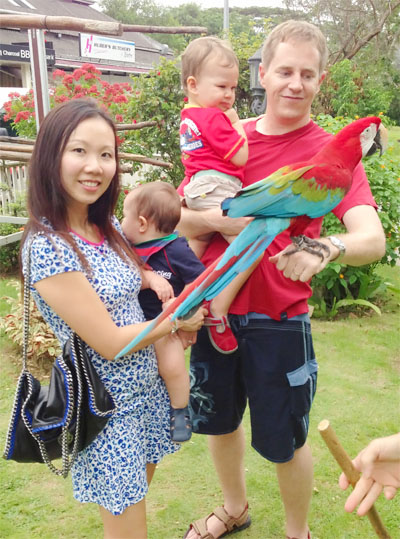 Hunter, normally pretty hesitant (and especially so since the birds were so loud), got brave and was stroking a gentle little white parrot (cockatoo?). He had a lot of fun and declared it so afterwards.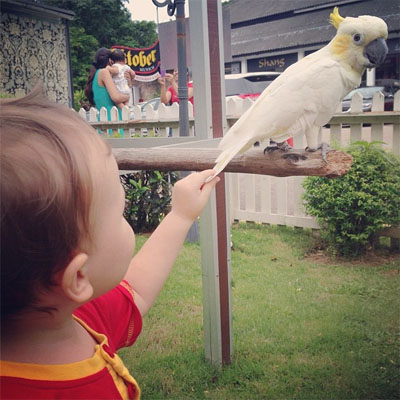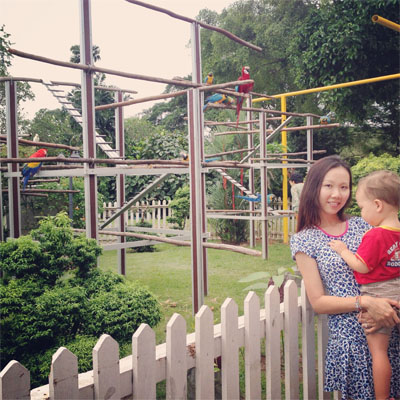 It makes a great experience for young children around Hunter's age (2 years old) because they can see these gorgeous birds up-close – way closer than at the zoo or bird park, and it's FREE! You can't beat that 🙂
TIP: bring a bag of peanuts with shells and you can feed the parrots.
Let's Chat!