A gf and I hit the Ladurée store at Takashimaya about a week after it opened. I was thinking that the queues would be much better one week after their grand opening, but nope, still queues!
If you're female, or travel, or have had a girl friend, you probably know what Ladurée is and what they sell. And if you love really overpriced desserts and overpriced merchandise, Ladurée is your store.
They are famous for one thing – macarons. You know, those little double-discs of sugary goodness, with more sugary cream sandwiched in between them?
I never used to be a fan of macarons. It was like just eating fluffy sugar to me. But after our France trip, I was pretty seduced by the likes of Ladurée and Pierre Hermé. My question, could Ladurée Singapore match their macarons back in Paris?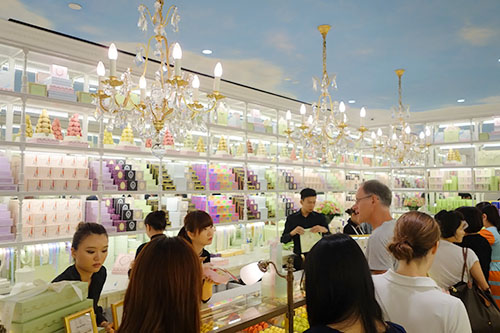 The queue looks a little daunting but the staff are incredibly quick and so it's perhaps 10 minutes, tops. Pretty impressive. I actually didn't have much time to consider which flavours I wanted before it was my turn and I was politely pressed to tell them what I wanted.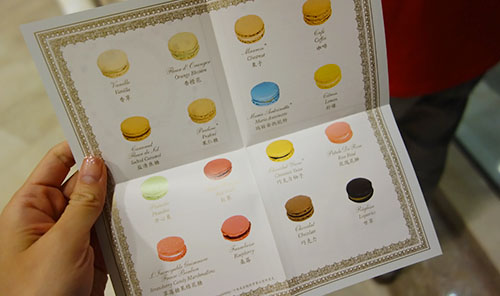 They are $3.80 a macaron, which is staggeringly expensive as they're also pretty petite. Man, I could buy a whole meal at the food court for just ONE macaron?
But wait. There's more.
They have a Singapore edition box to pack 8 precious macarons into, which costs…. $38. That's $4.75 a macaron.
*faint*
But…. ummm… because I am a bit of a sucker, I went the whole shebang and got the Singapore box. I wanted to keep it as a souvenir!!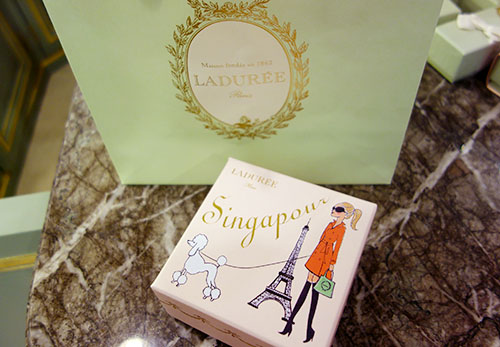 My favourites were the Rose, which I didn't expect to like but was pleasantly surprised with the beautiful fragrance. And the Praline, because I'm always a sucker for hazelnut stuff. The Salted Caramel was also pretty tops, and the Valrohna Chocolate was deliciously rich.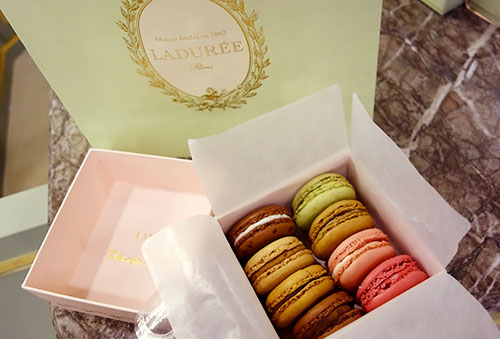 So, verdict?
Still insanely overpriced.
I hear they are flown in frozen from France, so it's a good thing that they are made there.. but I'm surprised they can be frozen?
No question, these macarons are done well. Similar/same to their branch in Paris.
Still though, I would prefer a giant quality cupcake for cheaper. Perhaps it's because I'm not that mad on macarons. I personally would never buy these for myself.. perhaps only as a gift for a girl friend that I know would really appreciate the stuff!
Let's Chat!