Beach Road Scissors Cut Curry Rice
229 Jalan Besar
Singapore
PRICE: $
RATING: ??—
It was my Aussie girl friend that alerted me to Beach Road Scissor-cut Curry Rice, as it's near her place and she claimed that there were often "long queues" of people ordering the stuff.
Of course, I just had to go check it out!
Let me just say, this place is NOT child-friendly. It's messy, it's crowded. But we still hauled our two kids there and thankfully they were really well behaved! Carter just sat in his stroller looking around, and Hunter sat on a chair at the table without fussing. That said, we were probably eating there all of 15 minutes 😉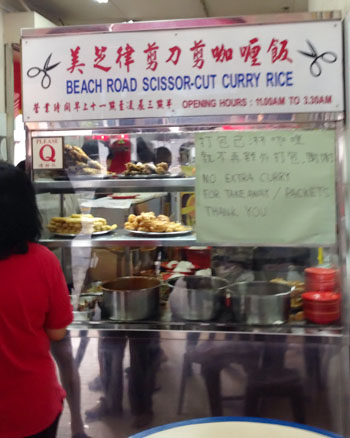 You can see above that all the dishes are pre-cooked, sloppily presented in big containers and plates. I'll be frank – it looks super unappetizing. All mushy and messy! But, the queue was crazy and so we pushed on…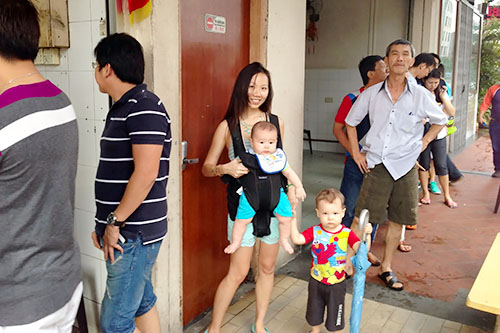 The queue goes swiftly because they SLAP on the food when you order, so the whole process takes about 1 minute. I was super nervous as my turn was approaching, because they guy obviously wanted people to order at top speed, and I had to speak Mandarin and explain what I wanted and how I wanted it. Eeeek!!
Turns out, they all speak English there too, so it was actually pretty easy. And a lot of it is pointing, just that you have to do it all at top speed.
The guy there uses scissors to cut everything (at ridiculous speeds), hence the stall name. It's actually excellent when you have a baby and have to eat with one hand – which was my predicament. Everything is in bite-sized morsels so you just need a spoon to scoop and eat!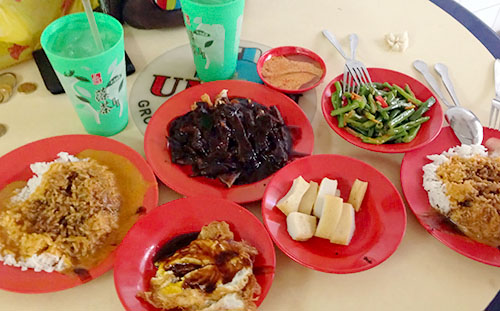 The star dish is, obviously, the curry rice. It's plain white rice with a creamy curry sauce and some sort of dark sauce. I actually found the curry a bit odd. It's almost… gelatinous? A bit sticky and not like regular Indian curry. Personal preference though, because even though I wasn't that fussed, a lot of people love this.
We had assorted dishes such as fried egg which was simple and tasty, fish cake which was yummy too, long beans which was our attempt at being healthy, and a sort of sliced pork in dark gravy that was tasty and a lovely accompaniment to the rice.
But, WHERE WAS THE FAMOUS BREADED PORK CHOP??
Um…. the guy in front of us ordered six takeaway packets and took the last of their famous breaded pork chop. Curses!! So we went all the way there and didn't even get to try their signature dish *facepalm*

I did ask for their braised pork belly which I've heard is also luscious, but I think they forgot to give it to us or didn't hear me. D'oh.
So yes, we went to this famous place, and didn't order their Top 2 dishes. Useless foodies, we are.
That said, the rest of the dishes are nice and tasty, but nothing extra spectacular that I'd go out of my way for and certainly not queue for. I really wish I'd had a chance to try their 2 famous pork dishes now!! But highly doubt I'll dare to go back with kids in tow, especially since it's in a random road-side location with little parking.
Still, it was pretty fun to let our kids experience a typical Singaporean hawker-food meal and ambience!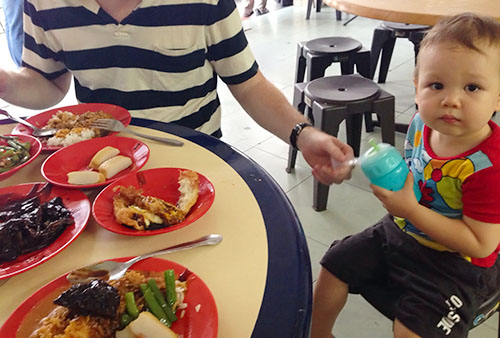 Let's Chat!