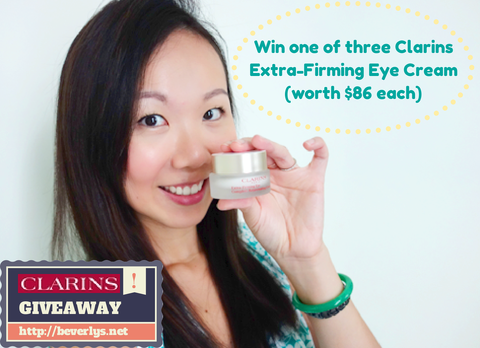 On September 1, 2014 (that's today!), Clarins launches their exclusive Clarins Extra-Firming Eye Complete Rejuvenating Cream.
The tagline? Firms. Smoothes. Lifts. Brightens.
It is slated as Clarins' complete solution for a multi-tasking eye cream that can be used both day and night. I personally find this very attractive because I dislike having multiple lotions and potions taking up precious space, and was very interested in an eye cream that was emollient enough to moisturize my eye area at night, yet fast-absorbing enough to apply concealer over in the morning.
Considering Clarins has the honor of being the #1 prestige eye care brand in France, it's fairly safe to say they're doing something right!
Clarins is giving away three Extra-Firming Eye Creams (worth $86 each)
You can submit some of the entries more than once a day, so come back tomorrow to get more entries in the draw.
Giveaway will run from 1-7 September 2014 inclusive.
Winner's entry(s) will be verified according to the entry criteria(s).
Winners will receive one new Clarins Extra-Firming Eye cream and a complimentary skin consultation.
Winners may pick up their prize at the Clarins Counter at TANGS Orchard.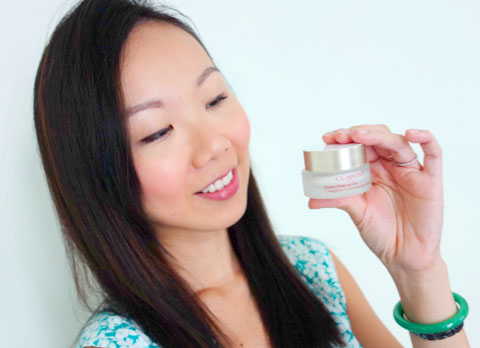 So, how does the new Clarins Extra-Firming Eye Cream work for me?
I've been using it for about a month now. Both day and night. There's barely a dent in the pot – this stuff is going to last me months and months! For that reason alone, it's good value for money. A tiny bit goes a long, long way.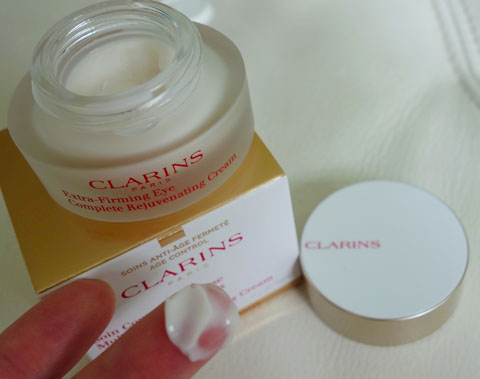 The texture straight out of the pot is described by Clarins to be "cream", but I personally found it more like a "gel-cream". It has a light airy texture and is very emollient when applied, but absorbs almost instantly. This means that,
For night time use – it gives my normal-skin eye area a nice kick of moisturization for sleeping in an air-conditioned room. That said, those with very dry skin areas may not find it sufficient. I personally do not want it to be any richer, because I fear rich eye creams will create the dreaded milia.
For day time use – it is wonderful! It absorbs almost instantly, at least by the time I reach for my concealer and unscrew the lid. I think it helps my concealer glide on more easily, but does not make it 'shift' or get too greasy. It's completely non-greasy, in fact.
For application, I put the cream on my ring fingers, and gently use a patting motion following my eye sockets below the eye, then arching up to my eye corners, then finally under the brow bone. The Clarins application involves the two "triangles of youth" on the eyes, which you'll get a tutorial on when you purchase the cream at any counter.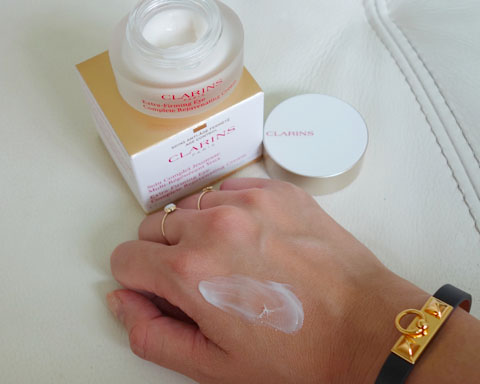 You can see the emollient texture of the cream here. I applied a big dollop of cream, hence the whiteness. In reality, you'll use perhaps 1/3 of this for both eyes, and it absorbs colourless.
While most products for the eye contour focus on a particular benefit, such as wrinkles, eye bags or dark circles, Clarins Extra-Firming Eye Cream acts on all fronts – which is a big bonus for lazy me.
PROS: 
Easy, non-fussy solution for those that don't want to use multiple eye creams day and night.
Fast-absorbing, so you can apply makeup immediately afterwards.
CONS: 
Need to use a clean spatula to get product out to avoid contamination, since this is in a pot.
Pot is not easily portable because it is made of solid glass.
FYI – there is a super duper KICKASS deal that Clarins is running across all their counters right now. The Extra-Firming Eye Cream retails SG$86. But, for the month of September in celebration of its launch, you get the above 2 FREE PRODUCTS with your purchase – a total value of $144! It's a very very very good offer, and worth snapping up if you're in the market for an eye cream that you can use day and night.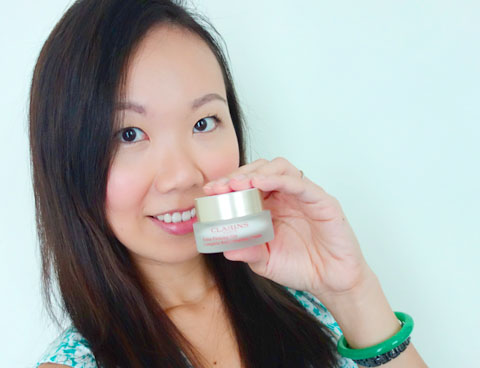 Clarins Extra-Firming Eye Crea is available at all Clarins beauty counters Singapore-wide. The RRP is $86. 
Thanks Clarins!
Let's Chat!