Boston Seafood Shack
#01-16 The Star Vista
1 Vista Exchange Green
Singapore
PRICE: $$$
RATING: ???–
One of my favourite foods in the world is a lobster roll. Specifically, the lobster rolls in Boston. They are fresh, chunky, juicy and FLAT OUT AMAZINGGGGGG. The lobster chunks come drenched in melted butter (ooooh la la) and I think mayo or some sort of luscious sauce is slathered all over the buttery fluffy roll.
Are you feeling all hot and bothered and fluttery yet?
Sadly, it's not easily available outside of Boston. There's Lukes Oyster Bar here in Singapore, and they do a really good lobster roll for sure, but it's a heartstopping…… SG$45 for the privilege. Not to mention it's so tiny it only works for me as an appetizer!
So I was super duper keen when I heard about Boston Seafood Shack opening in Singapore. They specialise in lobster rolls!! Yay!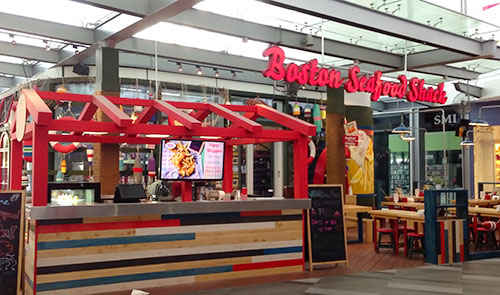 The interior is simple and cheery, and ordering is fast-food cafe style. Food arrives swiftly in large black or red plastic plates.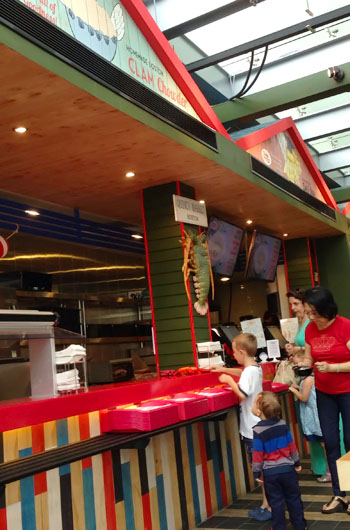 I enjoyed the New England Clam Chowder as a starter. It was creamy and tasty, with a lovely swirl of cream on the top. Would have loved this served with a side of garlic bread!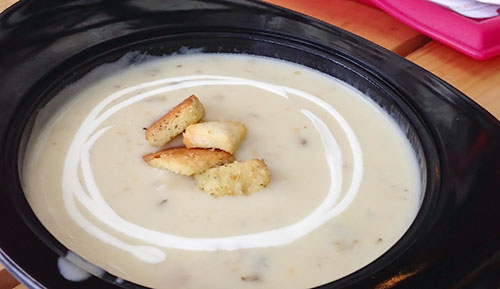 Obviously I had the Boston Premium Lobstah Roll. Yes, they call it Lobstah and not Lobster. It looked SO impressive!!!! A large-sized bun that was so fluffy, stuffed full of chunky lobster. Eek. I was so excited.
Tastewise though? It was good, but nothing amazing. Definitely not like the lobster rolls I've had in Boston. The lobster was not as sweet, though it was still tender and juicy. It also didn't come with melted butter sauce, but rather a sort of thin salad type sauce? It tasted quite like a seafood salad that was stuffed into a bun.
A shame, because if they had done the original Boston version, I reckon it'd be spot on perfect. That said, I'd still go back for it, because no where in Singapore can I get a lobster roll this size for this price.
The Atlantic Cod Pasta arrived looking very impressive in a large red plate. There was a substantial swirl of pasta coated in a light cream sauce, finished off with 2 pieces of cod fish. The fish was beautifully grilled and so was tender, and went very well with the sliced mushrooms. A fab dish!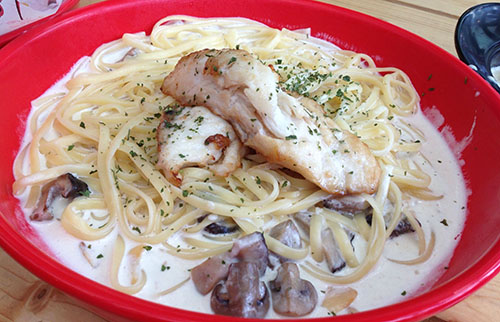 The Cod Fish & Chips looks fairly petite-sized in the photo below, but it wasn't. It was actually a really substantial portion, with 2 hefty slices of fish. The batter was light and crispy, and not too thick and not too thin. I really enjoyed it. The fries were fairly average to me, but they scoop a generous amount in so you'll definitely be filled up.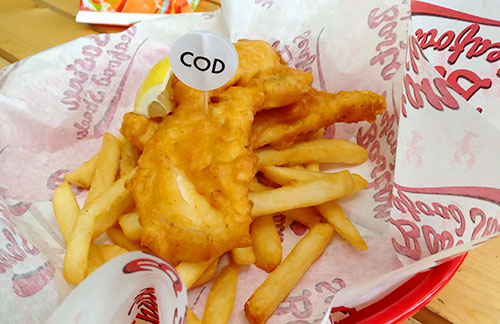 The food at Boston Seafood Shack is really reasonable priced, with sizeable portions. I am duly impressed. Will be back!
My little giggle guts
httpv://youtu.be/jl_lhj0dbGs
Let's Chat!