Luke's Oyster Bar & Chop House
20 Gemmill Lane
Singapore
PRICE: $$$$
RATING: ????-
I've been wanting to check out Luke's Oyster Bar & Chop House for awhile now, but never got myself there because it's in such a random place. It's tucked into a little lane near Chinatown and there are no big malls or anything near it, so it really is a destination dining place and not somewhere you'd "drop into" whilst out.
It's positioned as an All-American restaurant, which I don't like to repeat because when I think of that phrase, all that really pops to mind is a casual diner with hot dogs, fries etc. Luke's is almost the exact opposite of that… let's just say it's fine dining 🙂 It has a modern ambience, yet is a little retro looking with the black & white decor. I loved the starched white tablecloths and heavy silverware. The wait staff were all very polite and quiet, and took the time to explain the dishes to us.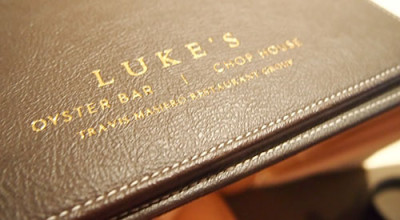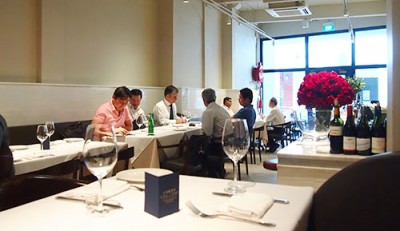 I kicked off with a refreshing glass of Arnold Palmer which, at $9, is pretty much one the most expensive soft drinks I've had 😉 It's a mix of iced tea + lemonade and really hit the spot (it was a hot day), but I really felt the drinks were overpriced.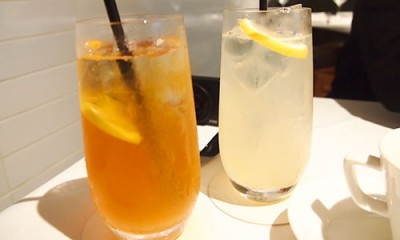 The complimentary Cornbread muffins were very well received by us – the itty bitty muffins were warm and absolutely delicious! I think I could easily have eaten 5 of these for an appetizer.. they were pretty addictive, and I'm a sucker for corn bread 😛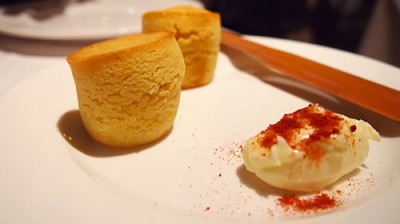 I was surprised the Fried oysters po'boys came out with only 3 on the plate. At least they were pretty exquisite! Buttery crisp-fried buns, juicy oysters with crispy breadcrumbs, and a little pat of coleslaw. They were tiny, but so tasty. I suppose if you have a realllyyyy small appetite, you could survive on one plate of these lil babies for lunch! Otherwise, they make a tasty appetizer.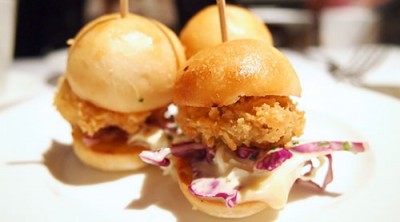 I had my eye on the Custom blend Travis burger, aged cheddar and homemade bun, because I'd heard good reviews before. The burger patty is made with sirloin, which meant it was super juicy, full of flavour, and grilled perfectly. It came piled high with toppings, so we ended up eating it with a fork & knife.. not my idea way of eating a burger (I'm the sort that likes to hold my burger IN MY HANDS, and chow down!) 😛 It was a fantastic burger, and ranked right up there with the Sirloin burger filled with braised short ribs and foie gras we had at DB Bistro Moderne @ MBS.
The fries were perfect. Crisp on the outside and soft on the inside. Delicious.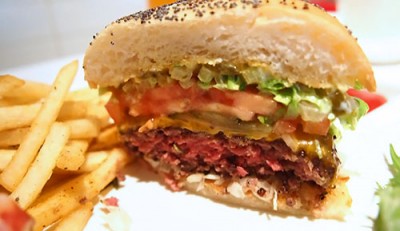 The Luke's lobster roll New England style with homemade aioli was reallllyyyyy small! Sadness!! The whole thing was maybe the length of my hand… and my hand isn't very big 🙁 Since it was kind of on the pricey side (and by that I mean super expensive), I thought it'd come out huge. And I'm not just saying that because I have a big appetite.
Fortunately, it was YUMMY. Big, thick chunks of fresh chilled lobster, that was very simply dressed with some aoli, and came sitting atop an absolutely delicious and soft bun. Sometimes, to do things well, you just do the basics and do the basics well.
But really, if you get this, don't get this as a main meal.. get this as a starter to share or something.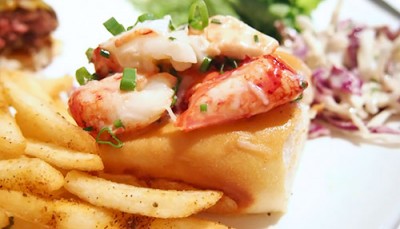 I think Luke's is a lovely place to dine in quiet elegance, either for a date or with some friends. We were very well looked after and enjoyed the food. Just be aware that the portions are pretty small for the price!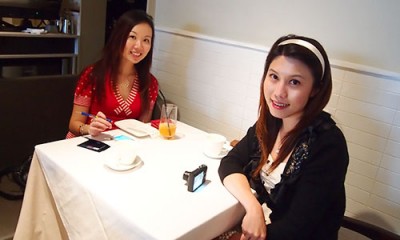 Let's Chat!