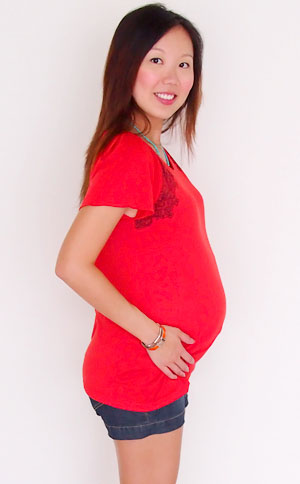 Here I am at Week 29. I missed the previous month's (Month 6) update, because between the Australia trip and all our outings, I never got round to it. There was actually nothing to say anyway, and frankly, same goes for this month!
There's really nothing much to report on, as nothing's changed apart from the fact that my belly suddenly shot up in size, compared to the previous update for Month 5. I've put on almost 10KG so far, which is WHOPPING. Not surprisingly, Baby #2 is a big baby. He's tracking about 1 week ahead in size and the doctor is getting a bit worried. There's no real way I can try and slow down the growth though.. because apparently big babies are hereditary and Chris has the big genes! I was born a small/medium baby, but he was a big baby at around Hunter's size too 🙁 So I just try not to fret too much about it, and just deal with it since this is a fact, and my reality, LOL..
Symptoms-wise, nothing really. Just the physical heaviness of lugging around an extra 10KG, not to mention carrying Hunter around the place on top of that. So that's like carrying around an extra 22KG sometimes…… HALF MY BODY WEIGHT EXTRA. Can you imagine carrying around half your body weight extra?? It's not easy! I try not to carry Hunter too much, since I know it's not good for me, but sometimes he just insists and I find it really hard to say 'no' to those big eyes..
But, other than that, no cramps or varicose veins or nausea or sleepiness or anything else.. so I'm grateful I can still go about my daily business with Hunter. Anyway, I'd better take full advantage of it before I have "Two kids under two", which is notorious for being unbelievably difficult!
Let's Chat!