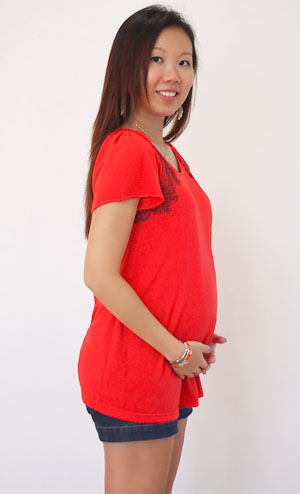 I'm at around Week 21 now and freakin' GIGANTIC. My belly doesn't look that obvious in the above photo, but trust me, my friends that haven't seen me in the past few weeks have *gasped* when they saw me recently. I'd say I can pass off as around 7-8 months pregnant right now, if you see me in real life. Not because I'm growing a giant baby (err… hopefully I'm not!) but apparently because of "lax stomach muscles". Apparently with your #2 pregnancy, most women pop a lot earlier because your stomach muscles aren't as strong to hold everything in. Sigh!
I'm feeling very good otherwise, which is really nice. I did have one particular day when baby head-butted my nerve or something, and my right bum/thigh felt really trapped and I couldn't walk or stand properly. That was pretty awful, but apart from that one day, I haven't had any other pregnancy symptoms and life continues on as usual. I'm grateful for that, because it still means my day-to-day life with Hunter carries on like I'm not pregnant. I guess I will start slowing down over the next few months though, as I get bigger and bigger!
I also felt kicks starting at Week 17, which is early but normal for a second pregnancy. Now, the kicks are so strong and frequent my belly actually wobbles (!!).. this didn't happen with Hunter 'til at least 1-2 months later!
I've put on 4.5KG so far. I'm pleased because in comparison I'd put on 6KG at this stage when I was pregnant with Hunter. YAY achievement!!!! 😀 I'm hoping I don't blow out to a 16KG weight gain at the end like I did with Hunter, because I'm not convinced I'll snap back into pre-pregnancy shape within 2 weeks like I did with Hunter…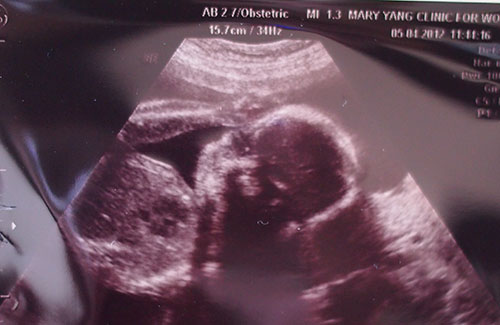 Funny how babies look like weird aliens in ultrasounds, yet manage to make their parents feel all mushy and goopy inside 😉
And we've known for almost a month now but I wanted to wait until the next Pregnancy #2 update to reveal the news… but…
We are having a BOY!! 
Looks like Hunter will have an instant best mate to play with 😉 It's also going to be interesting to see if our next boy looks just like Hunter, or if they look pretty different. But my greatest wish is that he will be as mild-mannered and sweet, and not too feisty, haha!
Name? We haven't locked any in, but will over the next few months. Will announce publicly after the birth 🙂
Let's Chat!