So this year, not only did I turn 30 years old, but my aunt also had an iconic birthday – her 60th birthday!
To celebrate, my cousins (her daughters) threw a birthday bash in her honour and invited close friends and family to join in the fun. Of course, it was held at the Cookyn premises which was all decked out and is a great spot to hold a party.
I decided on the easy-way-out and dressed as an Aussie beach bum, using the sarong I bought during our Bintan holiday. It was simple cos I just wrapped it round me and tied it behind my neck. In retrospect, I should've worn some clothes underneath cos I felt rather… errmm… flimsy throughout the party!
Hunter came as an Aussie kangaroo, another easy-way-out since I already had that outfit when he was dressed as a kangaroo for Halloween. Was very pleased with my decision because it was cooooold at the party so he was kept warm and snug in his outfit.
The food was…. awesome. Well, it IS a Cookyn party after all! The roasted pork belly was especially scrumptious, especially paired with a big dollop of super-creamy garlic mash potatoes. But most of all, I LOVED LOVED LOVED the chilli con carne hot dogs. It's one of my favourite foods and this one didn't disappoint. So good I had 3 or 4 of these babies and was in seventh heaven 😀 In fact, I also shamelessly took back 2 tubs(!) of the chilli con carne afterwards to put into pasta at home, teehee.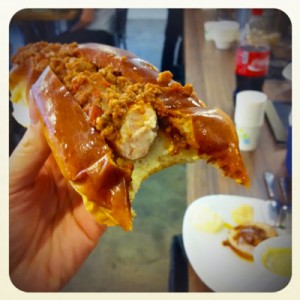 Love this pic of the cheeky boy
The room was decorated with a 'travel and living' theme (though Hunter and I were the only 2 people that dressed for it – booooo), so had a worldmap as a backdrop against a wall and lots of cute lil props to take photos with. I was trying to get a cute pic of myself and Hunter, but the 'roo was not being cooperative!
A photo containing all the people I like 🙂 And, check out that impressive cake!
And the birthday shenanigans don't end here… my Mum and Dad's birthdays are both coming up in December!
Let's Chat!