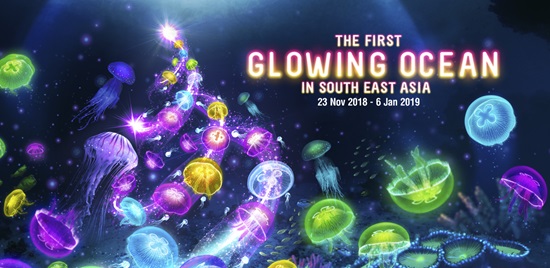 We like to visit Sentosa's S.E.A Aquarium to beat the heat (or escape the rain!), when Singapore's weather just gets too unbearable. 
What I really like about the S.E.A Aquarium is that it's not always the same old same old. They make a big effort to change the exhibits and make things fun – especially for the kids.
This time, I reckon they picked one of the most interesting themes – The First Glowing Ocean in South East Asia!
 On from now until 6 January 2019, it is well worth the visit if you have kids that are into all things glow in the dark.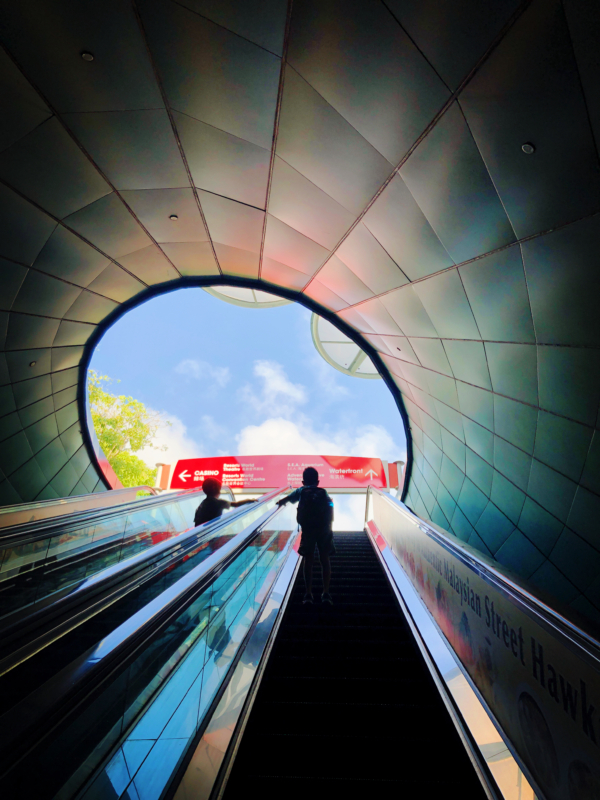 The blazing sun was already hot when we arrived… at 8:45AM in the morning!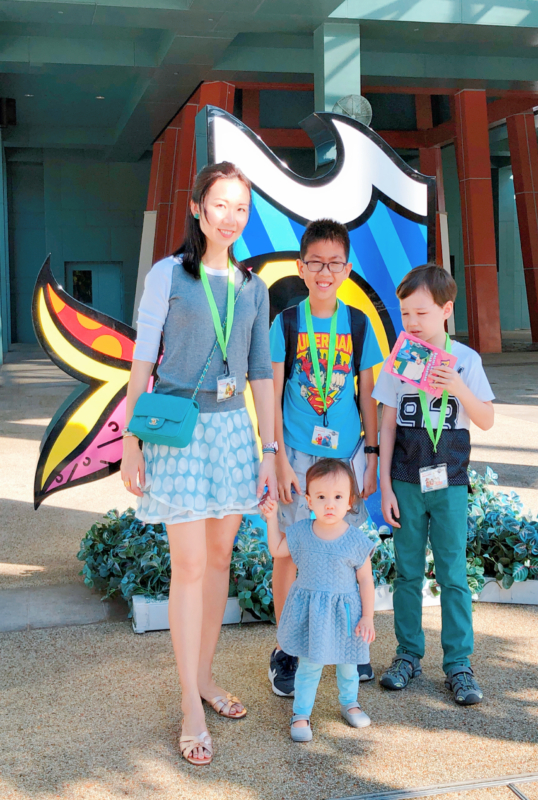 It was a stinking hot day, and a real challenge to get my precious son Hunter to smile properly at the camera, without complaining that "It's too briiiiight. It's too hooootttt."
He was SUPER pleased the moment we stepped into the air conditioned comfort of the Aquarium.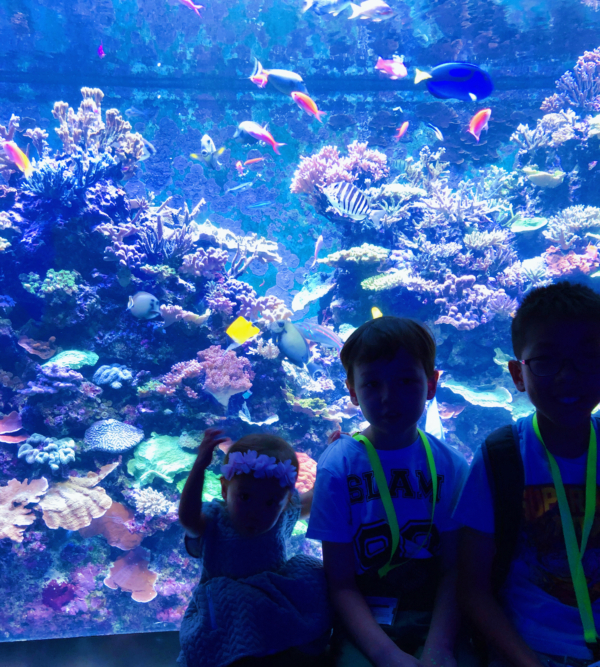 There are the iconic Aquarium exhibits, of course, filled with thousands of colourful fish… a gorgeous sight to behold. But the new The Glowing Ocean also features5 multi-sensory zones filled with glowing sea animals and stunning light art installations.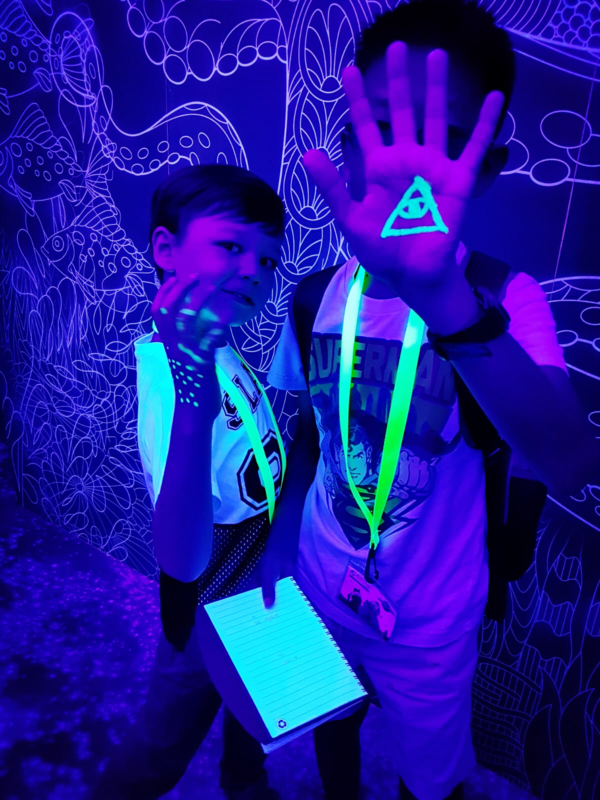 1) The Glow Room – Go on a scientific adventure and discover why some fish glow underwater, and have fun with UV light pens! The boys figured out a different purpose for the pens……. body art 😉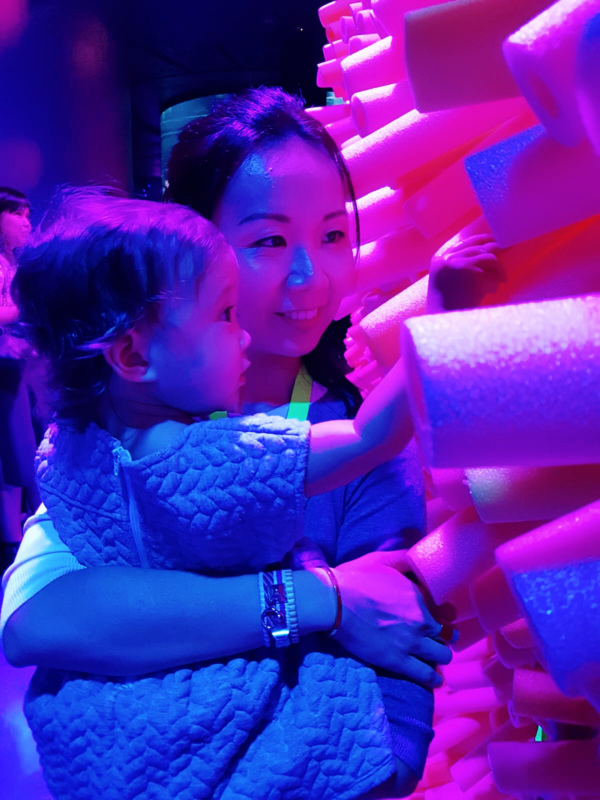 2) Crazy Colourful Corals – Awesome sensory play for adults and kids. Experience and understand the beauty of bioluminescent corals… and make like a clownfish and squish yourself in!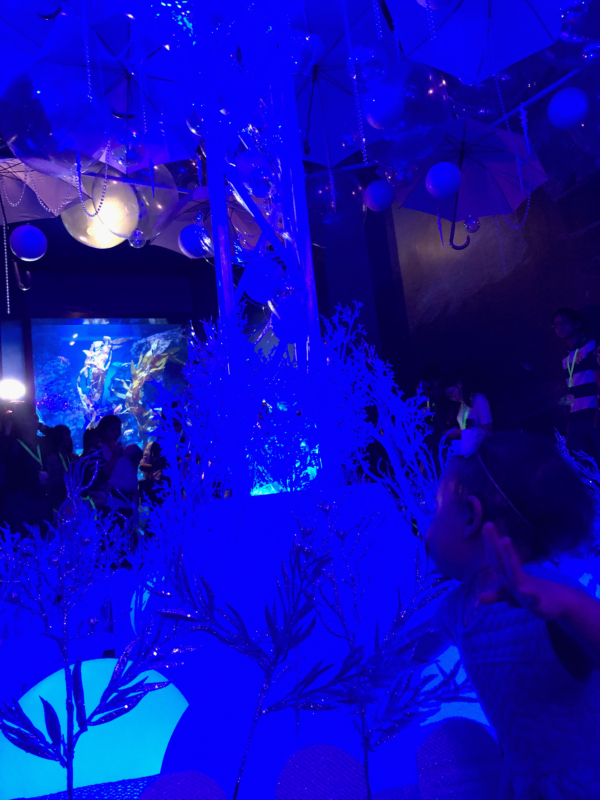 3) Imaginarium – Check out the "underwater Christmas tree".. which you can interact with (try clapping your hands loudly!). You can also see what life is like underwater and meet the luminescent marine animals that call this place their home.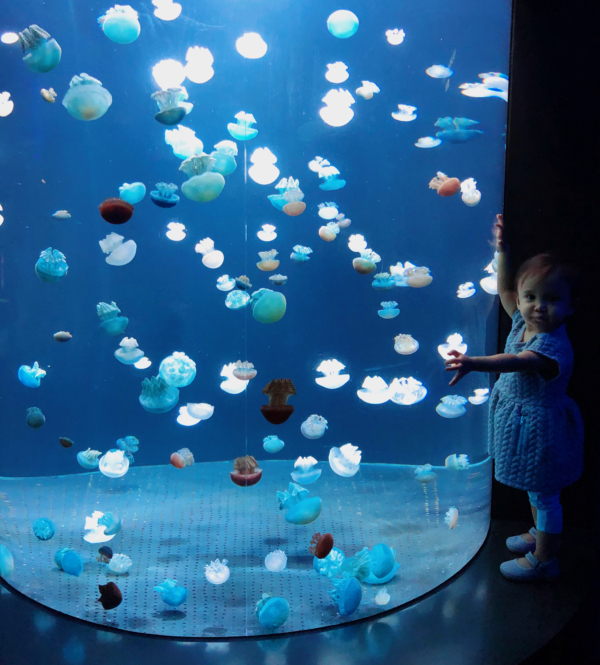 4) Joyous Jiggly Jellies – Always a crowd favourite, step into a world of wonder as you embark on a marvellous journey through the various glowing jellyfish exhibits and get up close and personal with these jellies… like Chloe did.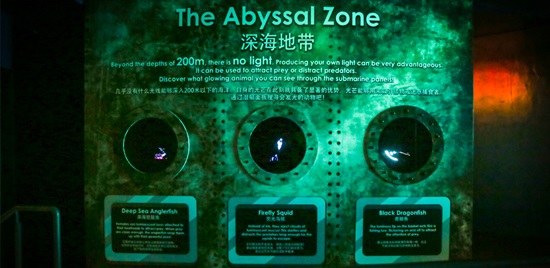 5) The Abyssal Zone – Dive into the darkest depths of the ocean and discover the weird and wonderful deep sea fish living in pitch black darkness, brought to life via hologram technology!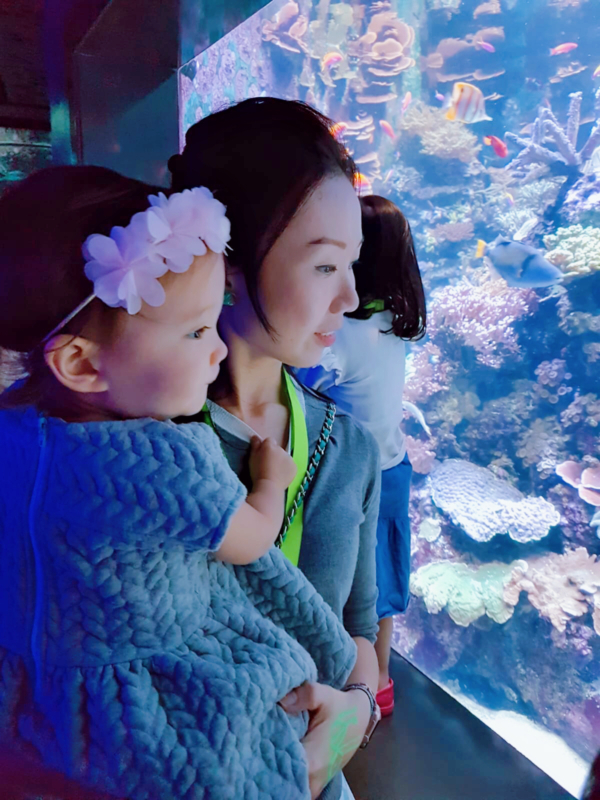 We were busy looking for Nemo here.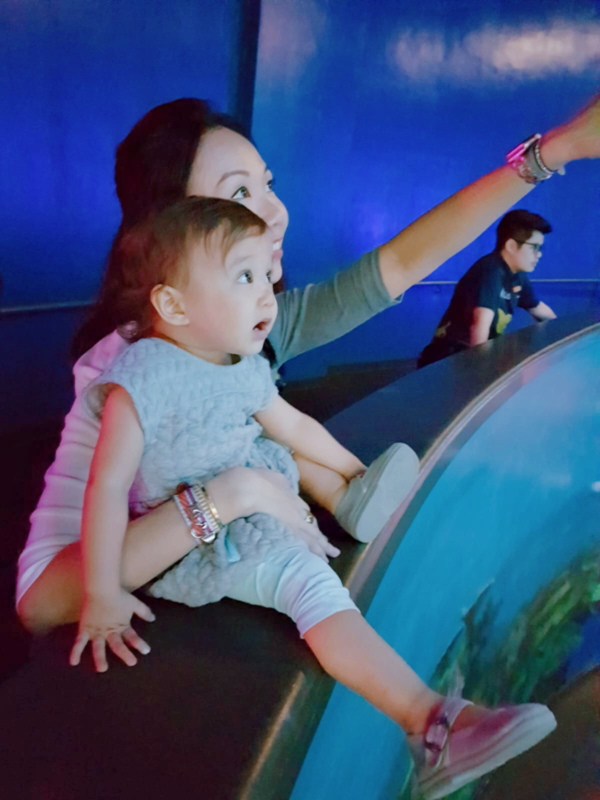 Checking out the HUGE tank filled with rays, sharks, fish, etc. Chloe was completely amazed.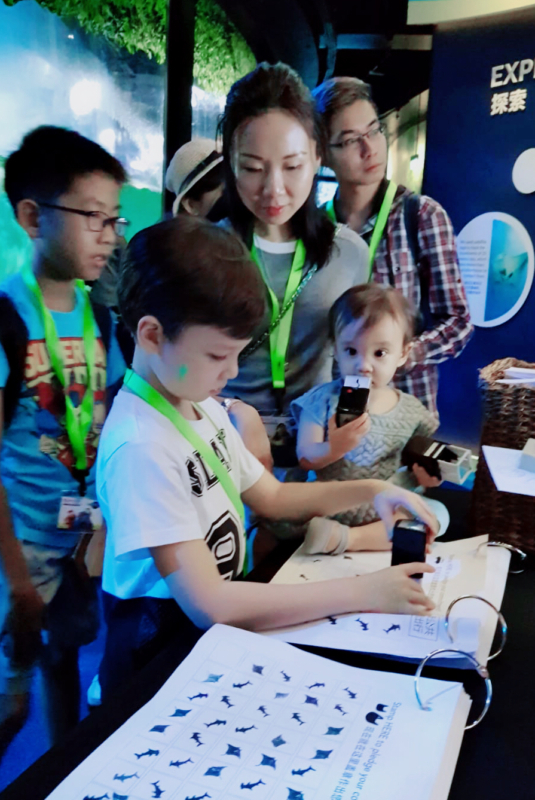 Take the pledge to protect the oceans as a Guardian of the S.E.A.A.! The kids can select from options like "Take Public Transport" or "Stop Using Plastic Bags" or "Eat Sustainable Seafood" (or all three) and stamp the page. You'll also receive a little Christmas gift when you take the pledge too!
As you can see… both my kids were far more interested in the stamping, than the actual gift..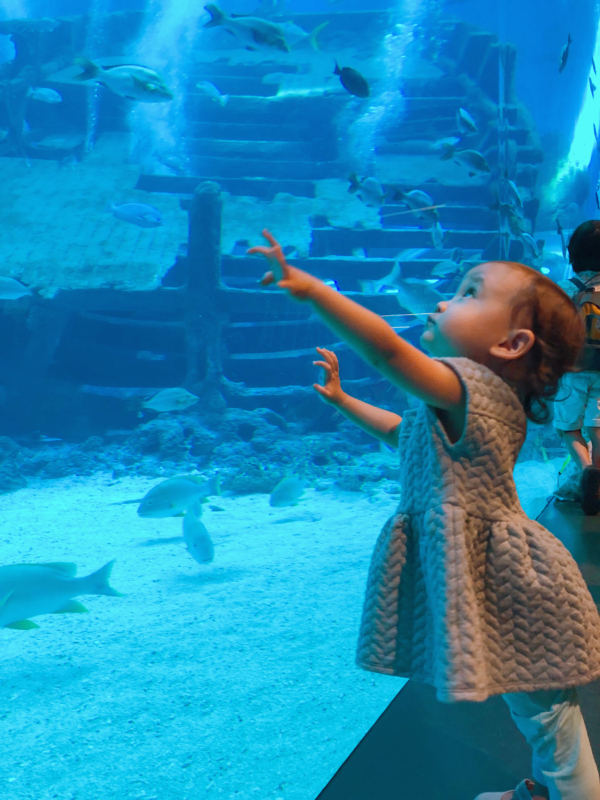 Mesmerized by all the aquatic life. I think Chloe could spend hours in here…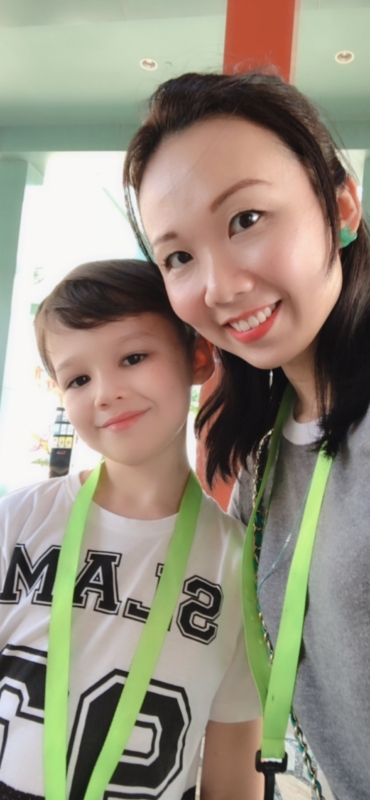 We had a lovely time at the S.E.A Aquarium, even though this boy whinged like crazy before and after because the weather outside was "tooo hotttt"! Sorry honey, you're in Singapore, what do you expect?!
Keen to check it out too, and have some fun at The Glowing Ocean?
Singapore Residents get a special deal. You can buy the S.E.A. Aquarium™ Glowing Ocean Family Bundle at SGD$78.

Each package includes:
1. Two (2) S.E.A. Aquarium™ Adult One Day Tickets
2. One (1) S.E.A. Aquarium™ Child One Day Ticket
3. Two (2) The Maritime Experiential Museum Adult Dated One-Day Tickets
4. One (1) The Maritime Experiential Museum Child Dated One-Day Ticket
5. One (1) Free Story book worth SGD16

Promotion is valid from 21 November 2018 – 6 January 2019 for selected date of park visit between 23 November 2018 – 6 January 2019
Let's Chat!