The Plain
50 Craig Road, #01-01
Singapore
PRICE: $$$
RATING: ?????
I may be thousands of miles away from Australia, but it sure as hell feels like I'm still there when I sit in The Plain, a little nook of an Aussie cafe. But possibly the most annoying thing is trying to find the cafe the first time – it's practically invisible! It sits a little bit recessed amongst the row of shophouses, and has tinted windows and NO signage whatsoever from the road. It's only when you're standing directly outside do you realise there's a small black sign saying "The Plain". In fact, we drove past it 3 times (!) before we spotted it.
Despite that, the place is busy and particularly packed on weekends. It's not hard to see why – they serve brilliant food and a luscious cup of coffee. Service is a little haphazard as the staff seem to be rushing all over the place, but the ambience is chill and pretty no-frills, with a few small tables and a large communal table.
You can help yourself to complimentary iced water, which I like, and the tiny open kitchen in the middle is constantly buzzing with activity. Their menu is really small, but executed well.
We always order a large latte. It arrives piping hot in a tall glass, with smooth creamy foam at the top. Sugar is scooped from a communal little jar and then you sit back and enjoy your fantastic latte. They do one of the best lattes in town IMHO. Expensive, but good.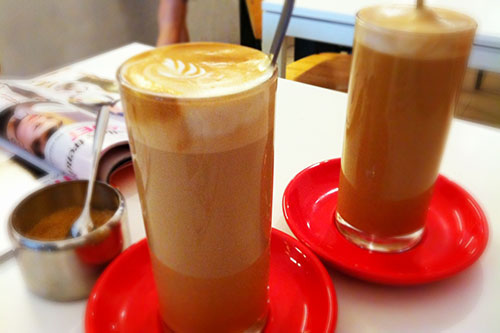 I never thought I'd say this, but I LOVE Bircher Muesli. Or at least, the stuff that's served up here. It comes out in a really small bowl (sadly), but the creamy deliciousness has me licking every last bit clean. It's perfectly prepared and such a refreshing snack, paired with the thinly sliced grapes and green apples, and topped with fresh strawberries and crunchy almond slivers.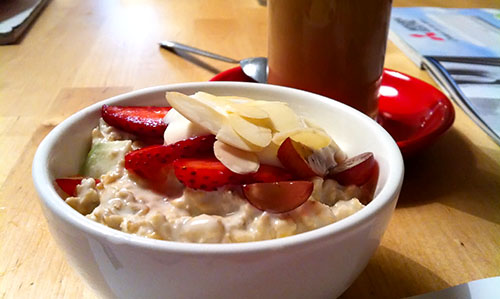 I normally am not a big fan of bread-related dishes, especially sandwich style stuff. But the ones served here? I eagerly gobble them up! Their Darlings Eggs – poached eggs with ham, cheese & roma tomatoes on sourdough toast is all creamy goodness. 2 small slices of lightly toasted sourdough bread, topped with thin slices of delicious ham, cheese and tomatoes, and with a perfectly poached egg. I don't know how they do this, but their poached eggs are perfection. Every. Single. Time. The whites are all cooked through, but slice it open and the creamy yolk oozes slowly out. Absolutely luscious.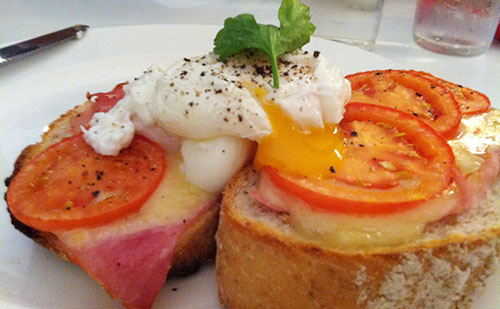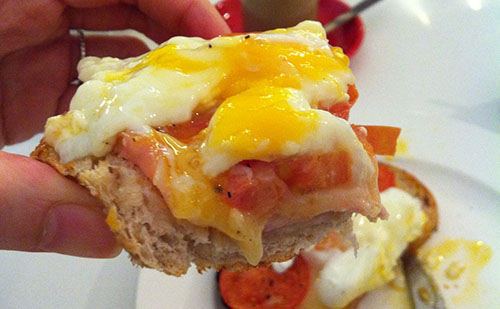 Likewise, the Dean's Breakfast – poached eggs on melted cheese & vegemite on sourdough toast is another favourite of mine. The same poached egg perfection, but this time paired with good 'ol vegemite and cheese (a killer combination, IMHO).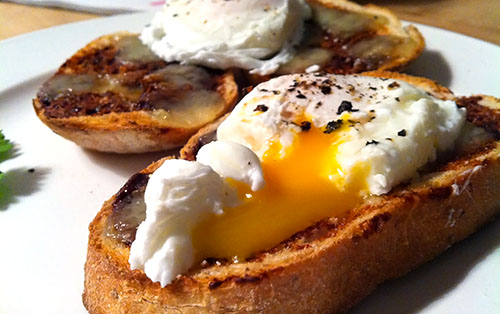 Frankly, if there are 2 of you, you're best ordering 1 large serve of each of the above Breakfast toasts. That way, you get one type of toast each. Plus, order a Bircher Muesli to share as well, and a couple of lattes to sip on, whilst sitting at the table chatting and reading their magazines to kill time.
And that, my friends, is the perfect weekend brunch.
Let's Chat!