THIS.
I was so delighted when this gorgeous Christmas gift box arrived from Mederma. Someone there is seriously creative! Nestled inside the gift box were 3 little glass jars of hot chocolate ingredients, a large glass mason jar to mix it all into, candy canes and pretty marshmallows, and all sorts of little turquoise-and-white colored things. I was quivering with happiness.
Hunter was too, as you can tell in the photo above – he refused to get out of the way so I could take a proper photo of the gift box contents, and wanted to be in it like the brand posterboy.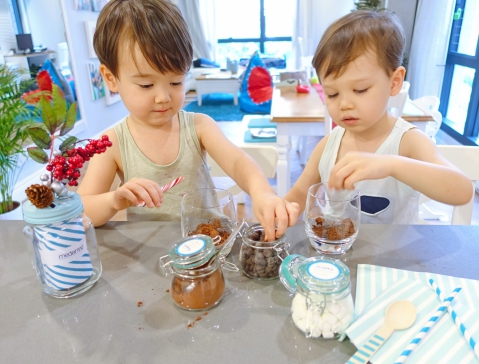 Carter and Hunter wasted no time excitedly opening it all up. It was pretty straightforward – pop in a few spoonfuls of cocoa, add in some chocolate drops, stir in warm milk, and top it off with mini marshmallows.
They had a blast! Declaring themselves as "really good at cooking" (ahem), they proceeded to get chocolately fingers everywhere, stirring their chocolate drinks with the candy canes (their brilliant idea, not mine).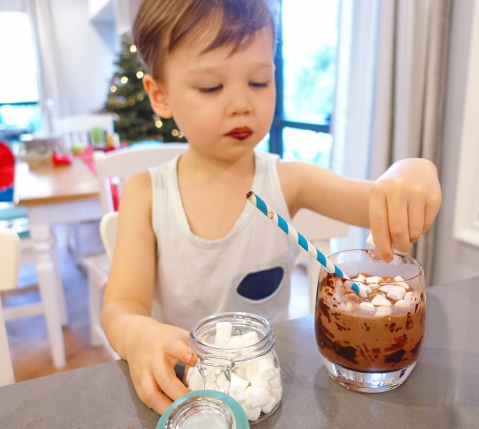 The ~serious~ chef in action. That drink does look pretty good, doesn't it?!
Mederma's Proactive Gel ($29.80) is excellent for reducing old or new scars, and also works on mums that have had Caesareans. They've also got a Stretch Marks Therapy cream ($35.80) as well.
Let's Chat!