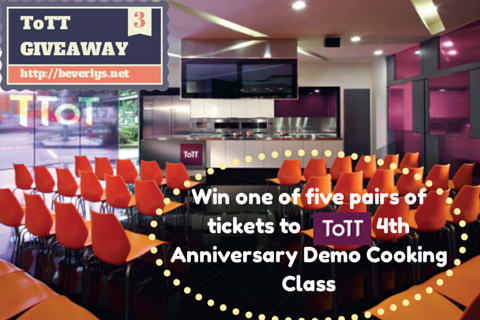 Today I have a giveaway blitz, lasting only THREE DAYS! And it's something that I hold near and dear to my heart……….. food 🙂 Or, specifically, cooking!
I reckon pretty much everyone that has lived in Singapore (that loves domestic stuff) knows about ToTT. ToTT are a triple whammy of a (massive) store selling kitchenware products, hosting cooking classes, and a delicious cafe. All rolled into one giant location. Personally, I frequent the place because of their casual-yet-comfortable cafe, that boasts really reasonable prices. There's a little indoor playroom (free) that my kids like to play in afterwards.
So in this month of October, ToTT celebrates its 4th anniversary with a whole bunch of activities and specials! Join in the celebrations with special 1-hour demonstration cooking classes priced at an exclusive $28 each.
And, right here,
ToTT are giving away five pairs of tickets to their "Zest with a Zing!" Demo Cooking Class!
You can submit some of the entries more than once a day, so come back tomorrow to get more entries in the draw.
Giveaway will run from 3-6 October 2014 inclusive.
Winner's entry(s) will be verified according to the entry criteria(s).
Tickets are valid for "Zest with a Zing!" class on Friday, 17 Oct 2014 at 5PM only.
This is a SUPER SHORT time frame giveaway, so get your entries in quick and think of who you'll be asking to be your cooking class date! 🙂