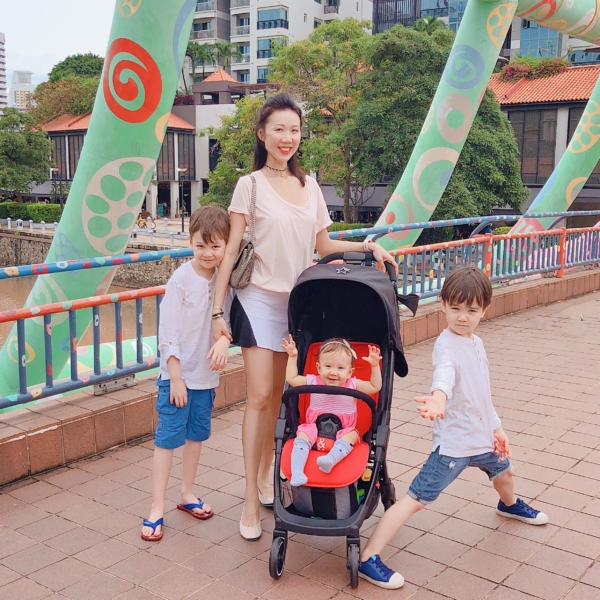 We've been using the phil&tends 'go' buggy since Chloe was a few months old, as our go-to (haha, geddit?!) stroller when we need something super portable, lightweight, and easy.
So read on for my full review on it…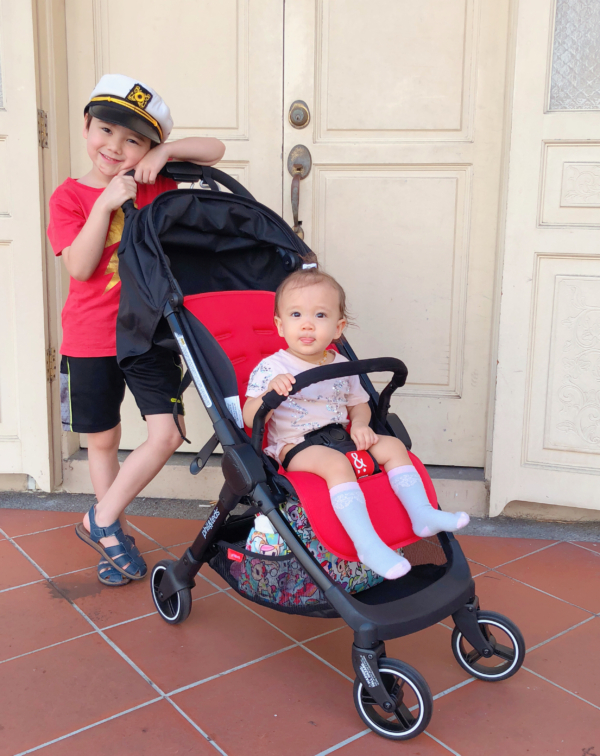 This is what the 'go' buggy looks like up close. It's a sporty looking stroller, and the matte-metal frame feels really solid, despite it being a lightweight stroller (at just 5kg!)
It's light enough for a 5 year old boy to push his baby sister around, and he can see just over the top of the handle. The front wheels manoeuvre really easily, so my boys don't jam the stroller as they push her around. The four puncture-proof EVA wheels have suspension, so it works well for city life. That said, the wheels are still small – the same size as all those lightweight strollers out there – so you can't go across rough terrain or anything. We push it across grass in a park, sidewalks, and in the mall – and it works perfectly for that.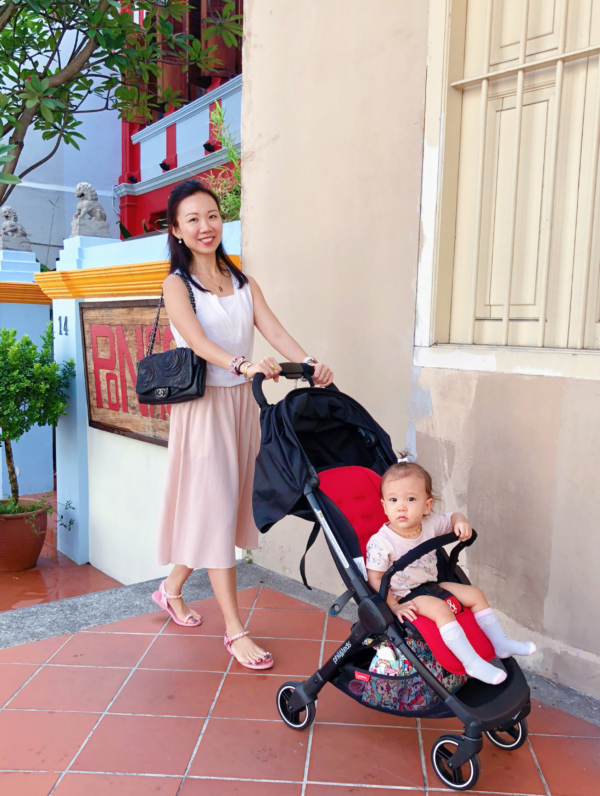 I'm exactly 160cm and the handlebar comes to the perfect height for me. It would come in a bit low for a tall guy, but is still easy to push around, as the stroller is really lightweight.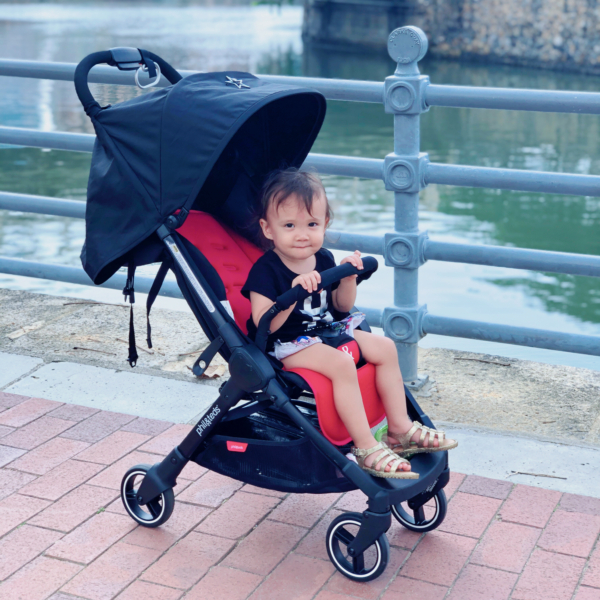 This is the SPF50+ sun hood when it is fully extended. It clicks in place and is enough to keep off the sun overhead, but doesn't fully come down – I presume this is to keep the weight of the stroller as light as possible, and for easy closing, but it's a bummer if Chloe has to nap as it's not 'private' enough.
For this reason, there is a specific cover set that is specially made for this stroller. We don't have it, but that mesh cover would work a treat! Thin enough to ensure air ventilation, yet will provide privacy and keep out some of the light.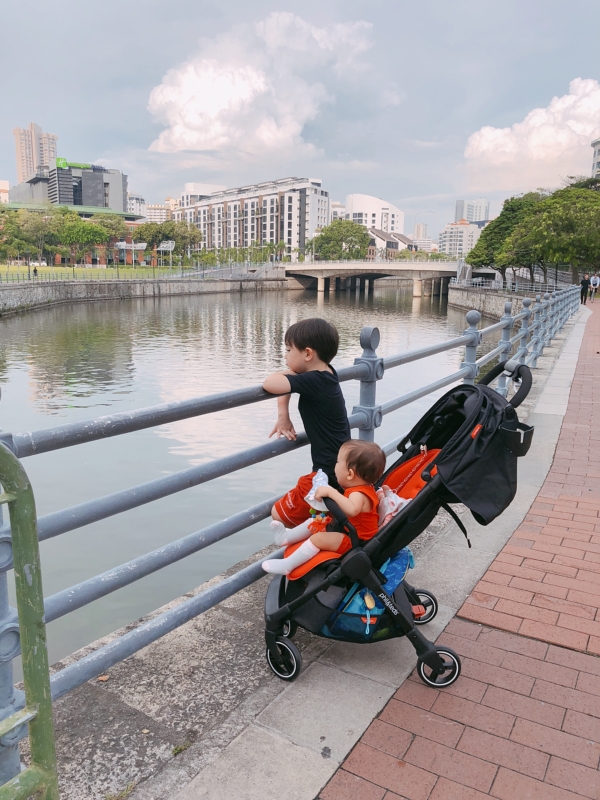 One thing that I hadn't realised how much I LOVED about this stroller (until we had one), was the grab bar! Chloe loves being able to grip onto a bar – partly to help her pull herself upright (back when she was younger and didn't have the core strength to do so herself!), and party because of the security it gives her to have a bar in front.
For me, I really like how I can pop her into the seat without having to do up the 5-point safety harness, if she's just going to sit there for a moment while I pick something. The grab bar prevents her from getting out easily, and folds up with the stroller, so it doesn't require an additional step when opening/closing the stroller.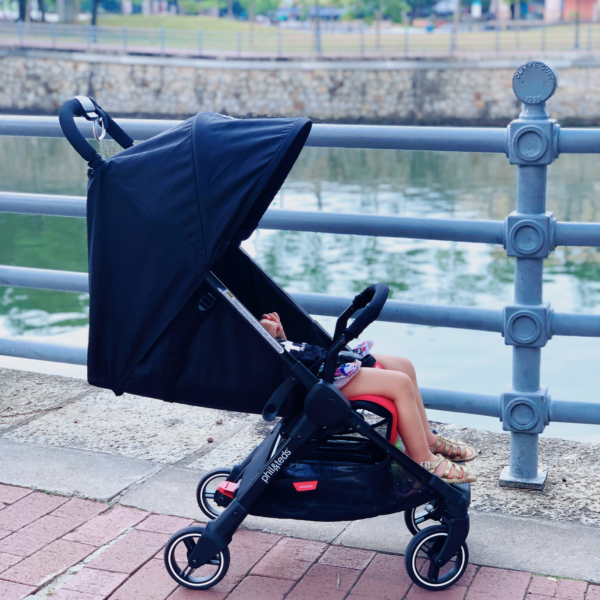 The recline of the seat is incredible! Most strollers don't recline completely flat, but this one does. The adjusting straps behind means you can recline it at any angle, or alllll the way down. One of the flattest compact strollers I've ever seen.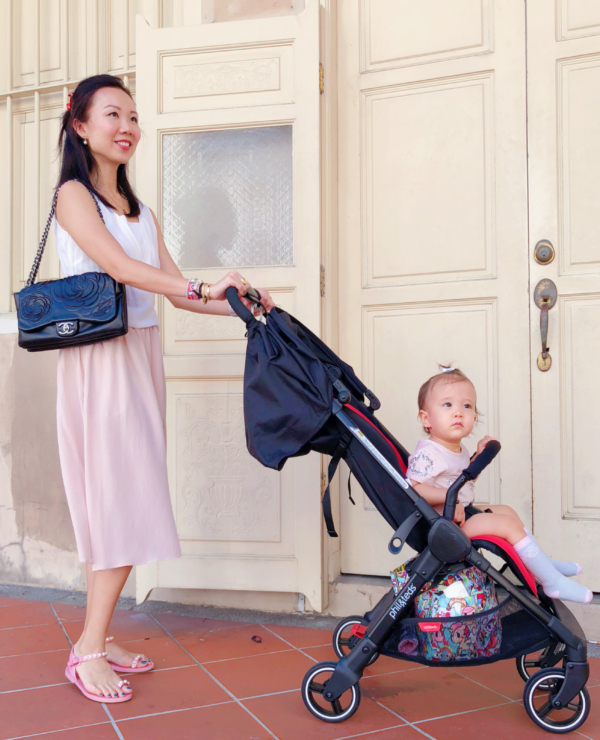 I love the streamline look of the phil&teds 'go' buggy! It's an ideal choice if you are specifically after a lightweight stroller that's very easy to open and close with one hand.
PROS:
The seat completely reclines, perfect for babies that nap on-the-go.
The basket underneath is wide and can store up to 5KG.
Incredibly lightweight and compact.
Can open/close easily with one hand.
Can push around with one hand.
CONS:
As with most strollers, diaper bags shouldn't be hung on the handle bar, as the weight distribution would then be uneven. So you have to pop it in the basket underneath instead!
Top sun hood doesn't come all the way down, though you can buy their Cover set as an optional extra.
Let's Chat!