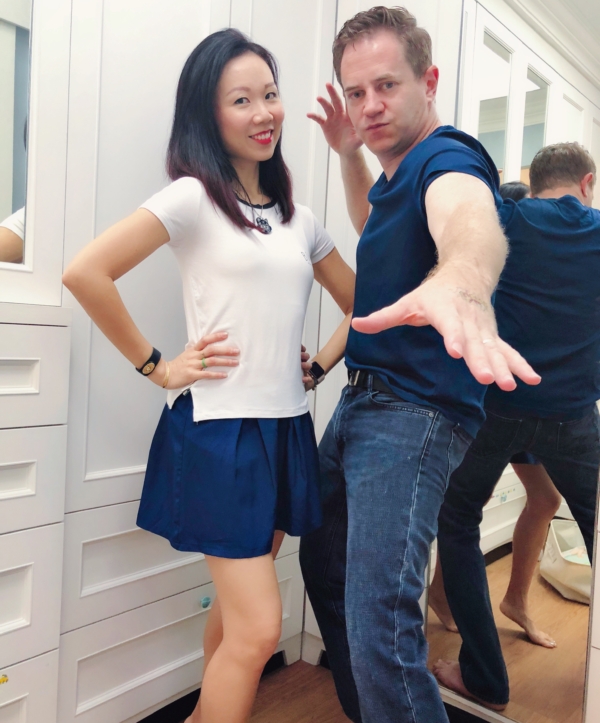 On the morning of our 9th wedding anniversary….. and our 19th year together!
Honestly cannot believe I've been with this guy for almost two decades. You know, when I was young, I really wondered if monogamy was an aspirational concept, but not really practical in real life. I just couldn't imagine loving someone for that long… and not getting sick of that person?
I suppose it came from my background – we'd moved countries, I'd been to 6 different schools in my life, and I was just really accustomed to making new friends in new places. I was (and still am not) the type of person to have a childhood friend that I've clung on to for decades (haven't decided yet if this is a good or a bad thing!). So I naturally couldn't really imagine the concept of staying with a guy for years and years. 
And then, I found myself with Chris. 19 years later….. I'm still totally into him!! 
Can't explain it, just that he's the only guy that makes me melt. The only guy that totally understands me. The guy that I grew up with. The only one I love.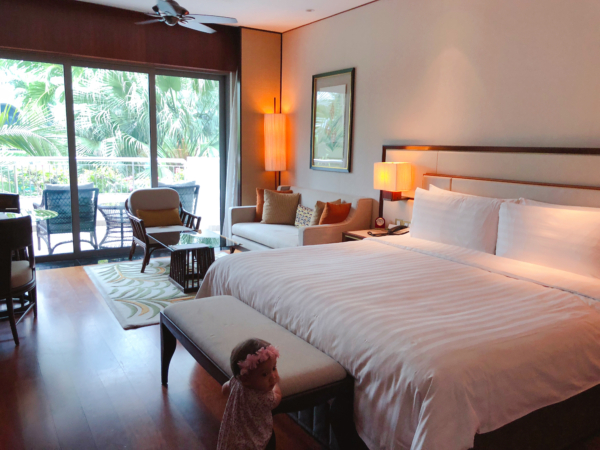 We celebrated with a really spectacular time at Shangri-La… and they went totally above and beyond to make sure we had a wonderful anniversary!
The most earth-shattering part? It was OUR FIRST TIME OVERNIGHT WITH NO KIDS, since Chloe was born. Because I'm nursing (yes, still!!), Chloe and I are kind of attached to the hip. And my parents can't quite handle all 3 kids at the same time. So I'm pretty much with the kids 24/7.. and thus almost zero alone time with Chris. 
But, thanks to a ton of planning, military operation style, we managed to separate ourselves from the 3 kids – FOR THE FIRST TIME EVER!!
Well, only overnight. Because, as you can see, we had all 3 kids with us for the whole day 😉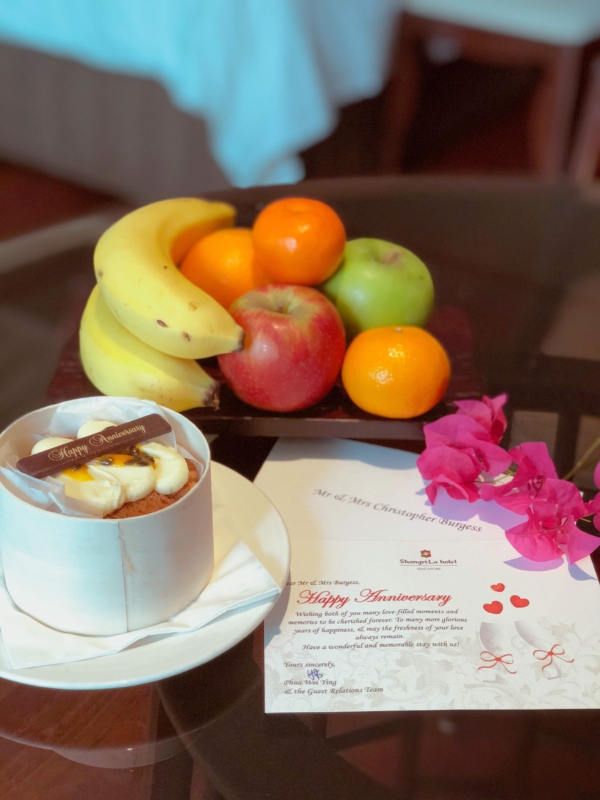 A warm welcome from Shangri-La greeted us when we stepped into our room. Loved that personal touch 🙂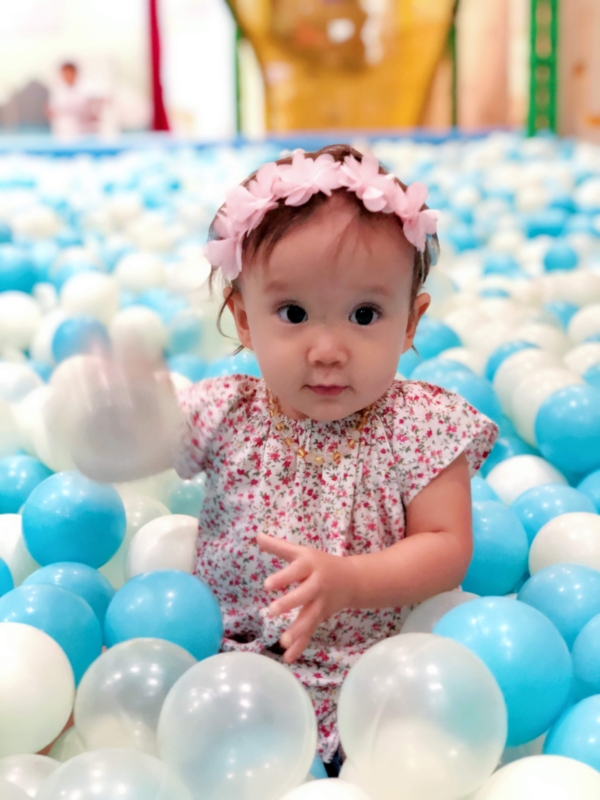 The kids had a blast at Buds, as usual. One of their favourite indoor playgrounds, Buds is particularly awesome because it's pretty new, and thus clean. It's got lots of space to play in, and my kids can easily be in there for hours. Chloe absolutely loves it!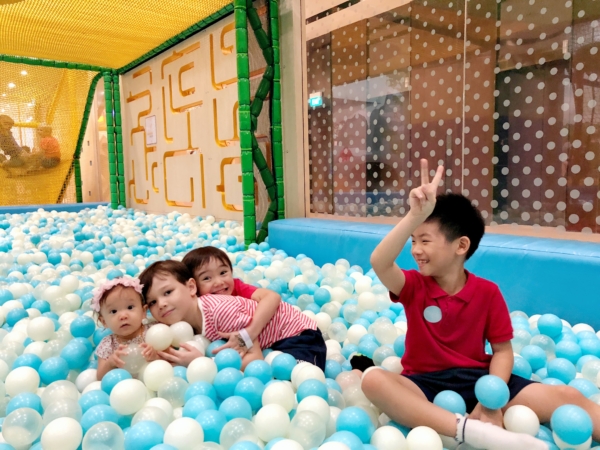 My kids were all playing separately when I yelled out "Smile I'm gonna take a picture!!" and they immediately jumped together for a snuggle to pose for the camera. I just thought that was really sweet 🙂
This crazy baby of mine decided that no obstacle was too difficult, and insisted on going up, up, up where all the big kids were climbing!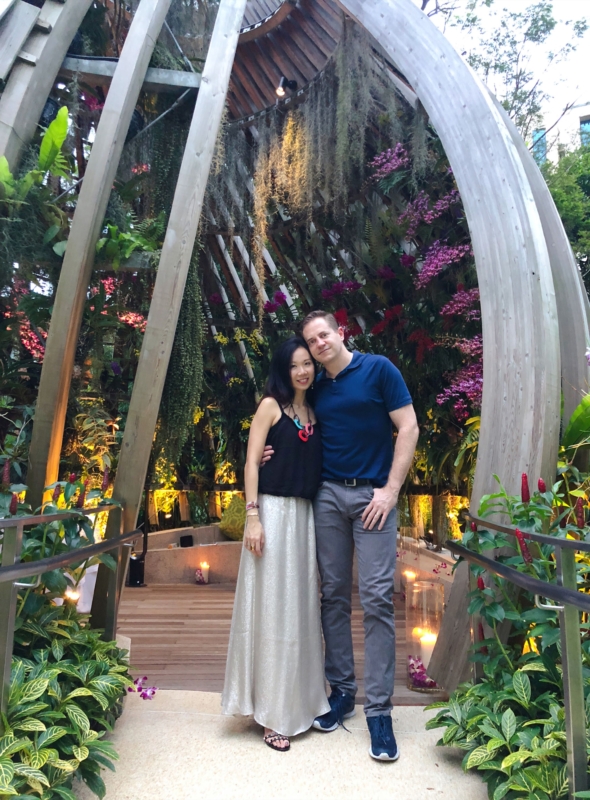 We had our older boys stay over at a neighbour's house, and baby Chloe had her first ever (!) sleepover at my parents'. It was a bit of an exercise in military precision, as I had to nurse her minutes before my parents whisked her home for bedtime, and they had to personally deliver her back to the hotel the next morning for me to nurse her again. But, it all worked out, and we had one of our most memorable dinners ever.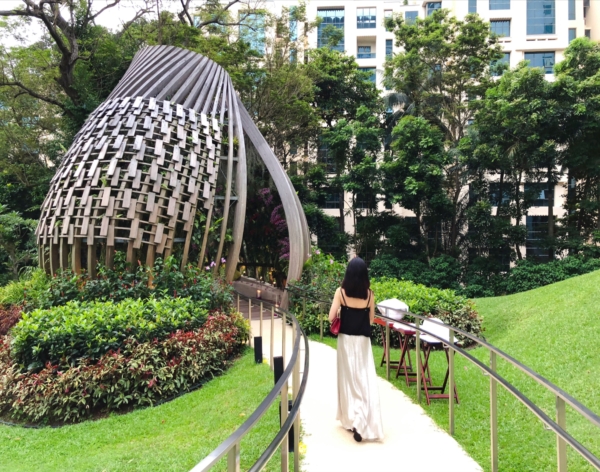 This pod-shaped sculpture (called The Orchid) houses a very very special dinner each night. Named DÎNER DE FLEURS, it hosts just one private dinner daily.
We were indulged with our own butler for the night, with a multi-course meal whipped up by the hotel's master chef – Chef Ganesan. 
Let me just say – it feels oh so indulgent being the ONLY diners in there, since it's a private dinner. The attention to detail is impeccable!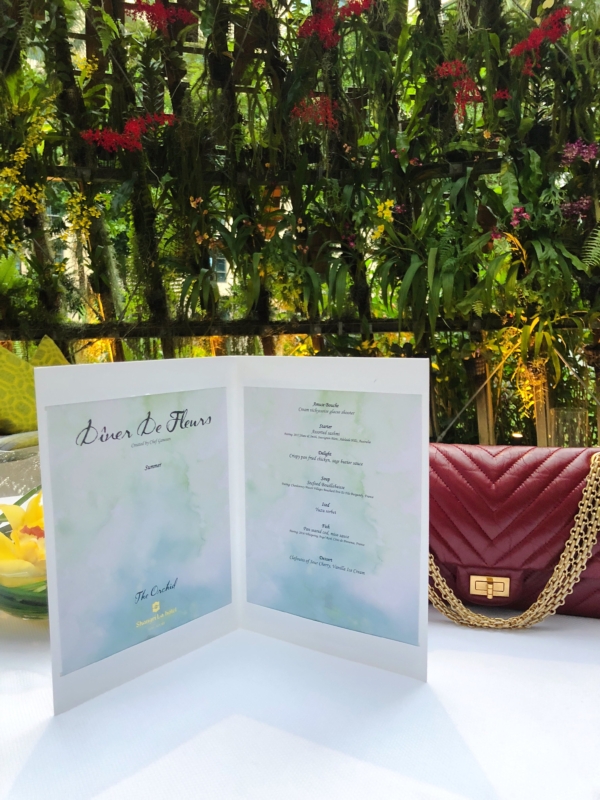 And what's on the menu for this private dinner? Anything you want. 
Chef Ganesan was in contact with Chris prior to our dinner, and they worked together to put together a menu. Chris' brief was that we would prefer to have "a light meal, nothing heavy", and that we "preferred Japanese and French cuisine". 
Based off that…. Chef Ganesan surprised us on the night with our own tailored menu!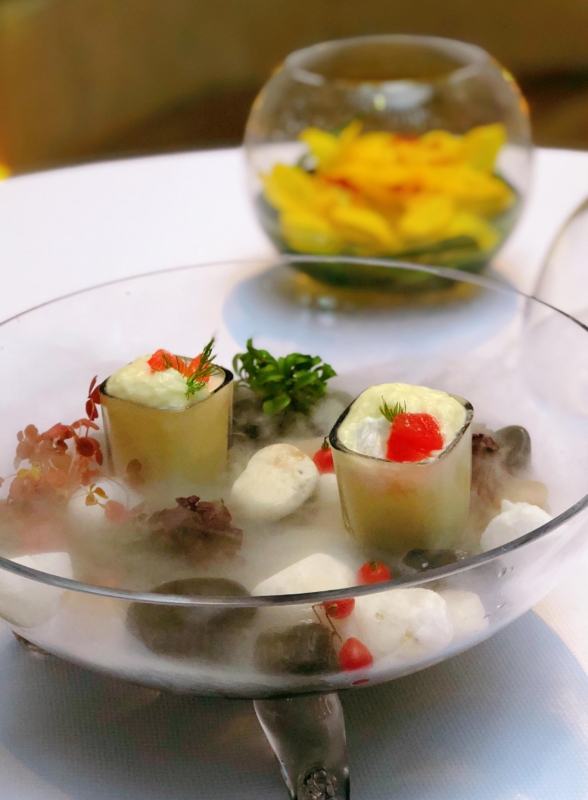 Dinner kicked off with a flourish. Our amuse bouche was a Cream Vichyssoise Glacee Shooter. In layman's terms, it was a poached quail's egg in foam. Which made me think that it would taste rather odd (egg.. to start off a meal??) but the taste was superb! It was creamy but not too rich, silky and smooth and very very light in flavour. And, that presentation – wow.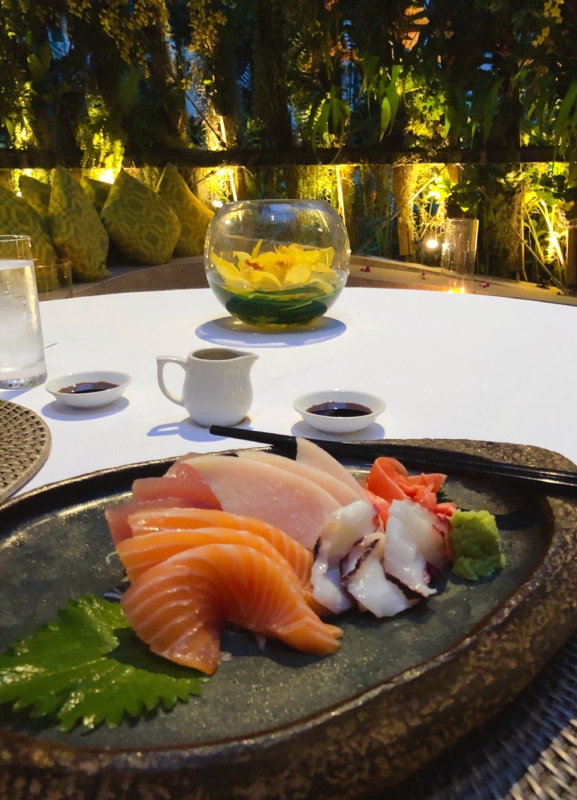 Always my favourite of mine, you can't ever go wrong with Assorted Sashimi, which was presented on a big stone slab (I couldn't lift it with one hand). Light and refreshing, this was a lovely first course.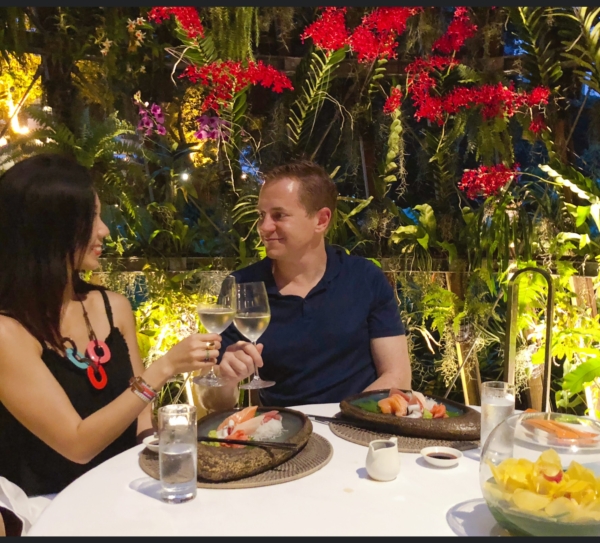 Our dinner was thoughtfully paired with a selection of wines, all chilled whites and rosé, to keep in line with "nothing too heavy". 
I wasn't too excited when I read Crispy Pan-Fried Chicken, Sage Butter Sauce on the menu, because I almost never order chicken (too boring) when I'm out. But…. this ended up being my favourite course!!
The chicken was so tender, but – oh my – it was the crispy skin and that creamy sauce on top that did it for me. The sage-butter gravy complemented it all so well, and it was a mix of juicy chicken, crispy skin, creamy sauce…. It was a stunner.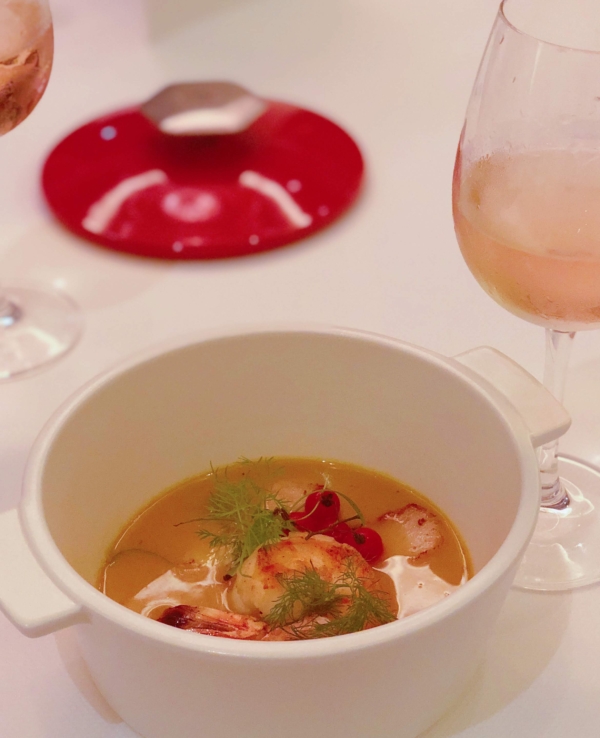 A Seafood Bouillabaisse was next, featuring a giant king prawn, scallops, and seafood. It was more of a broth than a thick cream, so it was lighter on the palate. It packed a powerful punch of flavour, and I realise in retrospect we should've requested some warm crusty baguette (slathered with butter, of course) to go with it!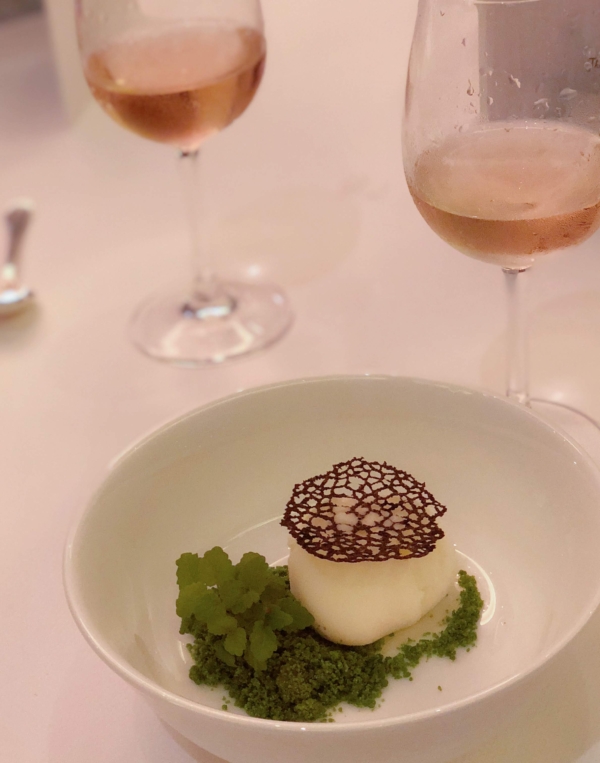 A palate cleanser, this Yuzu Sorbet washed away the rich and powerful flavours of the Bouillabaisse and was a refreshing interlude. I particularly liked the green tea crumble!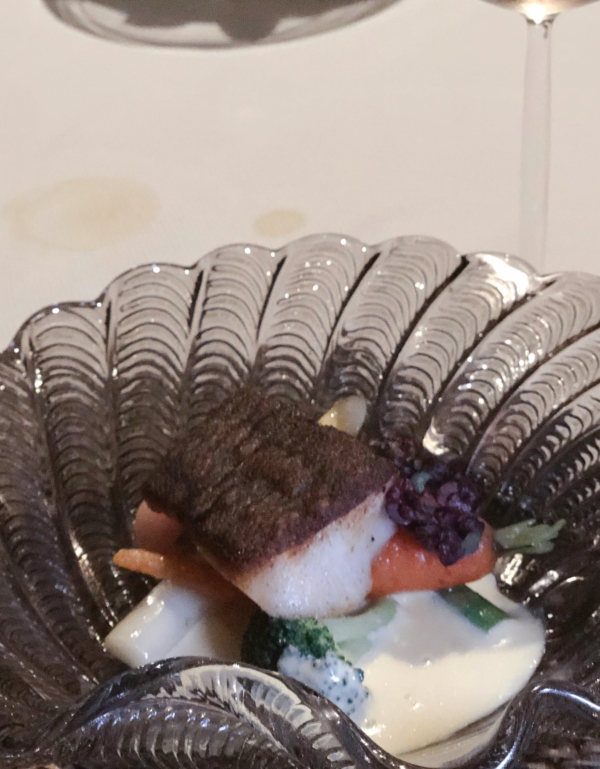 You can't go wrong with a perfectly Pan Seared Cod with Miso Sauce. The cod was buttery and smooth, and served on some tender vegetables and a creamy miso. A really refined and delicate dish, this had me wishing my kids were with us… all 3 of them love cod fish!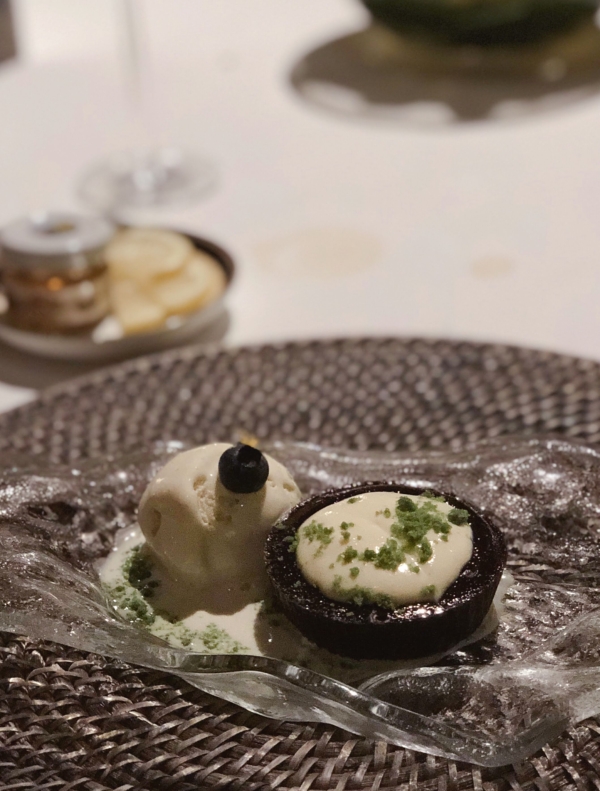 Dessert was initially a Clafoutis of Sour Cherry, but I requested for it to be changed, because I don't like any fruit-based dessert (which Chris forgot to tell Chef Ganesan about prior!). I asked for a Chocolate Lava Cake, so that's exactly what I got. 
Chris laughed at my choice, because he reckons lava cake is the most basic dessert ever.. and he teased me that I was insulting the chef by turning down his proposed dessert and asking for this 'basic' dessert. Well, I was happy, I love lava cake!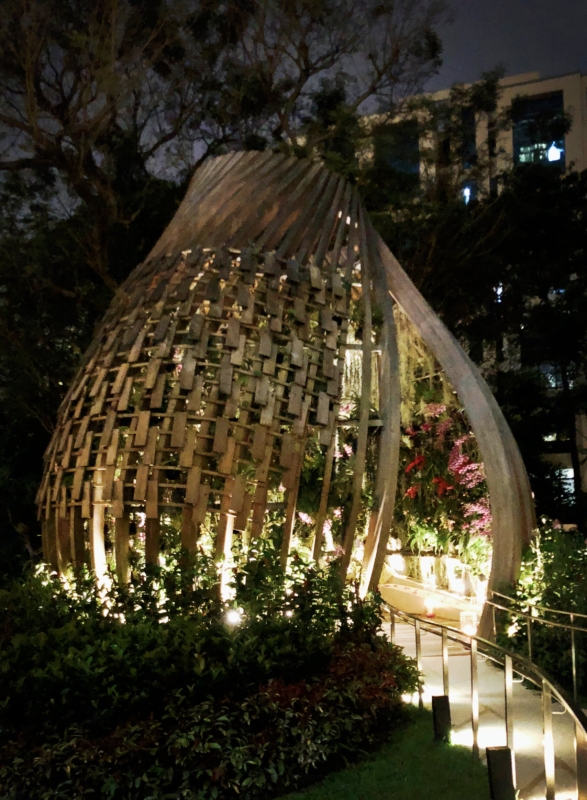 This is The Orchid, simply stunning at night. It's a seven-metre tall open-air orchid greenhouse that houses 32 varieties of orchids within. It's beautifully lit up at night, and is seriously romantic. Like, a place where you'll propose kind of romantic. It's unforgettable.
You can see a sample menu here as well, but it changes as it's personalised just for you, and also based on seasonal produce. There's only 30 (or 31) bookings a month – obviously, since it's private dining and only for one table daily – so you just gotta make sure you book early. I cannot recommend it enough for a very special occasion!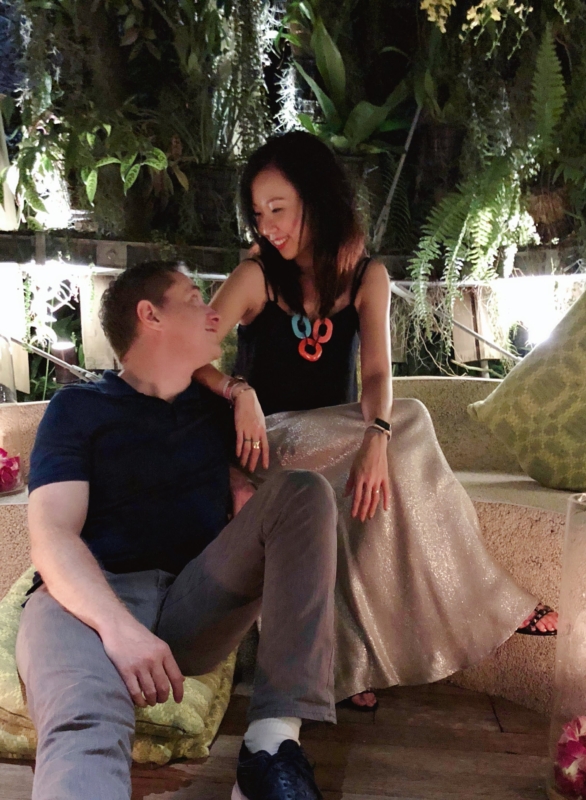 Thank you my love, for the past 19 years. We've grown from naive teenagers into a family with three children. Oh the adventures we've had together! 
And also MEGA thank you to Shangri-La, who really went above and beyond to make our wedding anniversary super special. You guys are pretty amazing 🙂
Let's Chat!